Website hosting: the basics of choosing the right provider
We will send the material to you by email:
Время чтения:

14

мин.
Start over. What is hosting?
Any site or other virtual product (for example, a specialized program for performing some local tasks) can be located in an isolated environment, for example, on a user's computer, or have access to the World Wide Web – the Internet.
The most common solution for hosting a website on the Web is placing it on hosting.
Hosting is a service provided by a provider, or, as they often say, a hoster (of which there are a great many). The essence of the service is to place user resources (sites, and others) on the provider's servers connected to the Internet, and provided with appropriate software products to make the site available on the Web, and for the full administration of the site by the owner. Thus, the site owner simply rents resources on the host server – space, capacity, and communication channels, and leaves only the tasks of site administration – content editing, etc. for himself.
Hosting is very different. General definitions of "good" or "bad" are most often inappropriate, details are important. What is enough for one user, and may be regarded as "good", may not be enough for another … which does not mean "bad" – just a mismatch of the parameters to the requests.
Accordingly, hosters offer different tariff plans – for different needs, and different wallets. Let's immediately pay attention to the fact that free hosting (there are such offers) may be interesting for some minor tasks, or for training, but for a more or less serious project it will definitely not work – there is nothing in nature that both free and high quality.
Hosting choice: problem statement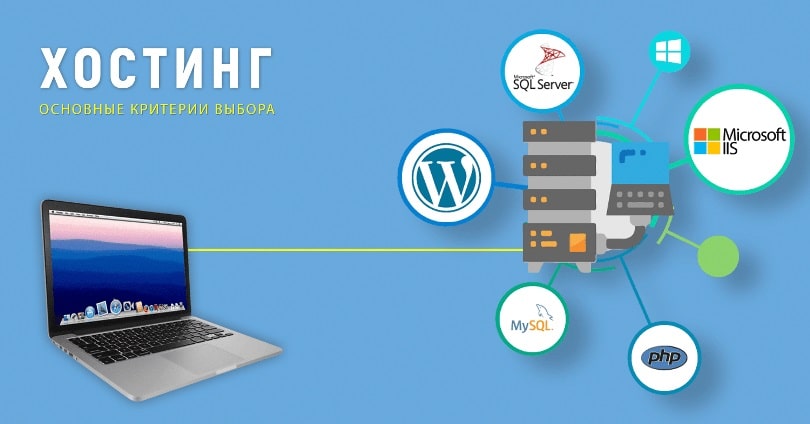 In order to choose the right hosting for your project, you first need to decide for yourself the tasks that are set for the project, hence the requirements for hosting.
What exactly should be taken into account?
First, the size of the site, its complexity, and resource requirements. If we are talking, for example, about a small static landing, that is, a one-page site written by code (without using a CMS, or, as they often say, an "engine"), then the requirements for hosting resources (disk space, RAM, available processor power etc.) will be very modest, because to demonstrate the site at the request of the visitor, the server will simply need to transfer the site code "as is", without performing additional operations, and the site itself will take up very little space in memory (on the server's hard drives). On the contrary, if the site is built on a CMS, and at the same time it has many pages, and is burdened with a variety of effects – animations, other functional and visual "bells and whistles" – any request from the Web will require a lot of resource-intensive operations from the server, for which the available processor power should be sufficient, and the amount of RAM, and much more. And if, at the same time, the site traffic is also high, then the requirements increase many times over, including the bandwidth of communication channels. If there are "bottlenecks" somewhere, the site will either desperately "slow down" or stop working altogether, and instead of the desired pages, visitors will see error messages. Therefore, a clear understanding of the size and load of the site is the key to choosing the right hosting.
Secondly, you should definitely take into account the target audience of the site, in a geographical sense. The site can be oriented either globally – to the whole world, or to any local geographical area, for example – to one country. In the first case, the physical location of the server that will host the site matters only in the context of more or less equal (in terms of speed) access from anywhere in the world. In the second case, it is reasonable to choose a hosting service that offers servers either in the country of destination or nearby. For example, a server hosted in the USA would be acceptable for Canada as well, but a server in Australia is not the best option for Canada. Why is it so, if the speed of signals passing through cables, and especially through fiber optic lines, is so high that several thousand kilometers are nothing for it? From the fact that, in addition to cable networks, network node servers participate in the transmission of traffic, and each such node along the route requires its own fraction of time to process traffic. The further – the more intermediate nodes, the more time for the passage of traffic.
Thirdly, the content of the site should be taken into account in the context of its acceptability from the point of view of the legislation of the country of the host. Neutral content is acceptable everywhere. But if the site contains content, for example, 18+ categories, and is aimed at an audience of countries where such content is legal, it would be a mistake to place it on a host located in a jurisdiction where such content is not allowed.
Fourth, you should consider the potential traffic to the site. For example, a site targeted at the audience of a small locality, and uninteresting to the rest of the world, will be visited by several tens or hundreds of people every day. And, accordingly, the traffic will be minimal. On the contrary, a marketplace can have hundreds of thousands, and sometimes even millions, of visits per day, and each visitor will view several pages, in which case the traffic will be enormous, which will require huge resources from the hosting to process it.
Fifthly, you should decide on the project requirements for hosting administration. When hosting a simple site with low traffic, the owner may not log into the hosting control panel for almost years – simply as unnecessary. And then the hosting requirements in terms of the "internal device" will be minimal. Another thing is a large-scale project, "live" – where something is constantly being edited, improved, added, updated … Here the project administrator will be a frequent guest in the hosting control panel – either backup, then any settings, then adding services … and in In this case, the quality of the control panel and the tools presented in it can either greatly facilitate the work of the administrator, or, on the contrary, add to him the hassle and headache. Yes, and expenses too.
Having decided on the nature and parameters of the project, you can also formulate the requirements for hosting, and choose intelligently and not at random.
Let's move on to the main question: how to choose hosting?
Do not rush into the choice – the main thing. There is no need to buy hosting from the first (or second or third) provider that comes across, which seems to offer what we are looking for. Offers are many. Therefore, we will slowly get acquainted with the largest possible number of offers, parameters, prices, be sure to read the reviews, select a few, compare with each other – and we will most likely get a good choice.
How to search? You can, of course, by word of mouth, asking questions to acquaintances … who are mostly biased and ignorant. Most likely, they will advise far from the best. So we arm ourselves with patience and start asking Google – in detail, thoughtfully, critically looking at the results of the issuance. We make a search query, for example – "Hosting in Ukraine", and study the results of the issuance.
First of all, we pay attention to sites that host characteristics and reviews of various hosting companies, the so-called. hosting ratings. We visit these sites, and on them, first of all, we read reviews about the company … and other information. We are not limited to one such site, the more you read, the less likely you are to buy yourself problems. One of the "old" such ratings is a portal about Ukrainian hosting – https://hosting-top10.com/, which contains the most popular and well-known Ukrainian hosting providers. There you will find not only a lot of reviews about providers, but also detailed characteristics of virtual hosting and VPS tariff plans, as well as the results of monitoring and testing hosting servers.
But the ad blocks of hosting companies – these are at the top and bottom of the search results page, with the addition "advertising" – are treated with caution. As you know, advertising is far from always true, so you should not "buy in" to all advertising statements without checking them properly.
Next, we make a selection of links to the sites of hosting companies from the proposed Google, and from what we looked at on sites with reviews. And we first begin to weed out those who clearly and rudely do not fit into the parameters and criteria that we have outlined for ourselves. And when we have a few of them left, somewhere up to half a dozen options. Having made such a screening, we begin to carefully compare the characteristics, parameters provided by the "buns", prices … and as a result, we decide who we will take a trial from (free test period) in order to get acquainted with the product in practice.
If the trial is not provided, and there is no certainty that this host is good, we just pass by. No need to experiment on yourself, that is, at your own expense.
This is roughly the selection algorithm. And about the technical side of the issue – parameters, tools, and so on – let's talk in more detail.
Hosting choice: the technical side of the issue
Hard disk capacity. Determines the possible total size of our hosted content.
Number of inodes. Determines the number of files, including service ones, that can be hosted by us on the hosting. This figure may be much narrower than the previous one, and may not allow sufficient use of the provided hard disk space.
RAM. An important indicator that significantly affects the ability to process visitor requests. With a small volume, a "heavy" site may not open, instead, there will be errors of the 500th series. Anything less than 512 MB is not a subject for consideration, better – from 1 GB.
Processor power (sometimes it is formulated differently). Here, hosters have such a different approach to parameter designation, sometimes heavily veiled, that any universal recommendations are doubtful. Let's put it this way: if certain parameters of restrictions for the processor are explicitly formulated, this is no longer good.
PHP version selection options. In most cases, versions of 7.4 or higher are currently required. But not always the newest – sometimes site updates may not keep up with the updates. Therefore, there should be a choice – this is the correctness of work, and safety, and speed.
Ability to connect PHP extensions. There are many of them, detailing can be the subject of a separate coverage. Some of them are critical for certain types of sites.
Backup – availability, methods, automation.
The presence of an auto-installer, preferably one that allows you to clone sites in two clicks, and offers the widest possible choice of software for installation.
Databases – what are possible, versions (releases) … in detail – the subject of separate coverage, it is important that at least those needed for the selected project (website) are available.
Other additional software in the account (control panel) on the hosting. There may be a very useful and rich set of add-ons … or there may not be.
What hosting options are important for a WordPress site?
Today, about 30 to 45% of sites on the Web (according to various estimates) are based on the WordPress CMS. We can say that this is the most common "engine" for creating sites.
By itself, CMS is not yet a site, but a platform, an engine on which the site is assembled. In order for the engine to become a website, the so-called. templates. Many WordPress sites are built using free templates. Free doesn't mean bad. Rather, it means "unpretentious", "simple". Such sites are usually "lighter" and require fewer hosting resources. But good sites are made either on premium templates (paid, rich in features), or on custom, individual development. And such sites are already much more demanding on hosting resources, especially on performance and RAM.
To run WordPress, we recommend hosting that supports and meets the following parameters:
PHP version 7.4 or higher.
MySQL version 5.6 or higher OR MariaDB version 10.1 or higher.
HTTPS protocol
As a web server, we recommend Apache or Nginx as the most reliable and functional, but in general any server with PHP and MySQL support will do.
Note: If only older versions of PHP and MySQL are available on the provider's server, WordPress also runs on PHP 5.6.20+ and MySQL 5.0+, however, these versions are no longer supported and may become a security risk for your site.
What else to look for when choosing a hosting?
Uptime (uptime) – not less than 99.5%
Traffic is unlimited.
Disk space – at least 5 GB
Index descriptors – from 100.000
RAM – from 1 GB (for serious projects – a good premium template with its own set of plug-ins will simply wildly slow down on RAM less than 500 MB, and even on this, many "please" with creep, or even 500+ errors
The complete absence of restrictions on the processor (here, sometimes the fantasies of some hosters in terms of inventing such are very sophisticated, just to push more users into the hardware).
mod_rewrite is an important Apache server module that allows you to set up redirects, set up redirects, and merge addresses. Here we will not decipher these terms if they are unfamiliar to you – this is the subject of a separate presentation.
php fopen – a function that allows you to update the site engine and plugins in one click. If this feature is missing, then you will most likely have to manually update the components of your site, because when you click the "update" button, the server will not be able to download and install the archive from the plugin developer's site or from the official WordPress site. A manual update is a chore.
MySQL query caching, the size of this cache; this is essential for the speed of unloading pages of the site for visitors.
caching of static resources in the browser and at the web server level; likewise;
caching elements in WordPress, as well as bytecode in PHP; likewise;
PHP operating mode: fpm, fastcgi, mod_php, etc.;
ability to configure CDN, support for HTTP/2, PHP7;
support for additional PHP modules: cURL, gd, ImageMagick and others.
For more details on the characteristics of hosting for WordPress sites, see the article "Hosting Requirements for WordPress Sites".
It is important that the hosting allows you to upload modern media file formats, such as WEBP. It is also good if the hosting allows you to upload video files, and others, as well as ZIP archives, moreover, without severe restrictions from the hosting.
Marketing tricks of hosting providers
Let's pay attention to this point. Any shared hosting (as long as it is not too "narrow" in terms of parameters) is great for a WordPress site. At the same time, many hosting companies offer specialized tariff plans – "WordPress Hosting", "OpenCart Hosting" and the like. You should not think that in such specialized ones there is something that is needed exclusively for "their own" CMS, and which is not in the usual virtual hosting. This is wrong. On the contrary, specialized ones are a little cut down in comparison with regular shared hosting. For example – if in a regular autoinstaller it is possible to install many CMS, then in a specialized one – only one. And even if it seems that a specialized tariff plan is a little cheaper, then this is the result of a small marketing trick, because due to the cut-down configuration, such a tariff plan in terms of price / content is either NOT cheaper, or even somewhat more expensive than usual. Plus – limiting the ability to install another CMS in automatic mode (manually – no problem, but it's troublesome). Of course, everyone has the right to decide for himself, but it seems to us that the "savings" when choosing a tariff plan specialized for a certain CMS are at least doubtful.
In summary: the above material will be enough to start a confident search for your hosting provider and choose the hosting with which you will stay for many years.
Internet marketing expert. Head of marketing agency MAVR.
Business degree "Master of Business Administration" (MBA).