TOP programs and services for promotion and promotion on Instagram
We will send the material to you by email:
Время чтения:

11

мин.
Instagram is growing at the speed of the wind and it's no surprise that you want to get sales from this channel too. And it is right! One way to attract subscribers and potential customers is to use an automated account promotion program or service.

By the way, another good list of services for working with Instagram can be found on the blog of the guys from EPICSTARS – an exchange for working with bloggers.
Programs and services for promotion on Instagram – what do they give and what functions do they automate?
Mass subscription to users according to the specified parameters, mass photo liking, comment automation, unsubscribing, audience gathering and more.
What do you need to know before using?
Do not start using these services/programs until your account is 3 weeks old, and preferably 4. Otherwise, you will immediately get banned! First, promote your account manually (upload photos, subscribe to 5-10 people a day on your own).
Link your account to a Facebook page.
Carefully study the time limits of the service / program between actions. But remember – a maximum of 1000 actions per day on Instagram, so as not to get banned (despite what some say about more, these are Instagram limits).
You can buy a high quality proxy for working with Instagram on the Proxys.IO website. These guys will be happy to answer all your questions and help with the setup if something goes wrong for you.
You to Subs
Service link – https://youtosubs.com/
On You to Subs you can order any number of active subscribers with daily payment. Every day they will watch your Stories, like and comment on your posts. The service does not use accounts of bots and fakes. All performers are owners of high-quality personal pages. For this reason, You to Subs is absolutely safe – with it you are not threatened with blocking and shadowbans. Instagram perceives activity from service performers as organic and begins to "help" you promote the page.
Sign up for You to Subs and get your first 50 subscribers.
Smmprime
Link to the service – https://smmprime.com/
Smmprime is a service for boosting likes, subscribers, views on Instagram, VKontakte, TikTok, Telegram, YouTube.
This service allows you to make a comprehensive promotion of your profiles in voiced social networks. In addition, the service has a unique service for adding comments (in this case, the comments will be related to the subject of the video / channel or post).
Socialkit
Socialkit is PC software.
Price: from 23 rubles. per day.
Trial period: a free demo for a week is given.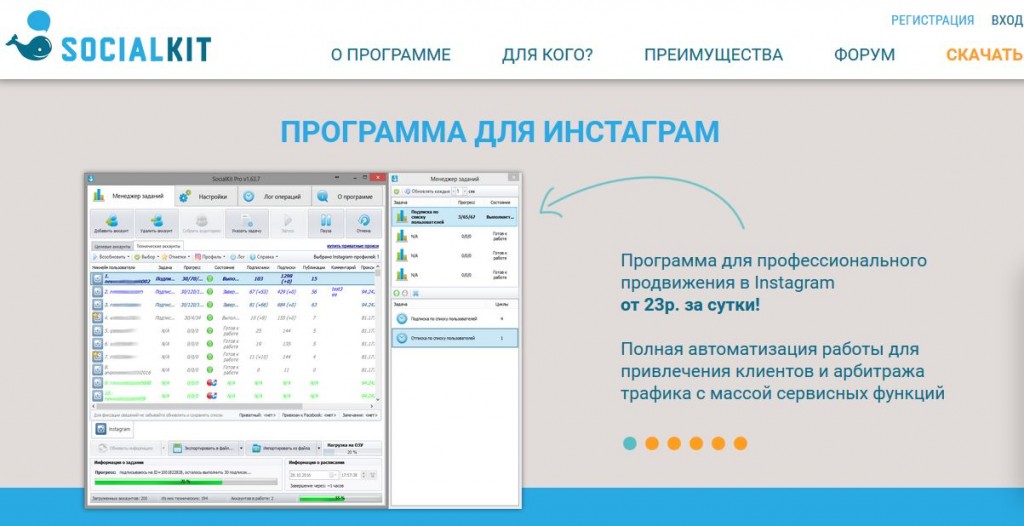 Possibilities:
creating accounts,
profile editor,
auto posting photos and videos,
spy with mass placement of likes and comments,
cathedral and filtering of the millionth target audience (target audience)
mass subscription, liking and commenting both on prepared lists and on hashtags.
See full functionality here.
Instagram Chatbot by SendPulse
Create an Instagram chatbot for free with SendPulse.
Price: free
Functional:
Create a message thread with the visual designer
Teamwork (multiple operators can be connected)
Setting up automatic thank you responses to mentions in stories
Website bot subscription widget
Filters for configuring segmented mailings in Direct
Features: there is a separate mobile application for managing the chatbot on Instagram.
ZEUS
ZEUS is a cloud service for mass viewing of stories and reactions on Instagram.
Price: from 390 rub per month
Trial period: 5 days (2 VIP and 3 standard) + 1 day if you start work immediately

What can Zeus do?
Features for promoting on Instagram:
Stories Views. This is a feature that services and programs for promotion have only recently begun to add to themselves. There is no need to set any limits here. Your account will simply view the stories of your audience, and in return they may be interested in your page.This functionality has almost no restrictions from Instagram and you can view more than a million stories of different people in a day.
Opportunities for selecting an audience:
Zeus knows how to search and filter the audience according to really interesting criteria.
Audience search:
Target the entire audience of the competitor(s);
You can enable tracking of a competitor or an entire list, for example, targeting people who have recently liked, left a comment, or followed an account from your list. You can target all active users at once or only those who, for example, left a like;
Search for profiles by geolocation (search is carried out pointwise, integrated with Yandex Maps);
Search by hashtags.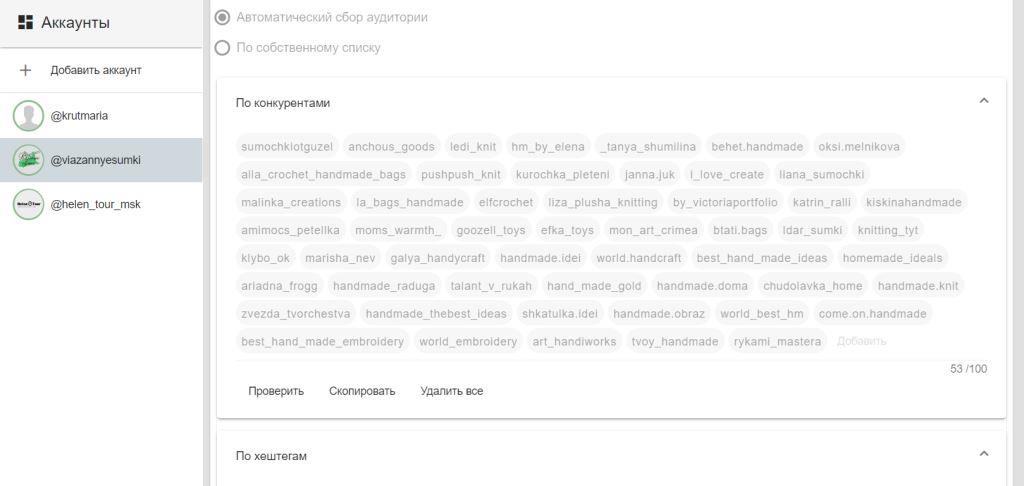 The entire audience that is found, the platform is able to automatically pass through the filters:
Subscribers or subscriptions from and to;
Only with an avatar;
Days since the last post no more than N;
Number of posts from and to;
No links in the description;
Ignore business or private profiles;
The use of stop words or white words (in this case, you will already be offered to use a database of female names, male names, or a prepared database of spam / junk words);
Profile language;
Work with the ignore list is supported.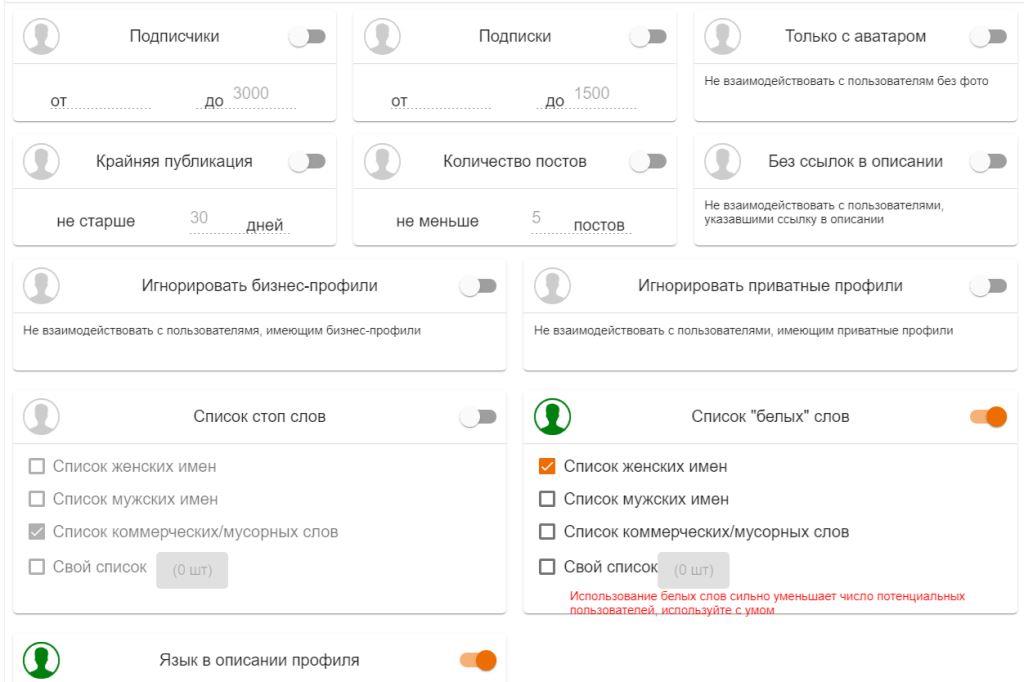 Bridgit
Bridgit.me is an Instagram promotion service.
Price: from 490 rubles / month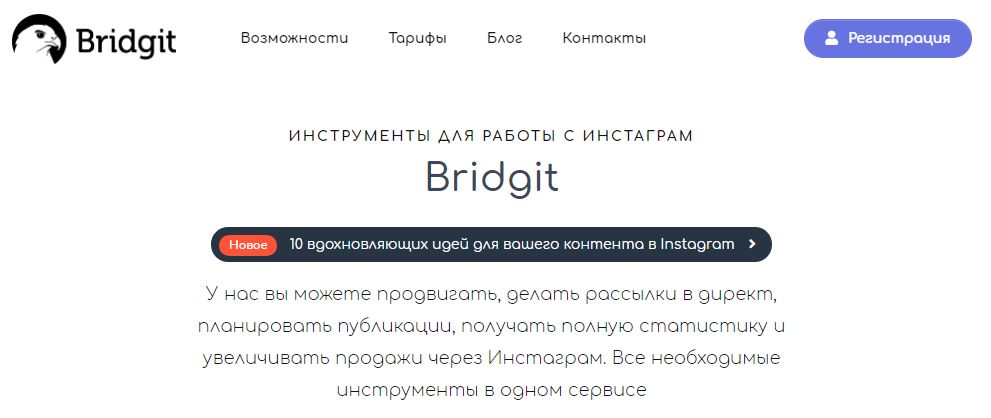 The service is unique in that all the main functions are available in one tariff, the tariff differs only in how many Instagram accounts you want to promote at the same time. The service is cloud-based and there is no need to keep the computer turned on during the promotion. As well as having your own mobile proxies that are used correctly (which is very important now).
Promoting your Instagram account by automating actions:
Subscriptions
unsubscribes
massliking
Masslooking
Posting comments from your profile
Smart filter when selecting the target audience
Working with Direct messages:
Automatic welcome messages
Mass mailings according to various criteria
Content publishing:
Delayed posting of photos and videos
Delayed posting of photo or video carousels
Delayed Posting Stories
Additional services:
Set up promotion for you
Write sales texts
Maximum Action
Also read the full Bridgit Review – Instagram Promotion Service
Commenter
A service for simulating activity in an Insta profile using comments.
Price: from 390 rubles.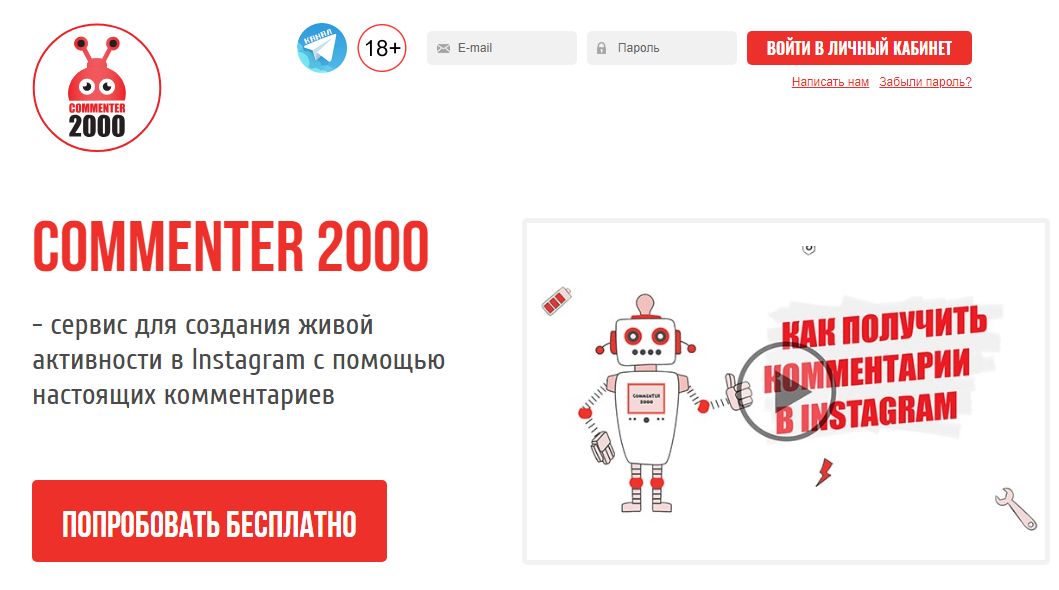 This service has 3 rates:
Free – 5 comments per day for 1 profile are charged;
Initial – unlimited number of comments per 3 profiles;
Optimal – unlimited number of comments per 10 profiles;
Major – getting an unlimited number of comments on an unlimited number of profiles, no need to complete tasks.
To receive comments, you need to drive in the profile on which these comments will be received, and you also need to drive in the profile for distributing comments.
There are some profile features for distributing comments.
The profile must be female with a female nickname;
Your profile should not contain your activity, phone number, city, etc.;
Must be a female avatar;
The person on the avatar and in the profile in the photos must be the same;
The profile should not contain any geotags, no photos on which it will be clear which city and country this is;
Number of publications from 13;
The number of subscribers from 15;
Number of subscriptions from 15;
The profile can be closed, which will simplify point 4.
Every day you need to complete tasks (leave a comment under a different profile). It can be either a thematic or a ready-made comment. This task is given 50 minutes, but it must be completed earlier, since the comment customer may not accept your comment within 3 minutes and it will need to be redone, if not, the task is canceled.
This service has a telegram bot that sends a notification if someone has left a comment through this service.
Trads.io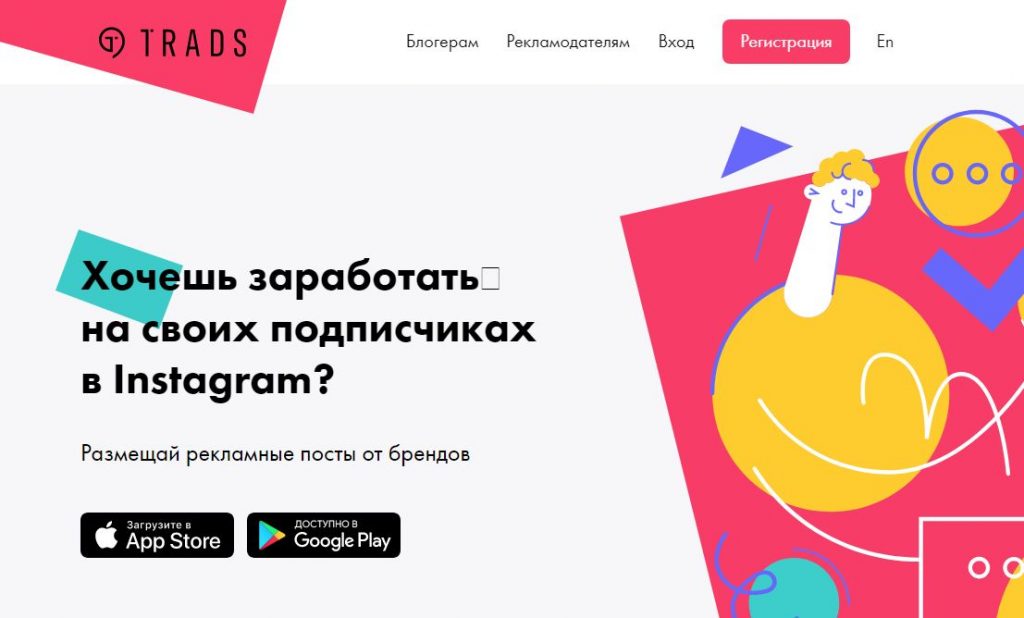 The https://trads.io/ service allows you to place ads with bloggers on Instagram of various sizes to increase sales and recognition.
Advantages:
Automated platform for promotion through bloggers in Instagram Stories.
Saving time on correspondence with bloggers and tracking when, who and what will be published.
From you – wishes for the advertising budget and the expected result, from the service – attracting customers.
There is a pay-per-action (CPA) model. Those. You only pay for real conversions.
Flaws:
POSTOPLAN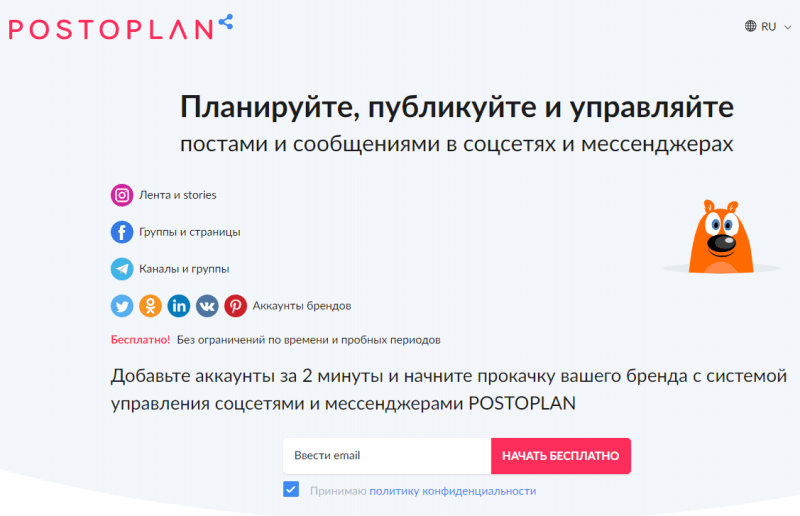 POSTOPLAN is a delayed posting service. Helps to maintain accounts, plan and manage content in social networks.
Works with social networks: Instagram, Facebook, Twitter, Telegram, Vkontakte, Odnoklassniki, Pinterest, Linkedin.
Price: The service is free, no trial periods. 8 free accounts are provided (one for each social network). If the basic functionality is not enough or you need more accounts, you can connect the extended version for only 89 rubles/month.
Pros:
An unlimited number of posts, users and projects is available for all types of accounts;
There are notifications about the status of each delayed post;
Recurrent posting – placement of publications with a given frequency;
Various themes for comfortable work;
Calendar of holidays and events for quick creation of posts;
Publication of GIF animations and video files (for PRO accounts);
Import from RSS feeds.
Minuses:
At the moment, Instagram is in test mode, so errors may occur when connecting an account and posting a post. But soon everything will be fixed, the project team is working on it.
BroBot
brobot – computer software.
Trial period: 1 profile (social profile) for free.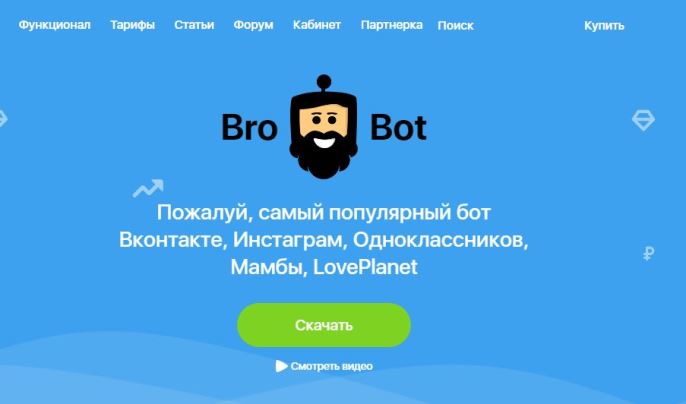 Price: minimum tariff 599 r (up to 10 profiles in 1 month)
Opportunities for Instagram:
Real user simulation:
1. correspondence by keywords;
2. answering machine;
3. answers in the comments.
Autosubscribe and unsubscribe
Like random photos
Filters by status (online/offline), ID, hashtags, number of likes and comments,
MassCommenting
Autoposting
Security: Useragent support, proxy, limit setting.
Features: works with 4 social networks (Facebook, Instagram, VKontakte, Odnoklassniki), as well as Mamba and LovePlanet.
Insta.Systems
insta.systems – cloud service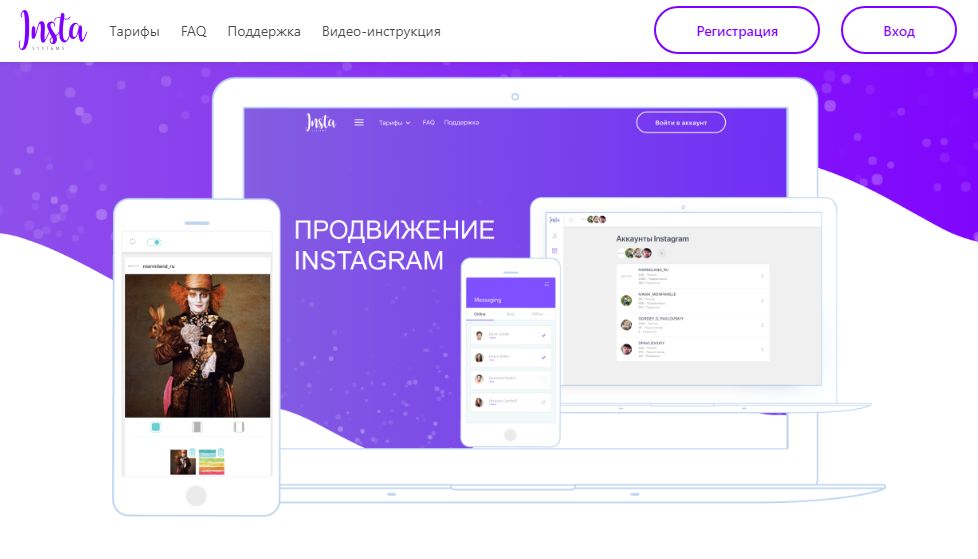 Possibilities:
auto-posting – provided free of charge to all users, even those who will not pay for the paid period further,
mutual likes (likes occur only between the participants of our service, no "left" likes from incomprehensible pages, because each new user is moderated),
mutual savings of a post,
mutual comments (full comments on the topic of the post),
all operations occur automatically, the user only selects a post already posted on Instagram, which requires activity, or prepares a new post directly on the site,
you can schedule many posts at once for a week / month.
Price:
Trial (free) period of 15 days, where available every day: 500 likes, 30 saves and 5 comments
But even after the end of the trial period, the free plan will be automatically enabled: 30 likes, 3 saves and 1 comment for each day
After
The price is 300 rubles per month for 300 daily likes from service members. This is 9000 likes per month, the price per like is 0.033 rubles; 500 daily likes = 500 rubles per month, etc.
There are also 100 saves every day for 200 rubles per month and comments – 10 pieces every day for 200 rubles per month. (A person writes comments to himself, and the service sends these messages on behalf of other members of the service, who also turned on the "mutual comments" option. Therefore, comments are maximally involved under the post, and not bot-like, such as "beautiful photo", as in others services).
You can choose any package according to your requirements.
The essence of the service:
output to the top by tags (where your target audience sees you and subscribes),
output to the top of the feed with your subscribers – the first to appear in the feed,
trust and loyalty of subscribers to the page that is liked, commented on by real people.
InstaRocket
instarocket.co – online service
Trial period: 3 days
Price: $7.95/2 accounts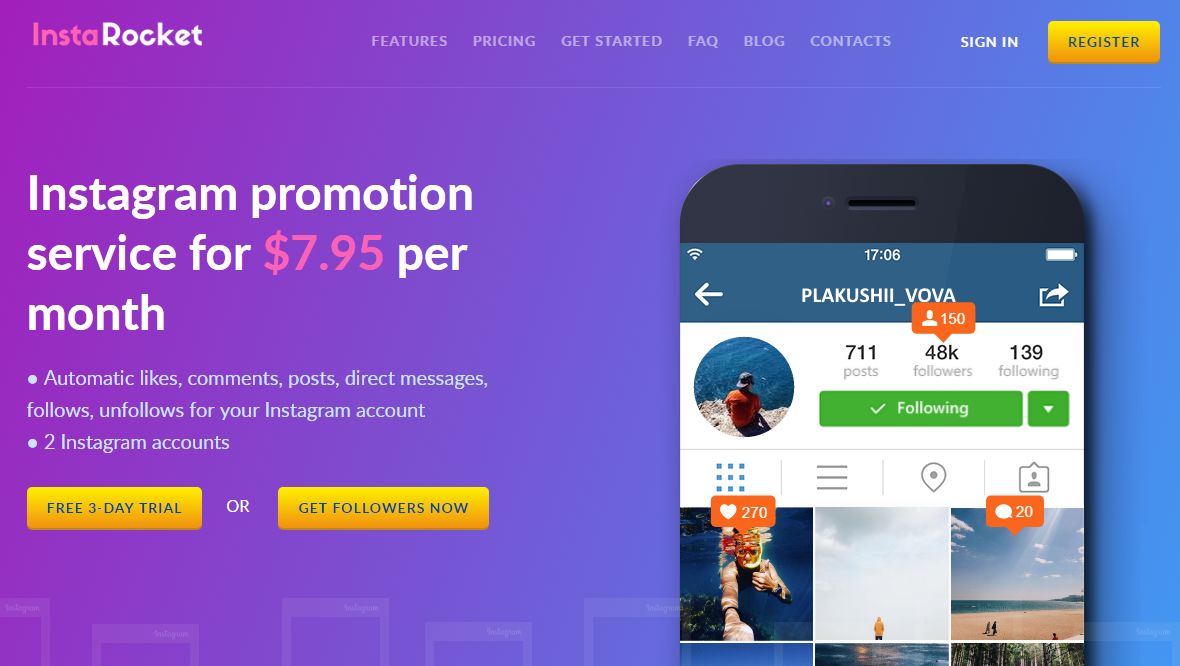 Possibilities:
Mass following, liking, commenting.
Messages in Direct.
Targeting by hashtags, geolocation, competitors or your list.
Exclusion of bots, store accounts, fake accounts.
Individual IP (proxy) for each connected account.
There is an option to buy subscribers.
Zengram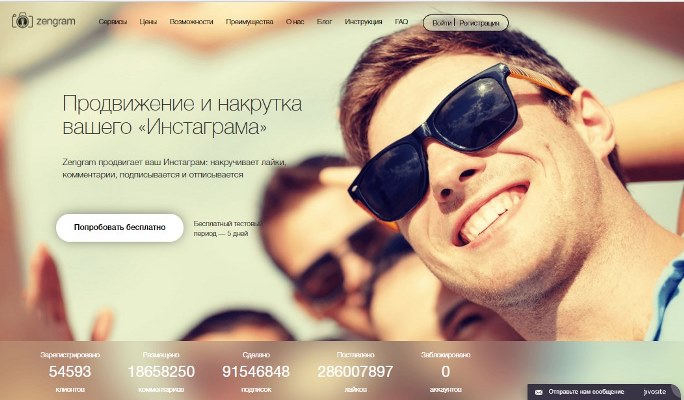 https://zengram.ru/ – online service (not recommended at the moment).
Trial period: 5 days
We offer 5 rates:
3 days / 99 rubles
10 days / 279 rub.
1 month/699 rubles
3 months/1499 rubles
1 year / 4990 rub.
The service time is divided into all profiles that you have added to work.
Key features:
cloud service,
uninterrupted task execution without daily intervention,
convenient and beautiful interface,
the ability to start work "in one click"
interesting functions of mutual likes and automatic likes on new photos of your subscribers,
automatic mechanism for unsubscribing and disabling the service when the subscription limit is exceeded,
mutual likes – likes in response one of the photos who liked yours,
Likes new photos of your followers.
Minuses:
not the lowest price
no performance statistics.
Read the full review of the service here.
As for me – services are more convenient. Turned off the PC and everything works on. But there are more functions in the programs! And this is an occasion to think about the choice. Therefore, choose based on your goals and objectives and test!
FAQ
How to promote Instagram for free?
For free promotion of Instagram, you can use the following methods: publishing quality content; use of hashtags; interaction with other users, commenting, likes, etc.; participation in competitions and sweepstakes.
How to get followers on Instagram without cheating?
To get followers on Instagram without cheating, you can use the following methods: publishing quality content; interaction with other users, commenting, likes, etc.; use of hashtags; regularity of publications; creating interesting stories, rils and high-quality photos.
How to wind up saves on Instagram?
To boost saves on Instagram, you can use the following methods: posting interesting and useful content; using action-inducing descriptions for your posts; the use of reposts and mentions of other users in their posts; promoting your posts through Instagram advertising; creating contests and sweepstakes to keep users interested and encourage them to save your posts.
Internet marketing expert. Head of marketing agency MAVR.
Business degree "Master of Business Administration" (MBA).