How to create and promote a group (community) on Facebook? Features you didn't know about!
We will send the material to you by email:
Время чтения:

8

мин.
One of the platforms where you can effectively promote your business is Facebook. Here you can create a community on behalf of a company, independent professional or other commercial project. Often, entrepreneurs and marketers, so to speak, on the shore of business promotion on Facebook choose between two main platforms: a group and a page. In this article, we will cover the topic of communities in detail. But if you are doing commercial promotion, then it is best to create a business page, as it has more useful features for promotion.
What is a community on Facebook?
What is the difference between a group and a page?
Let's take a closer look at creating a facebook group.
Let's talk about community promotion.
What is a Facebook group?
A Facebook group is a community created to connect people with common interests. You can create groups for both general discussions (such broad topics as art, computer games, politics, etc.) and a narrower circle of people (family council, colleagues, university group, etc.)
Facebook: what is the difference between groups and pages?
There is a huge difference between these sites, and now you will see for yourself. For clarity, we have prepared a comparative table:
| | | |
| --- | --- | --- |
| | Group | Page |
| For what? | To communicate with users with common interests | Official representative of the brand / Information resource |
| Posting photos and videos | Yes | Yes |
| Statistics on participants and their interaction with the platform | Yes, but the group must be min. 30 days, and the number of participants from 250 | Yes |
| Using applications, widgets, creating separate blocks | No | Yes |
| Launch of targeted advertising | No | Yes |
| Possibility to take a branded URL | Yes | Yes |
However, groups have a number of other advantages:
Bulk messages (you can distribute information to more people)
Access restriction. There are three types of privacy groups: public, private, and secret.
In a public community, all members and posts will be visible, and it will be available in social network searches.
A closed group will also be displayed in Facebook searches, but only those users who are members of it will see its content and members.
The content of the secret community, like the community in the search results, can only be seen by its members.
| | | | |
| --- | --- | --- | --- |
| | Public | Closed | Hidden |
| Sees the name of the group | All | All | Current and former members |
| Views the description of the group | All | All | Current and former members |
| Sees a list of group members | Registered in Facebook | Current Members | Current Members |
| Sees the names of group administrators and moderators | Registered in Facebook | Registered in Facebook | Current Members |
| Sees the posts of members in the group | All | Current Members | Current Members |
| Can find the group using the Facebook search function | Registered in Facebook | Registered in Facebook | Current Members |
| Can send a request to join a group | Registered in Facebook | Registered in Facebook | Бывшие участники |
| Can see news about the Facebook group, for example in News Feed | Registered in Facebook | Current Members | Current Members |
Well, after we figured out the main features of the group, you can move on to creating a group on Facebook.
How to create a Facebook group. Step-by-step instruction
Creating a community on facebook can be done at the link https://www.facebook.com/groups/

Step 1. First you need to come up with a name for the group and invite at least one member. You can add a comment to your invitation.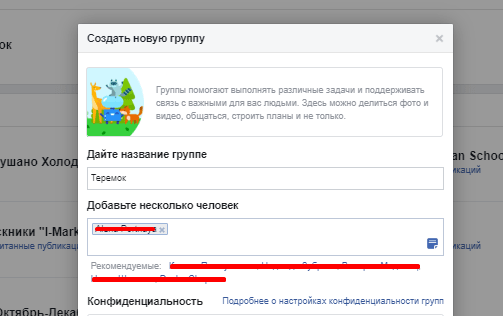 When you come up with a name, you can attach a "unique" label to the group on the subject of your choice: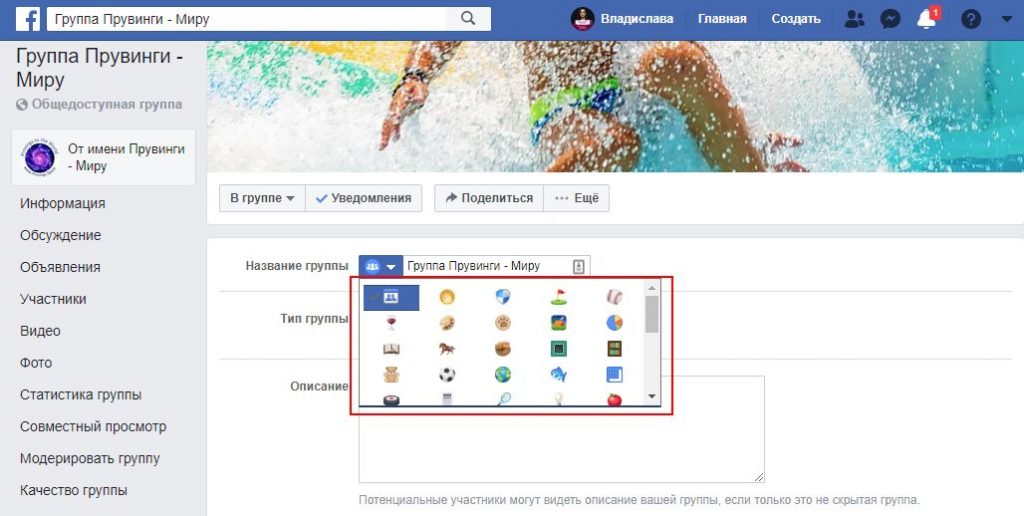 Step 2. Choose privacy (public, private or hidden).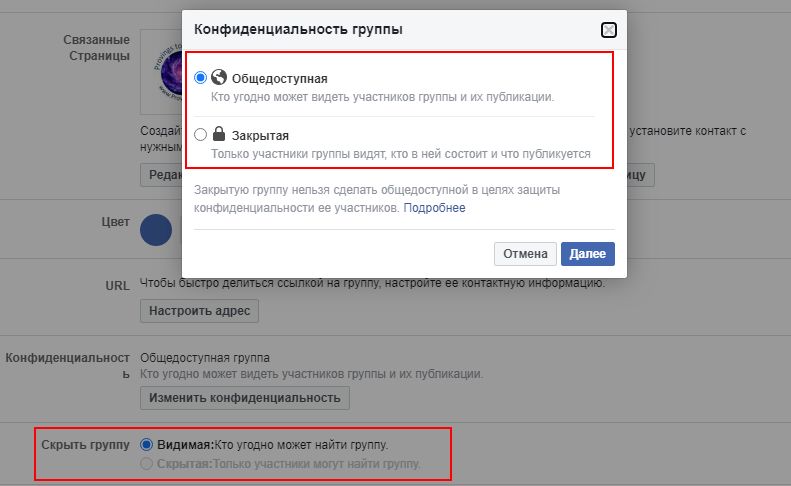 That's it, the creation of the Facebook group is over!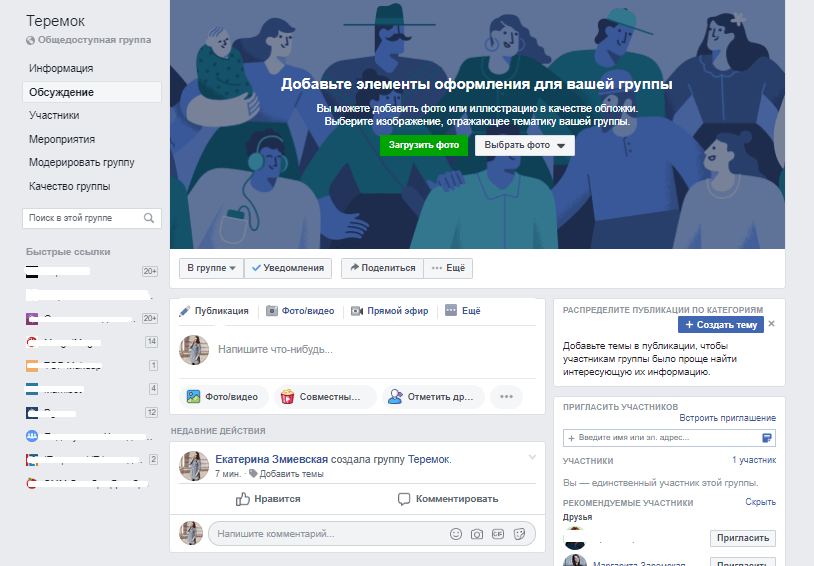 Step 3. Now you need to check the moderation of the group, go to the appropriate tab.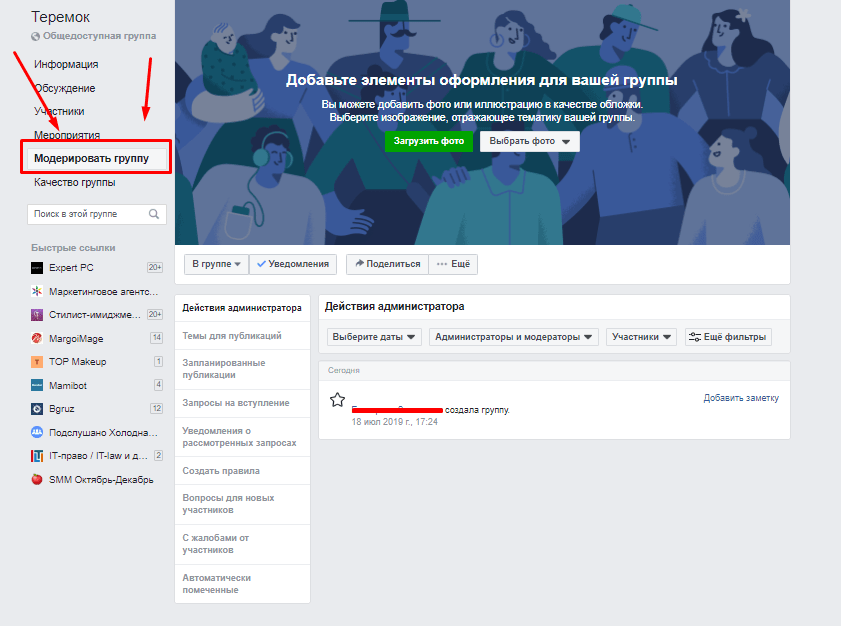 In settings you can:
View admin actions.
Customize post topics.
Schedule posts.
Check entry requests.
Set up notifications for pending requests.
Create rules for participants. For example, Facebook offers the following: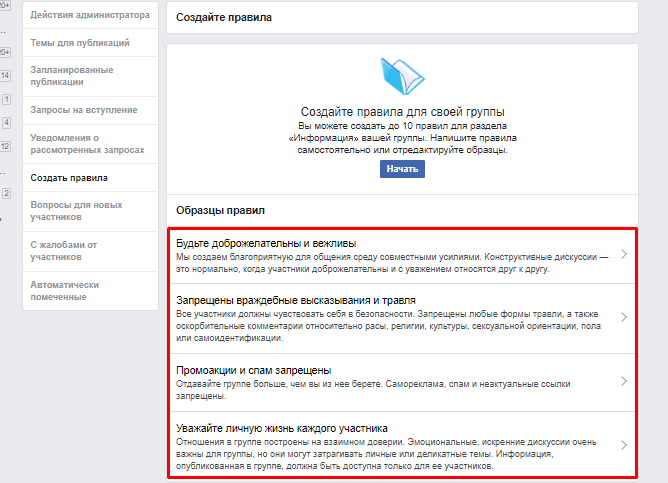 Set the condition "Questions for new members". Those. if a member wants to send a request to join your group, they will also need to answer the set questions.
View group content that members have reported.
View content flagged by Facebook for being in violation of community standards.
You can also choose the type of group (the most popular type is general, and you already see which one you need depending on your goals)
Last but not least, don't forget to add a band description and cover art!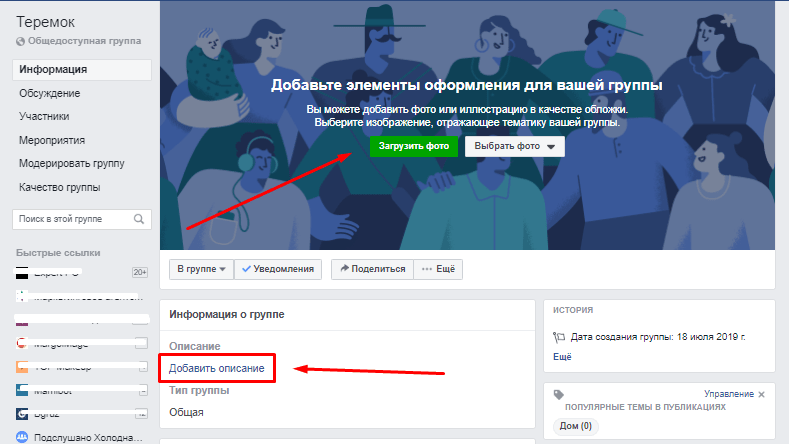 In general, the group provides a fairly large number of opportunities. So you can create a chat and communicate in it, add new documents and events.
Facebook group promotion
As you already understood, there is no function to launch targeted ads from the community. But there are alternative options for how to promote a group on Facebook:
Bulk invitation to join friends in a group. This works well if you have a large friend base. This can be done using the built-in functionality of the group itself.
You can post to a group asking them to invite friends of group members to join the community. With the same success, you can make such publications either in other groups of similar topics, or on your personal profile, or on a Page on the subject that you manage. The more channels you use, the more group subscribers you will immediately receive.
If your group has a Verified Page attached, then you can import a .CSV file and thus invite a large number of people at once. Read more on how to do this here.
Add an invitation to a group in html format to a website or mailing list. If it is difficult to understand the code, in each mailing list you can simply give a link to the group with a request to join and describe why you need to join the group, what is its value?
Advertising in other communities or on Facebook pages. This means paid placement of information about your group in various sources.
Advertising on external sources. For example, on a Youtube channel or in podcasts.
And to get effective promotion, contact the professionals! An example of promoting a group on Facebook from IAVR.
How to promote a group on Facebook yourself?
If you nevertheless independently asked yourself how to promote a group on Facebook, then more detailed explanations will be useful to you:
It is best to start promotion with a high-quality design of the group. To stand out from the competition, you need to develop a unique and creative cover design. In order for group members to immediately understand what the group is about, it is important that the visual design is appropriate. For example, you can write information about your company on a banner, as well as use a logo. In addition, you can depict the main product that you are promoting. Choose a high-quality picture with high resolution.
Use keywords in the name of your group. In the Description, indicate the main information or type of activity. List your services / products, why you need to join your group. Post hashtags. These are the keywords that are related to the content of your posts. With their help, you can attract new users by increasing your reach. All this will optimize your site.
Content plays an important role in promoting a group on Facebook. It should be useful, relevant and interesting. If your posts are of high quality, then other users will share them. Each repost will spread your content and attract new members. To promote a group through content – make a plan for posting posts. Include headings and topics that cause the most active reaction from the audience, and plan to publish these posts regularly.
High-quality content will get more likes and comments (usually, activity in groups is always higher than on Pages). This will positively affect the ranking of your posts. The more activity a post collects, the higher its position in the news feed, as well as in Facebook search. You can also increase activity by posting posts at the right time when most of your followers are online. Another type of content that is very popular on Facebook is videos. Through the video, you can convey more information than in a few posts. Post short videos about a minute long. You can use captions as some users view videos without sound.
Chat with your groupmates. This will increase the activity of your group. Respond to all comments and suggest interesting topics for discussion. The cool thing is that each participant will have their own badge when posting or commenting.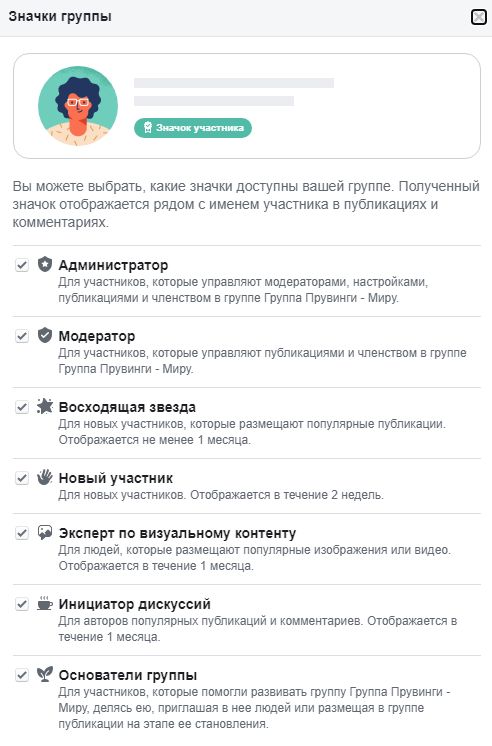 Another effective method of increasing the loyalty and trust of subscribers by contacting them is the organization of live broadcasts. You can answer questions in real time by arranging such meetings.
Change the page address to make it more logical and simple. The standard address looks ugly and hard to remember. This is necessary in order to use it in promotion. For example, a link to Facebook can be mentioned in business cards, as well as in other types of print or outdoor advertising. Or make a QR code out of this url for reading on mobile devices.
Use the method of mutual PR by exchanging reposts with other sites on Facebook where your target audience is.
For faster promotion, you need to use advertising. There are several advertising options. It is most effective to order targeting ads with the goal of Traffic to the group (as I wrote above, Engagement for publication will not work), with which you can set up an ad designed for your potential subscriber. Also, use other Facebook groups to advertise your services there. You can also advertise your Facebook group on other social networks.
Attract subscribers with promotions and discounts. This is a great way to motivate the audience to follow you so as not to miss new discounts. From time to time it will effectively hold contests with valuable prizes. One of the conditions of the competition may be joining your group.
Internet marketing expert. Head of marketing agency MAVR.
Business degree "Master of Business Administration" (MBA).
15 services that will find your target audience in social networks for successful targeted advertising