Anna Mikhailenko: "I clearly understand that my own style of dressing is a selling tool"
We will send the material to you by email:
Время чтения:

4

мин.
"Fashion passes, style remains." Quote by Coco Chanel emphasizes the importance of style in our lives. Each of us dreams of being beautiful, successful, noticeable, and at least a part of these tasks can be helped by a stylist who is in love with his job. We have stylist-image maker Anna Mikhailenko for an interview.

Anna, what are you doing?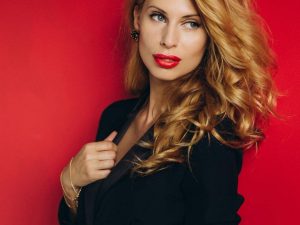 Hello, my name is Anna Mikhailenko, I am an image stylist. My field of activity is very extensive, I work with private clients, wardrobe analysis, shopping, selection of an individual style, I also stylize fashion shoots, shoots for clothing catalogs, individual shoots.
Why do I need a stylist, if almost all good stores have highly qualified specialists who will dress me?
The stylist-image maker works not only with external data, my task is to find out the inner world of the client and help him to manifest himself with the help of clothes. Any person with good taste can advise and choose clothes, but will it be in harmony with your perception of yourself, will you be comfortable in it, will it fit your lifestyle – the question is? The stylist has a lot of tools in his hands that help us in our work. These are tests and associative maps and a palette for determining the color type, determining the psychotype and much more …
Who decides what will be fashionable next season?
In September, fashion weeks are held in four cities – New York, London, Milan and Paris, where the world's top designers show their new collections. These shows set trends for at least half a year in advance – all things from the catwalk will appear in stores only in the spring, and not only in expensive ones: by then the mass market will copy them 🙂
How do you tell a good stylist from a bad one?
I believe that the client chooses a stylist intuitively and according to external criteria. Plus, almost every stylist holds the first meeting-consultation, acquaintance. I clearly understand that my own style of dressing is a selling tool. In personal communication, it is usually already clear whether you will be comfortable with this specialist or whether you should look for another. Each stylist has an Instagram where you can see his work, portfolio.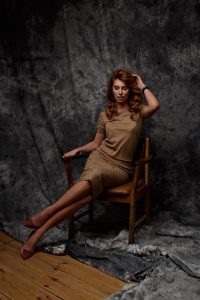 Who are you studying with?
I learn from primary sources, from the GURU of fashion and style, in my opinion 🙂 from Alexander Rogov, Vlad Lisovets, Andre Tan and my strong base is the school of Inna Evtikhova.
Why are there so many poorly dressed wealthy people?
I didn't notice this trend.
Karl Lagerfeld handsome?
Karl Lagerfeld is a recognized genius! His sense of style is impeccable, as he devoted himself to his work and projects – a rarity in our time, immense respect for the maestro !!!
What annoys you in your profession?
Nothing 🙂 I don't get irritated at all, over the years I become more conscious, I treat everything much easier and understand that no matter what happens, it will be better for me! 🙂
Is kinesics an important thing when choosing an image?
Of course, I work with this too! After all, style is not only clothes, it is an image as a whole, movements, gestures, facial expressions, etc.
What brands are worth paying attention to now?
If from the luxury segment – N ° 21, Aquazzura, Natasha Zinko, Zimmerman, Fendi …, I also consider the brands of Ukrainian designers to be worthy!
How do you promote your services?
Word of mouth and advertising on Google works best.
Who is easier to work with, men or women?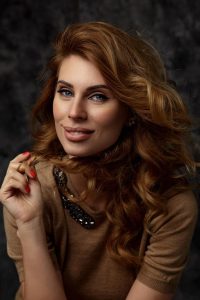 It depends not on gender, but on the person, on his character. I feel at ease with everyone, even with children 🙂
Stylist services, is it expensive?
No, it's not expensive here in Kharkov, on the contrary, it's savings, because you don't buy what you won't wear, what doesn't suit you, your entire wardrobe is capsule, all things are combined with each other! Total benefit!!!
And saved, means earned.
If the shopping fails, will I pay for it?
In my practice, this was not the case, since I always do preshopping, I prepare directly for shopping. There are non-standard sizes, then we sew! 🙂 I cooperate with designers who will make any whim.
---
The interview was prepared as part of the "Interview with our Clients" project. If you are our Client, and we still have not talked about your project in the blog, contact us in any convenient way to prepare for publication.
Expert in media marketing.
Speaker of specialized events on the topics: journalism, sales and media marketing.