Firmao: Efficient business management with a CRM system
We will send the material to you by email:
Время чтения:

3

мин.
In today's dynamic and competitive business reality, effective business management requires the use of modern tools and technologies. One of the solutions that has become very popular among businesses is the CRM-system (Customer Relationship Management), which helps to manage customer relationships.
An example of such a system is Firmao, developed in 2010 in Poland. We will look at this system in more detail in this article.
What is Firmao?
Firmao is a comprehensive all-in-one tool designed to manage all departments of a company, from marketing to sales and after-sales service. It is intended for small and medium-sized manufacturing, service and trading companies, but thanks to its modular design, it can be quickly and easily adapted to the specific needs of any company.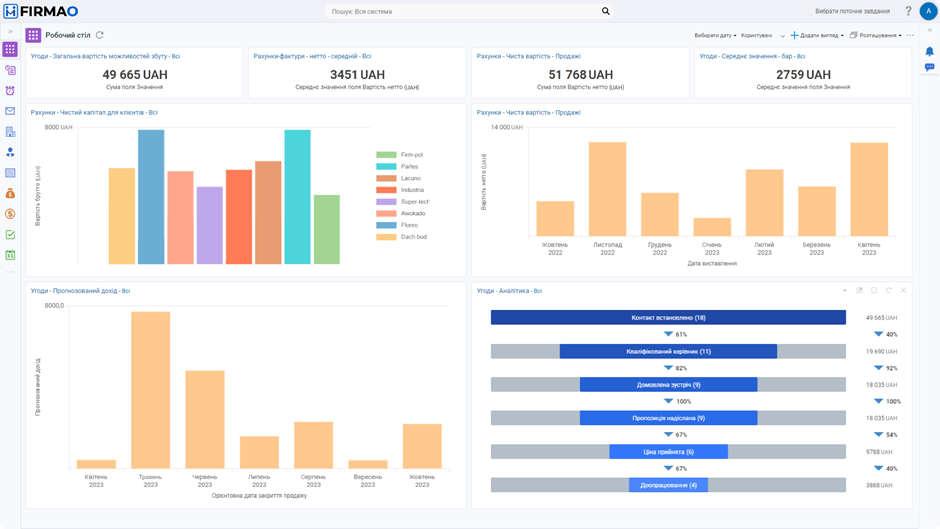 What benefits will Firmao bring to your company?
Running a company can be quite a challenge. Can you remember the questions that were discussed with each individual client if there are hundreds of them every day? Of course not. This is where CRM systems, such as Firmao, come to the rescue, designed to streamline all the processes taking place in the company. Thanks to the system, you won't forget about a scheduled meeting, a task that needs to be completed, or something that you discussed with a client a week ago.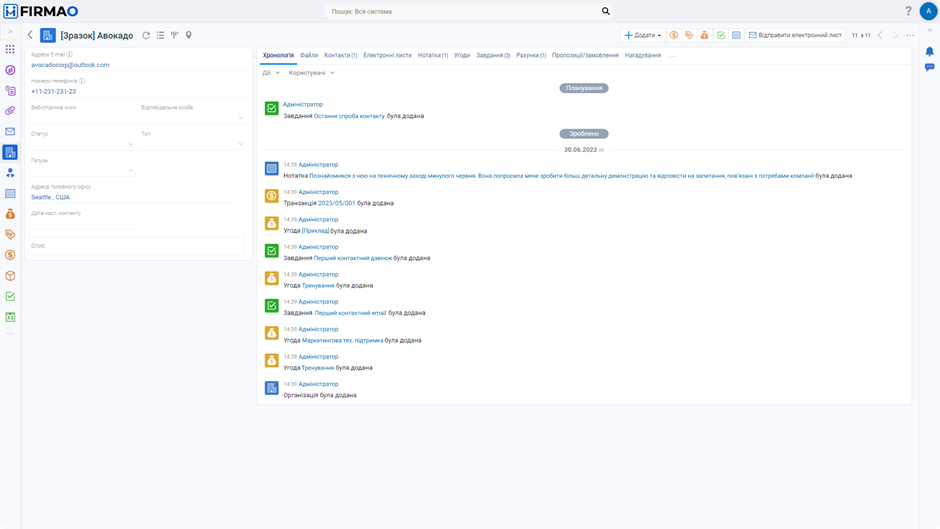 Main Features of Firmao
Easy organization and automation of the sales process
Fast issuance of documents such as invoices, offers, orders
Automation of the billing process
Managing the work of employees by assigning tasks and tracking working time
Manage customer contacts through integration with email, phone, chat
warehouse management
Can be easily configured to tailor the system to specific needs
Ability to store data on your own server (on-premise)
Deals are under control
The client is a key element of the company's success, making profit and supporting the financial stability of the company depends on its purchasing decisions. Firmao allows you to collect and store all customer data in one place. This will give you easy access to information about your customers, their preferences and transactions. This will allow you to better understand and tailor your sales to their needs.
Firmao also allows you to automatically distribute leads/deals to your company's salespeople to manage the sales process. It can also be automated – the transition between stages can be made conditional, for example, by filling in all the elements of a certain checklist.
Software price
Firmao offers very competitive prices depending on the client's needs. There are 3 licenses to choose from: Standard for 298₴, Professional for 428₴ and Enterprise for 779₴ per user per month. By choosing to pay a year in advance, we can get a 23% discount.
You can test Firmao for free for 14 days. After this period, you will need to purchase a paid subscription if you wish to continue using the platform.
Support
Firmao phone support is available from 8:00 am to 5:00 pm and email support is available 24 hours a day, 365 days a week. Firmao offers support in Polish, English and Ukrainian. Support is available to all users without the need to create an account. In addition to the standard phone support, support is also available via email, chat, callback widget or by ordering an online presentation of the system.
Integration
Firmao offers over 1000 integrations.
Mobile app
The purpose of mobile applications is the same: to give employees the ability to quickly access customer data, interaction history, sales information and other necessary information, wherever they are. The Firmao app offers deal creation and tracking, contact and company management, task tracking, and push reminders. With just one click, you can call, send an email or message to a customer.
Summing up
If you need a simple business management tool, including: sales, marketing, projects, client contacts, Firmao can be a hit.
Internet marketing expert. Head of marketing agency MAVR.
Business degree "Master of Business Administration" (MBA).