35 social media analytics tools
We will send the material to you by email:
Время чтения:

24

мин.
An experienced marketer knows that success comes to those who not only understand the topic, but also have good tools. A software or online service can collect analytics for a web resource with equal success, as if the specialist himself collected data manually. The only difference is that the work that a specialist will spend several hours, or even days, can be assembled by a tool in a few minutes. The marketer will only have to consolidate the information and prepare recommendations based on the data received.
Today we will give a brief overview of 40 tools that can make working with social networks easier.
Socialinsider
Socialinsider — is a social media benchmarking, analytics and reporting tool. The service supports such social networks as Facebook, Instagram and Twitter. With Socialinsider, you can save time and impress customers with data they haven't seen before by comparing their efforts to those of their competitors.
Agora Pulse
The tool simplifies the life of an SMM manager by helping to manage all profiles on social networks such as Facebook, Twitter, Instagram, LinkedIn, Youtube at the same time. AgoraPulse analytics allows you to download analytics in one click to track the impact of each post. The hint system will help you figure out what changes can be made to the plan in order to improve the ROI of the page. Need to show fresh data to a client in PowerPoint? The resource also provides this service.
The service will be of interest to both business owners who want to see the big picture, and venerable marketers who want to build forecasts and recommendations by analyzing data in depth.
Clients: Disney Channel, PlayStation, Yves Saint Laurent, Dove, and even the North Atlantic Alliance Organization (NATO) public relations department use AgoraPulse tools for analytics and social media.
Hoot Suite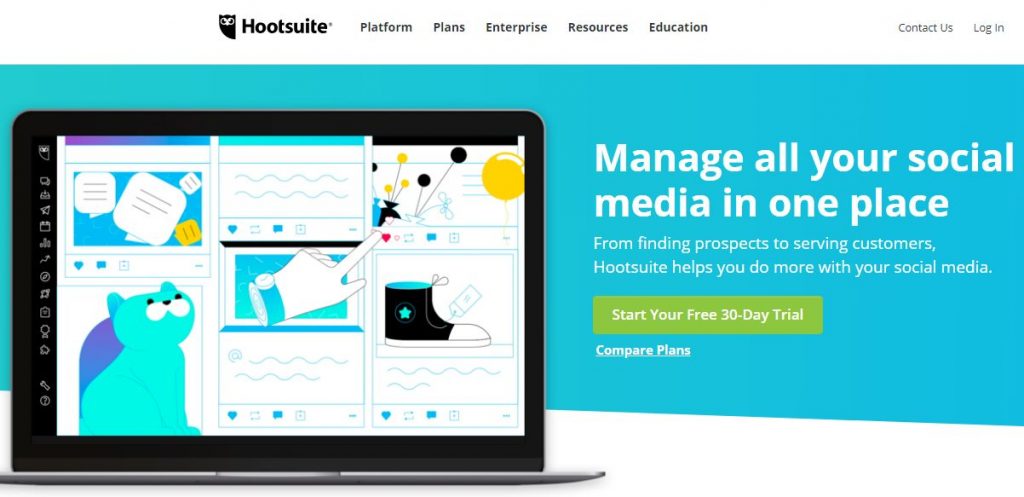 Manage corporate pages on Twitter, Facebook, Instagram, YouTube, LinkedIn, and, in addition, by connecting additional applications, work with Pinterest, StumbleUpon, Vimeo services. Perhaps this is the feature that makes Hootsuite special in the ranking of social media analytics tools.
Through a fully customizable toolbar, you can set up a separate stream for each profile, and then switch between them in the process. Convenient for a manager providing outsourcing SMM services. You can switch between projects and separately collect data on ROI, conversion, draw up an editorial plan for smm, studying the results of engagement and traffic from publications.
Several sets for collecting analytics, tools to help plan a campaign in social networks – the optimal 20% of additional functionality that automates 80% of a specialist's working time.
Quintly
Flexible tool for collecting Facebook, Twitter, Instagram, Pinterest, LinkedIn, YouTube analytics. It is possible to create your own KPIs, collect them into reports and data sets for API export. No matter how many metrics there are, the tool will respond quickly and accurately. Accuracy is not an empty phrase: the customizability of reports allows you to find the slightest deviation in the data and work it out.
The peculiarity makes it possible to conduct a benchmarking analysis – to find opinion leaders in the industry by qualitative indicators and compare how the brand indicators differ from them, learn from experience.
For the convenience of working with a client, it is possible, having administrator rights for a page on a social network, to send a link to a client. He activates it and monitors the status of indicators online.
Easy one-click data export: as an Excel spreadsheet, as a PDF and PPT presentation for PowerPoint. For those who like to present the results of work beautifully, you can download a corporate logo and an individual design for reports.
Sprout Social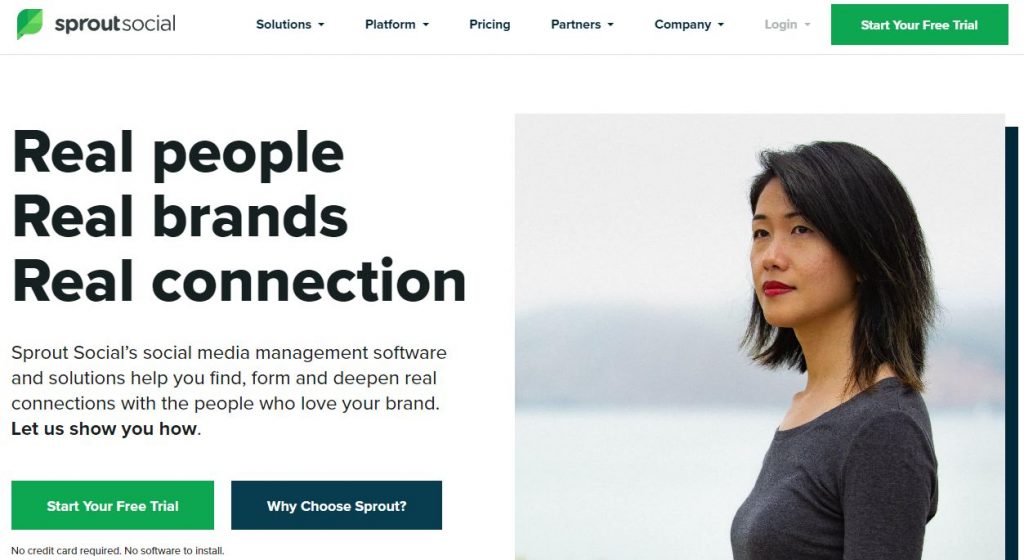 The service allows you to integrate with Google Analytics through its own API. All necessary reports can be generated online and downloaded to Excel. For collaboration, you can use Smart Box, and there is no limit on how many employees will work with the service at the same time.
The tool is indispensable for competitive analysis and benchmarking on Instagram, Facebook, LinkedIn, Twitter, Pinterest. With it, you can collect data on the content of competitors and track the dynamics of promotion. The resource has its own mobile application available in the AppStore and PlayMarket. Allows you to track and upload analytics on the go – ideal for those who value mobility.
Price: To test out Simply Measured's features, there's a two-week free trial. Further – from $99 per month.
Emplifi (ранее – Social Bakers)
Thanks to Emplifi tools, you can collect data on profiles on Facebook, Twitter, YouTube and compare the dynamics of performance with competitive offers. When generating reports, creating publications, adding products, the artificial intelligence of the service gives recommendations on the promotion plan, budget, so that the profile engages the audience as much as possible and receives the best feedback.
Reports can be downloaded as an Excel spreadsheet or PowerPoint presentation. Analytics can be carried out both in general for the profile, and for each record separately. A distinctive feature is the forecast of results, which allows you to go deeper into the issue of advertising budgeting in social networks.
Price: It is possible to test the tool in a free version with access to basic statistics. For wider access, there are several service packages with a starting price of $200/month.
Audience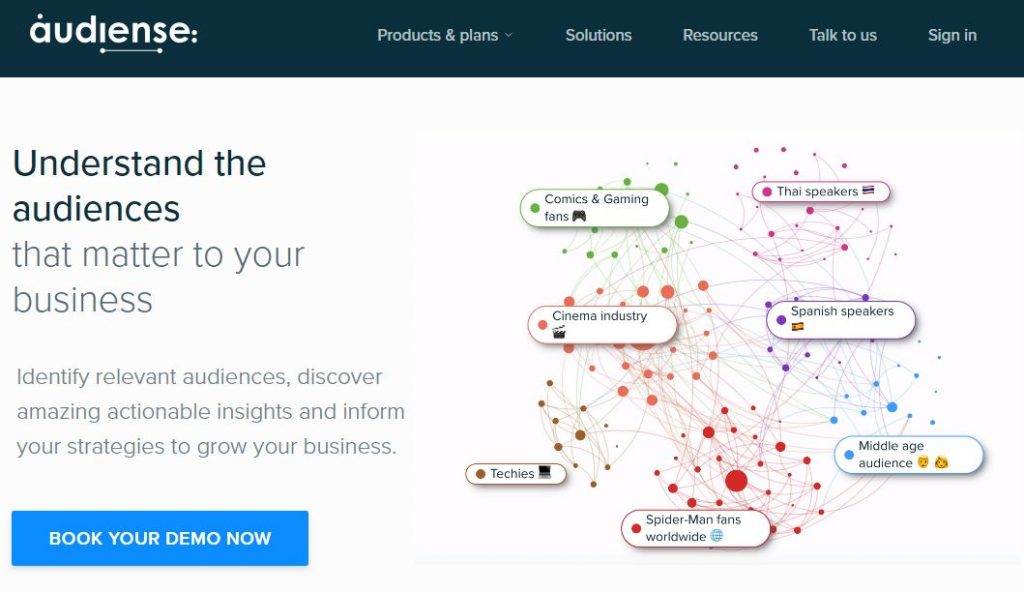 The peculiarity of the Audience tool is that it is able to deeply evaluate the activity of the audience of your profile in social networks. You can use it to check which target user cluster is best for you. In further work with existing subscribers, the tool allows you to track the discussion of published content. Built-in tips let you find ways to positively impact engagement.
A separate item is working with Twitter. Audience analyzes how effectively the budget is used and how an advertising campaign is built on a social network. Traditionally, it offers tips on how to improve these indicators.
Ready analytics can be exported to CSV for Excel, PDF presentation for Powerpoint.
Price: You can try the features for free for 2 weeks. Going forward, a paid monthly plan ($1,499) or an annual subscription ($696/month) is offered. The utility for Twitter will cost 9 euros/month in the start version and 89 euros for a business subscription.
NetBase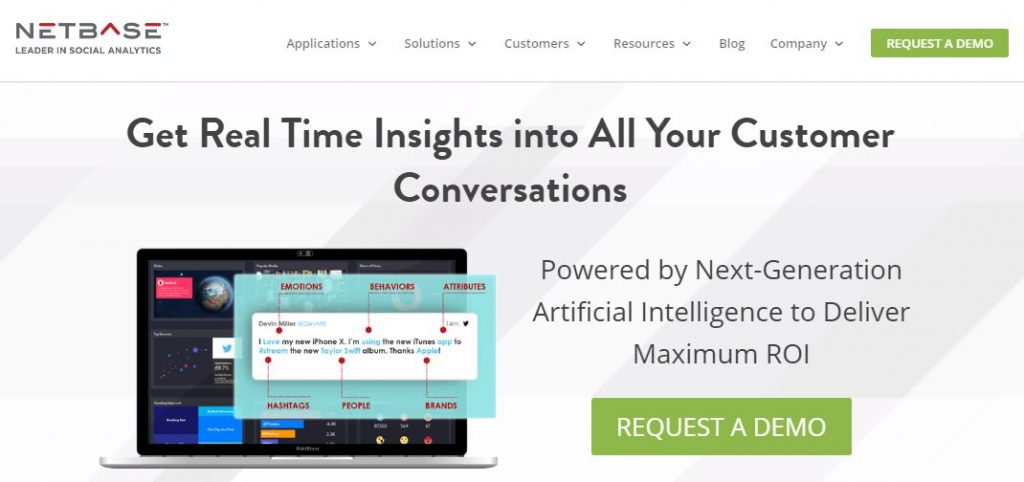 The developers have invested significant resources in developing AI for the service. This solution allows you to process even theoretically inaccessible amounts of data for manual processing and draw conclusions on how to improve ROI from activities in social networks. Most importantly, it's all in real time!
NetBase is aimed at large agencies and companies that need a powerful tool for the rapid processing of trillions (as the developers claim) messages in the field.
NetBase not only works with the largest business players, but also gathers leaders every year at its own NetBase Live conference in London. The best marketers and businessmen get the opportunity to exchange opinions on topical issues in the field of Internet marketing and SMM in particular.
Clients: Coca-Cola, Arbys, Edelmann.
Price: Focus on big business dictates its terms. The service does not have a free version and a trial period. But it is possible to agree on individual conditions for subscribing to NetBase tools.
Oktopost
The tool allows you to track and manage social media activity using a common platform for content management, subscriber feedback and advertising campaigns.
The application is compatible with third-party analytics tools, incl. with Google Analytics. A few lines of code – and all data from online social media activity is imported into your analytics application. Connections are also available for Salesforce, Marketo, Eloqua, ClickDimention, and more. All data in one window – view reports and make decisions to influence the behavior of your online audience.
Clients: Panasonic, Fujitsu, Nice, Fis, etc.
Social Mention

Notification analytics available to everyone. Social Mention is a simple and free online social media branding tool. Just enter a keyword in the search bar and the service will return a list of pages, blogs, bookmarks, discussions, questions and other links where this word is mentioned. The data is collected in real time to quickly track the reaction to the publication. The tool is indispensable because of its simplicity and uncomplicatedness.
If you connect a third-party API, you can send a link to the client with up-to-date data by e-mail.
As an additional tool for displaying operational data, Social Mention is good, but it is absolutely not suitable for tracking dynamics: all mentions are simply issued with the old ones, so you should not rely entirely on it alone.
Price: free.
TailWind
The service saves time by automating routine work: uploading images in bulk, setting up a publication calendar. One-click cross-posting is available. The calendar can be customized using charts – choose the time when the audience is most active.
The Hashtag Finder tool will make a selection of the most popular tags to post.
The application is suitable for analyzing hashtags, keywords and topics of existing posts on Instagram and Pinterest.
Clients: More than 200 companies and agencies are optimizing their content plan with TailWind. Among them are eBay, Unilever, Viacom, Procter&Gamble. It will be useful for both small and large businesses.
Keyhole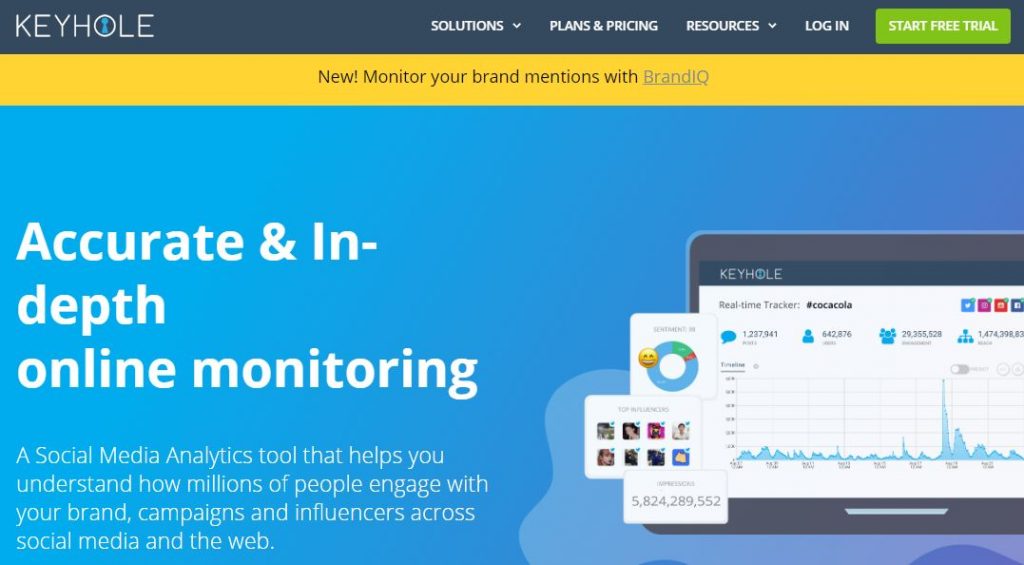 The tool helps to schedule publications by determining the time of maximum activity of subscribers. Tracks the reaction of the audience, the activities of opinion leaders in the industry, a special API allows you to track trends for the effectiveness of the campaign. All data in one click is exported to Excel and PDF.
The tool allows you to track the reaction on-live. Launch a campaign, publish, monitor the reaction and quickly respond to changes in the tone of responses. You can make a selection of the most important conversations and track the depth of discussion during reposts and retweets – AI will help you find the right links and not miss important messages.
Clients: Google, Spotify, UN PR, L'Oreal, Alibaba.com and more than 6 million users.
Price: You can start with a trial week and go from $44/month depending on the amount of data to analyze and the number of brands you track.
Brand24
An assistant tool in tracking brand reviews.
Collects statistics:
what is the main opinion about the product;
predicts trends;
what topics the audience is interested in;
who sets the tone for the industry and how they do it (influencer analysis).
In the Brand24 interface, you can not only track, but also engage in interaction with the audience: follow reviews, quickly respond to important comments.
The planning tool will pave the way for future publications. Group topics and keywords, the opinions of different groups of subscribers for further targeted interaction with each.
Another feature: to find potential customers who are interested in the opportunity to purchase a product with the characteristics of your offer. This will allow finding new niches and solutions in case of expansion. The same toolkit will allow you to find negative reviews about competitors' offers.
Clients: Vichy, Intel, IKEA.
Price: the first 14 days of the tool is free, then – rates from 49 to 499 dollars / month.
Brandwatch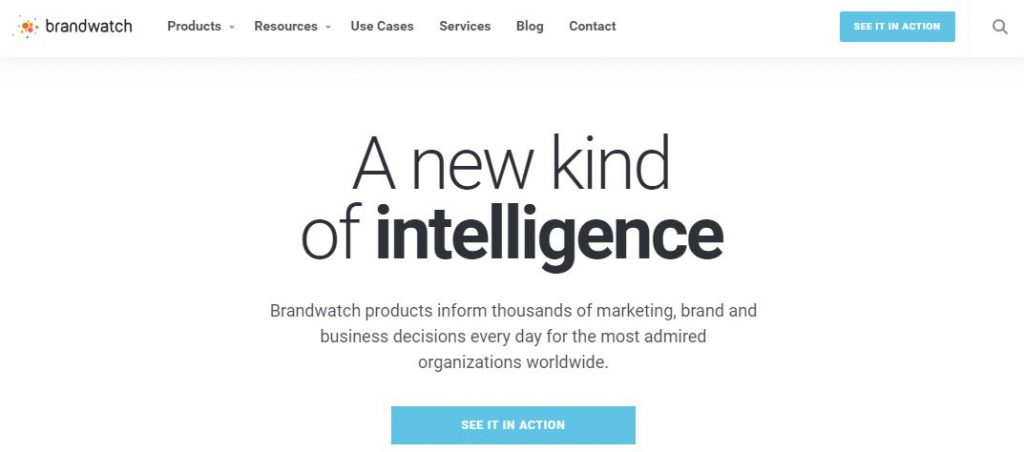 Powered by AI, Brandwatch instantly tracks brand reactions, tone of reviews, allows you to interact with your audience on-live. Explore the activities of competitors and opinion leaders, trends in the industry. The filter system allows you to customize the search, focusing on specific parameters, topics, keywords.
The service is a recognized leader in the field of social network analytics according to the G2Crowd rating and has the status of an official partner of Twitter.
Clients: Walmart, IKEA, Microsoft, Unilever, L'Oreal.
Price: Individual conditions for using Brandwatch tools are offered for each client. To do this, you need to fill out a form and send a request for a demo.
Cyfe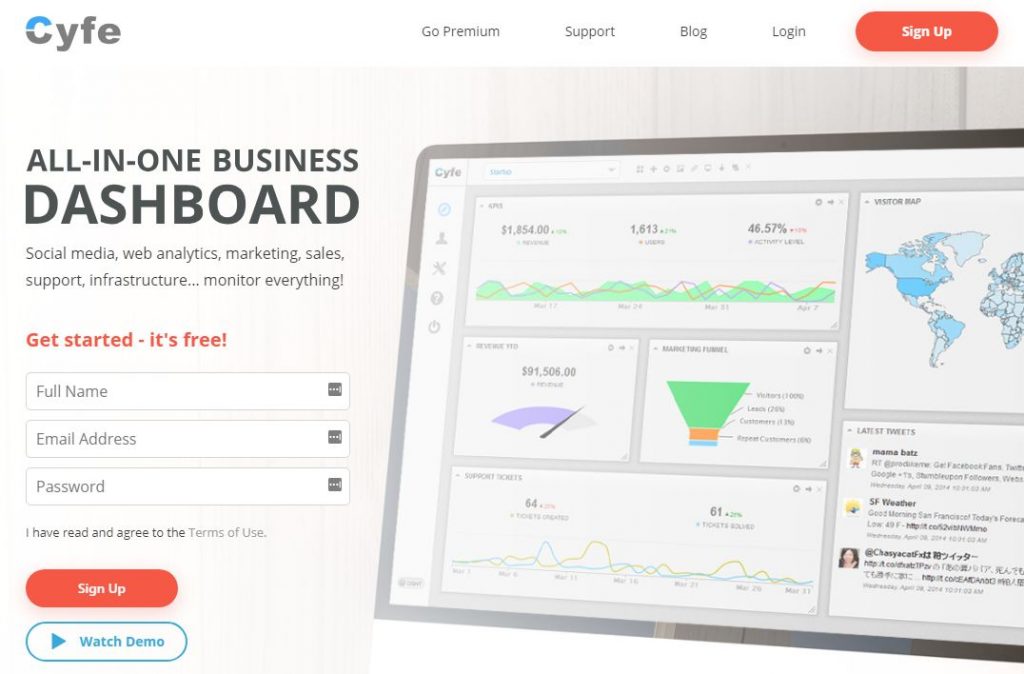 Universal platform for management and analytics of social networks. From mass publications to prompt response to important comments.
Cyfe surprises from the doorstep, offering more than 100 pre-installed widgets to choose from for all the world's popular services – from integration with Facebook, Twitter, Instagram, LinkedIn to working with MailChimp mailing lists and connecting to WordPress and a dozen other popular CMS. This makes it possible to collect analytics not only on social networks, but also on regular sites.
Monitoring is available through fully customizable dashboards. On each panel, you can conveniently place up-to-date information about the reach and engagement of the audience. Comments and mentions are displayed on a separate panel, and right there – a convenient window for prompt response to the most important of them.
Real-time data can be sent as a link via e-mail or via popular instant messengers. Or generate a report in PNG, JPEG, PDF or in a spreadsheet for Excel.
Clients: More than 250 thousand users choose Cyfe to analyze their resources.
Price: You can start with a free limited version, and then get full access to all solutions by upgrading to a premium package for $29/month.
Klear
A tool for evaluating brand influence on Facebook, Instagram, Twitter, Youtube, etc. The same toolkit allows you to evaluate the effectiveness of your own product, find influencers and evaluate their activities. Everything to have information for promotion and interaction on social networks: data on the history of brand cooperation, reach and demographics of the audience, rating of posts and much more.
There are tools for working with ambassadors' feedback about the brand on-live, feedback analytics: the number of mentions, coverage and payback. There is even a widget for tracking and analytics of Instagram stories.
Clients: Microsoft, Coca-Cola, Adidas, Huawei, Unilever, etc.
Price: individual conditions.
Packfeed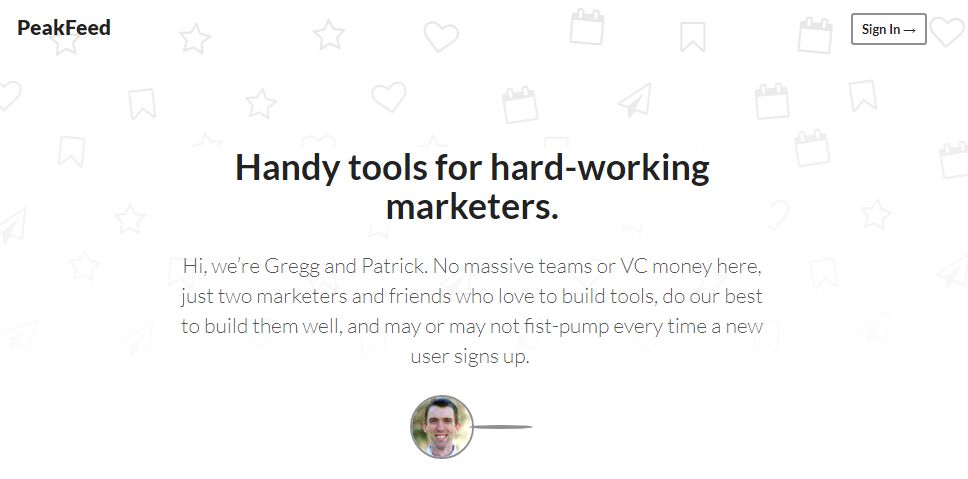 A simple and soulful service, born from the idea and collaboration of two enthusiastic marketers. The tool collects and quickly analyzes the reach and engagement of the audience on Facebook, Instagram, etc.
Good at researching competitors. To analyze their own activities, users have an informative interface that displays the indicators of all profiles in social networks. In one click, you can generate a convenient report to track the weekly dynamics of indicators.
Audience analysis feature: study the interests and subscriptions of your readers. It will help generate ideas about what kind of content to use in your publications.
Followerwonk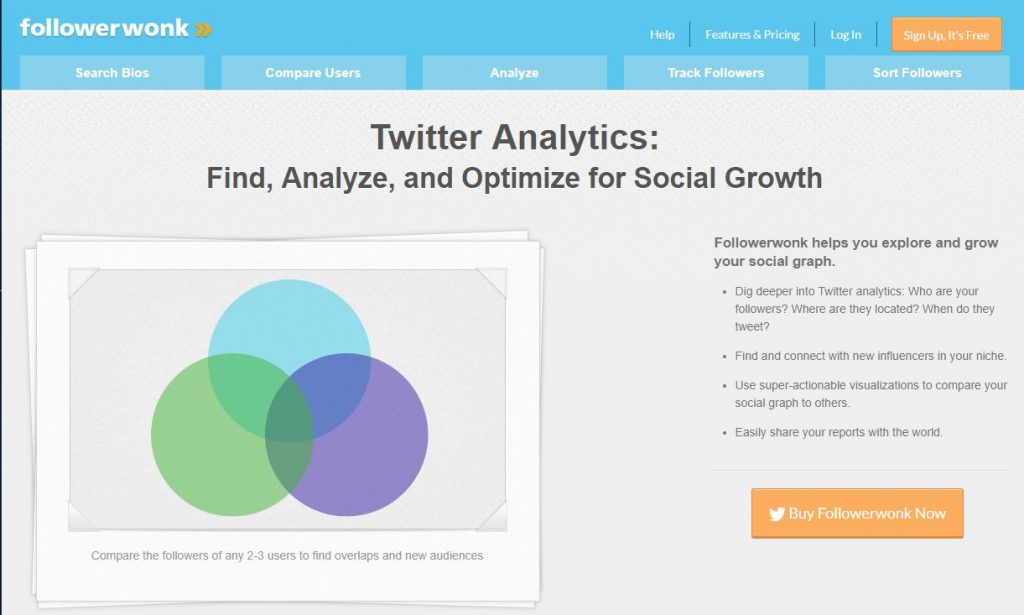 The service helps to carry out deep analytics of subscribers: who they are, where they are from, what time of day and what day of the week they are most active. Allows you to explore the industry, find opinion leaders, track their activities and reactions to their actions.
A convenient output system allows you to display a graph of your activity on one screen and compare it with the graph of competitors' activities. You can send a report to the client in the form of a link via email or instant messenger.
Clients: Xerox, IMAX, Rhapsody.
Price: The free plan allows you to connect 1 profile and use data collection tools. For analytics and other features, $29/month plans for 3 profiles and $79/month Multitask plan for 20 profiles.
TrendSpottr Signal
The tool is good for trend analytics. Use the filter system to choose the most "delicious" hashtags and content topics. Analyze the industry and follow the activities of opinion leaders.
The service is indispensable for tracking information in real time:
trends and audience reaction to publications;
activities of ambassadors;
keeping track of mentions and participating in important discussions;
return on investment from advertising.
Based on forecasting tools, cost recovery can be planned.
Price: New users have 7 days to test, then $49/month.
SimilarWeb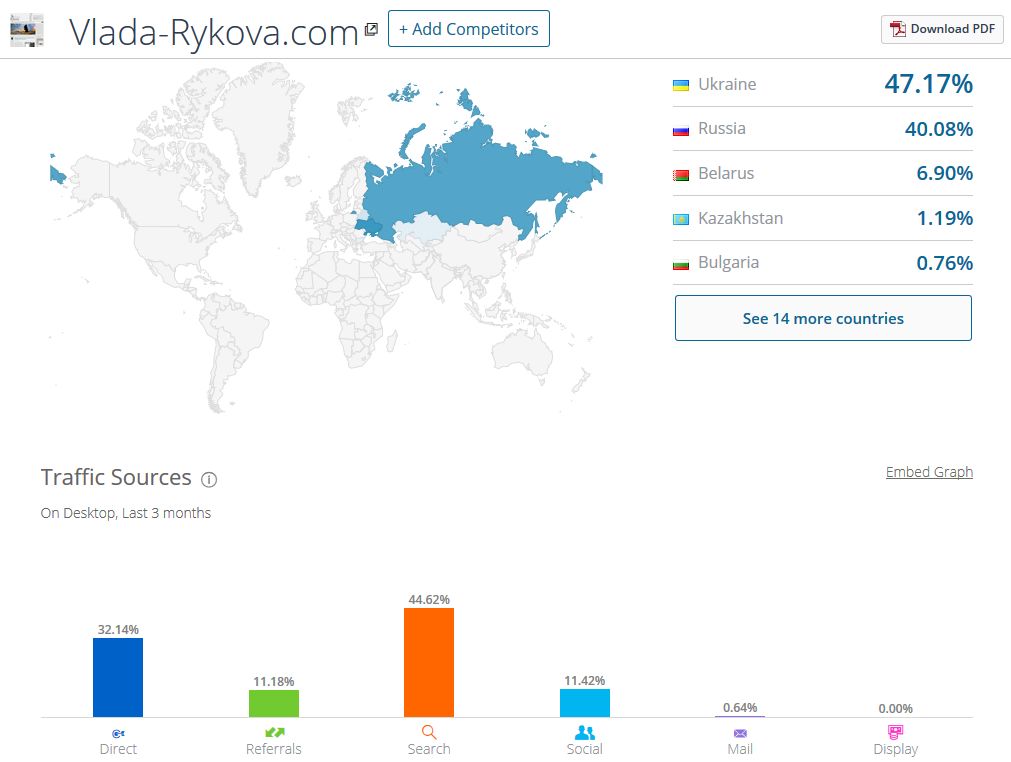 Marketers know this tool from their browser extension. With its help, it is convenient to quickly view the performance of both your own sites and competitors. The tool can "pull out" information that is not publicly available: the amount of traffic and its sources.
The same can be done with social networks. SimilarWeb will tell you which platform gives competitors a large share of visitors. In addition, the service will analyze the content and show trends – which is more engaging for subscribers.
Clients: Google, eBay, Microsoft, AirBnB.
Price: You can test the convenience of the service for free for 3 months. Bonus – a month of using a free mobile application. In the future, the user is prompted to send a request for a subscription with individual payment terms.
BrandsEye
If the possibilities of free SocialMention are not enough, then BrandsEye will cover all the needs for mention analytics.
Extract, structure and analyze the user experience of the audience, collecting data from their opinions, which they will not share in reviews on brand pages, but will generously tell on their pages. If necessary, quickly interact with the most important of them through a special widget.
Study the target audience by defining target groups and a portrait of the key consumer of your products in one click.
Build your marketing strategy by monitoring the tone of reviews and alerting you to threats.
Feature: want to run an offline promotion, but don't know what city your audience lives in? A special API structures data about the demographics (and not only) of subscribers, presenting the result in the form of visual diagrams on the map.
Price: individual conditions.
Short Stack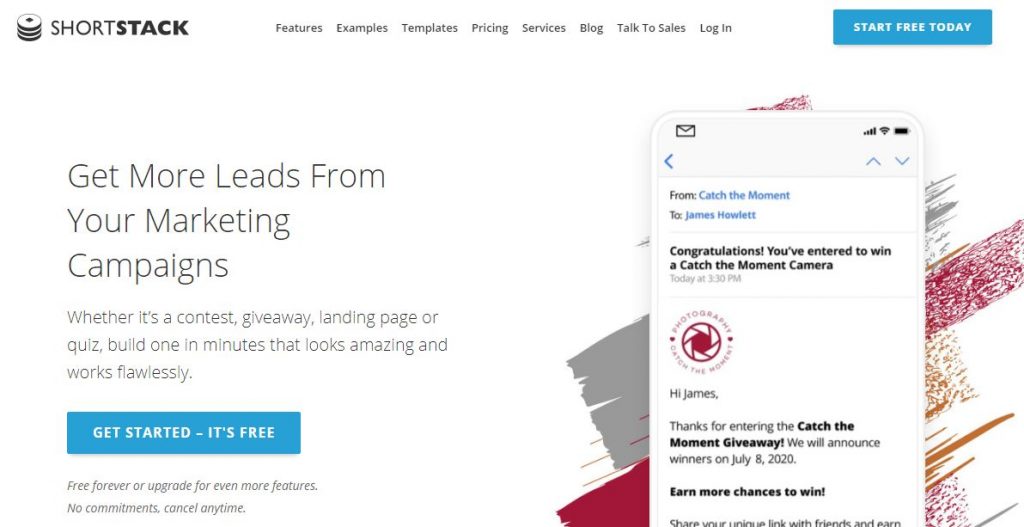 A tool for those who want to quickly collect statistics for their projects at no extra cost. A little time to set up the interface – and you have a reliable assistant in your arsenal that automates data collection.
The service can be connected to MailChimp, Aweber and collect statistics on email newsletters. Do the same with data from Instagram, Twitter, Facebook, Youtube. Lay out how the audience reacts to your posts.
Use ShortStack to gather and organize user information to anticipate what they want for your brand.
Price: There is a free limited version for those who are just getting started with the project. Those who want more can subscribe to one of four plans from $29 to $499/month.
Talkwalker
The service collects data in one click into a convenient graph or chart. All that remains is to copy it into the report – and visual information on the results of activities in social networks will be at hand. Convenient for prompt reporting to the client. Information can be about opinion leaders in the industry, and about competitors.
Track how your audience reacts to your content by examining your post history. Based on the received data, collect ideas for an advertising and content strategy.
Price: Users are given a 7-day trial period. Next – an annual paid subscription with individual conditions.
Social Status
Do you want to save 8 hours a week just automating the collection of statistics for social media reports? At the same time, improve the effectiveness of the content strategy by 1.5 times? Connect your Facebook, Instagram, Youtube and Twitter profiles to the Social Status platform and do what matters – make profitable decisions. The tool will do the routine work itself and provide information visually, accompanying the report with recommendations and forecasts.
The application allows you to collect data on competitors, opinion leaders:
analyzes feedback for publications;
determines those that are popular;
processes information about the activity of the audience – the place, the time of their greatest activity, in order to choose the right time for publications.
Price: You can start with a free plan to support 3 profiles. Next – one of the paid subscriptions from 29 to 1499 dollars / month. Depending on the number of profiles and the amount of information being processed.
Lucidya

Service for in-depth analysis of opinions about the brand. Feature: the ability to track in real time on the map where the publication or live broadcast was made with the mention of the product. You can search by keyword or hashtag, not to mention the filter by the platform of interest.
Map the interests of subscribers, determine the tone of their opinion. This is in addition to demographic data like language, gender, geolocation. Based on the collected data, create characters and get ideas for a successful content strategy.
Price: The tool is the brainchild of developers from the UAE, so the conditions here are like in the East – bargain!
CX Social
A library of over 300 widgets allows you to create a report with deep analytics of brand opinions. The service is powered by AI, which analyzes the text of responses mentioning the brand. According to the tag words, it gives recommendations for the portrait of the target user or subscriber.
Based on the collected data, specialists can understand how best to communicate with respondents. Right in the interface of the service there is a feedback widget with a selection of standard answers. You can also add your own.
Reports are generated automatically in one click, then they can be exported to CSV or PDF.
Price: Individual conditions.
Minter.io
Instagram data collection tool. Tracks where subscribers came from to the brand profile, as well as analyzes the performance of competitors, compares them with the indicators of the brand's strategy in social networks.
Minter.io allows you to evaluate the effectiveness of publications, their reach and impact. For planning – a developed system of analytics of hashtags, topics and content types.
Reports are generated in one click, and then they can be saved to PDF or PowerPoint presentation.
Price: Plans from $9 to $39/month (with an annual subscription – from $99 to $399/year). The subscription includes a 14-day trial period.
Foller.me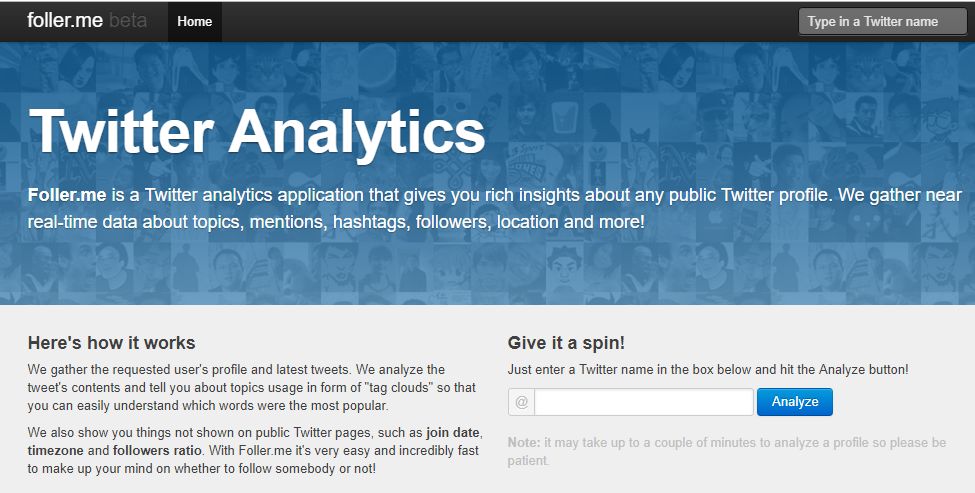 A complete platform for in-depth analysis on Twitter. Starting with the search and analysis of opinion leaders, their content policies and audiences, and ending with recommendations for building your own content plan: posting frequency, content type, topics and hashtags that best engage users in interaction.
The tool examines the profile and latest tweets, their content. Based on them, a list of recommendations is compiled in the form of a cloud, from which you can draw ideas – what topics are popular with the target audience.
Bonus: Hidden data like profile registration date, time zone, number of followers versus number of comments and retweets. The function will be invaluable in finding ambassadors and bloggers for one-time product promotions.
Social Rank

A simple and free, beloved by many tool for collecting data on competitors, opinion leaders. It is also indispensable if you need to develop recommendations for targeted ads on a budget.
Simple data export keeps clients and management up to date on campaign progress. Lacking deep organization? One click – and all data is available in Excel for deeper analytics.
Feature: when analyzing the audience, the tool shows the most active subscribers. They can not only be rewarded for their loyalty, but also study the portrait of the target user of the brand. Draw conclusions about what is needed to increase the number of them among the subscribers of the company's profile in social networks.
Zoho Social
A handy application for content planning, tracking brand mentions in social networks. Fully customizable interface allows you to create your own dashboards. The mobile application will allow you to track the dynamics of indicators even when there is no access to a computer.
Zoho Social works with Instagram, Twitter, Facebook, LinkedIn.
In one application, you can study the audience, the periods of its greatest activity. A convenient content calendar will help you put your publications in order and not miss the most important and popular hours and days with your audience.
Track replies and mentions of the brand in real time, quickly respond to the most important comments through a convenient dashboard. We remind you – one platform for all popular social networks, i.e. in one place – all the answers and comments without many tabs and a freezing computer.
Upload to standard reports or create your own. Track ad revenue and marketing activities. And the presence of more than 40 tools for agencies and businesses will allow you to fully automate all the activities of the enterprise, freeing up time for productive brainstorming.
Price: From 10 to 25 euros/month for businesses and independent professionals, and from 200 to 300 euros/month for large agencies.
Sendible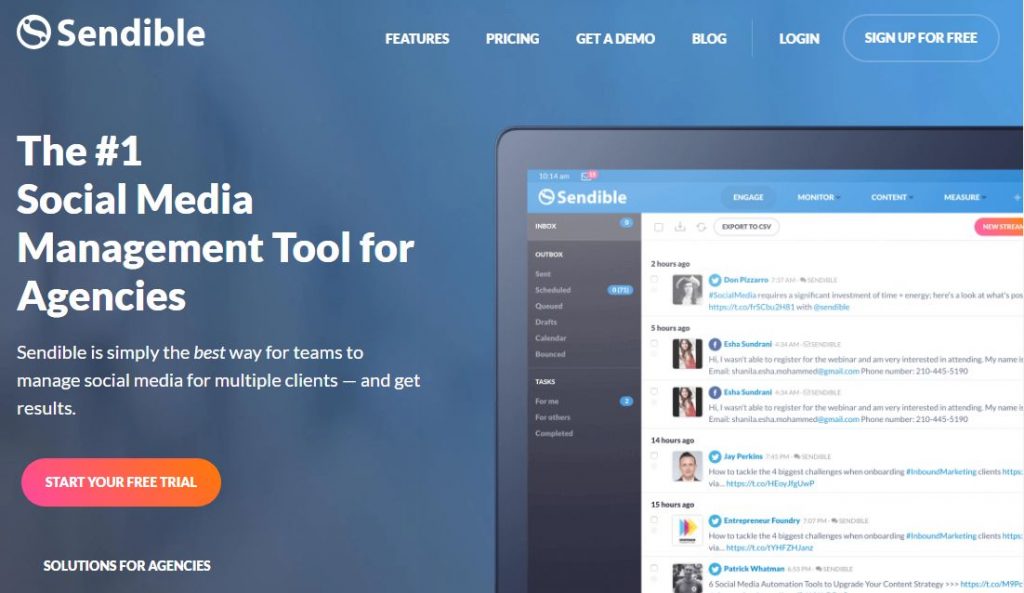 The application positions itself as a tool for agencies where the issue of automating a large number of projects and maximizing team productivity is acute. With the help of Sendible, the process of analyzing the target audience, making decisions on interaction with it, and the process of interaction itself is accelerated.
The Priority Inbox is another way to save time. All important discussions from all profiles – in one place. No switching between bookmarks. As a result – hours of saved time every day without loss of quality of work.
Visual reports can not only beautifully present the results to the client, but also inspire a dozen or two working and effective solutions to improve performance.
Powerful post suggestion algorithms will tell you when and what content to present to subscribers in order to get the maximum engagement of the audience in interaction with the brand.
Price: 30 days for testing, after – one of 4 tariffs from 29 to 299 dollars / month.
Falcon.io
Master publications, generate working solutions, delve into analytics and track the most elusive trends for mere mortals, become an example for the team and a hero for clients – all with the help of one tool at your fingertips.
A convenient content calendar will allow you to correctly build a publication plan that increases the number of subscribers, applications and increases audience loyalty. Collect mentions from all profiles in one window and respond to the most important comments there.
Study the audience, opinions, track the effectiveness of publications. The ability to integrate with Falcon CRM will allow you to collect data for a circular study of the brand's audience and work with it.
Clients: Toyota, Coca-Cola, Momondo, McDonalds, Carlsberg
Price: Individual conditions.
eClincher
Basically, the tool is positioned as a powerful content manager. A wide range of widgets for managing publications automates the process of maintaining profiles. But the hints that the application gives out in the process help to make decisions for the future. There is a function to manage RSS feeds.
The service allows you to analyze competitors and opinion leaders. Works with Twitter, Facebook, Instagram, LinkedIn. Export of data on social networks to Google Analytics is available.
Price: One of three plans from $49 to $199/month. Each has a 14-day trial period.
BuzzSumo
Assistant in the formation of a successful content strategy. Easily and quickly determine what content is getting the most attention in the industry, filter results by geolocation, language, type, and keywords. Export your data to CSV, PDF, and PowerPoint as compelling reports to inspire unique and workable solutions to grow your brand on social media.
Clients: Airbnb, Harvard University.
Price: One of 4 plans from $99 to $499/month.
Popsters
Social media analytics starts with collecting data on posts and competitor activity. The Popsteps service will help you figure out how effective any profile is on VKontakte, Odnoklassniki, Facebook, Instagram, Twitter. This also includes the services of Telegram, Pinterest and the channels of video bloggers on Youtube.
The service conveniently sorts page posts by popularity, you can set up your own filter system to select information of interest – set the date, type of publication, and also view the dynamics of the page's effectiveness over a certain period. The finished report can be downloaded in any office format – from an Excel spreadsheet to presentation charts in PDF or PNG.
Clients: Eset, re:Store, RaiffeisenBank.
Price: You can be convinced of the breadth of Popsters opportunities during the 7-day free plan, then the price will already start from 399 rubles / month.
Conclusions
Managers have a wide range of social media analytics tools at their disposal. You can choose the right one both in terms of cost and the set of necessary functions;
Many of the applications are part of a series of Internet business solutions. This means you can start with a social media analytics app and add new products as your business grows. Which will positively affect the optimization of the workflow by automating routine functions;
Separate tools are tailored for a specific type of social networks or functions: analysis of mentions, collection of information about competitors, segmentation of the target audience. They can be used as an aid to the main, universal tools, if more in-depth work is required on a specific task;
Most paid tools offer customized price terms for their clients. This means that you can discuss not only the price, but also create a package of services for the needs of your business;
An undeniable advantage will be the ability to connect a mobile application to track analytics, or at least be able to send a link to a report to a client to control the results.
Most tools provide a trial period of 2 weeks to a month. If you are in search of a suitable tool, then this period will be enough to test the capabilities of the tool at no extra cost and decide whether it is suitable for your business.
Internet marketing expert. Head of marketing agency MAVR.
Business degree "Master of Business Administration" (MBA).