Video in 5 minutes in inVideo browser editor
We will send the material to you by email:
Время чтения:

5

мин.
There are a huge number of programs for video editing. Most often, these are large serious applications that you need to learn how to work with and meditate for a long time in order to get at least some result. Pros work with such software, and in terms of capabilities they are almost omnipotent.

What if:
No time to figure it out and you need a video right yesterday?
Don't have a powerful computer?
No budget to hire a pro?
Do you just need to fix the video a little, cut out frames or screw on the logo?
Need to make a video from a photo?
In such cases, the inVideo browser editor is the best solution. Frequent tasks include cutting or pasting frames, inserting text, music, and a logo.
Any user can handle this program, even on an old laptop.
Who is the inVideo editor good for?
For SMM specialists, content managers, advertisers, bloggers, students and all people who urgently need to make a video.
To master you will need:
5 minutes to read this article;
another 5 minutes to mount a simple video;
in extreme cases, another plus 5 minutes to search for a template in the program database.
Don't believe? Do as I do and see for yourself. Go!
Video from inVideo in 5 minutes, step by step:
We go to the site https://invideo.io/ and register, or rather, just log in with a Google account.

Click "next" and go to the window with work options:

Here you can choose any template and make your own video based on it.
Insert text into video.
Work in manual mode by selecting "blank canvas".
On the last option, we will stop, click – "blank canvas", "make video" and get into the video editing interface.
Before starting video processing, let's understand the menu on the left side of the screen.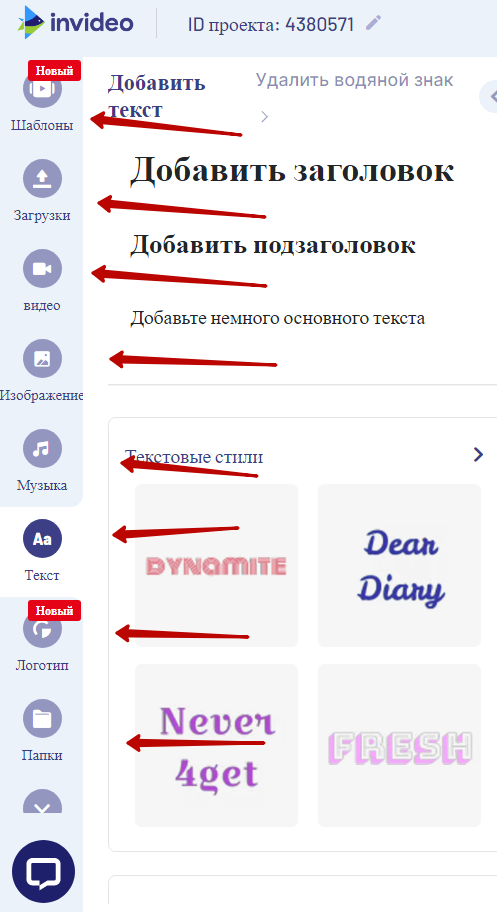 It is extremely simple and each point speaks for itself. In the "templates" – ready-made solutions for the design of videos. In "downloads" there will be files that we will add. In "video" – stock videos, in "images" and "music", respectively, "images" and "music". The "text" tab is a repository of text blanks and fonts, and the "logo" tab is a repository of logos uploaded by the user. "Folders" are user-defined working directories.
For example, we need to cut the video, insert the logo and text. This is a typical task for SMM and content marketers. It seems to be too early to involve a third-party specialist, such work can be done independently.
Let's move on to installation. Click "Downloads" and go to the menu of your own videos. Click "Upload media" and upload your video to the site.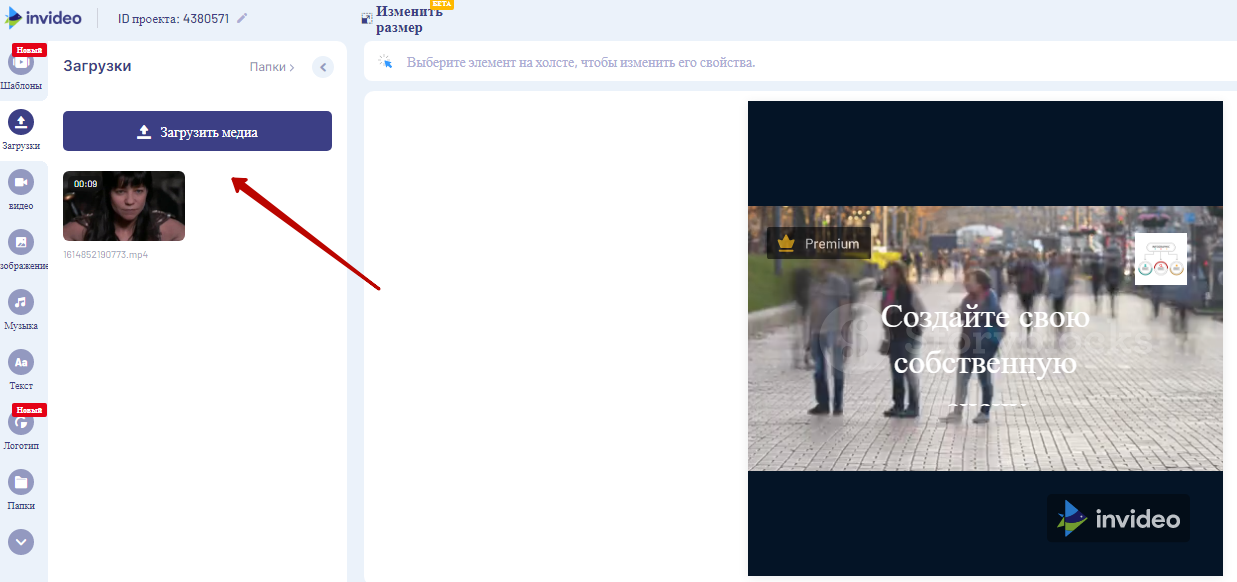 Select the video and confirm that we want to trim it.
Pay attention – we got into the working window. At the bottom are shots and scenes. You can cut frames from the video, or you can cut entire scenes.
There are two sliders for this. We cut off the excess and leave only what is between them.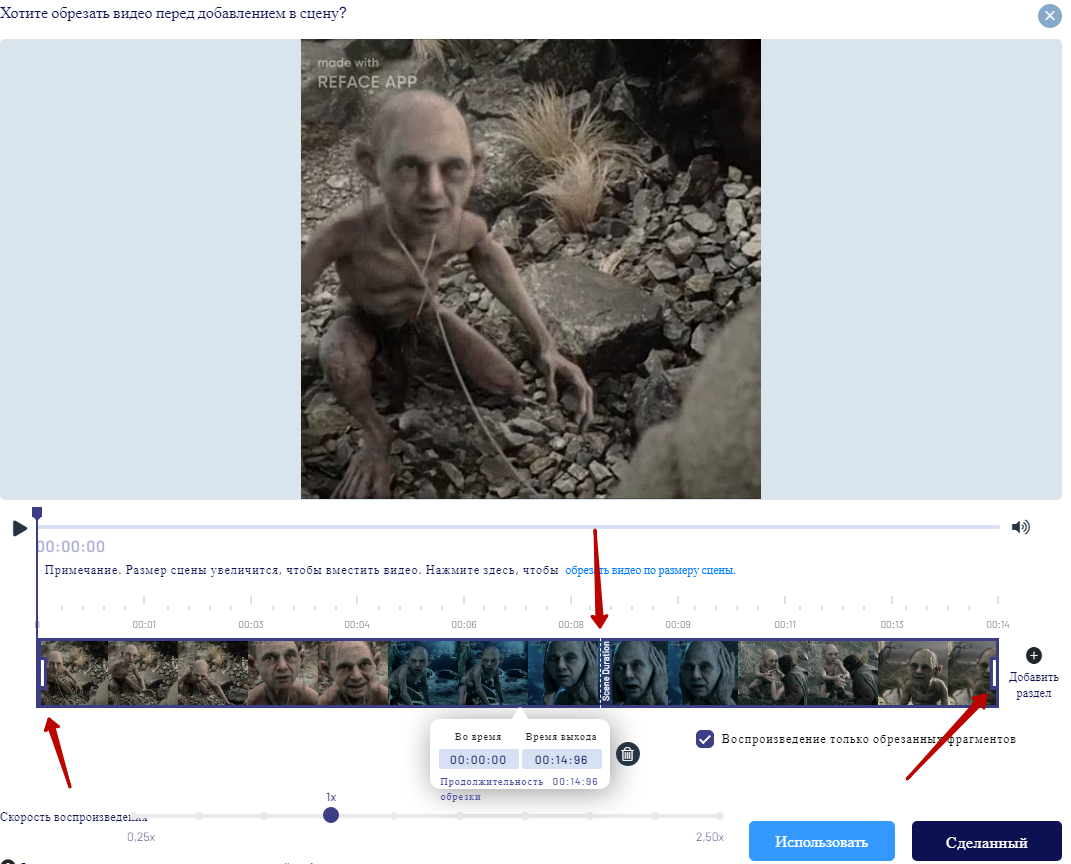 After that, click "Done" and move on.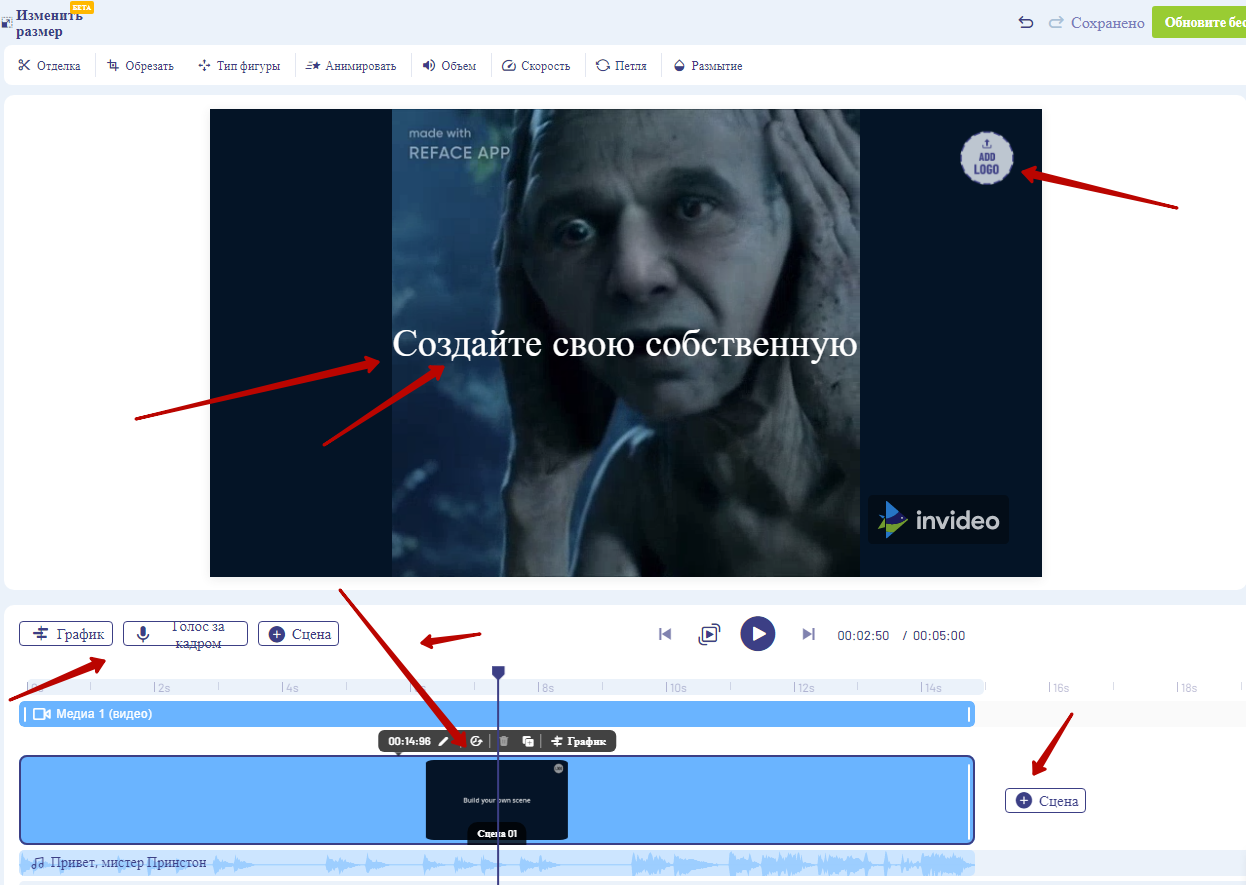 In this window we will be able to:
Insert text on video;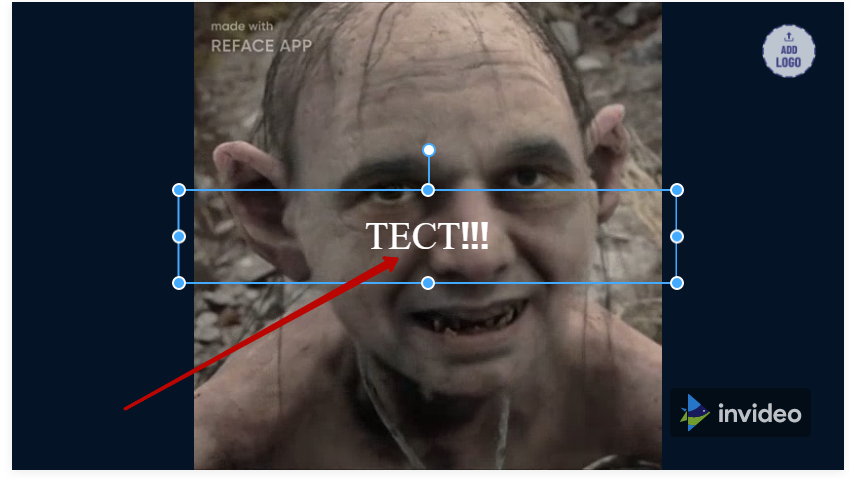 To do this, simply click in the frame on the screen. If we want more beauty and fonts, go to the menu on the left and click "Text". The program allows you to choose what you like in the templates. And insert into the scene.

Add a voiceover;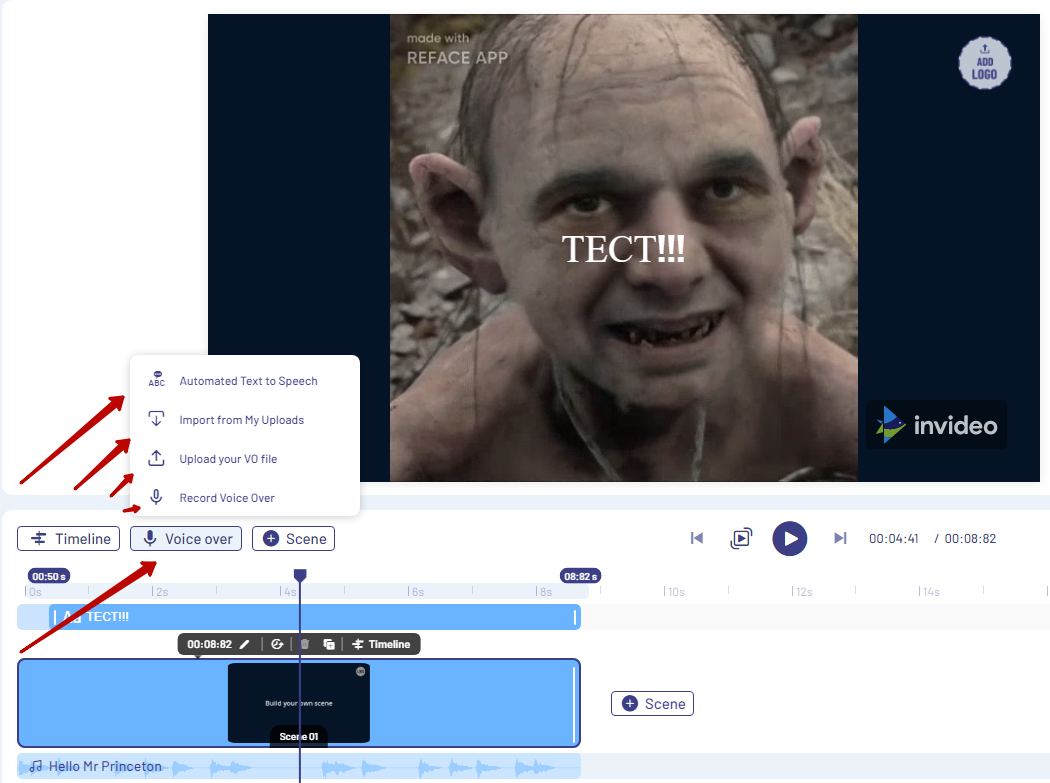 To do this, click "Voise over", and choose what we will insert. There are options to record, import, upload audio, or simply read text on the screen.
Add another scene, that is, paste another piece of video ("+ Scene").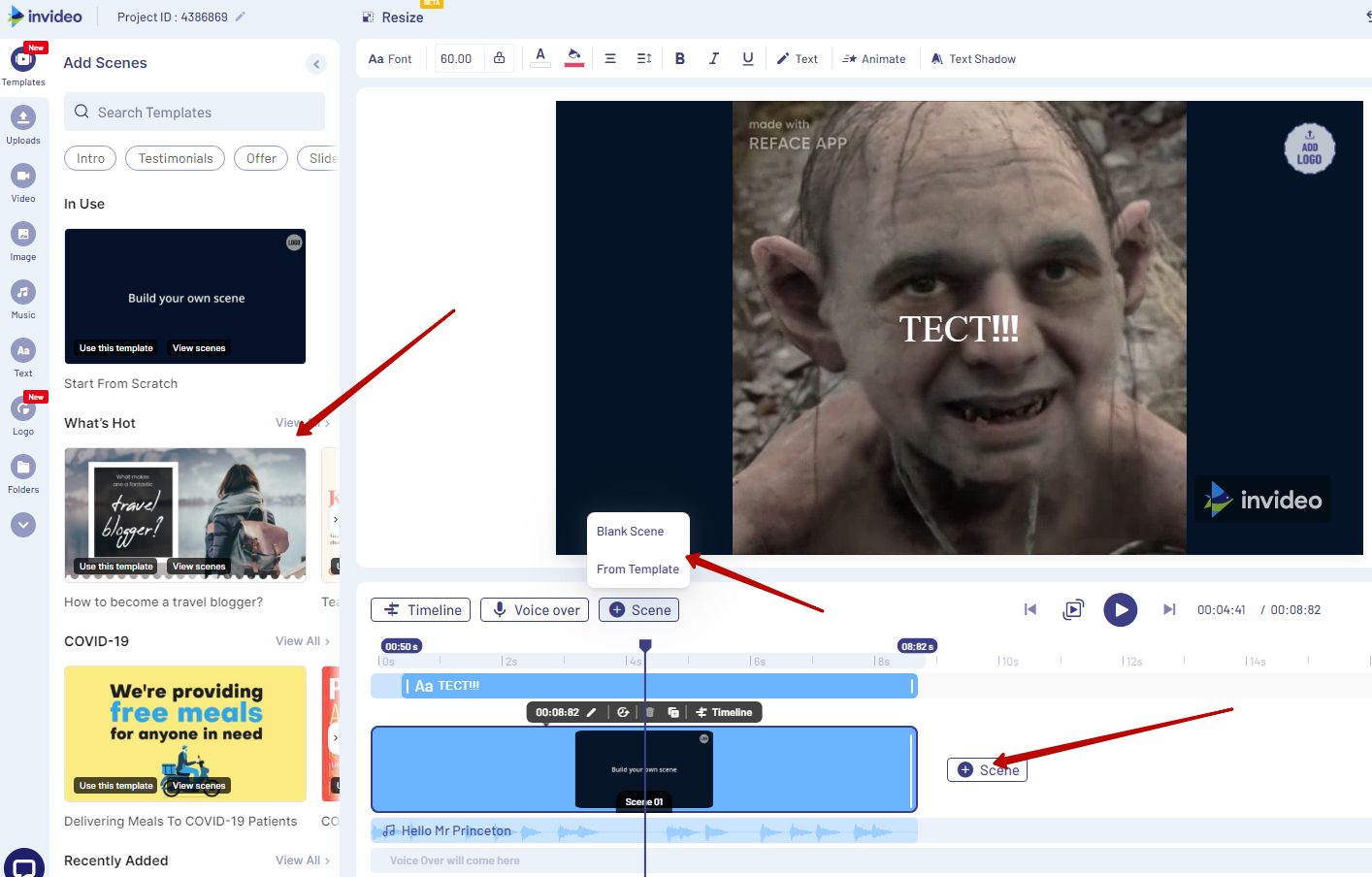 Here you can use videos from your videos or from program templates. Press the plus, and on the left side of the screen go to the uploaded videos (Upload).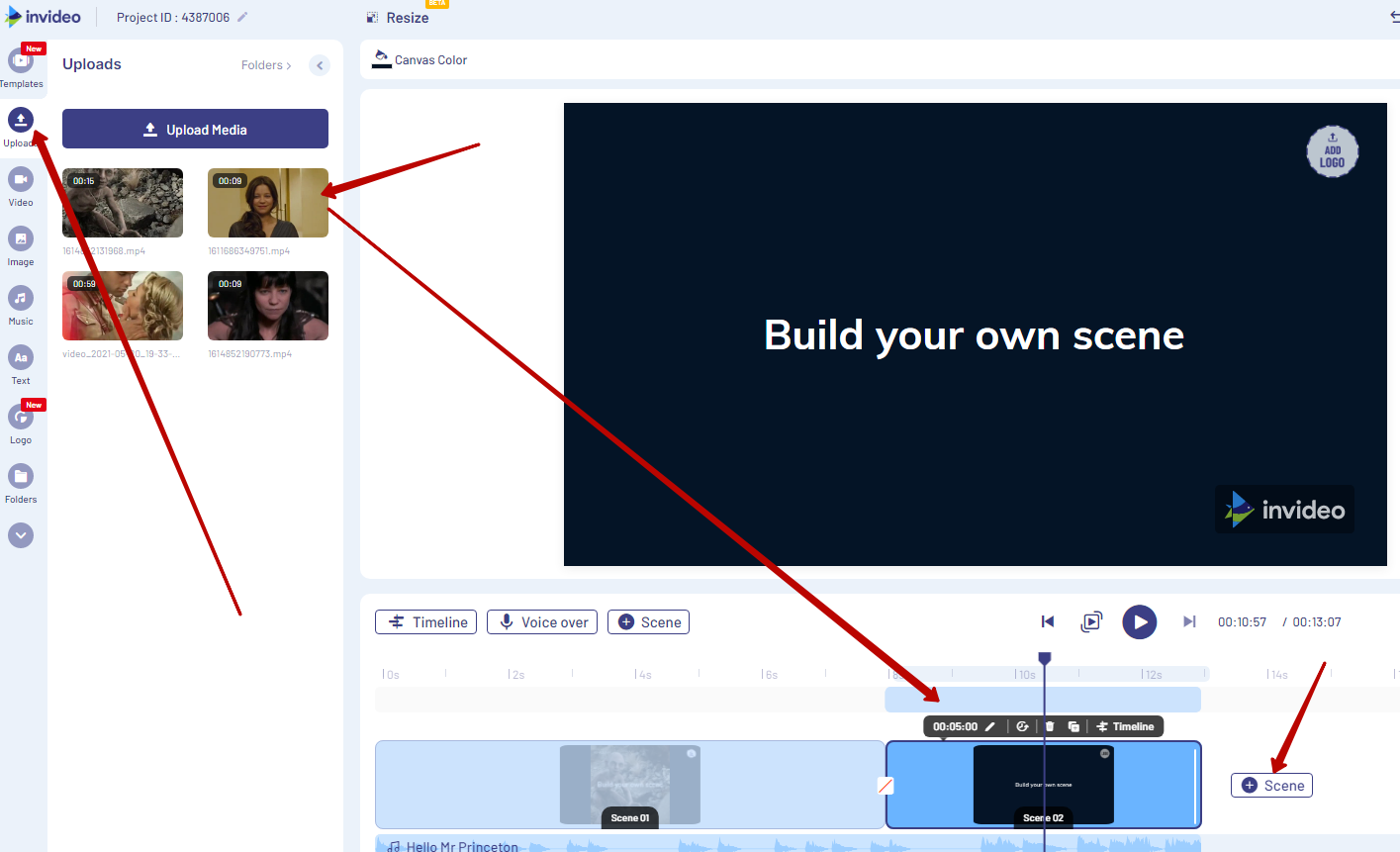 There we select the video that we want to stick to the first one, and drag it to the scale at the bottom of the screen.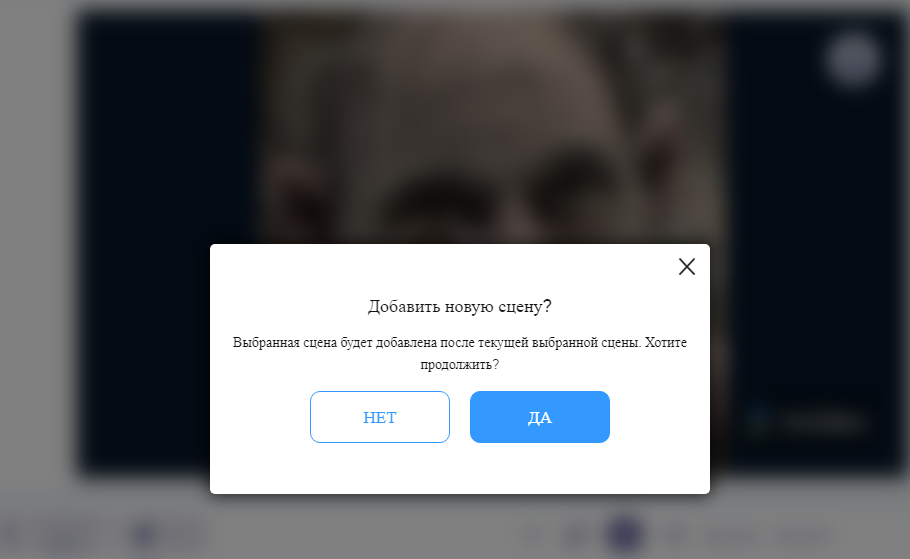 Thus, we form a movie from scenes.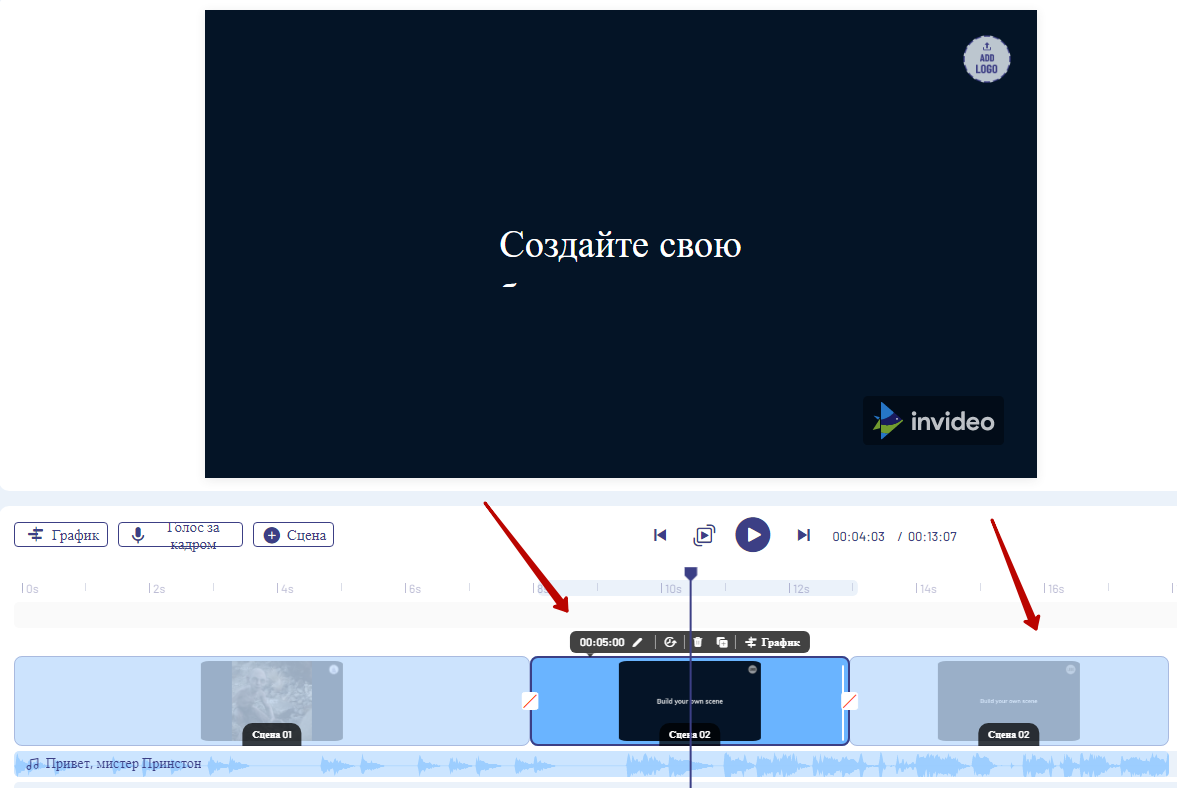 Accordingly, each scene can be opened with a timeline, edited, duplicated and deleted.

Add Logo.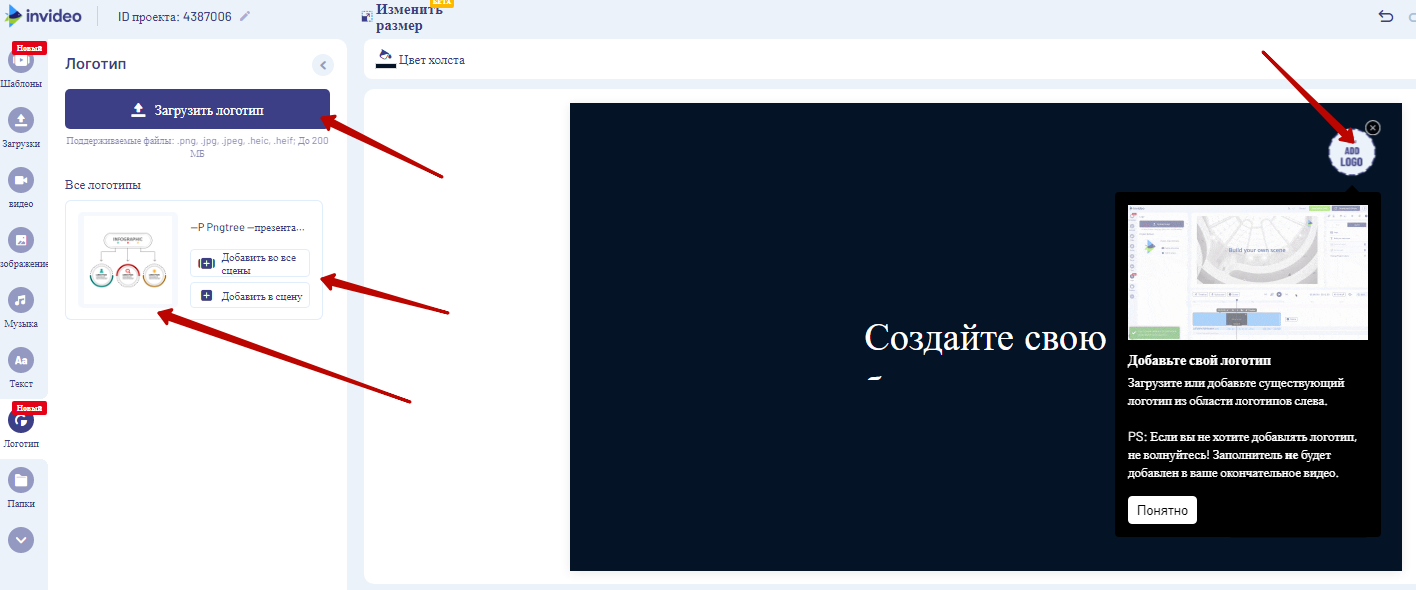 To do this, click on "Add Logo", then select "Download" on the left side of the screen, respectively, download and click "add". The program allows you to add a logo to all scenes or only to a selected fragment.
What haven't we talked about yet? About music, previews and screensavers.
To attach the required music to the video, click on the button in the left menu.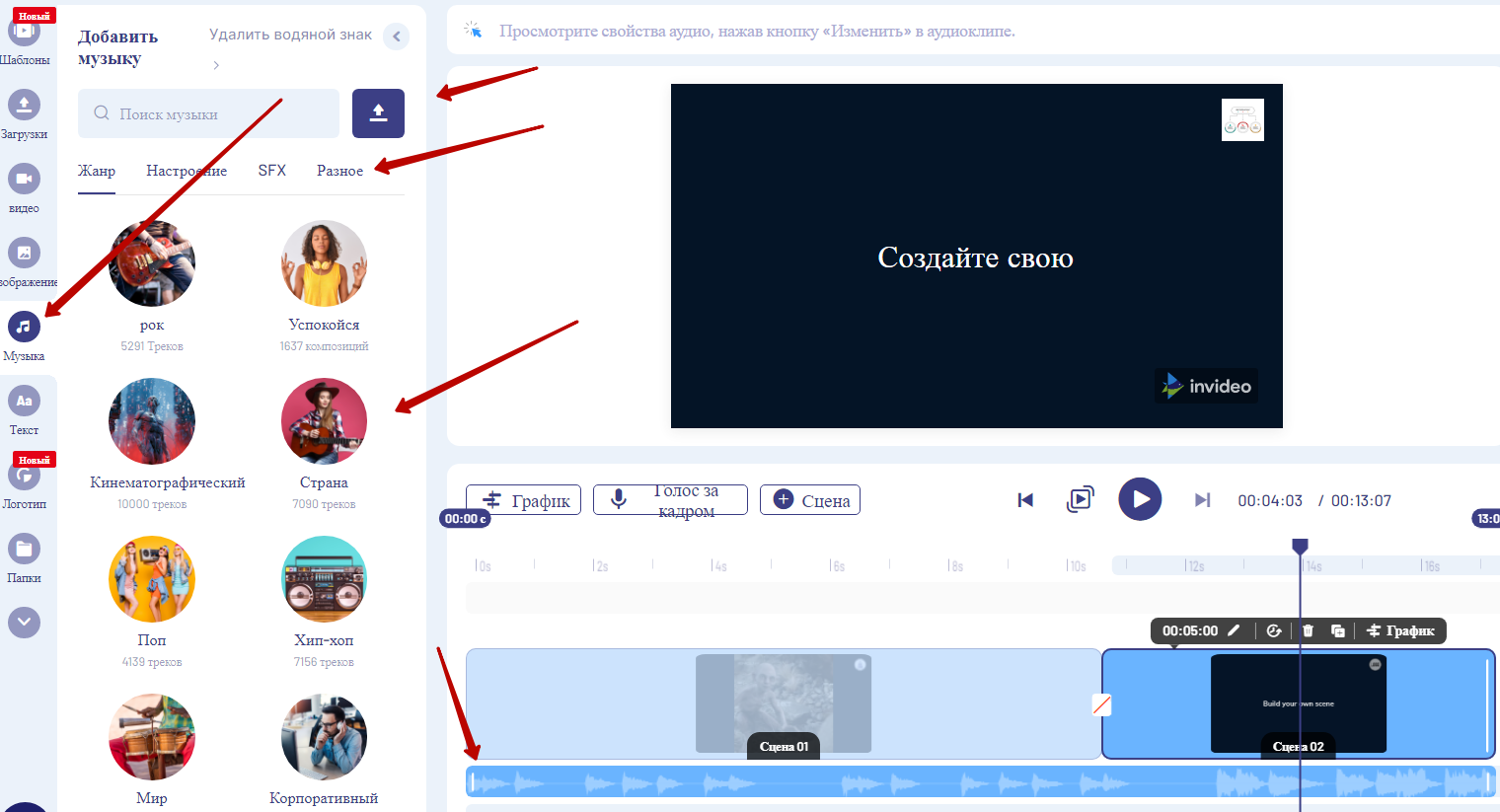 After that, it becomes possible to upload your own music or choose from ready-made solutions. The program has a huge number of sound files sorted by genre and even mood, finding something is not difficult. Then we just add a track using the menu.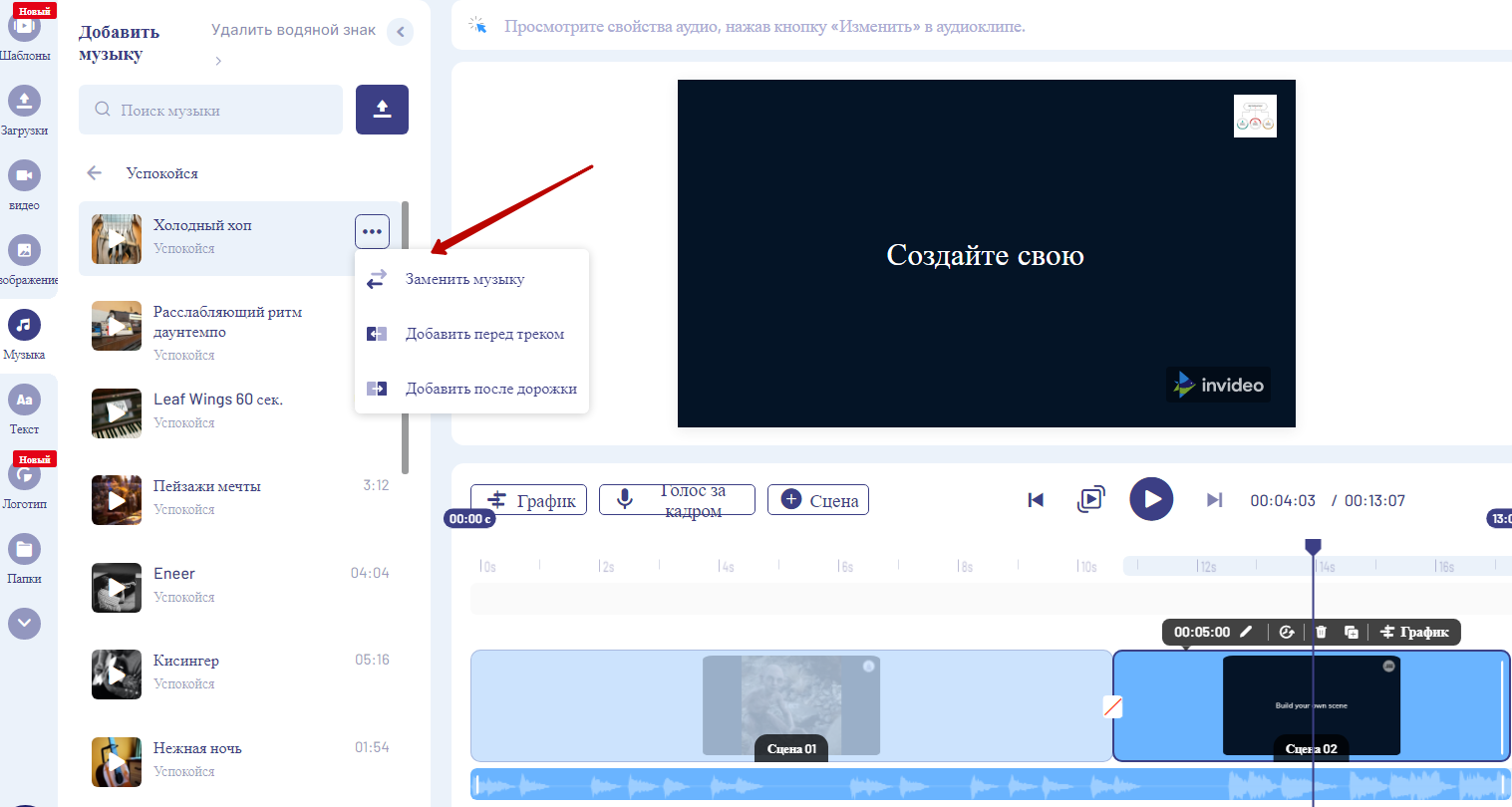 Add an image in the same way.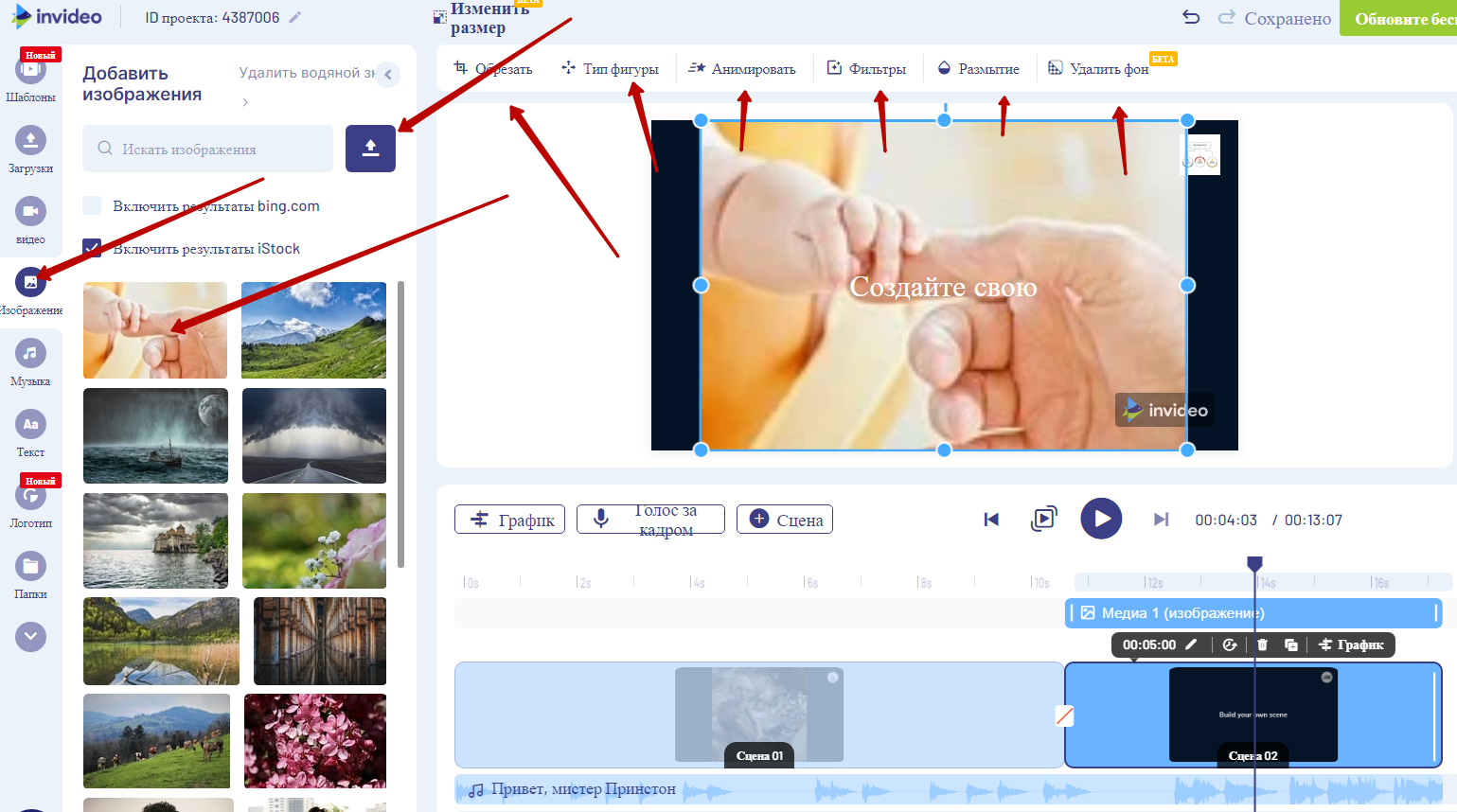 Click "Images", choose from stock or upload your own and add to the video. An additional plus is the built-in image editor. You can use filters, blurs, animations, backgrounds and cropping.
When everything is ready, you can download the video.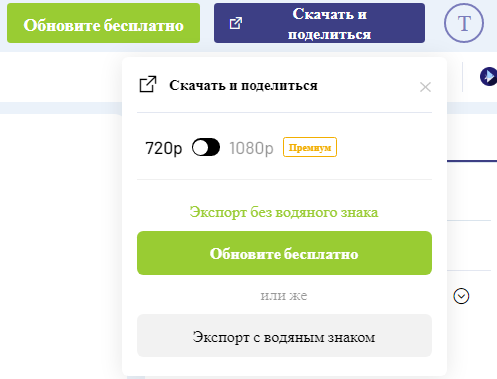 The free version includes 720P, but if you want FullHD and get rid of watermarks, $12 a month will help. In fact, these are mere pennies, considering how much we saved on professional installation.
That's it, 5 minutes are up and now you have got acquainted with the main features of the program, you are ready to create video masterpieces, may the power of inVideo be with you!
Internet marketing expert. Head of marketing agency MAVR.
Business degree "Master of Business Administration" (MBA).