Sitechecker review – "Swiss knife" for website technical analysis
We will send the material to you by email:
Время чтения:

8

мин.
Sitechecker – will be useful for startup owners, optimizers, developers, and everyone who, on duty or by the call of the heart, is faced with SEO promotion.
Sitechecker is simple, convenient and suitable for all occasions. Contains more than 150 analysis parameters and a free check of up to 1,000 pages. Includes test code, scripts, illustrations, links, meta tags and almost everything you need to start promoting your site on the Internet.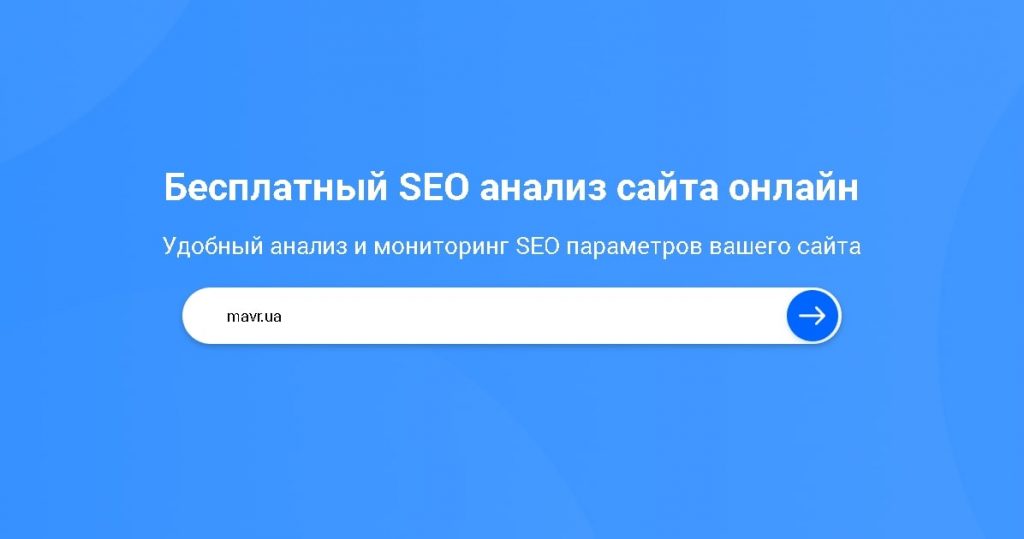 Looking ahead, I will say that I liked Sitechecker, with the help of this service you can quickly and without cost get a technical audit of the site.
This is in demand for new and long-standing resources. The site checker allows you to see the big picture and understand from which side to start SEO.
Read more about the features and functions of Sitechecker below.
What is Sitechecker for?
The main purpose of this service is to quickly, cheaply and without restrictions (the motto of the developer company) audit the site and show how well it is optimized and what needs to be fixed.
Sitechecker is useful:
For programmers, because it simplifies optimization at the development stage. Usually the situation is like this: an entrepreneur orders a website from a developer, then there is a delivery and acceptance. After that, an SEO specialist comes and "sewing on mother-of-pearl buttons" begins: editing the code, optimizing scripts and other "dancing with a tambourine". Suddenly it turns out that outwardly flawless site needs to be improved. The project is returned to the developer, "finished", then analyzed again … This is time, money and lost profits. But the site could start to be useful much earlier if the developer saw what needed to be fixed even before the project was delivered.
For express technical analysis of the site. Every specialist has favorite tools. Usually, the more experienced the optimizer, the more specialized services it uses. But there are times when it is inappropriate to delve into the details, a general overview is enough. Sitechecker is what you need for such cases, it is able to collect information and issue a report in a few minutes.
For business owners who develop or promote their own websites. Often, startups have limited resources, so you have to do everything yourself. Sitechecker will not only provide an overview, but also make recommendations for troubleshooting.
For all SEO professionals.
Let's move on to practice.
Website analysis with Sitechecker
Sitechecker consists of four modules:
Audit of individual pages.
Analysis (seo-audit) of the entire site.
Link analysis.
Monitoring of critical events.
Page Audit
Let's start by entering the address of your site on the main page of the service and pressing the arrow.
We immediately get to the overview of the main page. General information is presented here: on the left – the navigation menu, in the center – information on individual items.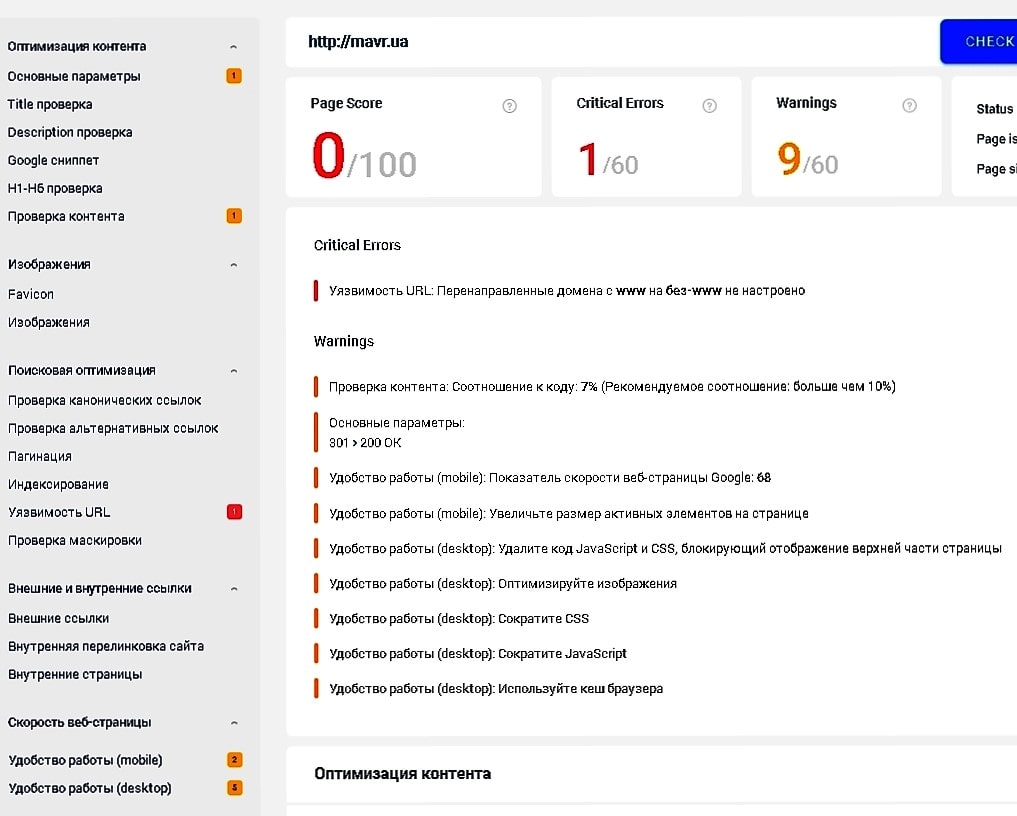 Already here – a lot of useful. Naturally, the first thing you need to pay attention to is critical errors. On our main page, the system found one of 60 possible. This is a 301 redirect issue. We click on it, we see a brief help and recommendations for correction.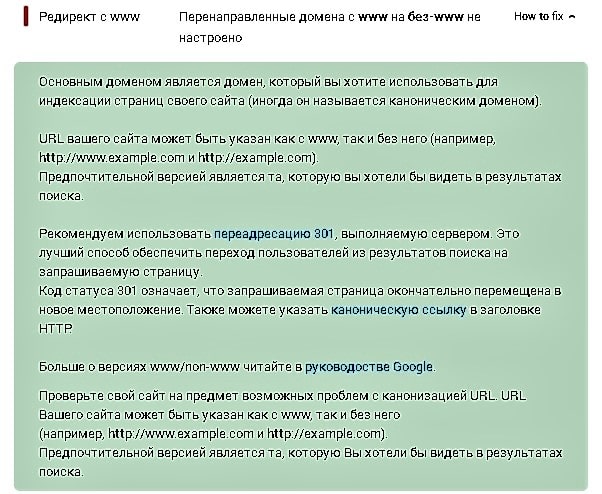 You can immediately get to work, but look carefully at the illustration, in addition to the text there are links to articles on this issue. Click on the "301 redirect" link and go to a very detailed instruction "What is a 301 redirect and when should you use it?".
Here is the content: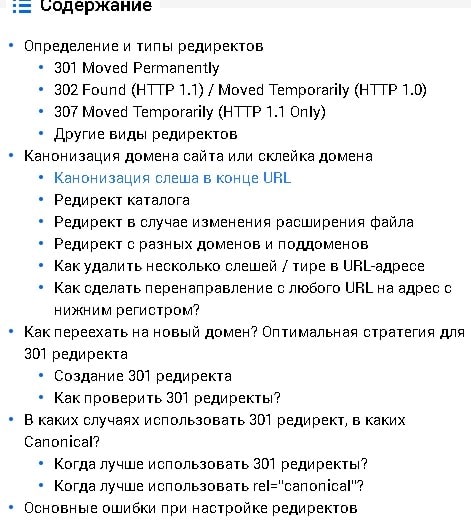 Even a novice optimizer will understand and understand what to do and in what order.
Next, we look at Warnings (highlighted in pink), these are less relevant problems, but you should not miss them either. By clicking on each one, we also get recommendations for correction.
We go down below to the point "Content optimization".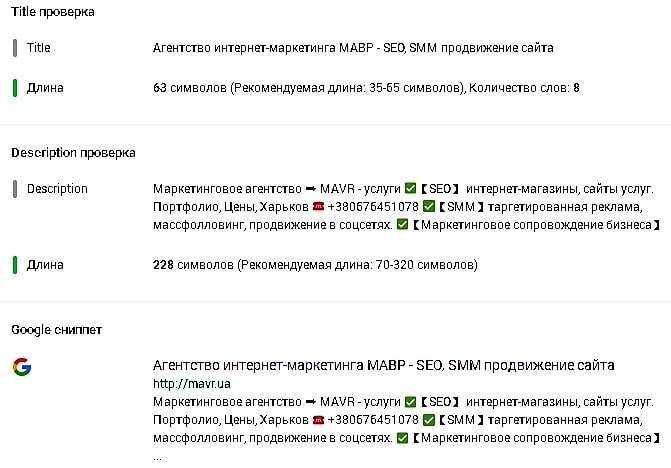 Shown here is the parsing of meta tags. In our case, everything is fine, but for many sites this is a problematic moment. Practice says that not everyone fills in the Title, Description and H1 headings correctly.
Further – the analysis of images, indexing, pagination and vulnerabilities. It is very useful to review them before you start an advertising campaign and open the site to visitors.
Separately, it is necessary to dwell on the analysis of external and internal links. Internal linking transfers the link mass from secondary pages to landing pages, raising them in the issue. And external links are generally one of the main ranking factors for Google and Yandex. When drawing up a promotion strategy, we recommend paying special attention to them.
Well, at the end of the page – a block for analyzing usability, download speed and optimization for mobile Internet.
Even 5-7 years ago, static poorly optimized sites for mobile devices were popular. But for a couple of years now, mobile traffic has surpassed desktop traffic. Both users and search engines value resources that correctly display content and do not "slow down" when loading.
On this side, almost everything is fine with us, there are no big problems.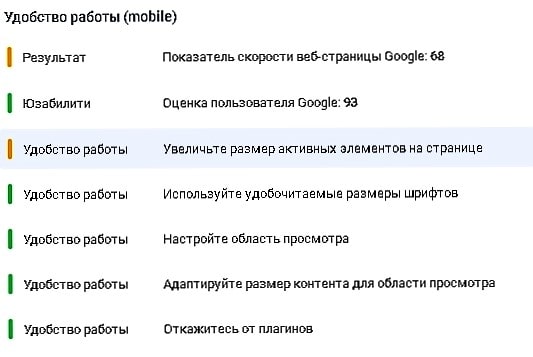 Please note: Sitechecker provides Google scores. This indicates the reliability of the analysis, because for which search engine we optimize the page, that one is important for us.
It is convenient that all reports are displayed on one page, you can easily download the data in PDF.
Analysis (SEO-audit) of the entire site
To assess the overall condition of the site, go to the tab "Products" – "Site Analysis". The crawler scans all pages and produces a detailed report.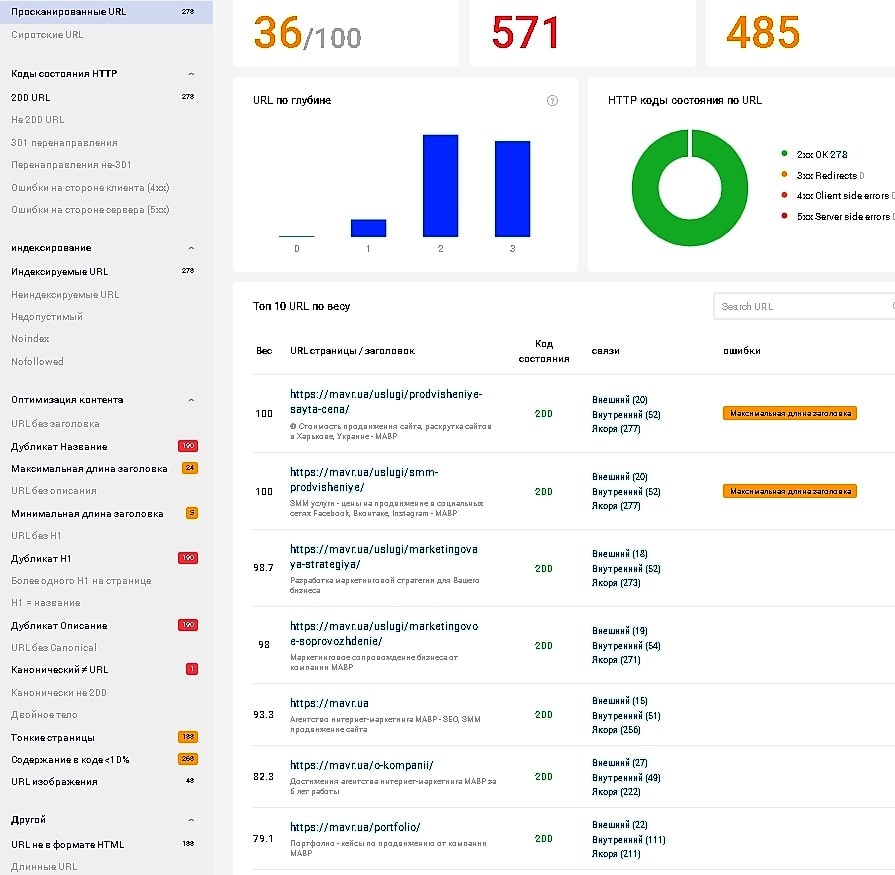 The principle is the same as in the analysis of individual pages. At the top of the report is the rating of the site, the number of serious errors and warnings. A little lower is the nesting depth of the URL and the state of the code.
The crawler allows you to download a report on:
site indexing;
content optimization;
duplicate page meta tags;
analysis of redirects;
links;
duplicate images and meta tags for them;
the state of the code and url-s of the site.
The module allows you to filter pages by the nature of the errors, which is convenient. To do this, simply click "Status code" (Status code). Then we look, read and correct.
In general, this is a functional tool that will make life easier for those involved in the technical audit of sites.
Link checking
Link building is one of the most popular and effective methods of website promotion. To work with them, Sitechecker has a specialized Backlink Checker tool.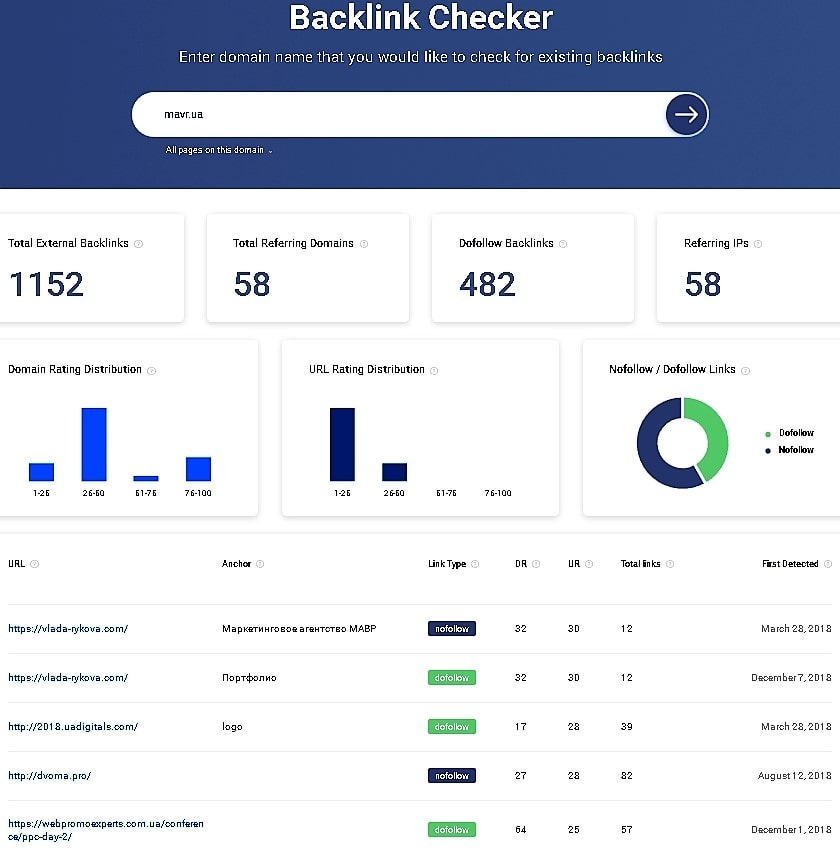 The link checker shows:
total number of outgoing links;
number of referring domains;
Nofollow and Dofollow links;
URL and domain rating distribution;
number of referring IPs.
This is necessary to audit your site and compare with competitors. When compiling a link promotion strategy, they take several TOP niche resources, analyze and enter the results in a table. After that, it is clear how many and what kind of links you need to create in order to catch up with them. Of course, this is an approximate number, there are many ranking factors, but the benchmark becomes clear.
Links are Nofollow and Dofollow. The first ones do not transfer the reference mass to a third-party resource, the second ones do. In code it looks like this:
<a href="http://mavr.ua" rel="nofollow">
<a href="http://mavr.ua">
At first glance, it seems that Nofollow links are useless for promotion, but with the overwhelming prevalence of Dofollow, there is a risk of falling under the search engine filter.
Also pay attention to the DR (domain rank) parameter. This is Ahrefs rating, which is considered the most accurate for link analysis.
It is worth posting links only on resources with DR above 10. Naturally, the list of the most promising donors of competitors should be kept in a separate table.
Another point is anchors. Anchor – link text, for example: "MAVR Marketing Agency". Anchor links directly point to a service or product, but (just like Dofollow) can be dangerous. The search engine may suspect you of buying links and black promotion methods. The ratio of anchor and non-anchor links is currently considered acceptable at about 20 to 80%.
By the way, anchor texts of competitors should also be saved in order to be processed and used for your resource.
In general, the link analysis tool in Sitechecker is quite good, although it is inferior in functionality to professional services such as Ahrefs. But considering the cost and other features, our service looks more than attractive.
Monitoring of critical events
Monitoring is a tool that allows you to track changes in SEO, analyze performance and take timely action if something goes wrong. This is a new tool and will be especially useful for actively developing resources. This includes online stores with hundreds and thousands of pages, large entertainment portals, etc.
Conclusion
Sitechecker is an excellent tool and fully corresponds to the declared functionality. With its help, it will not be difficult to conduct a technical audit of the site, find and fix most of the errors. Therefore, it makes no sense to talk about the shortcomings, everything that the creators promised works perfectly.
But there is also a wish – I want Sitechecker to increase its functionality and become more versatile. For example, when analyzing, the site comparison module is sorely lacking. And also you can not see the TOP issue. There is no function for working with keywords and semantics. If the developers implement this, the service will acquire a huge number of new users.
Internet marketing expert. Head of marketing agency MAVR.
Business degree "Master of Business Administration" (MBA).
Tired of being stressed? Here are 6 reasons why you should use the services of an Internet marketing agency