Review on iDobraCRM: One CRM – a lot of possibilities
We will send the material to you by email:
Время чтения:

9

мин.
CRM stands for customer relationship management system. This is a popular interaction model that is necessary for everyone who has their own business. The popularity of this solution is due to the fact that CRM allows you to spend less resources on performing routine business tasks. This is possible thanks to the automation of processes in the sales, marketing and technical support departments.
On the official website https://idobracrm.com/ru/, business representatives have the opportunity to use the free iDobraCRM plan, or choose a paid plan with the functions necessary for business. This is a solution that will simplify and systematize the workflow.

Briefly about iDobraCRM
This is an online solution created specifically for companies and organizations that automate interactions with customers. Start using this application software if you want to:
Optimize your business;
Increase sales level;
Expand your customer base;
Improve the quality of customer service;
Optimize and improve all processes;
Effectively control and structure work processes.
Automation of business processes is an integral part of modern entrepreneurship, and every successful businessman understands that the technological world is constantly changing, requiring constant improvement. If you decide to move forward, attract new clients and increase your success, do not waste valuable time and start looking for a CRM system for your business!
iDobraCRM is a modern cloud service for organizing effective business processes, including managing customers, products, transactions, orders, delivery and finances – all this is available in one convenient place.
iDobraCRM – CRM provides automation of work with clients and task management. Users can effectively interact with tasks, deals, invoices, counterparties, emails, etc.
CRM systems for business are necessary not only to expand the customer base and increase sales, but also to collect and store all valuable information. This information is regularly analyzed and used to optimize work processes. CRM for small businesses plays a key role in driving rapid company growth.
Registration in the system
To register, just fill out the form on the main page: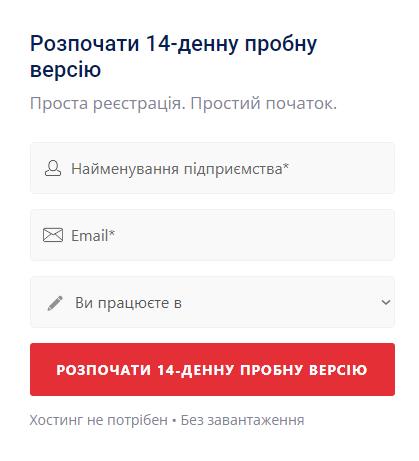 Add your company name and email.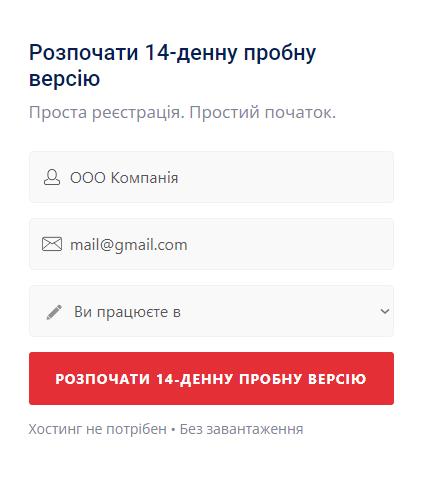 After that, select the area in which you are working. The list is quite long.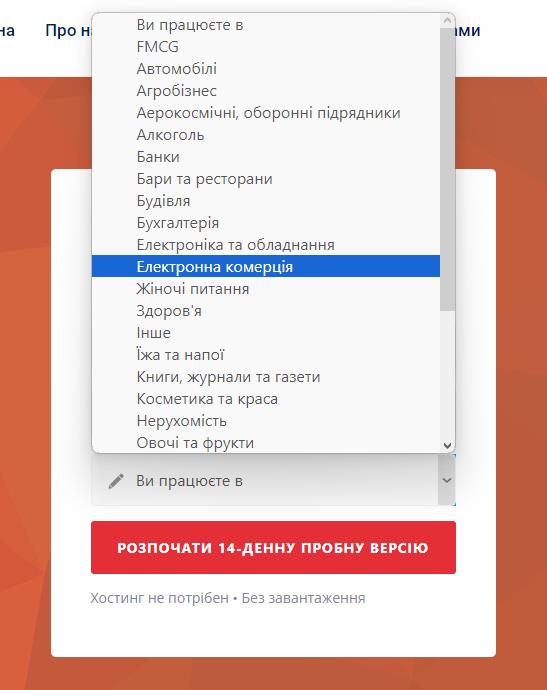 When all the data is filled in, click the button – Start 14-day trial and wait for an email. The email should contain activation links and login information – login and password.

Log in and you can use the CRM features.
Main functions of iDobraCRM
iDobraCRM offers wide functionality to business owners and unlimited possibilities for automating many processes:
Sales automation. CRM helps automate sales processes, track deal stages, create and manage tasks for salespeople, and analyze sales results.
Electronic correspondence. Managing incoming email and sending emails to contractors.
Flexible system setup. The settings panel contains the following functions. General settings, User management, Organizations and settings, Statuses and currencies.
Custom settings. Creating new departments and including CRM users in the system, as well as setting up their access levels to system sections.
Tasks and responsibilities. Personal tasks for each user in the CRM system. Each task has its own execution status and responsible executor.
Agreements. Agreements between the organization using the system and counterparties. The ability to create electronic versions of contracts between the organization and the counterparty.
Invoices The invoice includes services provided to the counterparty, as well as electronic versions of invoices and acts in .pdf format. Invoices can be created either in a free format linked to a transaction, or in a strict product format with a list of all goods in the order.
Client base. All counterparties registered in the system. You can add counterparties both on the Counterparties page and directly when creating a deal/order. CRM allows you to store and manage all customer information, including contact details, interaction history, purchases and preferences. Create additional fields to obtain additional information.
Marketing. iDobraCRM has a unique essence of CRM systems "Showcases", through which you can have different groups of products for different marketplaces/stores, and take orders into the CRM system from them.
Integration management. CRM allows you to integrate the system with other applications and services, such as email, markets, SMS providers, etc.
Office overview – control board and features
By logging into an account, users can manage many processes through a dashboard. The following tools are available to users:
Activity
Sales
Stock
Agreements
Finance
Marketing
Each element allows companies to track and manage different aspects of the company's activities. Let's look at each section separately.
Activity
The "Activity" section consists of two subsections: tasks and e-mail.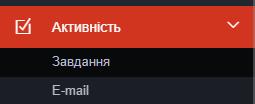 By going to the Tasks subsection, the responsible leader or manager can create new tasks and distribute them among employees.

The task creation window looks like this: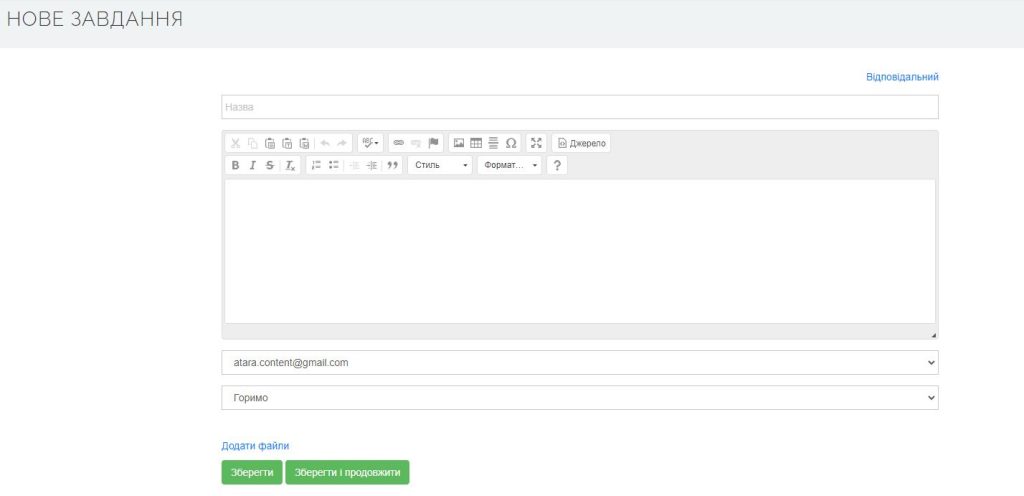 Department heads or other responsible persons can create tasks and distribute them among employees. Enter the task name and description in the field. And in the upper right corner, assign someone responsible for this and other tasks. In addition, you can set the status of a task to indicate how urgent it is or mark it as ready.


You can also conduct email correspondence with clients through the activity panel.

It is enough to indicate the recipient, the subject of the letter and write the text. You can add files of any format to your email.
Sales
The "Sales" section contains the following subsections:
Orders
Shipment
Counterparties
Price lists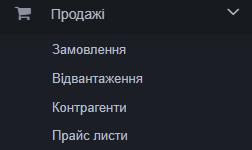 In this section you can manage sales, track the status of orders and create lists of counterparties. Let's look at the "Order" subsection.
Orders
Orders allow you to process the actual sale of the marketplace. The order entity does not affect the actual write-off of the balance; for these purposes, there is an additional shipment entity. An order is a preliminary agreement for the sale of a product or group of products and is the basis for issuing an invoice to the client.

In this section you can create a list of orders and manage their status. The order record looks like this: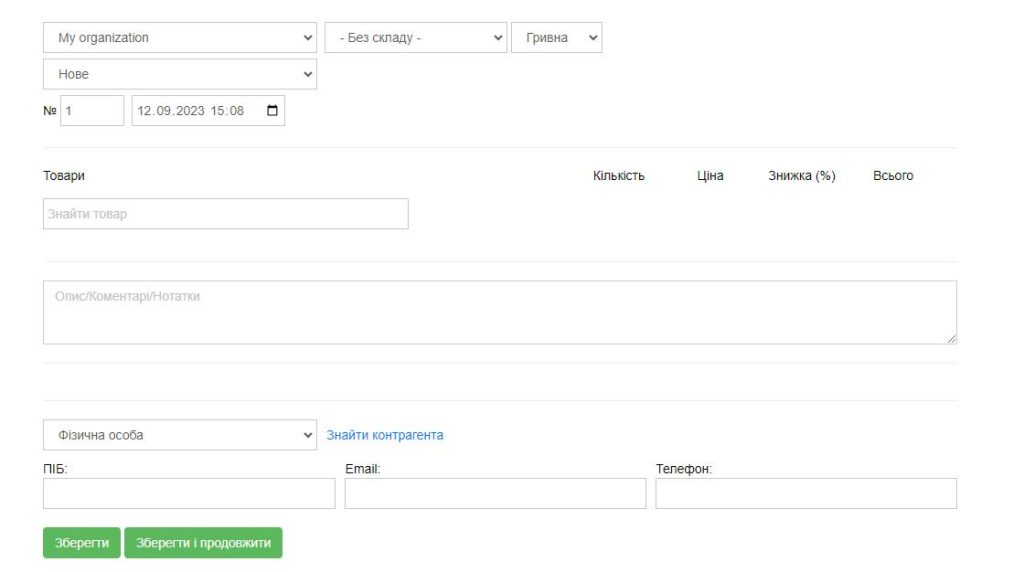 By filling out data about the counterparty, you can create a new one, or update existing ones in the database.
Shipment
Shipment is a document of the actual write-off of goods from the warehouse. Goods are written off from the specified warehouse.

In this subsection you can track the delivery status of the goods. To create a new shipment, you must click the appropriate button and fill in information about the order and customer.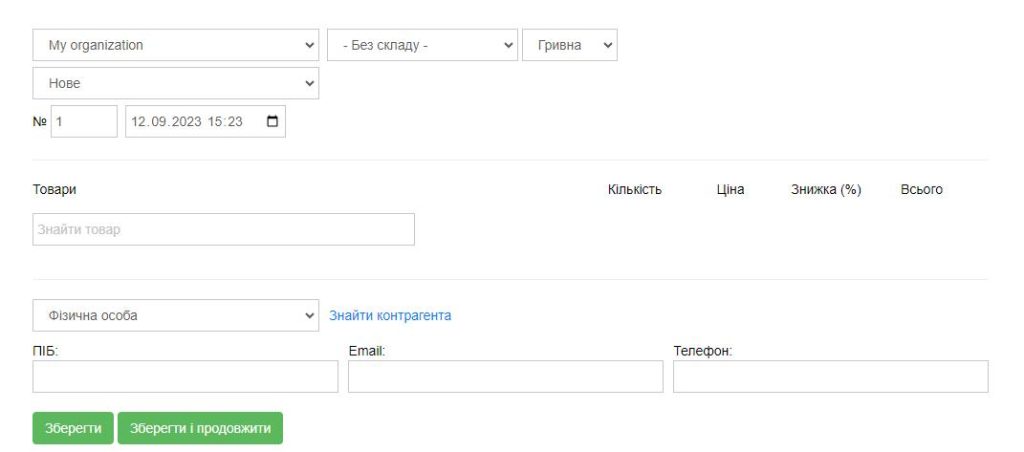 Data about the counterparty can be filled in manually or pulled from the Counterparty database.
Counterparties
This subsection stores information about counterparties. Counterparties are business entities that can be either a legal entity or an individual. The entity of counterparties is used both during sales and purchases.

To create a new counterparty, you must click the appropriate button and fill in the following data:

If necessary, you can create additional fields to fill in additional information.
Price lists
Price lists are an entity that segments your products according to certain criteria. Based on price lists, you can print price tags and price lists.

Through this panel you can add prices for products and select the price type.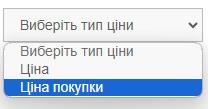 Stock
This section is intended for inventory and inventory management. Here you can track the number of goods in stock, orders, deliveries and stock levels. This is important for effective production and supply management. Contains the following subsections:
Goods
Purchase
Inventory
Receipt of products
Write-off

Goods
Goods are involved in trade transactions. Products may have variations based on product characteristics (color, size, etc.). Also on this page you can see the remaining goods at the warehouses you have selected.

Purchase
A purchase is the fact of a transaction that has taken place with your supplier of goods. The goods of the purchase document are attached to the actual balance of the composition indicated in the document.
Inventory
Inventory is an entity that allows you to determine the discrepancy between the balances on the specified composition. The inventory document does not affect the actual change in the balance in the warehouse.
Receipt of products
Product receipt is a type of document (entity) that allows you to adjust the re-sorting of goods during inventory and add surplus goods in the warehouse. Separately, the document works with one specific composition.
Write-off
Write-off is a type of document (entity) that allows you to add regulation of the re-sorting of goods during inventory and record the actual shortage of goods in the warehouse. Separately, the document works with one specific composition.
Agreements
Agreements are documents that record your relationships with counterparties. The document is filled out in free form without the need to link goods.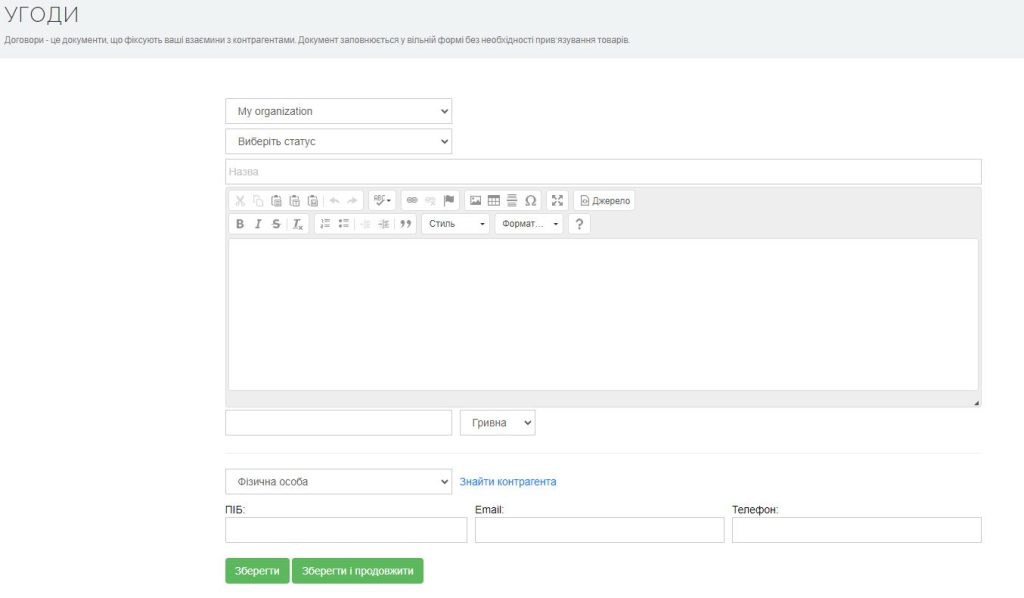 Finance
This section guides the financial aspects of the business such as accounts, invoices, payments and budgeting. This allows you to more accurately control the financial condition of the company and interaction with clients in financial terms. This section contains the following subsections:
Accounts
Entry fees
Exit payments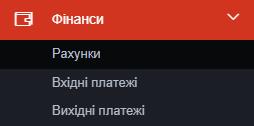 Accounts
An invoice is a financial document that records your client's willingness to pay for a product or contract. Invoices can be commodity invoices – they do not record changes in the balance in the warehouse, in free form – suitable for service companies, or issuing invoices for contracts working with goods.

Entry fees
This subsection contains information about incoming payments. Here you can set the status of payments, their type, size, currency and other information.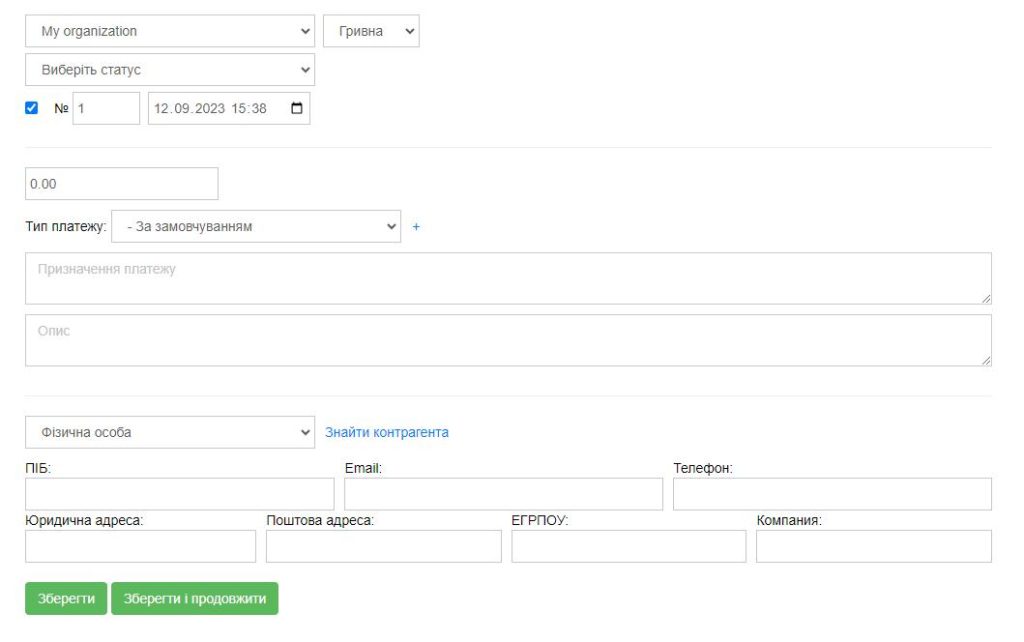 Exit payments
This subsection contains information about initial payments. Here you can set the status of payments, their type, size, currency, information about the counterparty, etc.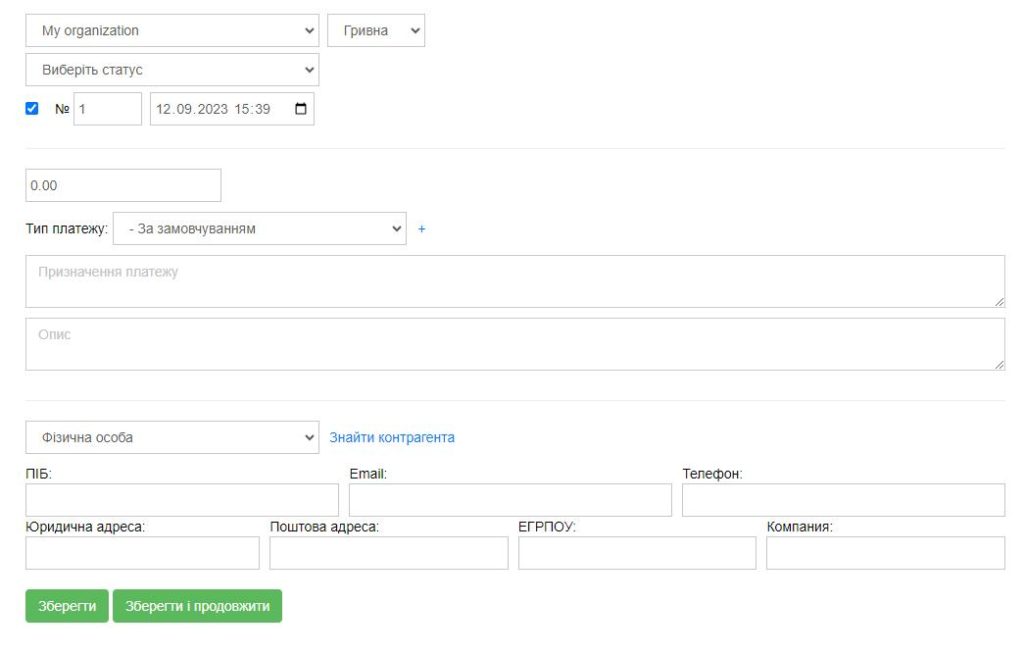 Flexible control board settings
The dashboard is flexible, allowing you to add new fields for filling out information in each section and subsection.

Advantages of iDobraCRM
If you're just looking for a CRM for your business, explore the benefits of each option. iDobraCRM offers the following advantages and capabilities:
Multifunctionality. All the necessary functions for effectively managing your business are collected in one place.
Control and monitoring. The most important parameters of your business activity are always under control.
Compatibility and integration. Easily integrate iDobraCRM with external services, use ready-made integrations or using the API.
Individual settings. Install iDobraCRM to suit the unique features of your business processes.
Counterparty database. Effective management of counterparties. All necessary information about clients and suppliers is always at hand.
Information messages. Receive important messages related to contractors or team activities.
Purchasing and sales management. Easily manage your inventory. All information about the actual balance of goods in warehouses is always at hand.
Effective financial management. Easily manage your finances and automatically receive information from your bank.
Collaboration. Successful interaction with the team. Get information about your group's work.
This is the minimum from which you can start optimizing your business. You will get more benefits after you start using this solution.
Launch and implementation
The iDobraCRM team guarantees a deep understanding of your business and provides full support in setting up, implementing and integrating the system, as well as training in its effective use.
Use the services of accredited integrators who will assist you in installing and launching the system. This is a step towards optimizing your business management processes.
Internet marketing expert. Head of marketing agency MAVR.
Business degree "Master of Business Administration" (MBA).