17 photo editors that are sure to come in handy in the work of an SMM specialist
We will send the material to you by email:
Время чтения:

18

мин.
"You can get more with a kind word and a gun than with just a kind word." (Al Capone)
In the world of social media, a meaningful post with a picture gets more engagement than just text. The company "Buffer" conducted research on the social network Twitter, and assessed how actively users repost records? And they saw the connection: Tweets with an image are shared 150 times more than just posts with text.

SMM managers picked up the result of the research and actively began to develop a culture of attaching images to text content. Add text to an image, create a collage, adjust the color gamut to the desired standard – all these functions were originally carried out in the usual bulky editors like Photoshop. But the trend demanded photo editing apps available to the general public. Because, hiring a person who owns the full Photoshop tools for the position of an SMM manager is not cost-effective. The scope of functions is extremely limited, standard.
Another problem: publications are mainly carried out through a mobile phone, and you can't just install classic Photoshop on a smartphone – only its younger mobile version. Therefore, for SMM managers, a lot of simple photo editors with the most necessary functions have appeared. If a full-fledged editor requires a thorough approach and several weeks to study, then such tools can be mastered in a couple of publications.
Therefore, today I suggest you familiarize yourself with the functionality of the TOP-16 graphic editors:
Photoshop
This program is most in demand, both for beginners and advanced smm-specialists.
Photoshop is one of the most powerful graphic photo editors.
Its functionality is unlimited, which allows you to process photos, create your own drawings, collages and posters. Even the most advanced users do not know all the features of this program, so everyone will learn something necessary and useful for themselves.
Advantages:
contains a huge number of tools, functions and effects.
Minuses:
paid program;
rather complicated interface. But with the help of various video tutorials, you can easily learn this program.
Canva
Canva is one of my favorite social media image editing services. In this program, you can create truly unique illustrations with a modern design.
This service makes your work easier if you are not a professional designer.
It contains ready-made templates for various social networks, and it is also possible to set the required image size.
Canva allows you to upload images, add text, change color and size. Kind of a cut down version of Photoshop.
Pros:
a huge number of ready-made templates;
easy to use.
Minuses:
most of the fonts are not adapted to the Cyrillic alphabet, so the text in Russian is mostly monotonous;
there are a number of elements (background, shapes) that are free, but if you want a more unique image, then you need to use paid elements.
Price: Most of the tools are free.
Crello (VistaCreate)
Crello (VistaCreate) is an online editor for creating static and animated designs. Here you can create bright and memorable posts for Instagram, Facebook, YouTube and even TikTok. Even if you have never tried yourself as a designer before, the online editor will allow you to express your ideas with the help of a huge library of photos, videos and audio. You just need to choose from the presented templates and already edit them for your brand book. The graphic editor offers 2 cooperation options – free (Starter) and paid (Pro – for $ 9.99 per month). The difference is in the unlimited download of designs and the provision of operational technical support for users on a paid package.
BannerBoo
Link to the service – https://bannerboo.com
BannerBoo is an online banner maker for creating animated ad creatives that can be exported to any ad network in the world. You don't need programming or design skills – in just a couple of minutes you can create your own advertising-ready banner from scratch, and a variety of color schemes will allow you to choose the most suitable color in one click. GIF animation or HTML5 banner, Full HD video or AMP advertising – everything is created quickly, intuitively and in minutes 🚀
With BannerBoo you can:
Create advertising creatives without programming and design knowledge
Create both static and animated GIFs and video banners
Export creatives to all formats and all advertising and social networks
Animate banners and resize in one click
Use masks for photos and videos
Change colors in one click
Cut background from photo in one click
Use millions of commercially licensed stock photos and videos
Enjoy thousands of ready-made animated templates in different sizes
Present advertising campaigns from your branded page
Create your own templates to speed up your work
Pixlr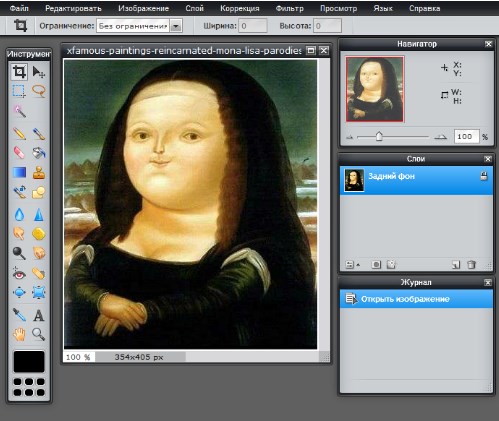 Pixlr is a complete online editor that is similar in features to Photoshop. The set of tools contains: lasso, stamp, magic wand, there are layers and many more tools. This editor is available in 25 languages, including a Russian version.
Pros:
easy to use;
there is a complete photo editing suite.
Minuses:
you can use the transformation only with the mouse, since it is impossible to manually set the size in pixels,
there is no button for proportional scaling.
Price: free version.
PicMonkey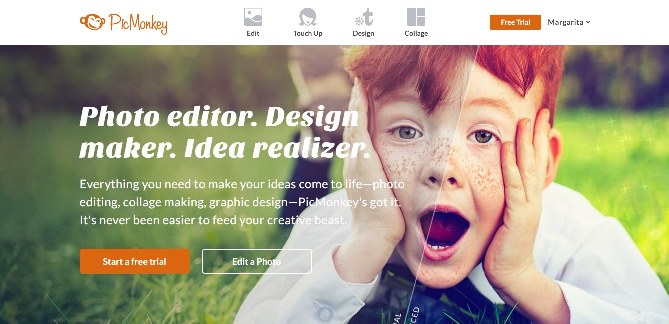 PicMonkey is a fairly popular online photo editing service.
This service contains tools: basic, effects, makeup, textures, stickers and effects in various subjects.
Pros:
easy to use;
a huge number of different elements;
fast work speed;
you can choose the resolution of the photos.
Minuses:
if necessary, soften the focus blurs the content and is served in the form of a circle;
it is necessary to complete one operation before starting another;
Trial period: 7 days.
Price: 2 tariffs, the price depends on the number of months you buy.

QuotesCover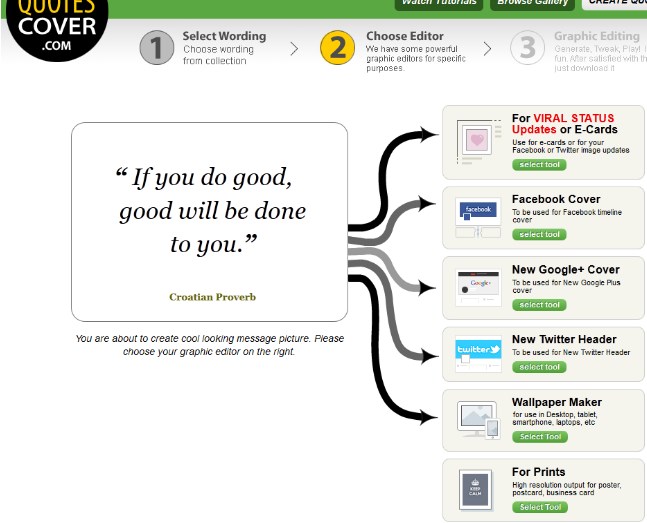 QuotesCover is an interesting and useful service that allows you to create a quote image for the cover on Facebook, Twitter and Google+.
Pros:
online access;
a huge selection of effects, fonts and various non-standard design solutions;
easy to use, just two text input fields and a minimum of settings.
Minuses:
there is no possibility to enter text in Cyrillic;
you can't choose a font and filter from the selected list, you have to scroll constantly, without knowing what the result will be.
Price: free.
Naturally, working in these services, you will find many more advantages and disadvantages. And for different purposes it will be more convenient to use a separate service.
Snapseed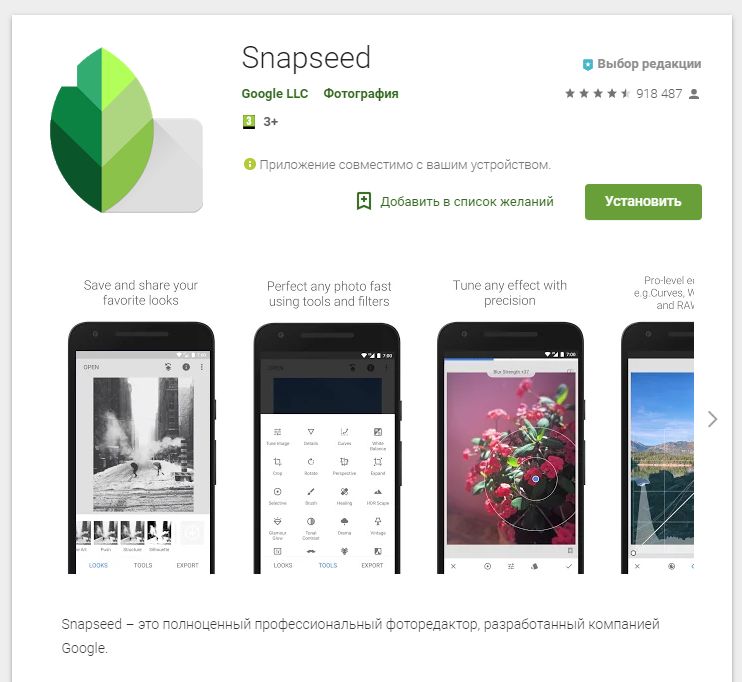 The application has become a lifesaver for beginners in SMM who needed a photo editor for all occasions. Snapseed has become a kind of Photoshop for Instagram. Automating most functions saves time and effort.
So, at startup, the application will immediately prompt you to select a photo from the gallery albums on your smartphone. Further, the user has three roads – "Styles", "Tools" and "Export" – depending on what needs to be done with the image.
In the first tab, the user is given the opportunity to select one of the filters for the future image. There is a function to create filters – gourmet color correction. After the image has acquired the desired look, you can click on the plus at the end of the filter strip – and the photo editor will save the settings. In the future, they can be used for all images. Then it is even possible to share this style with a friend – just by sending him a QR code in the filter settings menu.
Advanced users will appreciate the ability to adjust the image quality when saving and select the file type.
The basic quick photo adjustment tools are located in a friendly menu and are available right after going to the "Tools" tab. Want to crop an image? Or flip? Make an atmospheric double exposure or add a motivating inscription? Snapseed has it all, making it the most popular photo editor for Instagram.
In the "Export" menu, the user has a choice – what to do with the image? He can simply save it to any folder in the smartphone's memory or send it to any application on the device.
Snapseed has become so popular that a huge number of video tutorials have appeared on it separately. In them, experienced users give master classes on tools and reveal the secret features of the photo editing application that are not obvious at first glance.
For its versatility, the application is loved by professional photographers who prefer to publish photos directly from their smartphone during the next photo outing. But the convenience and simplicity of the application will also be appreciated by SMM managers who have an smm editorial plan, but do not have time to edit each image in Photoshop.
Advantages:
Thanks to its functionality and simplicity, it competes even with the giant Photoshop.
The save settings function is convenient for those who want to publish photos in a single color scheme.
Flaws:
You cannot manually set the filter. You can only choose from a large gallery of options. Thankfully, there are actually a lot of them.
Price: free.
VSCO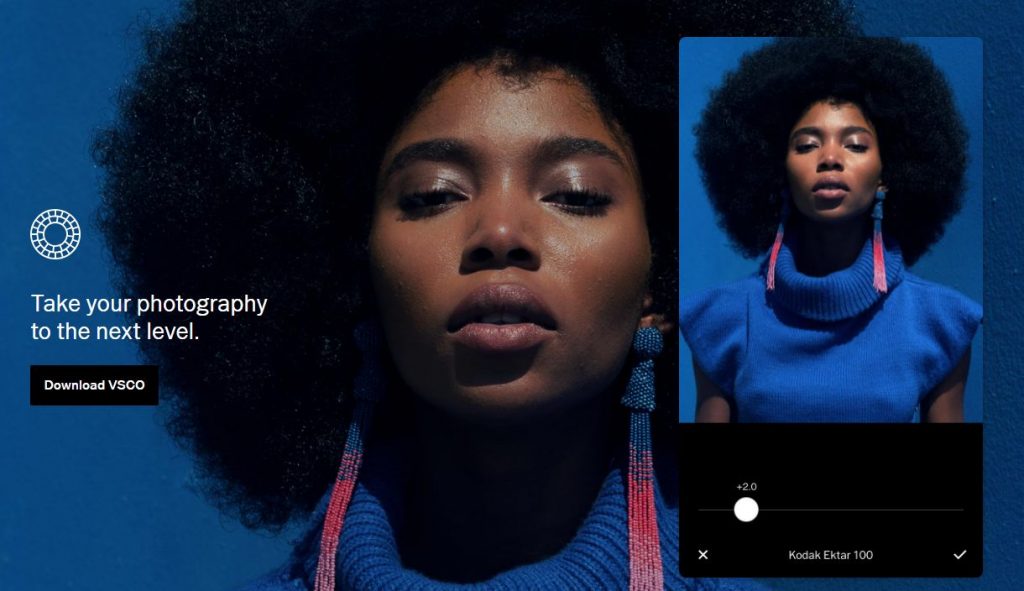 It is rightfully considered the best editors of recent years. Bloggers who use iPhone or Android for taking pictures have fallen in love with VSCO with tender love. With the application, the pictures do not differ from those taken with a SLR camera. And this is noted even by professional photographers. The developers positioned their brainchild in this way. They succeeded – VSCO turned the idea of high-quality photography as the prerogative of cool photographers with expensive equipment.
The very first thing that is noted is really beautiful filters, the development of which involved the best minds from Apple, MTV, Audi, Levi's, Adobe, Sony. And the ability to fine-tune each setting makes photo editing a cult and exciting process. The application community even publishes weekly digests with the best photos, published with the hashtag #vsco.
The settings work just like on a professional camera – you can set all the parameters, and only then start shooting. Have we already said that the VSCO developers set out to revolutionize photography? It starts right after the application starts. An ordinary smartphone turns into a professional camera. And the opponents of the photo on the smartphone have nothing to cover.
For those who like to process a photo and bring it to perfection in several stages, there is cloud storage and synchronization between different devices.
Another borrowing from professional editors is that you can work with a huge picture, but the phone does not freeze from processing it. The original will be saved in the cache, and its optimized version will be displayed on the screen. At any time, you can return to the original – what full-fledged editors like Photoshop and Lightroom (which we will talk about in a moment) can boast of.
And for those who still find the huge functionality of a free photo editor not enough – there is a separate store with additional filters and settings. You can buy all packages at once and pay $7, or you can buy separately. Each customization pack will cost between $2-$3.
Advantages:
A developed user community where you can communicate with other photographers and share photos;
Unique filters, on which the developers worked on their own.
Flaws:
At first, you will have to sit well in the application in order to learn all the functions;
The photo editing process is addictive, which is dangerous given the time pressure – a constant companion of the SMM manager.
Price: free
Adobe Lightroom CC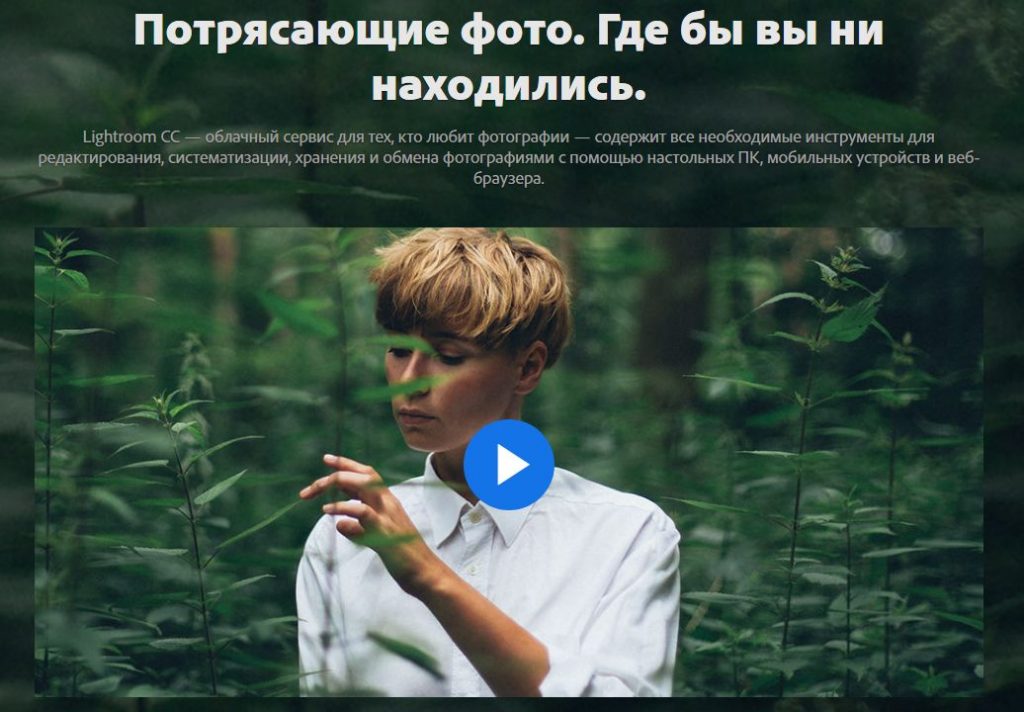 At one time, the application made life easier for professional photographers. The presence of simple functionality, which in a couple of clicks allows you to edit a package of photos with approximately the same shortcomings, saves a lot of time. The use of Photoshop and its rich functionality has not always been justified. And having a simple program for processing photos with a set of functions tailored for retouching is much more convenient.
Following lovers of artistic photography, Lightroom was also loved by SMM managers. "Photoshop's little brother" from the giant Adobe allows you to process photos faster and not get lost in the tabs and menus. The number of tools is reduced to the required minimum and conveniently located on one screen – as they say, "everything is at hand." Indispensable when you need to quickly retouch photos on the go.
Still unwieldy compared to many of its simpler modern counterparts, Lightroom is becoming a godsend for advanced social media managers who position their work on the edge of craft and art.
Advantages:
A wide range of settings that allow you to create a unique style for images.
With a good hand in Lightroom, you can easily turn from a simple SMM manager into a confident photo retoucher.
Flaws:
Suitable only for basic processing and retouching.
Price: free
Afterlight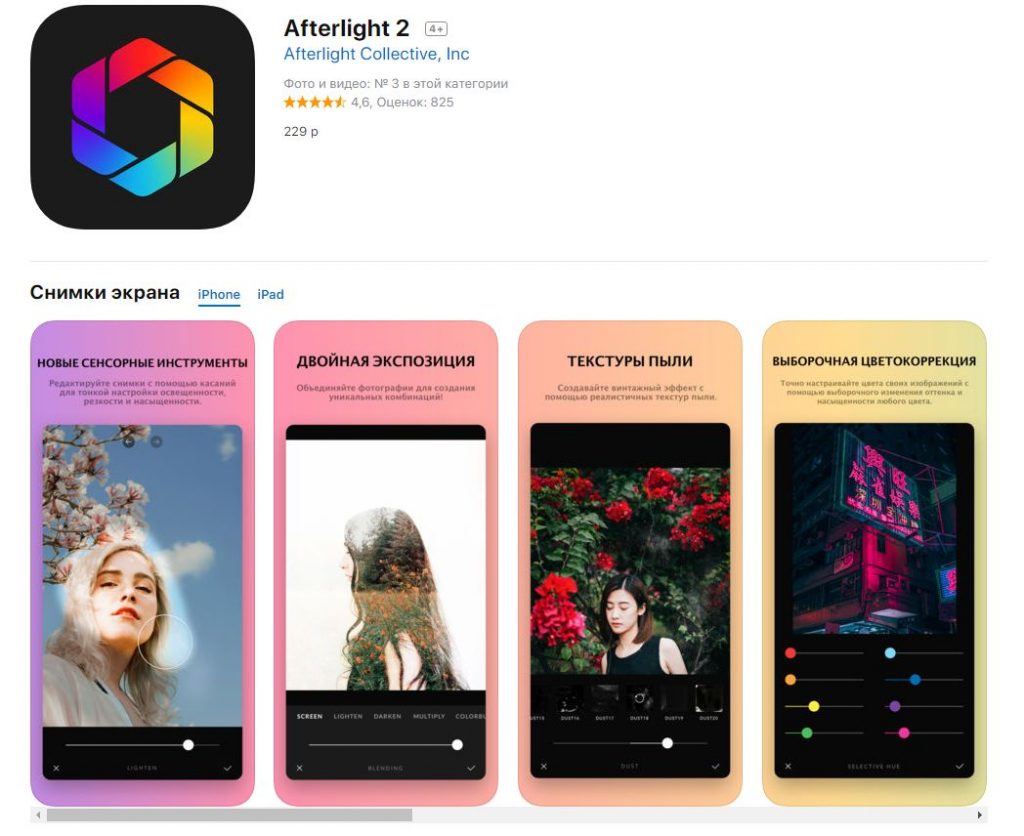 For those who want to install some kind of workhorse to help Snapseed, then your attention is the easiest editor for the iPhone. The application is not revolutionary and does not aim for the laurels of the flagship photo editing tools for Instagram.
The developers made a bet on simplicity, minimalism of the interface, and added several interesting features. So, the filters in Afterlight are not as flashy as in Snapseed. After applying the filter, the photo does not change dramatically – only the color scheme is slightly adjusted, which gives the photo a completely new shade of mood.
Pleases with the application and a good collection of masks. You can make retro highlights on a digital image to give it a special character and atmosphere.
Advantages:
A simple, minimalistic editor that does not require many resources from the device.
Masks and unobtrusive filters.
Flaws:
Simple, minimalistic editor. Good only in addition to a more powerful tool like Snapseed or VSCO.
Paid.
Price: The app can be purchased on the Appstore for $1. Expanding the collection of filters will cost another $1.
Enlight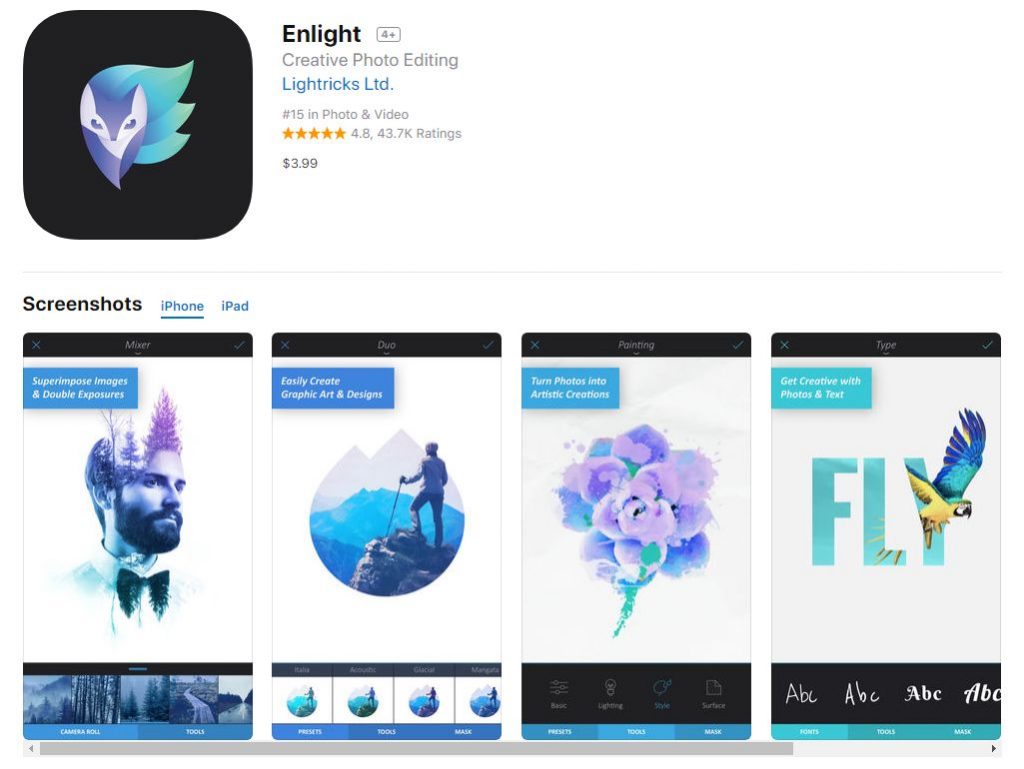 Israeli developers, when they presented their brainchild to the market, said that the application can become "Photoshop in your pocket", assuring that it has everything. As for "everything", perhaps skeptics will find an opportunity to find fault. But if we say that there is "almost everything" – then such a statement will not be far from the truth.
Experienced users of various photo editors when they first launch the application can be confused by the prompts that appear here and there. But for a beginner, it will even be a great help – why not the course of a young fighter?
The hints really make sense, given that the functionality is almost as rich as the real Photoshop. The developers knowingly hoped to replace all existing photo editors with one of their proposals. However, the same skeptics claim that there are no universal tools, and they will be right in their own way.
The advantage is the ability to work with photos in landscape orientation – just turn the smartphone long side down. This solution is not implemented in most editors, and this feature makes editing in Enlight really convenient. Think of making the editing process convenient by simply turning the phone, even the VSCO developers did not think of it!
Another advantage is the ability to avoid unnecessary movements and select pictures directly in the right panel. If you work in the usual portrait (vertical) orientation, then the panel will be at the bottom.
The developers also took care of the possibility to change their mind and cancel the last step. A handy feature that allows you to check – was it not a better step earlier? The same VSCO allows you to cancel only all actions at once.
The last advantage is that you do not need to import photos into the application – you can open the editor directly from the gallery.
Advantages:
Ability to step-by-step undo editing;
Pop-up navigation tips on first launch;
Ability to work in landscape orientation.
Flaws:
You need to get used to the application – the wealth of functionality will require the first time to wander in the settings;
There is no specialization for a specific task – there is no function that would amaze the imagination with its thoughtfulness.
Price: free
Union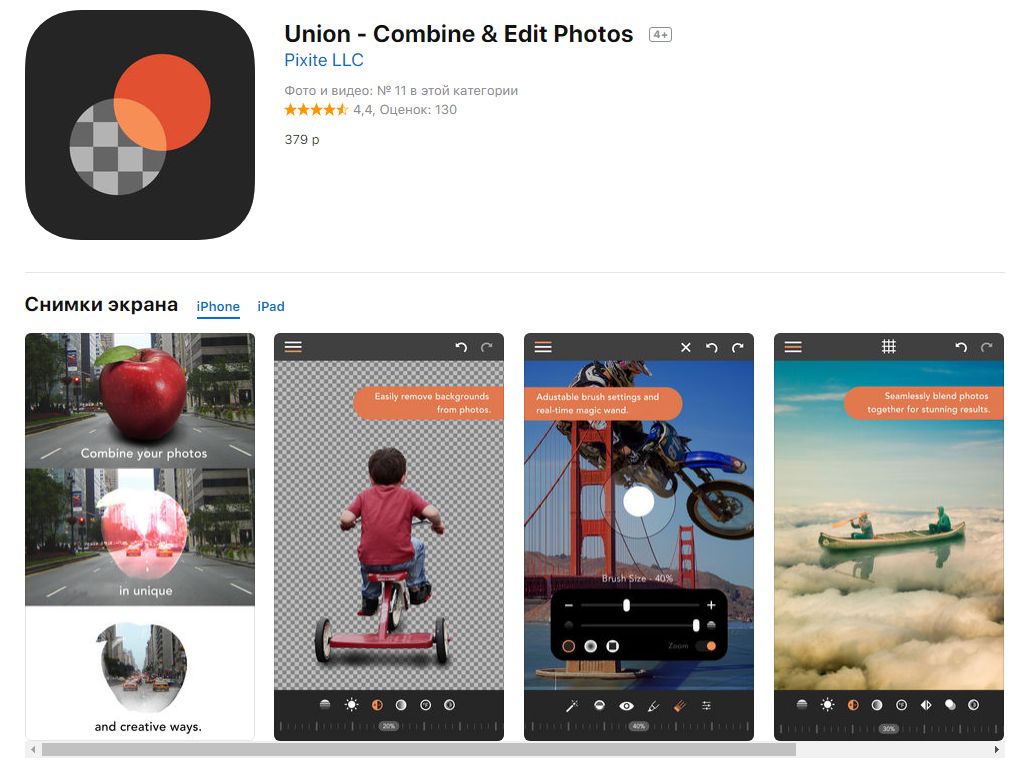 A simple photo editor that allows you to combine several photos into one. The developers have made the ability to create artistic collages and double exposures the main feature of the application. And the users decided – if so, then it is necessary to take it.
The application's simple interface, intelligent photo adjustment, and object cutting transform the editing process into creativity. With the help of Union, it is possible to create unique fantasy shots worthy of display in the gallery, and not just on your Instagram profile.
Advantages:
A simple editor for creating a double composition covers the need for a narrow range of functions completely.
Flaws:
Creating collages – and that's it. For other functions, you will have to use other applications.
Paid.
Price: $6 on the AppStore
Phonto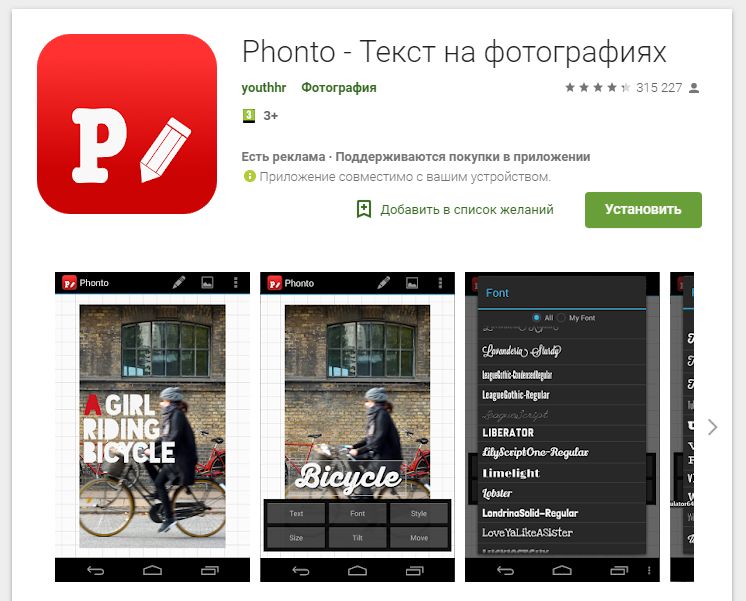 Another application that offers users a narrow set of features. This time – the opportunity to create beautiful pictures with inscriptions in the best traditions of hipster fashion. Many beautiful calligraphic fonts allow you to create your own logo right on the mobile screen – why not?
Simple functionality – simple interface. Simply select a photo – your own or from the app's collection – and add a caption to it. Edit the font, type, orientation – and publish.
The application does not lead the top photo editors and does not make revolutionary proposals. It just gives exactly what is expected of it. And nothing else is needed!
Advantages:
The best among font editors and programs for adding inscriptions on photos.
Flaws:
Like Union – other functions will require other applications.
Price: free
Snapchat

Initially, the application was conceived as a messenger. Its chip should have been messages that are destroyed immediately after reading. The popularity of Snapchat was brought by funny animal masks. They fell in love with our user so much that just for the sake of this, Snapchat is ready to be massively installed on iPhone and Android. Among the applications, this is the most actively growing app, which is already worth $15 billion today.
How is a messenger suitable for an SMM manager? We answer: the application provides a convenient stories editor. Those. SMM professionals who actively use the capabilities of this Instagram feature to promote their accounts will appreciate the convenience of the interface in which you can edit fonts, add stickers and other Instagram story features.
The most basic convenience for Snapchat stories is a pie chart that shows how much time is left for an individual story to post. Ideal for contests and temporary promotions! If you want to run a promotion periodically, you can simply tap on your history, and it will be downloaded to your device.
Advantages:
Convenient, practical for editing shares in stories;
The messenger will allow you to quickly add the contacts of the action participants, turning idle passers-by into leads.
Flaws:
This is a messenger. Therefore, in SMM, you can use the application only if you are a gourmet manager.
Price: free
Glitché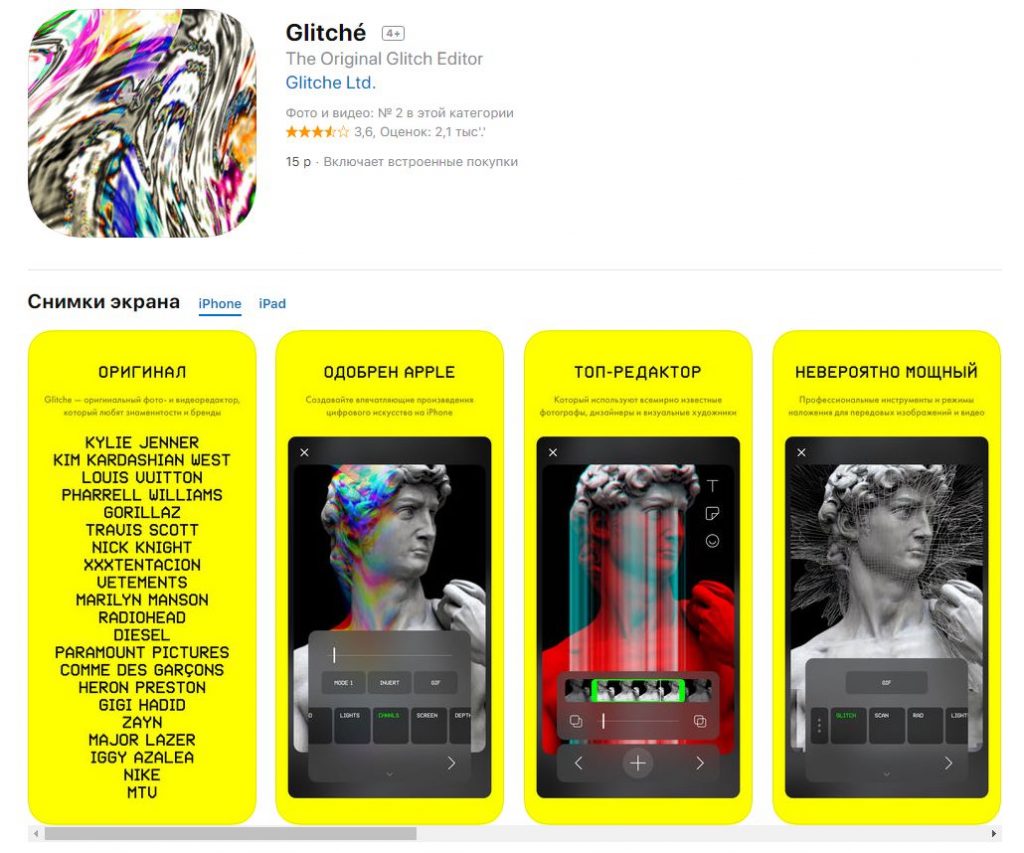 Translated from English "glitch" – "mistake". This reflects the meaning of the application. It creates photographs by filling them with artistic flaws: the "broken glass" effect, the addition of glare, as in film photos, or noise, as in an old television image.
The peculiarity of the application is that with its help truly unique pictures are created. The same filter (there are 12 of them in the application collection) behaves differently on different shots. This allows you to feel like a real old-school photographer, and provide the public with exclusive stories with their own atmosphere.
For an SMM manager, the application can become a source for generating atmospheric backgrounds, on which you can add an artistic inscription or a motivational quote using other applications (for example, Phonto).
Advantages:
An application with its own creative atmosphere of originality and wild imagination, like in the nostalgic 90s.
Flaws:
Immediately understand "Why is this necessary?" only true connoisseurs of art will succeed. It will take a long time to explain to the authorities the appropriateness of the Glitché toolkit if
they could not understand it at a glance.
And you will have to find motivation, because the application is paid.
Price: $1 in the AppStore.
Pixelmator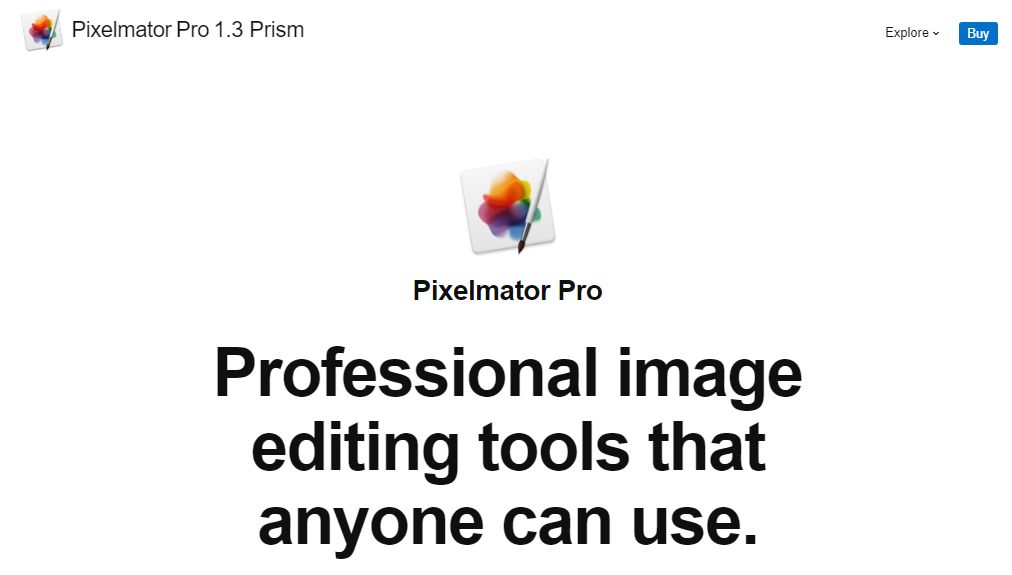 The idea of Lithuanian developers, created exclusively to work on iOS and OS X. What causes the main spirit of the application logic: to do something unimaginable, unclear for the average user, but especially important for a narrow circle of connoisseurs and aesthetes.
The developers' logic is to create an application that will become a worthy replacement for Photoshop. But to compete in the amount of resources with the giant will not work. Therefore, Pixelmator does not declare a direct war on He-Who-Must-Not-Be-Named in the world of graphic editors. Enough laurels of a simple and easy program with wide functionality.
The advantage of the application is a minimalistic and simple interface, which is designed in the best traditions of the ideology of Steve Jobs – to make everything as simple as possible. Which turns out to be the best argument to download the application to your smartphone for lovers of "apple" products.
The final argument is that the desktop version of the app will cost $30 – compared to $120 a year for Photoshop.
Advantages:
rich functionality that can actually replace Photoshop for Apple devices;
minimalistic and friendly interface in the best traditions of OS X and iOS;
relatively low price.
Flaws:
iOS only. Initial positioning, which throws out all owners of Android devices from the song;
The mobile version of the application is also paid.
Price: $6 for mobile, $30 for PC.
Bonus 15 photo editors including mobile applications
Another 15 photo editors, including mobile applications, that can be useful for you when working with images:
https://relaythat.com/
http://wordswag.co/
recite. com (closed)
https://itunes.apple.com/us/app/adobe-post-create-stunning/id1051937863?mt=8
http://contentcreatorapp.com/
http://pictaculous.com/
http://tangentapp.com/
http://www.internetmarketingninjas.com/seo-tools/favicon-generator-crop-images/
http://www.photovisi.com/
http://www.befunky.com/
http://designspiration.net/
https://buffer.com/pablo
https://color.adobe.com/
http://piktochart.com/
http://www.autreplanete.com/ap-social-media-image-maker/
Internet marketing expert. Head of marketing agency MAVR.
Business degree "Master of Business Administration" (MBA).