Overview of the service for finding and checking influencers on Instagram — trendHERO
We will send the material to you by email:
Время чтения:

10

мин.
Do you know the difference between a blogger and an influencer? Often these words are used as synonyms, but it seems to me that this is not the case.
A blogger has followers, and an opinion leader has a loyal audience that trusts him. Therefore, the first one gives coverage, but the influencer brings subscribers and buyers for your products or services.
Don't get me wrong – reach is awesome. But you can get a lot more from advertising from bloggers than just mentioning and brand recognition. What would you say if I offer baby food to be promoted through advertising from a millionaire blogger with entertaining videos, and not through moms? But here is the focus. Among the mothers, there are also opinion leaders, and there are those who just gained subscribers. And you need to learn how to separate them 🙂
Today on the review is the service for checking opinion leaders on Instagram – trendHERO. I will show all the data that is available and dwell on the most interesting ones in detail.
This review was written in 2020, when the service had 2 main functions – search and verification. In 2022, the service has the following features:
Analysis and verification of influencers
Search for influencers (base 90 million)
Outreach – the ability to write to bloggers by email
Tracking
Search 500 similar bloggers
Advertising posts – a large database of posts and stories with mentions
Intersection of the audience of bloggers
And a few more interesting chips, which I will talk about at the end.
Which influencers can be checked in trendHERO?
Any account from 500 subscribers, personal or business. You don't need to connect your account.
Log in, enter your account name and get a report.
summary data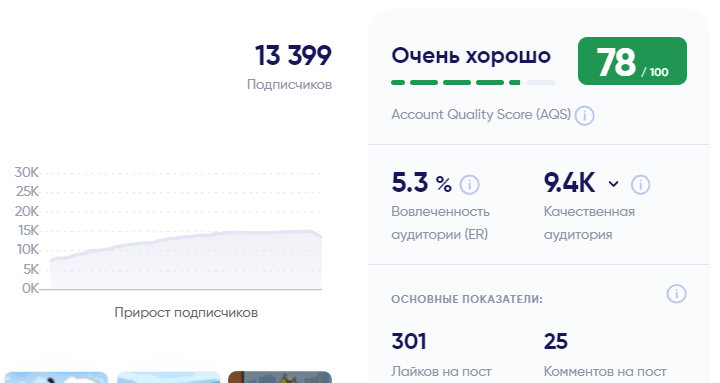 We see the main indicators of a blogger, such as ER and quality audience. Let's talk about them in more detail later.
Demography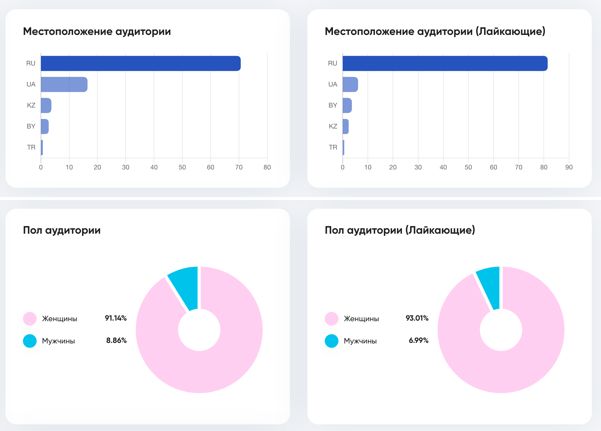 Important graphics – you don't want to miscalculate with the audience.
Initially, I came across accounts with very similar graphs of subscribers and likes, so it was not clear why such a separation. But then I came across a cheated account with a discrepancy in subscribers and likes:

It is immediately clear that something is not right with the subscribers.
Audience type
Very interesting graph: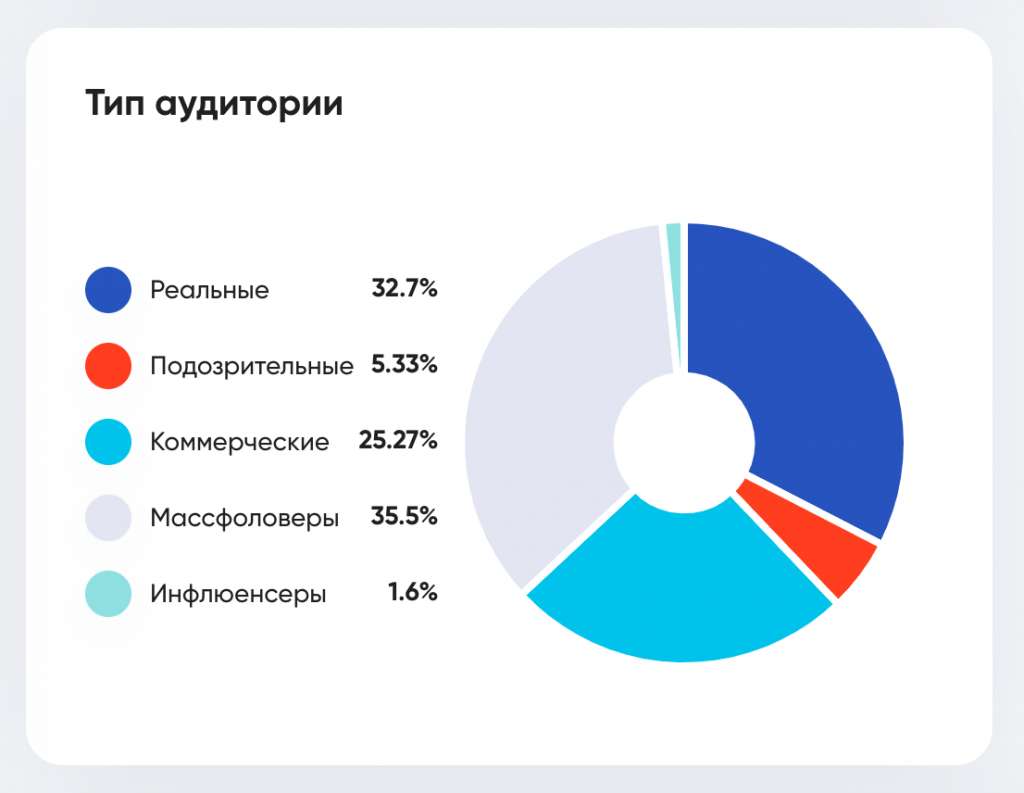 Shows who the blogger's followers are. It is clear that mass followers are not the best audience.
In addition, the service believes that commercial accounts are also a high-quality audience. Although you need to be guided by the situation. If I sell services to companies, then it is logical to choose bloggers with a large number of commercial accounts. The help says that commercial accounts are collected from dictionaries.
The screenshot of the account above is still normal.
I found accounts with worse indicators: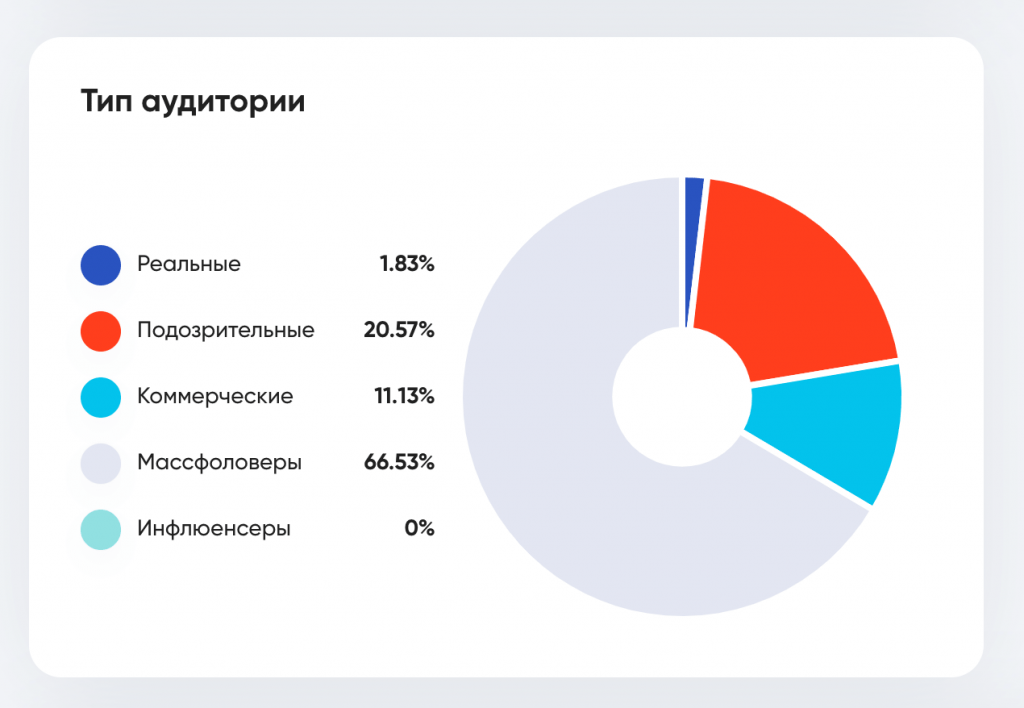 But there is a nuance here, in my opinion. You can't look only at percentages – you need to estimate the cost of viewing. For example, two bloggers offered to advertise for $200. One has 1,000,000 followers and 25% real, and the other has 100,000 and 60% real, then 250k real is better than 60k 🙂
Although in this situation it is better to compare both by quality audience and by ER. After all, quite often a blogger can gain real subscribers who will simply not be interested in him (hello to everyone who makes a giveaway indiscriminately).
Interests

Again, I had to get into the knowledge base to find out how it's going.
In short, these are the categories of business accounts subscribed to by the blogger's subscribers. That is, for example, I have a subscriber Andrew. So this indicator shows which accounts Andrey is subscribed to.
In practice, I would use it like this: I checked that the audience is subscribed to approximately the categories I need. Like, if I promote clothes, but most of the subscribers are subscribed to just for fun, I would think about it.
This is extremely important in the context of the difference between a blogger and an opinion leader 🙂
Comments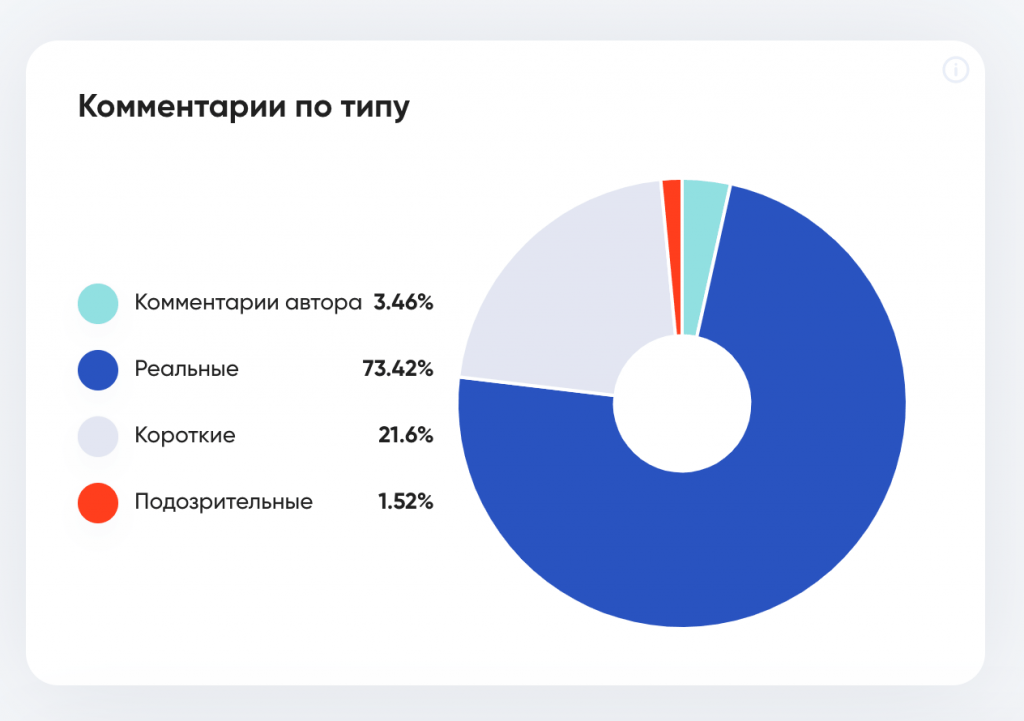 This chart is also extremely important for understanding – we have a blogger or an opinion leader in front of us.
Because it shows how much the account interacts with subscribers, and subscribers are ready to spend time on the blogger.
For example, who do you think is a more loyal subscriber: the one who writes two emoji in a comment, or the person with a long comment? There are, of course, different situations, but often a person who writes more than 4 words is more loyal.
Subscriber Growth
Using this graph, you can track whether the blogger is developing his account. For example: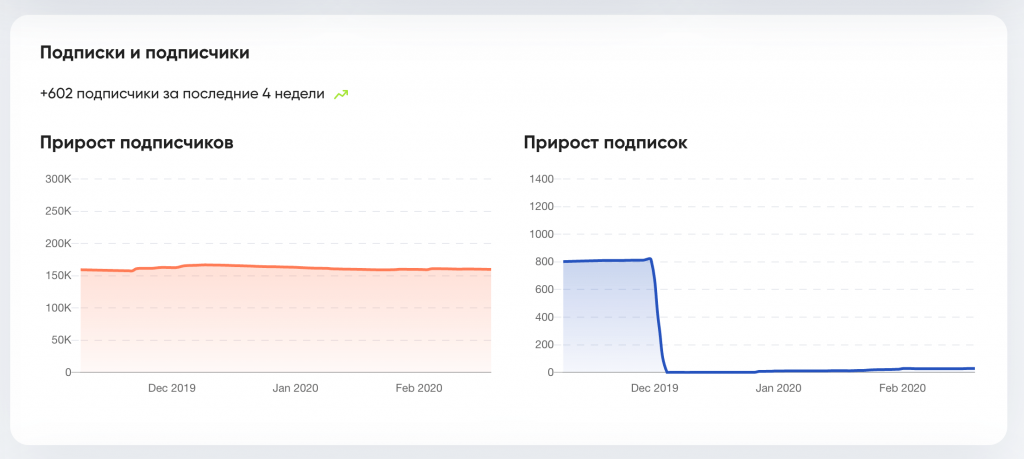 It can be seen that the blogger is not particularly invested in the development of the account. At least it doesn't wind up – it's already good 🙂
But growth is also not always good: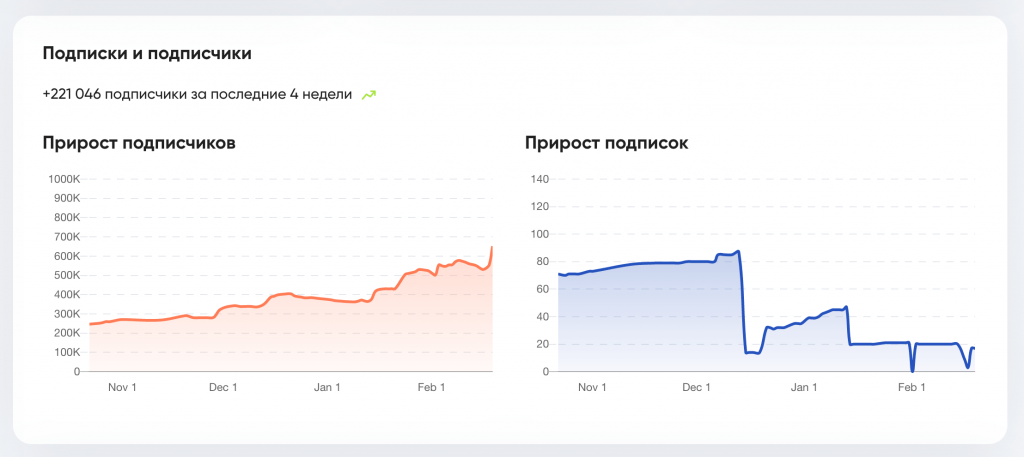 Above is the schedule of the giveaway. When subscribers are recruited by constant contests, you can see by the teeth. Even the increase in subscriptions shows a giveaway – the blogger maintains a stable level for some time. This is related to the "Follow everyone I follow" mechanic.
Post distribution
A very interesting chart, if you delve into it:

Shows how many likes came from subscribers. Someone came from the interesting tab, someone from advertising. Some likes are screwed up 🙂
For example, a post has 1,000 likes, but only 675 likes from followers. Then this percentage will be 67.5%.
This way you can see where the influencer's reach comes from – how much his posts go viral or boil inside the account.
Mention of bloggers
The service has statistics, who was noted by the blogger, but only in posts.
Why is this needed?
See who the blogger advertised
See who the blogger is friends with.
The second point needs to be explained. Usually, bloggers are friends with other bloggers, especially those with a specific theme. At mommy you can find friends of mommies, sweet tooth and fitonies. Photographers – stylists, models and studios. At the barista – barista, barista, barista 🙂
That is, having found one good opinion leader, among his friends you can find more of the same potential opinion leaders for advertising.
In addition, there is a whole section "Advertising Posts", in which you can find who and whom advertised. For example, you can find:
Who advertised (noted) the blogger in November
Who advertised your competitor
Who uses the words or hashtags you need in posts.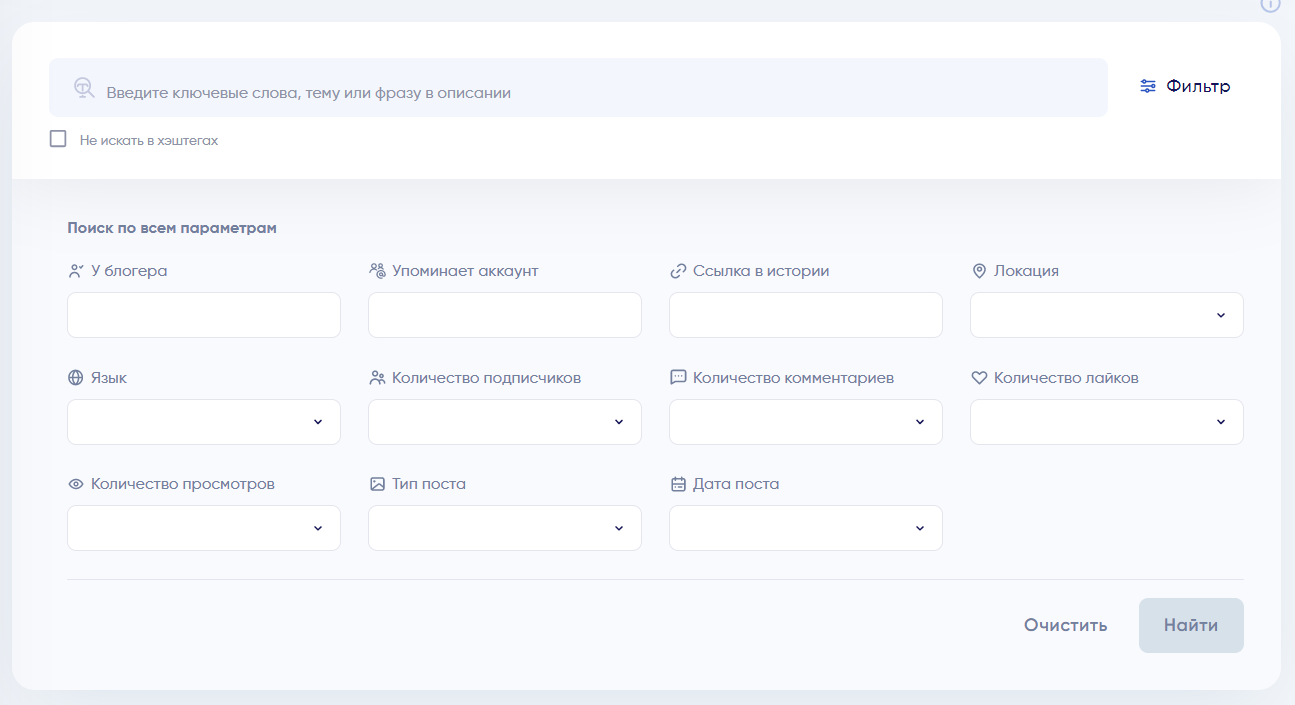 Is trendHERO looking for influencers?
When I started writing a review, the guys only promised a catalog.
But it was added in two weeks 🙂 Maybe it's lucky, or maybe they add new functionality very quickly.
In 2022, there were even more fields (categories, Instagram categories and audience search were added).
What search can do: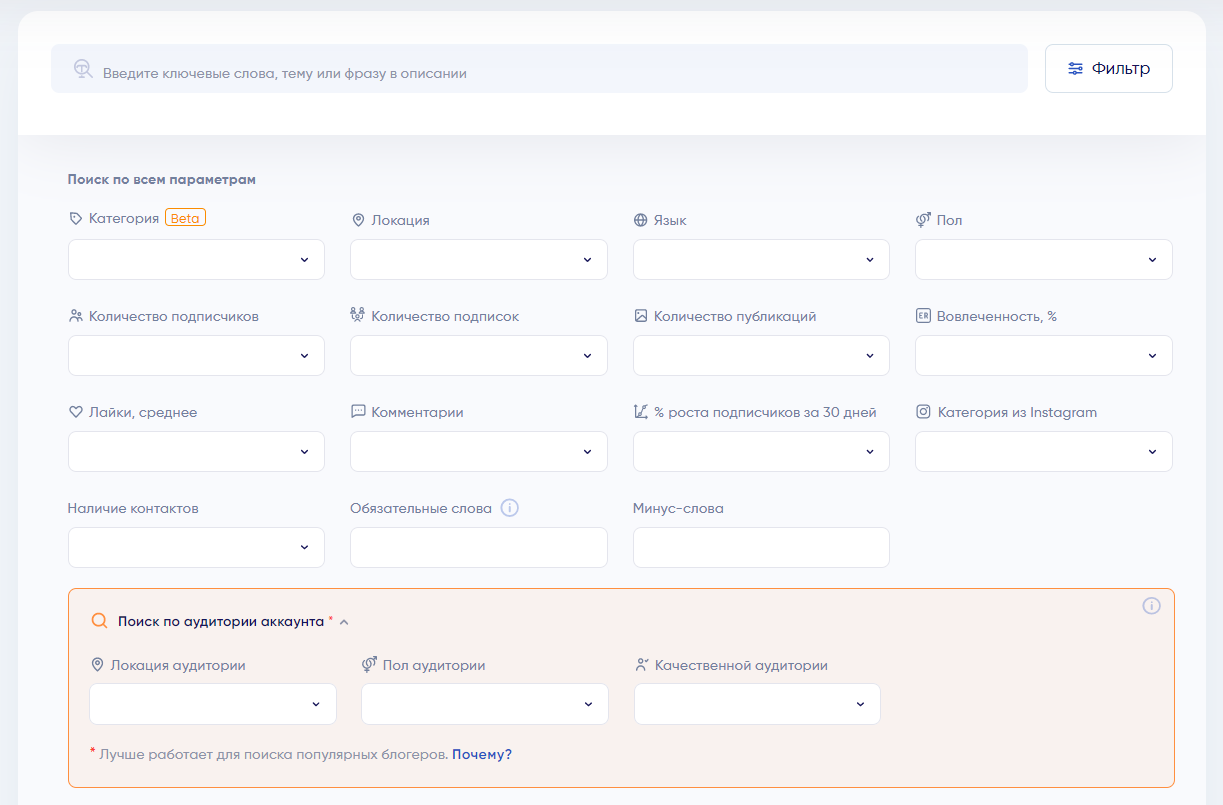 It can search by language, keywords, number of subscribers, ER… In general, everything can be seen in the screenshot.
I was interested in the growth of subscribers and keywords. So here are two life hacks from me:
Look for those who grow up to 50%. More is either a giveaway or a cheat.
Search not only on the topic itself, but also on relatives. For example, not only "instamama", but also "bring up" and "daughters".
As for the location, it's cool that you can search by the location of the blogger and the audience. Just do not put more than 50% of subscribers from one city – this is typical only for city publics. Normally, if from a certain city there will be 20-40%.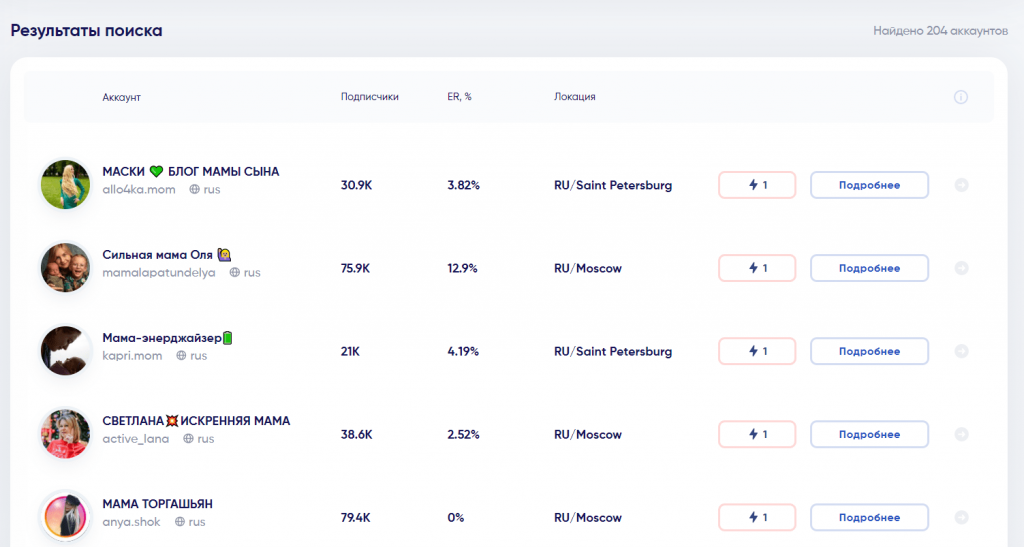 Tracking. Is it connecting your account?
No. Tracking is a daily statistic. Approximately like this: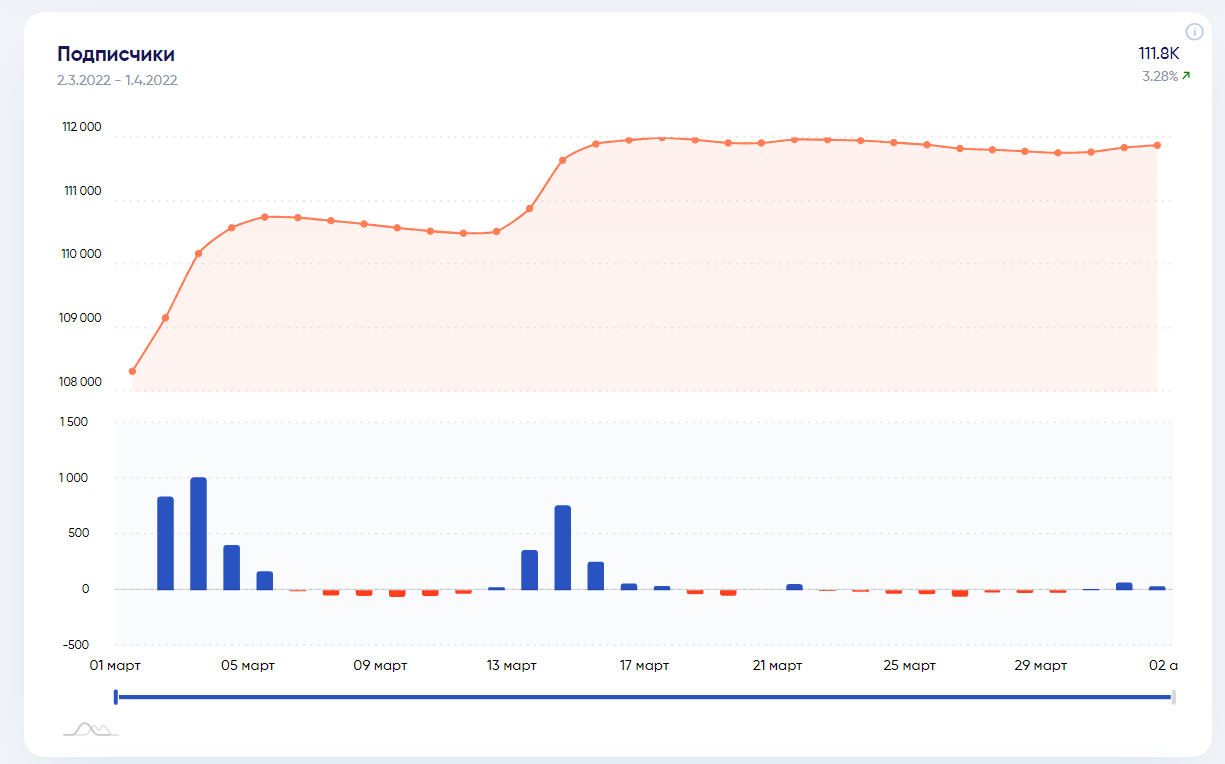 The top graph (orange) is the total number of subscribers, and the bottom graph (blue) is the change per day.
You can add any account to tracking – your own, an influencer, a competitor. This means that you can:
Check influencers on giveaways
Monitor the result of your advertising (per subscribers)
Monitor competitor campaigns.
By the way, there are two more interesting charts in tracking:
Growth of subscribers from mentions (this is just for tracking campaigns)
The best time to post (by account).
You don't need to connect anything – just enter username and get tracking. You can try it for free for 14 days.
Outreach
This is a feature for emailing influencers. But it does not work the way we are used to from mailing services. The approach is:
You create an offer. For example, I want to advertise my shoe store, budget, terms, conditions.
Then you look for bloggers through the search and you can:

Send them an offer here
Add to the list and submit an offer to the list.

The blogger receives an email from trendHERO and can:

Answer
Reject

If answered, then you can correspond in the service.
That is, the benefits:
You are not looking for contacts, just choose a blogger, and the service itself is looking for.
You can send one offer to hundreds of bloggers at once.
There are statistics on who received, answered, and so on.

Flaws:
Letter from trendHERO (they promised to add a send from themselves)
Not all bloggers left an email (influencers from abroad prefer to communicate via email. We often create an additional account like anna_ivanove_pr.
In total, there is a function, you need to try how you succeed. And a little life hack – feel free to write to support and ask how it's better. From my experience, experts are trying to help.
Two interesting features
The first is export.
trendHERO has a huge number of different uploads. I even had to read the documentation to figure it out.
In general, there are three types of uploads:
Exporting a report to PFD is essentially a way to show the report to someone outside, or save a version.
Export accounts to Excel – for example, unload 100 accounts directly from the search in Excel. Good for agencies. In the largest tariff, this download with contacts (email + phone)
Exporting reports to Excel – that's the whole report that we saw above, you can download in the form of a tablet. There are more than 60 columns and 5 tabs (including the history by the number of subscribers).
The second is the Engagement Rate calculator.
trendHERO has made a separate calculator for those who want to quickly find out audience engagement on Instagram. It's free, you just need to enter captcha sometimes.
What about the prices?
Payment scheme – subscription + additional purchase of checks.
The minimum subscription price is $9.99. For this money, you get 10 checks and access to some features.
There are three plans in total – Lite, Pro and Advanced. They differ in the number of checks and functions. For example, Outreach and audience location search are not available in Lite. Purchased checks, by the way, are transferred when you renew your subscription. Details – trendHERO prices. You can choose what you need according to the functions.
Pros:
a lot of useful analytics.
in Russian.
the service is young – something new is constantly appearing.
support responds quickly.
low prices (in addition, at the time of the release of the review, you can get 1 check for free + 14 days of tracking).
Cons (from a 2020 review):
no statistics by city – done;
no unlimited tariffs – did not;
I would like to somehow celebrate interesting bloggers and those with whom we have already communicated – we made lists and correspondence.
Cons in 2022:
I would like to write email from my mailbox
No search by audience location in the cheapest plan
There is no influencer/brand division in the search.
Conclusion:
trendHERO is a service for searching and in-depth checking of influencers on Instagram. Now new chips are being quickly added to it, but it is still very cheap.
Internet marketing expert. Head of marketing agency MAVR.
Business degree "Master of Business Administration" (MBA).