Free daily SEO tools from Collaborator
We will send the material to you by email:
Время чтения:

4

мин.
If you follow our blog, you have probably already read a review article about Collaborator. Just in case, let me remind you that this is an advertising exchange for Internet marketing. To date, it provides access to 6950 partner sites in more than 32 directions. This is a network of real, trusted web resources with a live audience and a good reputation on the web. The service allows you to post links and content to promote your business.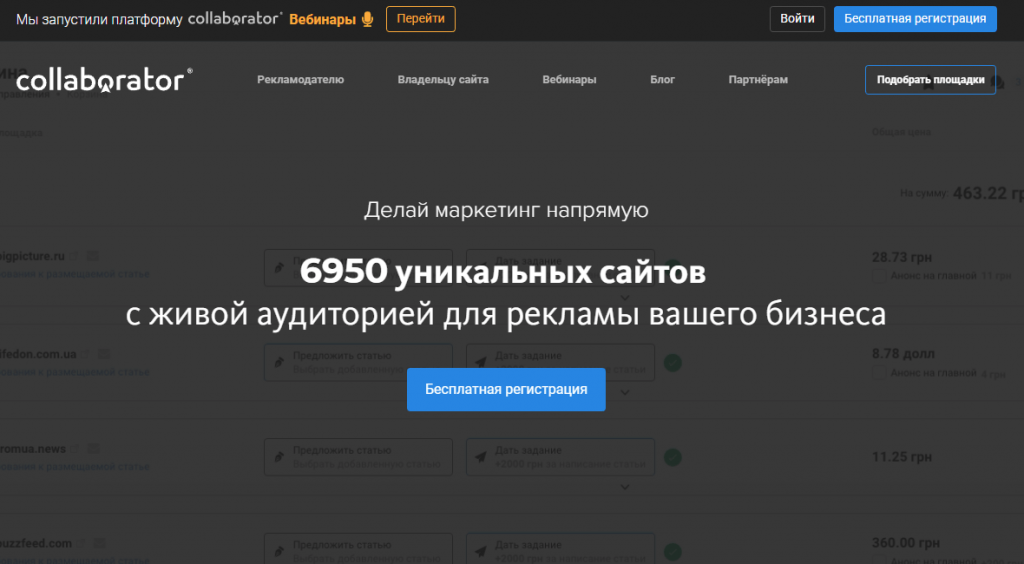 The main feature is the ability to independently promote the site with links and useful articles.
Six months ago, we wrote about the future of such platforms, and so far we have not had to be disappointed. The project is developing and has proven itself well. The number of sites – "collaborators" has grown by almost 2000. There are also additional features and the ability to check donor sites.
Read more about the new free SEO tools from Collaborator below.
I must say that a powerful set of analytical tools has long been integrated into the Collaborator. Data from Yandex, Google, Similar Web and Checktrust is imported here.

Right in the site catalog window, you can find out the traffic and its sources, the quality index, the dynamics of visits, the trustworthiness of a potential donor, as well as the cost of writing and posting an article. This is necessary to understand whether a link to such a resource will be worth the money spent on it.
More recently, the Collaborator team has developed 3 proprietary tools:
server response analyzer;
domain lifetime check;
https redirect analyzer.
Let's take everything in order.
SEO three in one
Mass server response check is needed in order to check sites and URLs for operability.
The collaborator "polls" the servers and shows the user a list of responses.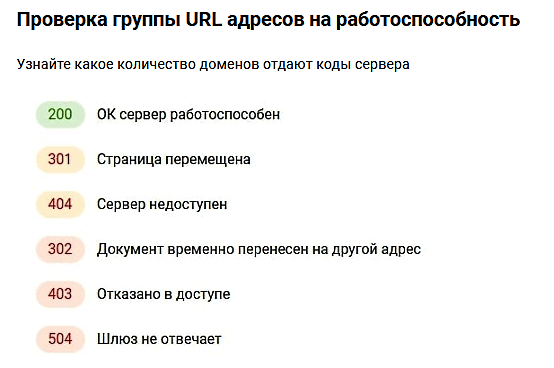 How it works?
To the main window of the service https://collaborator.pro/tools/urlchecker/
We copy the list of sites of interest to us and click "Check". After a couple of minutes we get the result: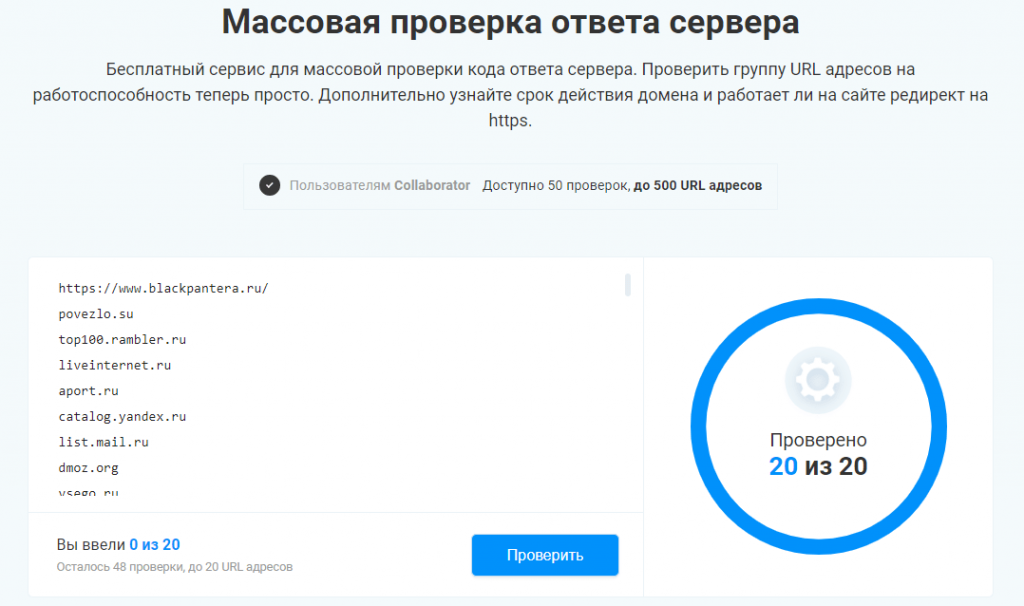 The list of resources, for the purity of the experiment, we take from the network. First of all, you need to pay attention to the fact that not all sites are fine:

Some of the documents have been moved, there are errors, some do not respond at all. We look more closely, scroll down the output window.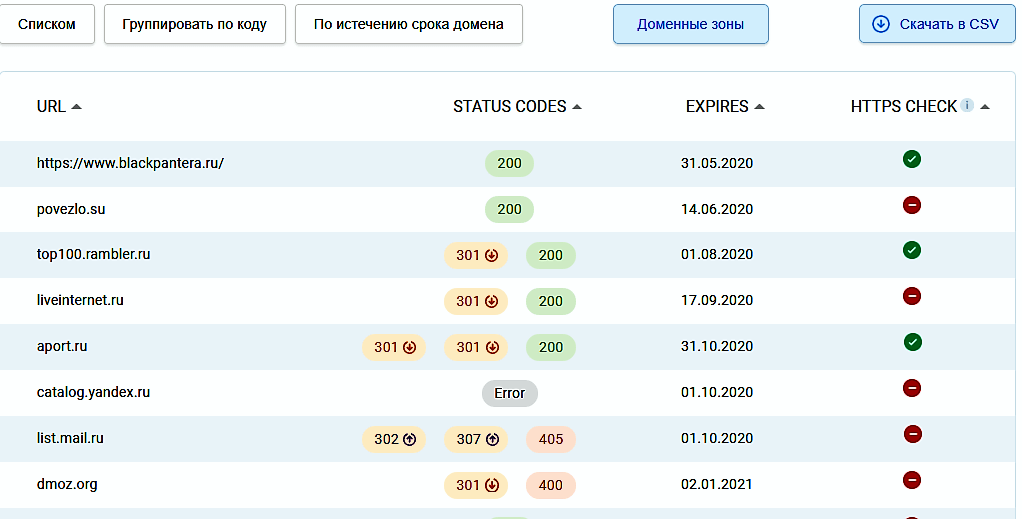 In the first column of site addresses, the second – Status Codes, these are the server response codes.
Expires – until what date the domain name was rented and the fourth – information about https.
What does it give?
If the site produces errors upon request (highlighted in red), then placing links on it is a risk, if at all possible.
Expires shows the seriousness of the site owners' intentions. If the payment for a domain ends in a couple of months, there is reason to think whether it is worth cooperating with it.
HTTPS is a requirement of the times. Sites that do not support this protocol are obsolete and their owners are not focused on the future.
What else can you get from the Collaborator?
For example, we are planning promotion in a certain area, and we are primarily interested in regional sites. Click the "Domain zones" button and select what you need.

By removing the "birds", you can hide domains with which we do not plan to cooperate now.
If we are working with a large database of sites, it is more convenient to use spreadsheets, so it is possible to upload the result in CSV format. This is convenient and simplifies sorting, screening and maintaining statistics.
As you can see, everything is simple, fast and functional.
Conclusion
To get started with SEO tools from Collaborator, it is not necessary to pay for the entire service. The developers have provided a trial:
5 checks up to 100 domains for unregistered visitors of the resource;
50 free checks and 500 URLs per day – registered on the site.
This is quite enough to master the program or start promoting a young project.
In fact, you can start working right now. Try, test tools and get traffic! Also, do not forget to write comments under the article, tell us about your experience with Collaborator.
Internet marketing expert. Head of marketing agency MAVR.
Business degree "Master of Business Administration" (MBA).