How to create a website for a beginner without knowing HTML, CSS and PHP? Rating of the best website builders
We will send the material to you by email:
Время чтения:

19

мин.
A website builder is a collection of tools with which you can create an online website without knowing programming languages. The functionality of these web-constructors at the moment is quite big, it can surpass the product made by a small web studio that fulfills orders for small and medium businesses. Their main advantage, including the Zyro website builder, is that you can create a website without having the slightest idea about the programming language.

There are more than a hundred website builders in the world and not all of them are equally good in terms of their capabilities. For this reason, choosing the right constructor can be quite a challenge. The best website builders allow you to create websites that, in the end, are in no way inferior to websites made on open source CMS (such as WordPress, Joomla). They are also visually appealing, and the functionality can range from booking tickets to sales without the need for registration.
The main advantages of website builders:
It is intuitive, even a child can understand it. No more HTML, CSS and PHP codes.
Design and text are stored separately from each other, that is, if you want to change the design, the text will not disappear anywhere.
You can download images, videos and audio very easily and quickly.
There are many design patterns.
All your data is protected.
Some website building platforms are capable of transferring websites to other hosts. Below are the best desktop website builders.
Rating of TOP website builders for beginners
MW Shop – Monster Webby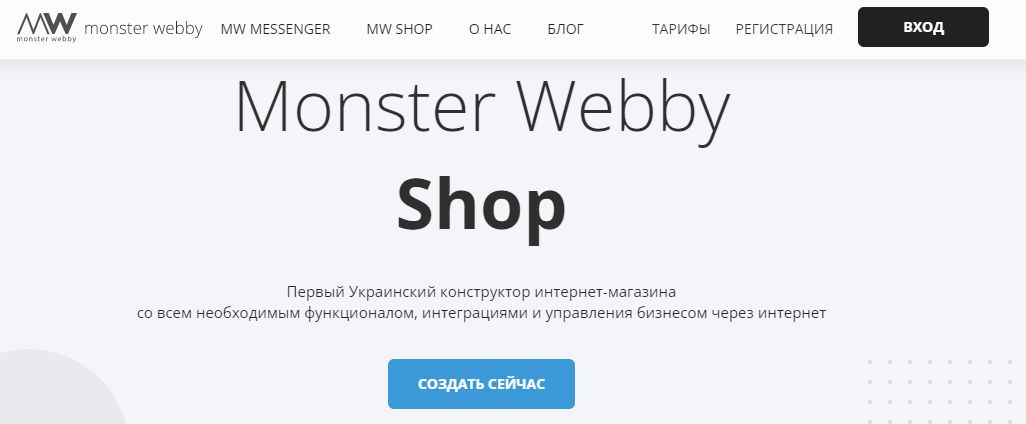 Link to the service – https://monsterwebby.com/shop/
The designer's toolkit includes: optimization of images for the requirements of search engines (so that the site loads faster); built-in AR technology allows you to visualize the product as a 3D object; adaptive design for all devices; it is possible to create a PWA mobile application based on the data of your online store; the most simple, intuitive interface and block constructor; a huge amount of integration with such Ukrainian services as Nova Poshta, Rozetka and others.
Besite
Link to the service – https://besite.com.ua/ru
Pros: The service offers modern templates adapted for large and mobile screens. It is possible to connect your own domain or use a free one in the .ws zone. The site can have several language versions at the same time, for example, Ukrainian and English. Free trial period of 14 days. You can create the following types of sites: Landing, Business card site, Portfolio site, Event, Catalog site.
Cons: no free plan; there is no integration with third-party services, such as online payment, transfer of order data to CRM.
Website builder Besite is completely created in Ukraine, by Ukrainian engineers and registered in Ukraine. The constructor has several dozen components for creating a simple site. The cost of using 150 hryvnia per month.
uKIT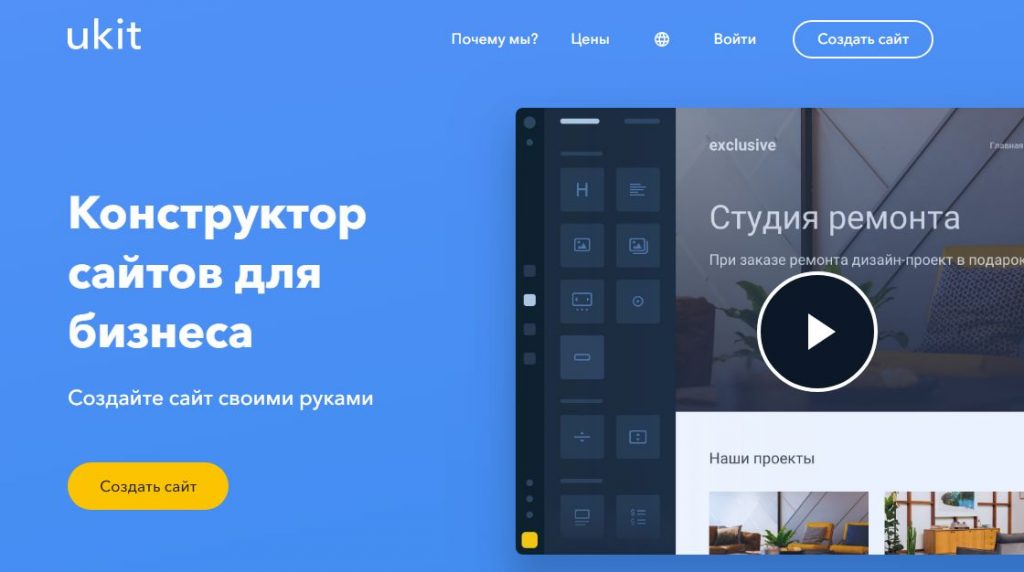 uKIT
New and very promising website builder from HYPERLINK developers. There is a free period of 14 days.
Pros:
Great functionality;
The interface is very clear;
SEO-promotion of the created site;
Quick access to analytics and statistics.
Minuses:
Since the constructor is new, there are some minor flaws in the interface.
SetUp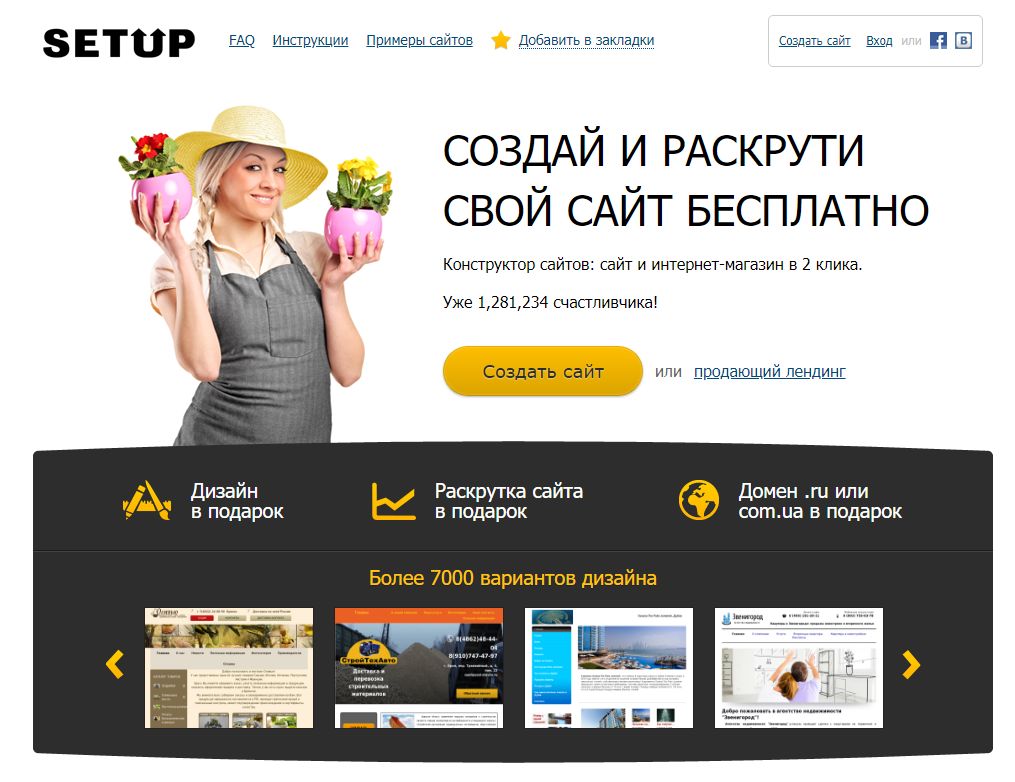 Setup
Service for creating websites especially for beginners. There is a small bonus for residents of the Russian Federation, the constructor offers a free domain.
Pros:
Lots of beautiful templates;
Initially there is SEO promotion;
Responsive technical support;
Intuitive interface.
Minuses:
In the free version, there is no transfer of the site to other hostings;
It is almost impossible to get a free domain, but it is still possible by filling out some forms and submitting your request for moderation;
In a free account 100 mb. memory.
uLanding
Launched in 2018, this powerful builder combines professional research tools with an intuitive interface.
The convenience of the landing page builder was appreciated by both novice traffic managers, marketers and affiliates, as well as experienced users.
After registering by e-mail or through a profile on a social network, the constructor allows you to:
view the feature set;
create a project on a third-level domain;
create one landing page or several different pages;
develop the structure and design of the site based on ready-made templates;
conduct testing based on selected templates with different text content.
A convenient visual designer allows you to choose the site structure, the type of controls (buttons), the placement of individual blocks, add video, music, contact information (including interactive maps). There is also a ready-made functionality for socialization.
Among the promotion tools, in addition to creating content, it is proposed to automatically fill in meta tags for each page.
Minuses:
lack of integration with CPA networks;
there is no way to work with dynamic text and multi-landings.
Elementor for WP
Watch the video review of the landing page builder for WordPress in more detail
Khoroshop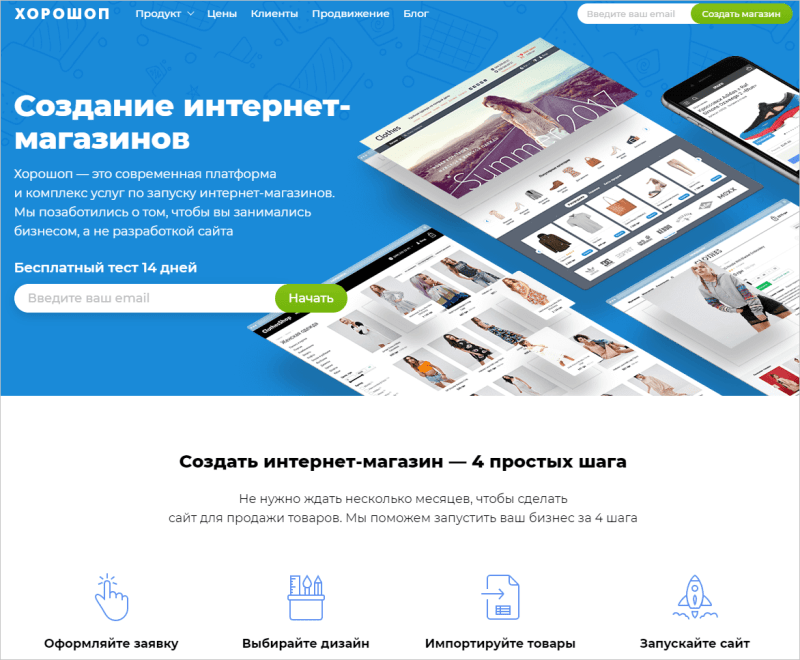 Khoroshop
It is a SaaS platform for creating online stores. Online stores on the platform are created from ready-made modules. To launch, you need to leave a request, customize the design and upload products.
Pros:
Quick launch of a full-fledged website
Lots of useful features
Integrations relevant for Ukrainian business
Opportunities for promotion
Minuses:
You can't design from scratch
No ability to develop custom functions
Read more in the full review "Horoshop – a cloud platform for creating online stores"
Shop-Express
The platform for creating and fully developing your own Shop-Express online store is deservedly considered a new generation cloud service. This product is presented by the team that previously created and promoted the Site-Express website builder.
Read more in the article Overview of the Shop-Express website creation platform.
Creatium
Creatium is a no-code platform for creating websites of any complexity: from landing pages and online stores to bulletin boards and personal accounts. CreAtium is for those who do not like stereotypes. Each individual design element can be flexibly customized. For a more complex design, there is a zero block. In it, elements can be arranged as in graphic editors: freely move, resize, group. With a zero block, your site will display exactly as you intended. CreAtium does not limit your possibilities, but only enhances them.
In conjunction with other no-code tools such as Google Sheets, Notion and Integromat, you can flexibly customize the logic and create sites whose content is filled with visitors. You can personalize your personal account, limit the functionality for different tariffs, and accept payments directly on the site. This is beyond the power of ordinary designers.
During the first two weeks, the functionality is available for free, and you can create and publish a site, as well as test all the features of Creatium.
LPgenerator
LPgenerator
It helps the owner of an existing Internet project with a small number of employees (up to 10 people) to create landing pages without the help of a hired programmer, using an intuitively accessible visual editor. In doing so, you can:
use ready-made templates;
design a landing page for each individual product;
control and optimize all types of advertising platforms;
control traffic with the built-in statistics system.
You can create different types of quality landing pages tailored to your chosen business type in just a couple of clicks. And also to carry out online sales and analysis to improve the efficiency of order fulfillment.
If you want to create a landing page to generate leads, the program offers:
a large number of templates (more than 250);
the ability to integrate numerous plugins, scripts and other codes;
uploading to a domain or subdomain;
convenient office with detailed analytics;
split testing.
Minuses:
a large number of settings and the relative complexity of the visual editor;
rather high cost if you make 1 landing page;
lack of access to editing template code.
Nethouse
A well-established website builder. It will be especially good for beginners in site building due to its simple and logical control panel. Many stylish templates, wide functionality, additional options and integrations all make working with the service as convenient and productive as possible.
After registration, you can use the free "Start" tariff or choose a paid tariff: "Site" from 240 rubles / month or "Shop" from 520 rubles / month. Tariff plans differ in the number of products and photos, as well as a number of other features.
Pros:
good functionality both for landing and for a full-fledged online store;
free SSL certificate;
prompt and high-quality technical support;
more additional services.
Minuses:
there is no way to edit the code (although for some this is a plus);
the created site cannot be transferred to another hosting.
Nethouse will be a good choice for productive work with the site for adequate money, you get a complete tool for your business.
Fo.ru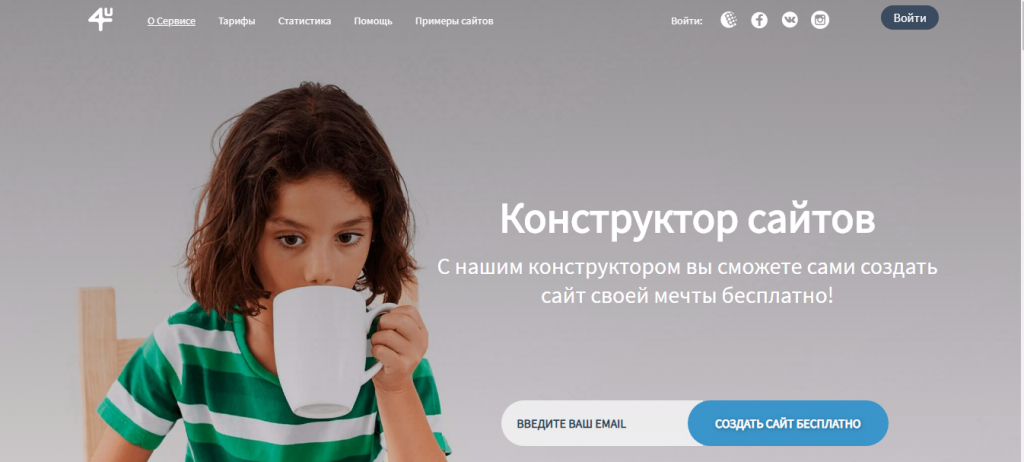 Fo.ru
It differs in that it solves many "pains" of users.
In Fo.ru, you can work on promotion, change styles and place widgets wherever you like. From the very beginning of creation, an SSL certificate will be connected to the site, and there are many stylish templates in the library.
The free version has fewer animations, no analytics, and the designer reserves the right to say that the site was created on it.
Fo.ru has been operating for ten years, but in 2018 the company rebranded the service and redesigned the constructor.
Now it is a rapidly developing project with a large educational blog.
Pros:
loyal pricing policy for a "pro" tariff of only 100 r;
free SSL-certificate, and in the paid version for all domains;
editor with free positioning of elements and easy addition of columns and widgets;
in the paid version, you can attach an unlimited number of domains in your personal account and place your sites on them;
the ability to work with a CSS style file;
you can make a template from any site and use it in other projects;
the ability to copy landings by URL;
you can make a website based on your page in the social network;
it is possible to create a blog\landing\online store\big portal;
many settings for SEO optimization and analytics.
The appearance of the constructor is pleasant and minimalistic, the control panel is non-standard and it will be unusual to interact at first. But after creating the first screen of the site, this feeling disappears.
Minuses:
no a/b testing and SMS informing;
there is no function to add an overlay to a video from YouTube;
you can't edit the html code yourself.
Read more in the article Fo.ru site builder overview.
Wix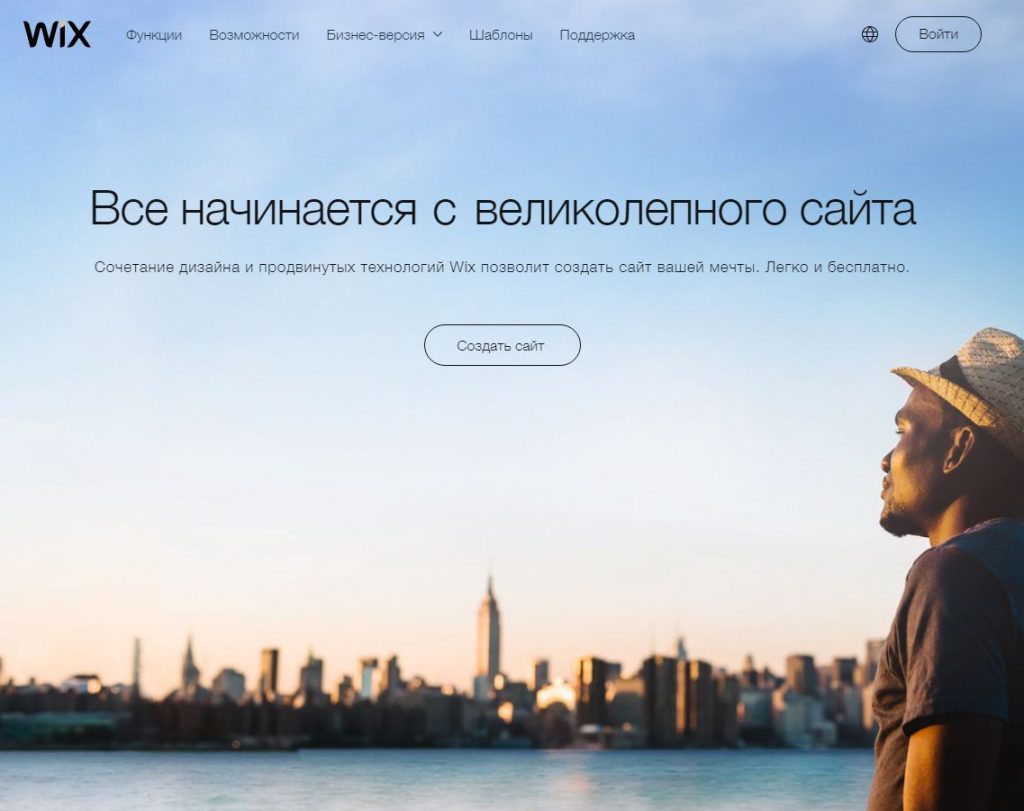 Wix
The most popular free website builder. Today Wix is an advanced online store and blog builder. The interface is very intuitive and clear, which immediately shows the professionalism of the team.
Pros:
Many different templates (more than 1000);
Ability to create your own interface;
Powerful site editor;
Lots of settings;
There is a function of creating a mobile version / adaptive design;
A small cost of a premium account – from 120 rubles per month.
Minuses:
Difficult to remember address;
There are download restrictions for free users;
In the free version, there is no way to promote under search engines.
Ucraft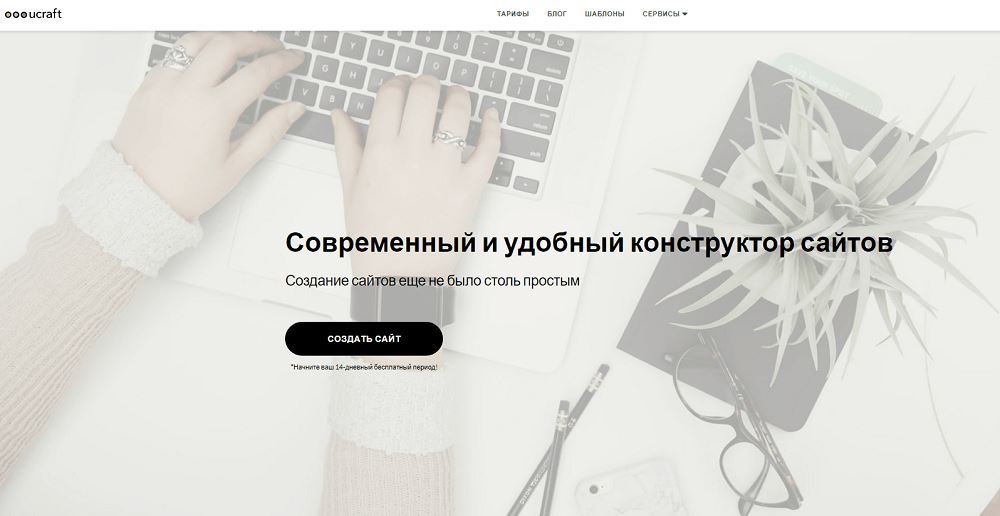 With Ucraft, it's easy to create a business card website, a presentation portfolio website, a one-page landing page, a blog, and even a small store. For novice users, this option is really close to optimal.
Particular attention deserves the ability to make your page multilingual. This parameter is implemented here much more conveniently than in most other constructors.
The second important advantage is a free online store constructor!
And, as in other constructors of this level, they attract:
intuitiveness of management;
a large number and variety of templates;
sets of ready-made blocks (header, footer, text block);
language switching option;
possibility of integration with social networks;
dashboard for SEO optimization.
Ucraft offers an impressive set of tips and lays a good potential for promotion of the created site.
Minuses:
slight delays in the work of the editor were noticed – the block panel is loading slowly;
limited functionality of the free version – access to round-the-clock support and adding your own code appears only when paying from 6 to 14 dollars per month;
lack of built-in tools for collecting SEO statistics.
Ukoz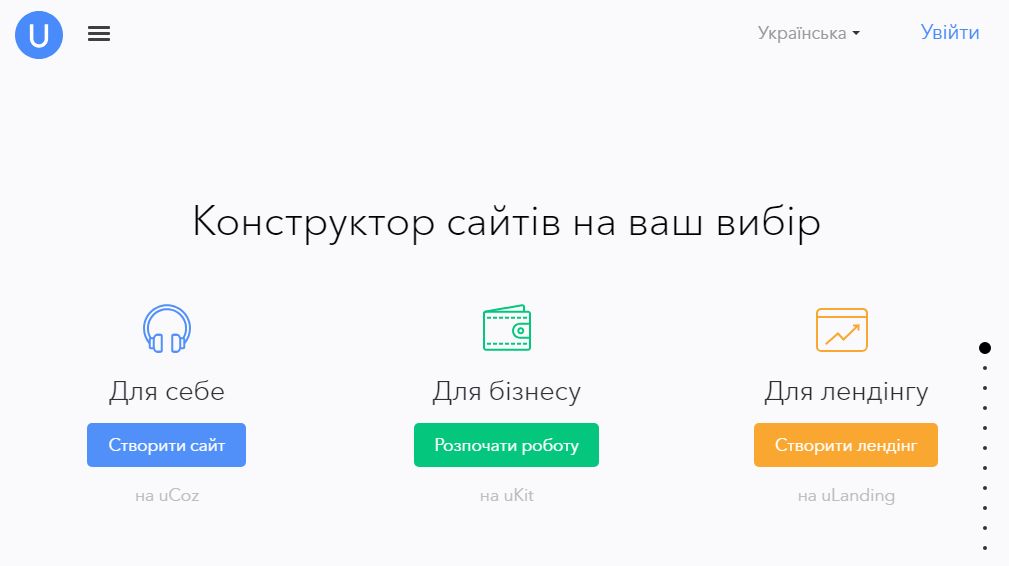 Ukoz
Ukoz is one of the first visual editors that has been around for over 10 years. Versatility, reliability and constant updating of features attract both professionals and beginners in site building.
Potentially, its use allows you to create both simple "one-pagers" and business card sites, as well as large news portals and online stores. Among the main advantages of Ukoz:
modularity of the structure;
universality;
access to source code;
possibility of editing by means of FTP.
At the same time, you can start creating a site even without knowing all the features of the designer. And then – to build up opportunities as it is used.
The constructor will be useful:
website development studios;
wishing to launch their own bulletin board;
entrepreneurs who decide to create their own online store;
bloggers;
business owners just discovering the Web.
Minuses:
the complexity of the administrative panel;
a large number of advertisements;
lack of tools for SEO optimization;
there is no way to transfer the database to a site outside of Ukoz.
Webasyst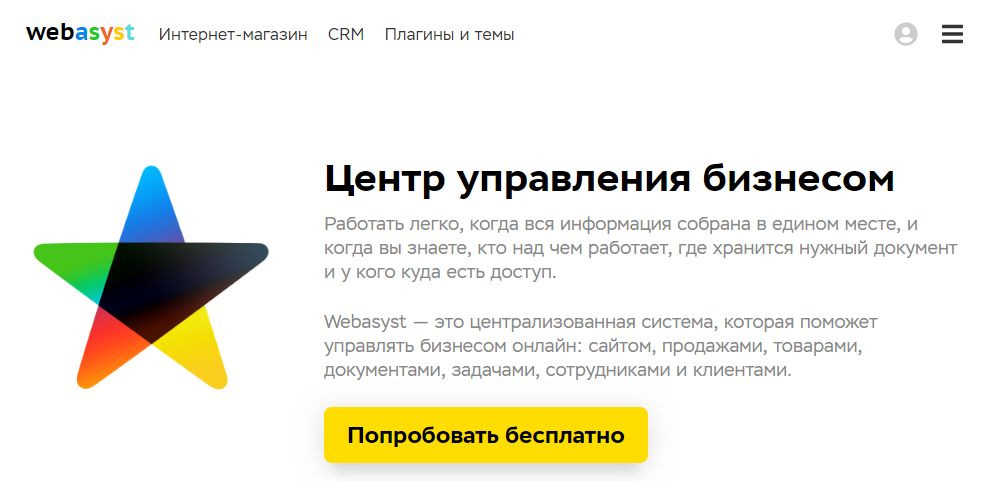 Webasyst
It is a powerful platform designed to create and maintain "advanced" sites – stores, CRM, blogs, and other large projects. It also offers the installation of plugins that allow you to expand the capabilities of applications.
This system is quite peculiar and not very similar to other designers. And although the control panel is well structured, it will not be too easy for beginners to figure it out. And spending time on mastering it to create simple sites (business cards, portfolios, landing pages) without the need for further improvement is not very reasonable.
In fact, Webassist is a set of applications and offers ready-made scripts with the possibility of further customization. It could be:
store (shop-script), with all the necessary settings;
hub, to create a discussion section;
mailing list application;
storage for files.
Minuses:
not very suitable for beginners, as it requires some preparation and knowledge of the basics of programming to change the appearance of the site;
high cost of applications and templates.
Diafan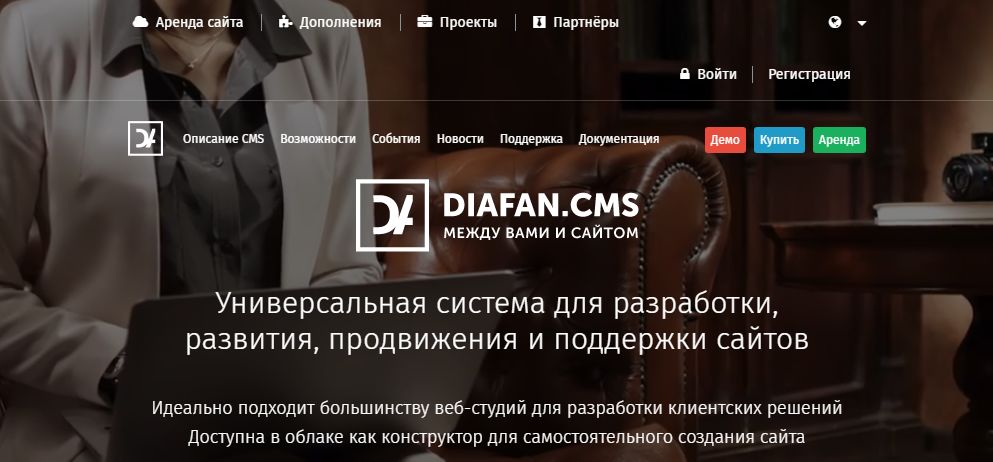 Diafan
It is mainly designed for the creation of fully functional online stores. Easily scalable, provides access to the code and has an original visual editor.
Even beginners can learn the basics of working with the program, and a large number of ready-made templates, FTP access and the ability to add modules make it easy to create a scalable project of your own store.
If you want to quickly create a project that can be fully developed in the future, such a constructor is an excellent choice. Diafan is also quite suitable for creating simple sites, but only if you have been working in it professionally for a long time. Delving into the intricacies of the designer specifically to create a simple site is not a very effective solution.
The system allows:
install a website on a fast and reliable hosting;
get access through the administrative panel;
automatically create a database;
install the selected template;
upload demo content to the template;
add content, add additional modules, expand the store's capabilities.
Minuses:
high cost of licenses for CMS and templates;
lack of integration with social networks;
admin complexity. panels.
Weblium

Weblium is a fairly young website builder, the main advantage of which is simplicity and ease of use. There is both a completely free version (with limited functionality) and a trial version for 14 days of the Pro package (with all current functionality).
Pros:
– simple and convenient interface, AI assistant
– stylish and high-quality templates with elaborate structures for each niche;
– a huge amount of integration with external services;
– huge functionality: pop-ups, site analytics, seo settings, custom blocks and much more;
– support service 24/7.
Minuses:
– functionality of the blog in the process of being finalized;
– limited opportunities for website promotion in the free version
Read more in the article Weblium website builder SEO tools.
Tilda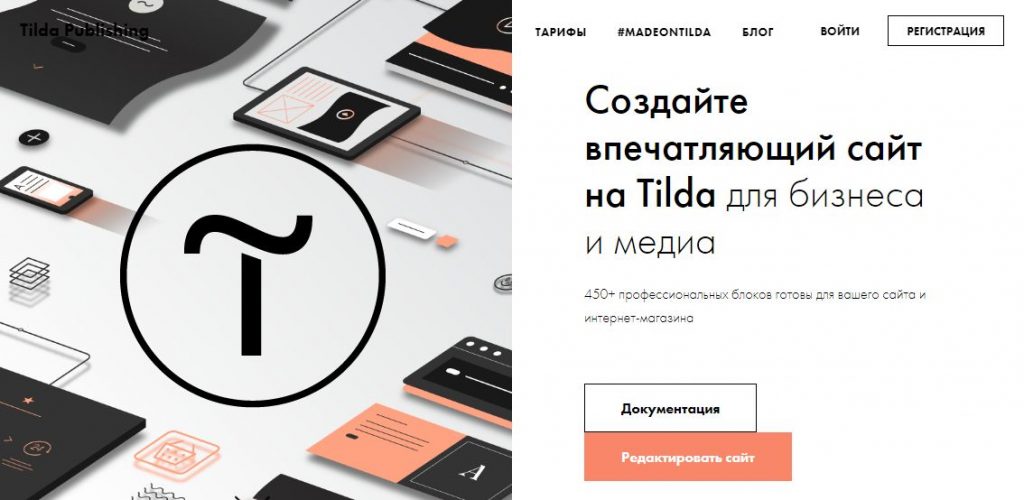 The intuitive website builder, according to its creators, turns the formation of the structure of a new resource into an exciting game. Users will have a library of blocks that can be added and connected to each other in different combinations.
Tilda's interface is intuitive even for inexperienced users, and you don't need to have design skills or programming experience to get started. By customizing each block individually, you can achieve a unique design with minimal effort and time.
One of the advantages of the Tilda website builder is its high adaptability – the new site will look attractive on both smartphones and tablets, as well as desktop computers. You can create your project completely free of charge, or use one of the tariffs – Personal and Business, and if you pay for the services of use for a year in advance, you can get a discount.
According to user reviews, the Tilda interface is well suited for creating longreads – long pages with text and graphic content. As an illustration, you can imagine a colorfully designed booklet, which is a mini-book with illustrations and logical sections.
Shopify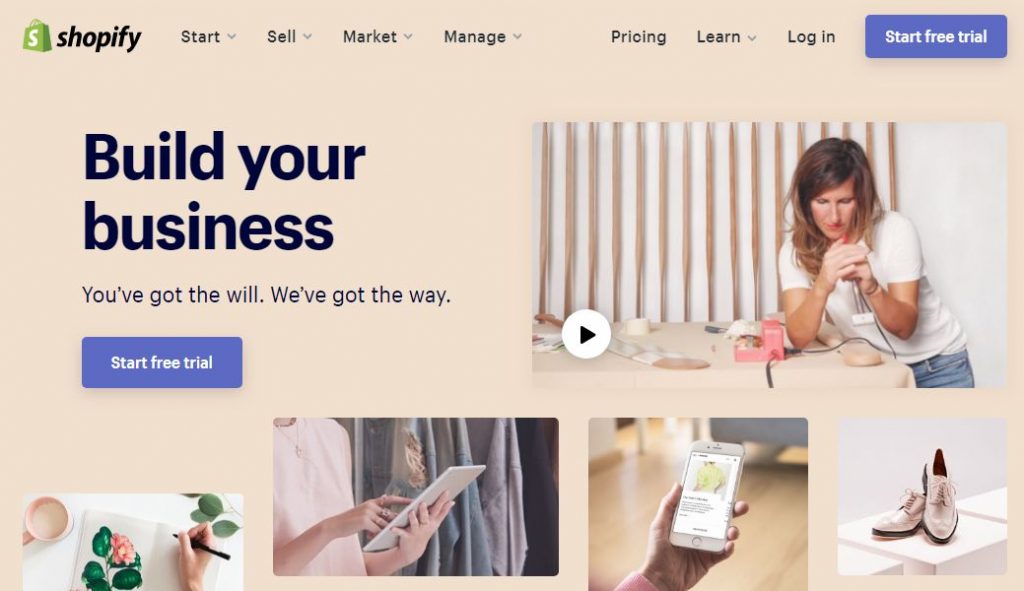 This is one of the most well-known website builders from the Canadian retail software maker Shopify. This service has been successfully used since 2006, and today the number of clients of the designer is approaching 400,000 users.
Despite the English-language interface of Shopify, which can be an obstacle to mastering it, the high functionality of the constructor allows you to conveniently place different sections on the new site:
information about buyers;
statistics indicators;
product categories;
attendance counters;
traffic sources;
buttons for interacting with social networks.
As a start, you can install a basic template consisting of a fixed set of blocks. During subsequent work with the designer, the template adapts to the needs of the user by adding new functional elements. There are quite a few free layouts, but if you decide to take your resource seriously, you can choose one of the paid ones.
Shopify has a well-implemented set of SEO tools for optimizing your site for search engines. Also, the owner of an online store will be able to see which pages enjoy the most attention from users, and from which traffic is approaching zero.
To test the builder, you are given two weeks, and then you have to choose one of three paid plans – Basic Shopify, Shopify or Advanced Shopify. At the same time, you should pay attention that the service will take a percentage from each sale, and the amount of deductions depends on the chosen tariff plan.
The main disadvantages of Shopify are the lack of localization for Runet, support for Russian-language services, and the rather high cost of tariffs. If you are planning to create an online store focused on a foreign market, the choice of this constructor will be fully justified.
Bitrix24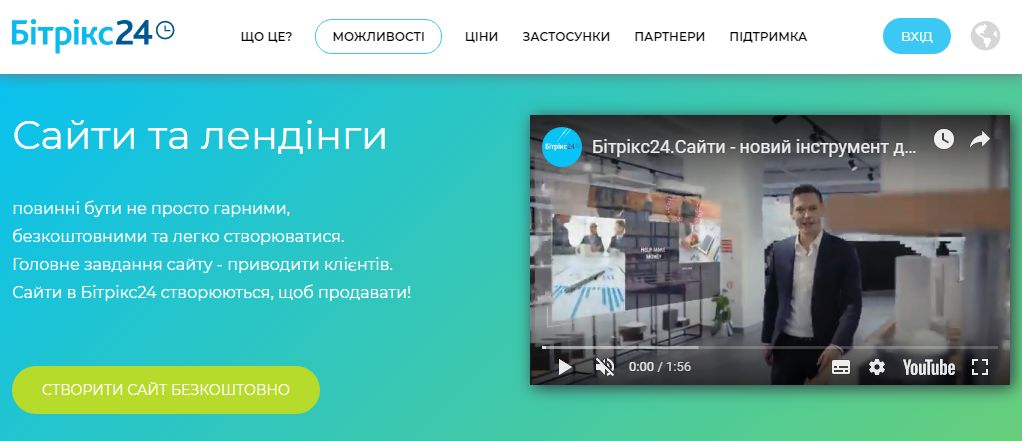 Using the Bitrix24 system, you can create colorful and attractive Landing pages. These are categories of pages that are specifically designed to collect leads, generate orders, and build a database of contacts. The already well-known Bitrix24 CRM allows you to quickly process incoming orders and not miss leads.
The landing page builder has a set of ready-made templates, with which the user can implement his own strategy for collecting a client base. Bitrix24 implements special forms of data capture.
According to user reviews, the platform for creating a site makes it possible to:
quickly generate blocks for the landing page;
place attractive advertising content with a callback and online chat function;
connect the required number of advertising channels to collect leads.
At the initial stage, you can quickly make a one-page website, but later the Bitrix24 platform will allow you to create resources for various business areas – the restaurant industry, online trainings and courses, consulting resources, sites dedicated to construction and events.
Adaptability for mobile platforms and the availability of ready-made widgets are some more indisputable advantages of the system. Do not forget also about the availability of a free tariff package "Project", which allows you to create 1 site with a restriction on the space provided for data. For more serious projects, you can use the "Project+", "Team" or "Company" plans.
Vigbo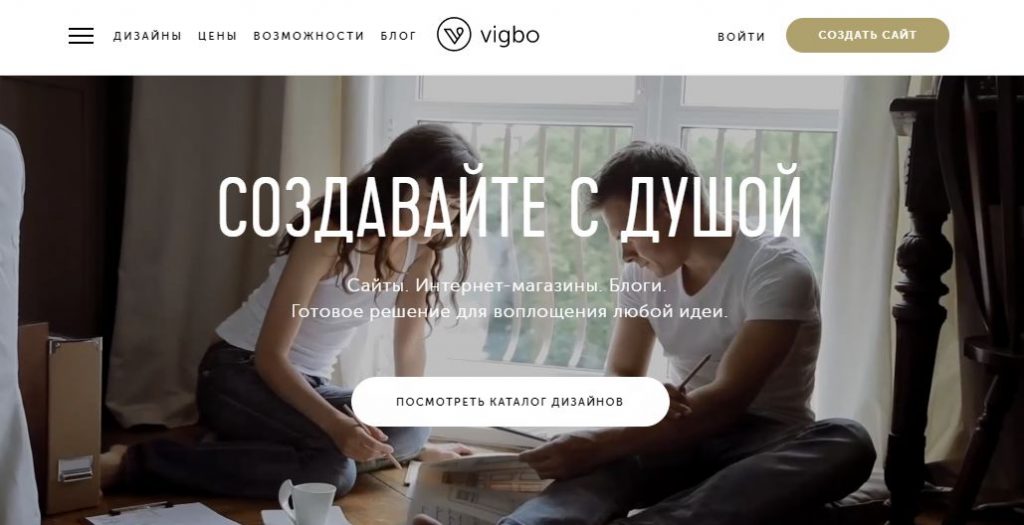 Fully commercial Vigbo project is intended for professional use, because. does not provide a trial period and free tariff packages. The main areas of use of this constructor include the creation of online stores (separate tariff), business card sites and blogs.
The main advantages include an intuitive interface that does not require the user to have knowledge of programming or design. The control panel allows you to immediately select the type of site you are creating, create a menu and structure, use the page editor.
To track user activity, code fragments from Yandex.Metrica and Google Analytics are provided. Despite the rather minimalistic design of the panel, it will allow both beginners and users with certain skills to create websites to quickly get started.
The Vigbo platform makes it possible to connect one of the tariff packages – Standard or Business. The latter provides a full set of functionality with the option to create your own online store.
Of some of the disadvantages of the constructor, it is worth noting a rather monotonous set of blocks in templates built according to a single principle. As well as the inability to make a trial site to evaluate all the benefits of the project. But ease of use, adaptability and a convenient editor make Vigbo a worthy alternative to many well-known platforms.
Webark (closed)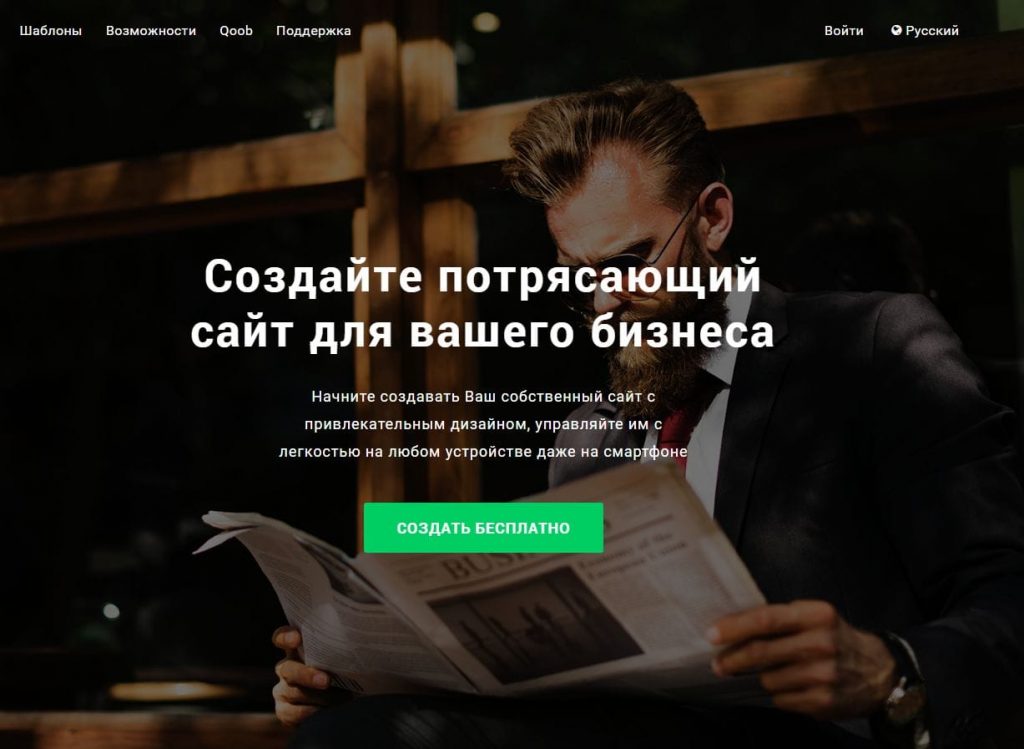 Webark is a fairly young, but very quickly gaining popularity website builder with a bunch of its goodies and features!
Pros:
A large number of ready-made templates (a portfolio site for a photographer, a site for an interior designer, a landing page for a startup, and others);
Premium templates at an affordable price;
The ability to create a website online and everything is optimized for different devices;
Hosting services;
Free trial period – until 100 users visit the new site, then it is proposed to choose one of the paid packages;
Technical support.
Minuses:
TOBIZ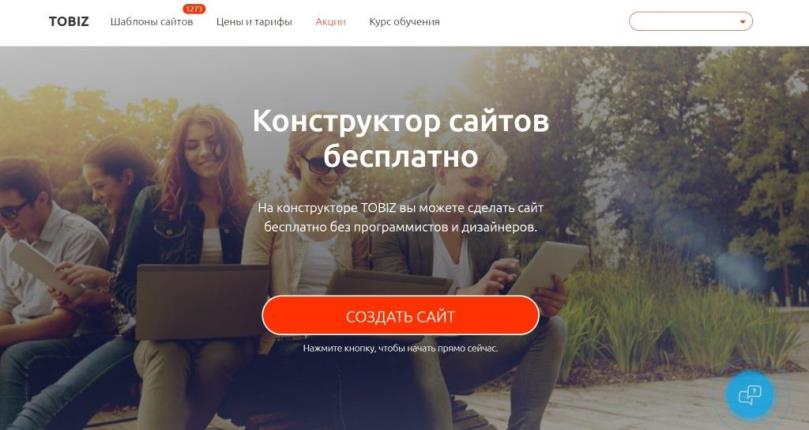 TOBIZ website builder is a specialized service that will help you make your website online. At the same time, you do not need to have skills or knowledge in the field of web design or to be well versed in HTML or JavaScript. Thanks to more than 1000 ready-made templates from TOBIZ developers, making a website is no longer a problem.
Read more in the article TOBIZ Website Builder Overview.
Wfolio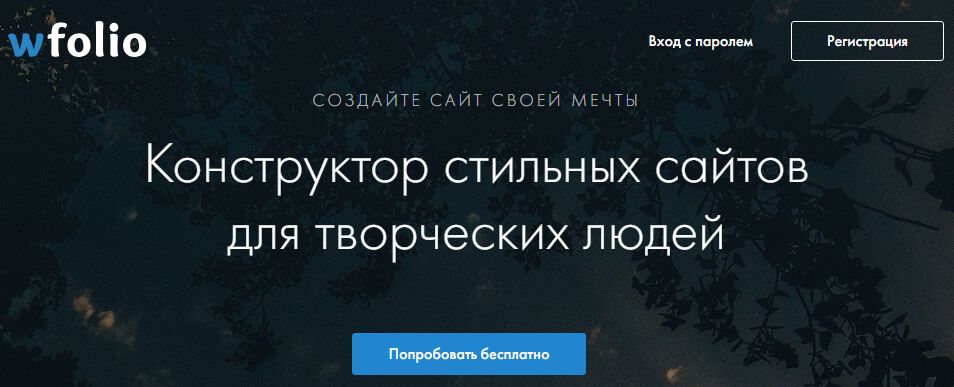 Wfolio is a website builder focused on photographers. The guys know exactly what creative people need: an elegant portfolio, a blog, smart search engine optimization. And all this without any programming knowledge.
Read more in the article Wfolio website builder for photographers overview.
Conclusion
Competition in the Internet market is very high among website builders, so each resource lures as many buyers as possible by all means.
The best website builder can even make a more or less suitable tool for business even on a free account. I would like to note that all the constructors in this article are intended not only for beginners, but also for advanced users. But you choose!
Internet marketing expert. Head of marketing agency MAVR.
Business degree "Master of Business Administration" (MBA).