Exit pop-up: 5 Tips To Keep Users On Your Site
We will send the material to you by email:
Время чтения:

3

мин.
If a visitor directs the cursor to a red cross on your site, this means a lost conversion for you and a profit. Perhaps the user got bored on the page or did not find an answer to his request. However, you have a chance to interest him and convince him to stay on the site, and this is one of the pop-up advertising technologies – exit intent. In the article, we will consider this phenomenon and give several examples of the use of pop-up windows.

What is an exit pop-up and how does it work?
An exit pop-up is almost a regular pop-up ad, but it's set to appear just as the user is about to close the page. To do this, the site must be tracking cursor movements. As soon as he approaches the red cross, an attractive window with an interesting offer appears on the screen. The visitor will definitely pay attention, and you can convince him not to leave the site.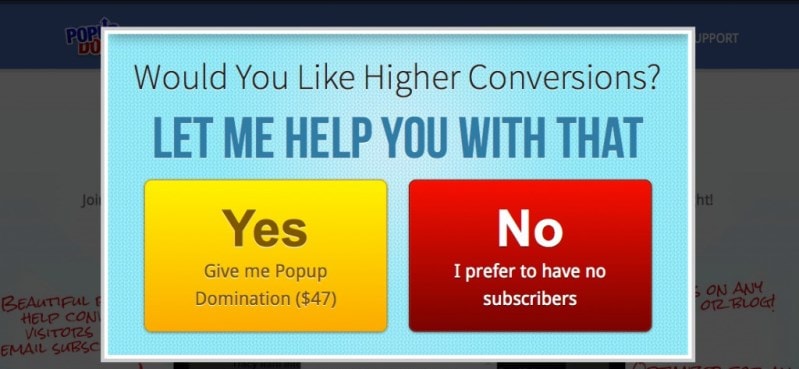 Is this technology effective? Yes, its use can stop up to 35% of people, and they will stay on the site. It is up to you to make the advertising banner really attractive and interesting. Here are some tips and ideas – choose what suits your business.
«Wait!»
You even now paid attention to this word, didn't you? A pop-up window with a call to wait will make a person stop and look at the messages on the banner. Your task at this stage is to make the user an offer that he will not refuse. That is, first you need to generate interest, and then convince the person to stay on the site.
Advertising is a place for humor
A funny meme or a cute cat – such illustrations are sure to attract attention and encourage reading a sentence. In addition, they create a good mood and make the image of your brand positive, cheerful, light, and therefore one that is worth collaborating with. However, remember that the illustration should reflect the philosophy of your company. That is, if you have a serious law firm, such humor is unlikely to be appropriate.
Especially when combined with numbers. In general, numbers are perceived very well, they are associated with accuracy and subconsciously encourage action. In the pop-up window, you can write something like "This book has already been ordered 1000 times, do you know why?" Here is a number as social proof, and a game of interest – what is in the book? In addition, people tend to focus on others, because the majority cannot be wrong.
Gifts and discounts are the best motivators
Perhaps the visitor visited your site for the same purpose as before to competitors – to see the assortment and compare prices. Make an attractive offer, provide a discount, offer a small gift or free shipping and you will already have an advantage over your competitors. Yes, now you will make a discount, but there are good chances that a random visitor will become your regular customer, and this is always a profit story.
We all love with our eyes
This is true when it comes to promotional content. To draw attention to the banner, you can use:
Contrasting colors. However, they must be in harmony with the main shades of the site so that the effect is not reversed.
If the banner has only text, very few people will read it. Most likely, he will be completely ignored. When the exact words are complemented by thematic illustrations, you get an effective advertising tool.
Dynamic images attract more attention than static ones. However, be careful: the speed of movement in the illustration should not be too high, otherwise, you will only annoy the user. Too contrasting colors, in this case, will also not be useful, because there will be an overload on the eyes.
These are just a few helpful tips. Experiment and don't forget to test to find out what works best for your audience.
Internet marketing expert. Head of marketing agency MAVR.
Business degree "Master of Business Administration" (MBA).