How to write a business proposal for SEO website promotion
We will send the material to you by email:
Время чтения:

8

мин.
Not all BPs are equally useful and convert into a contract with a client. The specialists of the Workspace tender platform told you how to correctly declare yourself, convey the value and price of your services, so that the customer is imbued and entrusts you with SEO-promotion of the site.

What should be the ideal BP
focused not on the loved one, but on the customer. It is clear that any BP is a self-presentation, a story about what you can do. But still, shift the focus to the client: tell how your skills will be useful to him;
short and concise. And again think about the customer – take care of his time, do not pour water, give only useful information;
understandable, without an abundance of special terms. The client is not required to know what an IKS or a semantic core is, explain everything in simple words;
personalized. Even if your BP is intended to be sent to customers with whom you did not have a preliminary agreement, you still study the customer's business, its website and positions in the search results, and only then offer solutions;
beautifully designed. Use the corporate style of your company, make BP in a special editor or Google Slides;
convey not only your prices, but also the value for the client. First, talk about how you will be useful to the client, and only then how much it costs.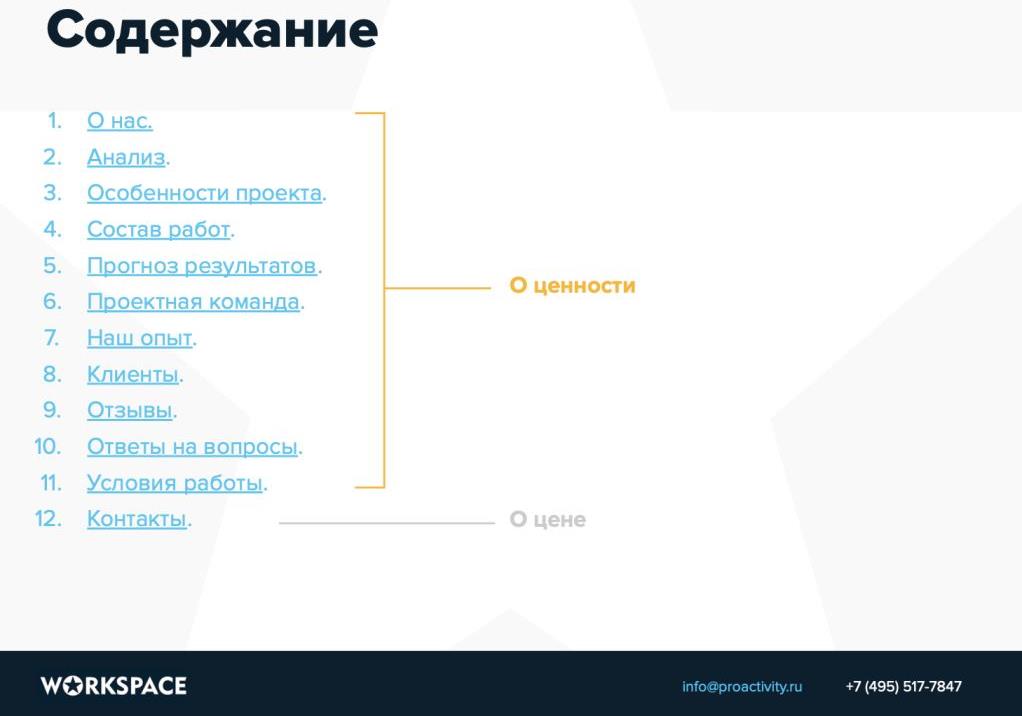 Sections of the offer
Let's go through each page of the BP. Of course, this is not a universal option: you can swap pages, and even omit some altogether: it all depends on the specific client and his needs. However, we consider the following structure to be the most optimal.
Front page
In case the client has little time and interest, reflect all the most important things on the first sheet. Namely:
The name of your company (or first and last name if you are a freelancer);
USP: the essence of your offer, how you differ from competitors;
The actual service you offer. Write more specifically: not just SEO, but promotion by traffic, leads or positions, SEO audit, etc.
About Us
Only the most important: how many years have you or your company been on the market, how many people are in the team, what awards, diplomas, places in ratings have you received, how many projects have been completed and in what time frame.
Here, not lyrical reasoning will be appropriate, but specific figures and facts. For example:
number of positions in the top 10 search engines;
indicators of organic traffic for a certain period;
number of unique visitors;
ICS of client sites;
timing of results.
You can provide summary data (for example, the total traffic of all client sites) or indicators for the project with the best results.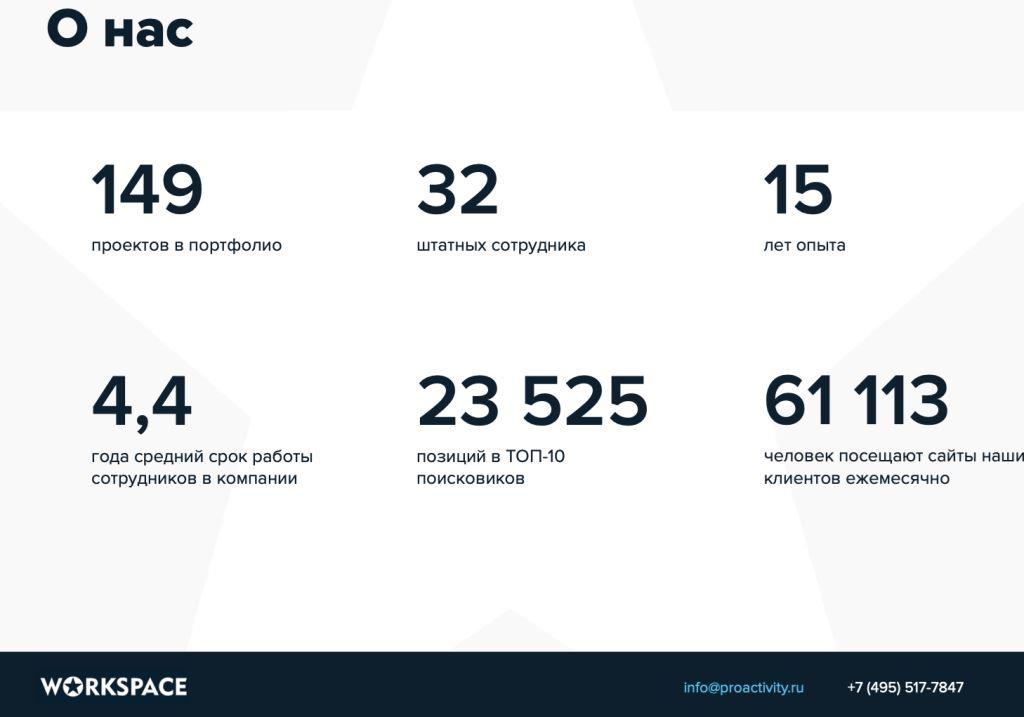 Task description
We tell you what task you will perform and what goals you plan to achieve. It is important to distinguish between two types of goals here:
Achieve certain technical indicators: for example, the famous "bring the site to the top in terms of positions", which is so loved by customers.
Bring commercial benefits to the client: for example, increase the number of leads and, accordingly, sales.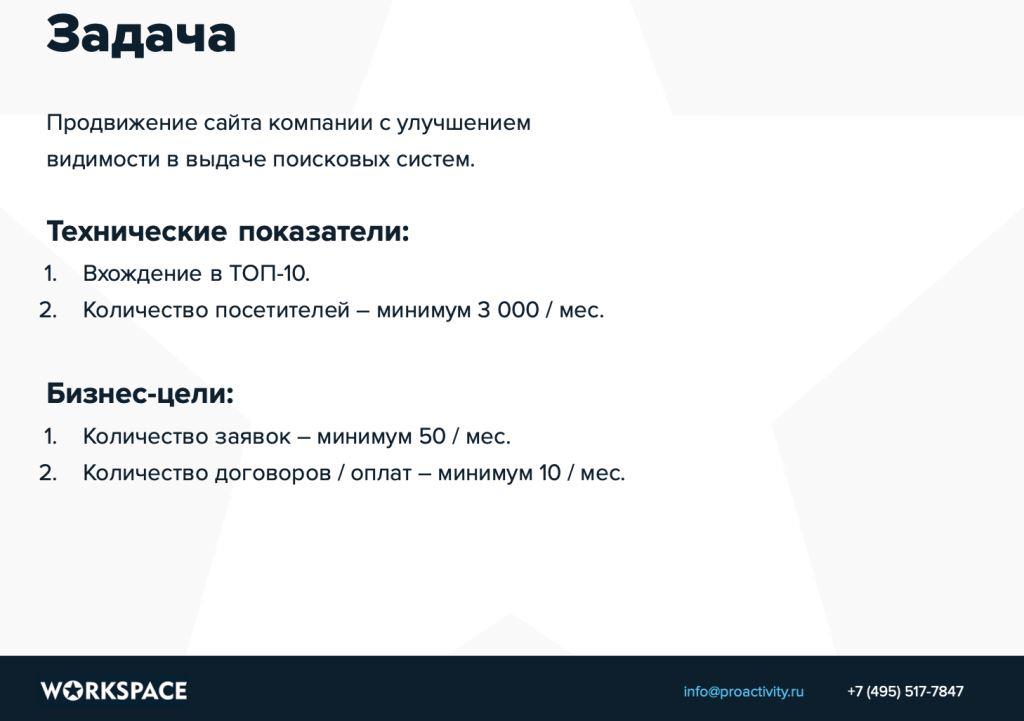 During the crisis, many began to understand that no one needs SEO for the sake of SEO, that commercial goals are much more important than technical indicators. For example, promotion to the top in positions is, of course, cool, but if there are no sales for various reasons, then there is little point in such promotion. Therefore, focus on the real effectiveness of your work.
Another nuance: designate that not everything depends on you. If the site itself is made poorly and does not sell, even internal optimization will not help much, you need to redo the site, and only then promote it.
Marketing Analysis
To understand what exactly the client needs and how to achieve the goals, it is necessary to conduct a minimal analysis: study the customer's website, its product or service, a niche in the market, target audience, and competitors.
You can say: why waste time studying, I send dozens of such BPs! There is a reason for this. But, firstly, such an approach will distinguish you from the mass of competitors and convince the customer of the seriousness of your intentions. This is especially important when it comes to fighting for a client on a tender site. And secondly, only on the basis of the analysis you will be able to offer ways to solve problems and make specific predictions. Otherwise, the entire BP will be written at random.
Here are some examples:
You study the position of the client's website in the search results. See where he is and who his competitors are. You understand what methods of SEO promotion they use and whether there is a chance to move them. Figure out how to do it, and reflect in the BP.
You study the number of requests for certain goods and services, look at the seasonality and understand how to make up the semantic core and how you may need to refine the site.
You study how users behave in a certain niche, how they make decisions, how to prompt them competently.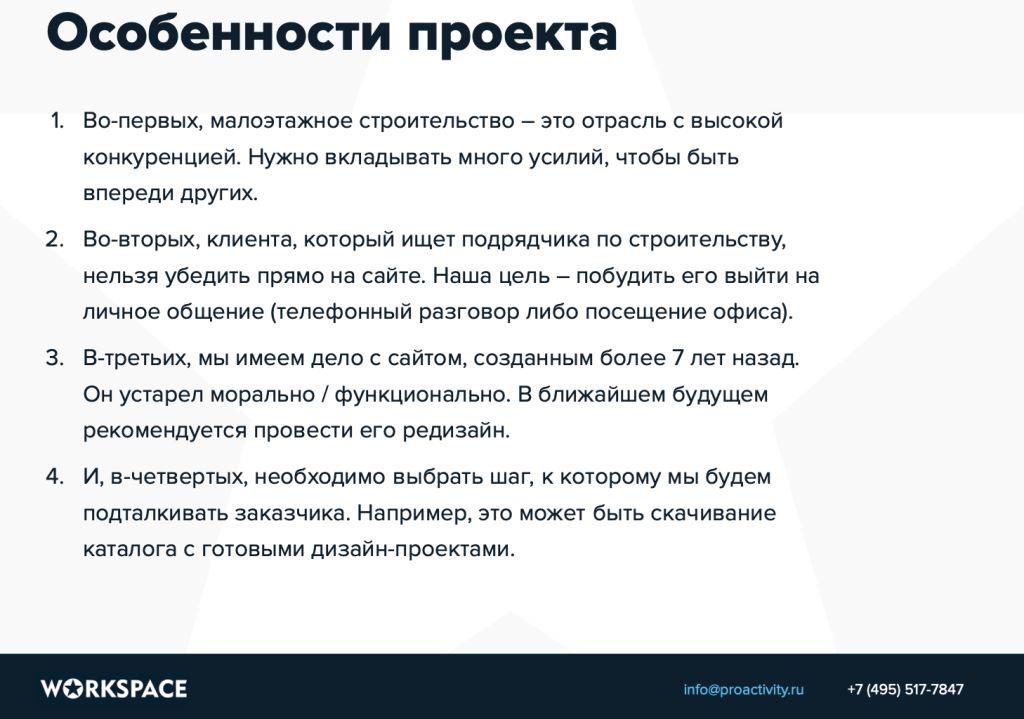 Scope of work
It is clear that each project will have its own SEO strategy and stages of work. Focus on the approximate task of the client or tell us what you usually do.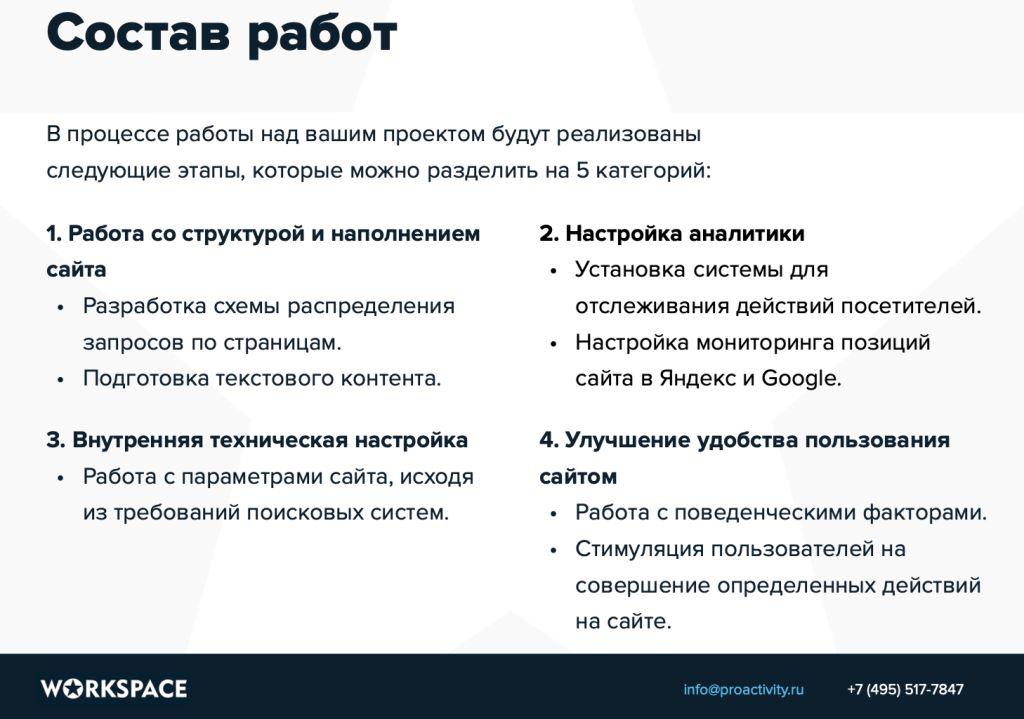 Tell us for what purposes each stage of the work is carried out, and give an approximate forecast of the results. If you're not sure, don't write, because if it doesn't work out, embarrassment will happen. Or lower the numbers a little to get it right.
For example, you plan to reach the 20th position in the SERP, bring +1000 unique visitors and generate +100 leads. Get more – great.
Team
Tell who will work on the customer's project. Show faces – yours and your employees, describe their competencies and successes, explain who will be responsible for what. Thus, the client will get the impression that his site will be optimized not by faceless robots, but by very real people: project manager Elena, SEO specialists Viktor and Roman, analyst Vasily.
Clients and cases
To finally convince the customer of your own value, tell us which companies you have already worked with. Show their logos, write a couple of lines about what work was done. If your clients are big names, all the better. If you can get feedback from them, great. Let them tell you firsthand how you helped them.
Write a case about working with a customer where you achieved the most significant results. Ideally, if this project is the same subject as the client's business. Please include the following in your case:
what indicators the site had before the start of work and what – after (growth in the number of visitors, position in the issue, number of views, and so on). Display the dynamics in the form of a graph – this is more clear;
what specific work did you do;
what commercial goals (new leads, deals) you have achieved.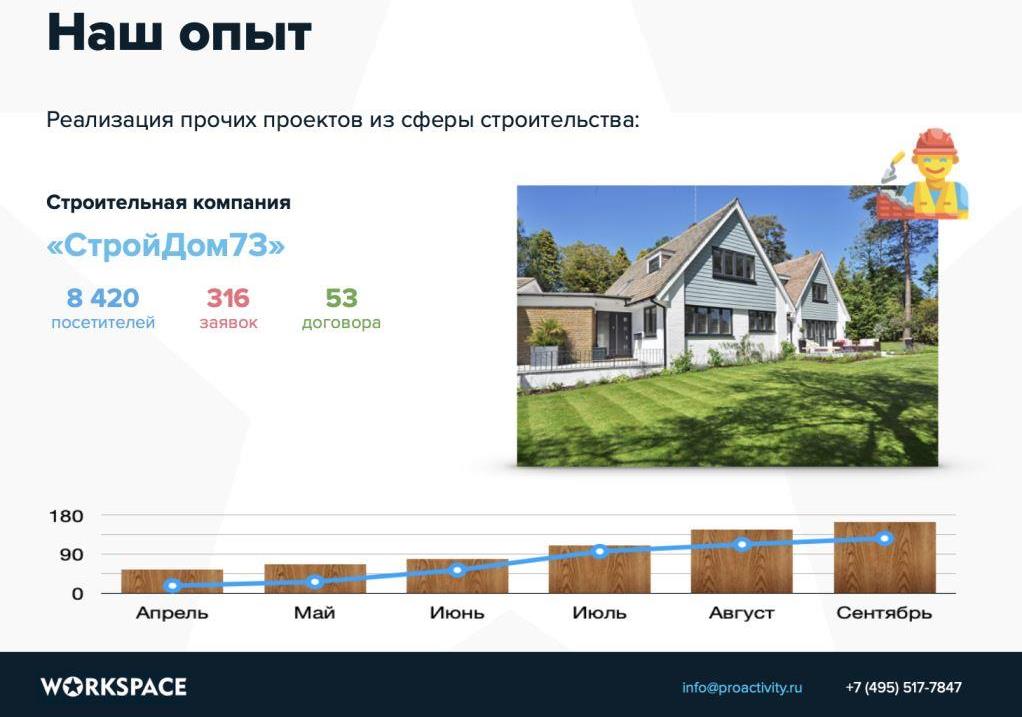 Try to briefly and concisely reflect this directly in the BP. If you already have a detailed case, give a clickable link to it.
FAQ
Usually frequently asked questions and answers to them are written on websites, but we recommend that they be reflected in the BP. So you save time for yourself and the customer. He will still have questions, so it's better to answer them right away, and not call up additionally later.
In our experience, SEO clients often ask:
When will the site go to the top? Will it come out in a month?
Do you guarantee that you will promote the site in positions?
Do you guarantee that you will bring me new clients?
Will there be additional costs?
You say the site needs to be redesigned. And it is necessary?
Etc. You yourself know how to answer these questions.
Rates and terms
And only now, when you have convinced the customer of your value to him and proved that you are a professional and smart, it's time to talk about prices, working conditions and deadlines.
Everyone determines the order and cost of work. It is important here not to scare the customer away by telling in as much detail as possible what works cost how much. Therefore, detail the price tag, paint everything in detail.
If you are doing turnkey SEO, it makes sense to break the task down into several large steps. Write down by months what you are going to do and in what volume, indicate a fixed cost of work per month (monthly fee) or payment for each completed stage of work.
It is also possible to pay for the result:
for positions — that is, for each day when the client's website was in the top of the search results for different keywords;
for traffic – for each attracted unique visitor;
for applications – for attracting one lead.
You will then determine the final cost together with the client. For now, it is important to show the customer the options and explain who each method is suitable for and how the price is formed.
Contact Information
She's a call to action. The easiest way is to write "you can contact us …" and indicate your contacts. The more there are, the easier it will be for the client to contact you. Address, phone, e-mail, pages on social networks, chats in instant messengers – indicate everything that is. And do not forget to indicate the contact person so that the client does not contact the grandfather's village.
And finally, a bonus!
Workspace experts prepared samples of commercial offers for readers for various types of services: SEO, website and mobile application development, contextual and targeted advertising, website technical support and SMM. Download samples and study manuals. And let all your BPs be converted into contracts and new projects!
Internet marketing expert. Head of marketing agency MAVR.
Business degree "Master of Business Administration" (MBA).
How not to lose potential customers if you advertise your Instagram page through the Facebook Ads Cabinet?