Everything you wanted to know about standard and dynamic remarketing in contextual advertising
We will send the material to you by email:
Время чтения:

10

мин.
Remarketing is a contextual and targeted advertising tool designed to "catch up and sell". Works in search engines and social networks.
Remarketing in Google Ads is one of the features that allows you to select users who have visited your site and show them ads while browsing other sites. Even if a user leaves your site without making a purchase, remarketing will reach them when browsing other sites, and a specially selected message will help them visit your site again.
There are several types of google adwords remarketing, the most popular are static (normal) and dynamic. At the same time, not all site owners know for sure how they differ.

But this is a topical issue, for promotion it is necessary to use all the chances. Moreover, well-calculated and properly configured remarketing in google adwords provides a noticeable reduction in advertising costs with an increase in conversions.
How it works and what you need to do to get the most out of your advertising budget – read this article.
Boxing, rock and roll and remarketing by example
Here is a real life situation. Andrey is a fan of boxing and rock and roll. Watching the best fights from time to time. In addition, he listens to tracks on YouTube and goes to the "Internet ticket" to see the poster and order tickets.
And then wow! Google banner: Epic fight in X city! Discounted tickets, today only!
And then screech again! Rolling Stones at the Sports Palace! Tickets at ridiculous prices!
All that remains is to place an order and polish the "choppers" and "leather jackets" with wax …
This is how google adwords retargeting works. Our character was interested in tournaments and concerts – and he got them. This is dynamic remarketing. And if he sees CDs with recordings of the same Rolling Stones, gloves with autographs of the Klitschko brothers, or something else, the standard one most likely works, with wide match settings.
Google adwords static remarketing in our case will advertise everything related to boxing and blues. Dynamic – personalized, that is, what relates to specific products and services that the user is interested in.
The main difference is that with standard remarketing, these are ordinary banners created by the advertiser, while with dynamic remarketing, they are automatically generated, according to a selected or specified template. The system itself substitutes data about the product from the feed.
I think the differences are already more or less clear, but let's take a closer look.
Why do you need remarketing?
According to Google statistics, 96% of online store customers do not buy from the first visit to the site. They look, ask the price and go further… Having visited a dozen sites, no one remembers where he started. But often the choice is delayed for several days.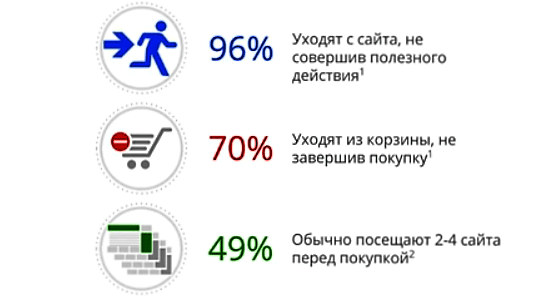 Remarketing prevents the user from forgetting about your site. The system will display banners, remind and advertise, increasing the likelihood of an order.
What does this mean? Only what in our time to sell without remarketing is to lose "from scratch".
Remarketing (standard) displays general advertising. An important plus is working with an already "warm" target audience. People looked at goods or services, which means they are interested. It is much easier to sell to them than to those who know nothing. In standard remarketing, users are shown banners created by the advertiser. Those. show what the advertiser will render for a given audience.
In dynamic remarketing, a banner, i.e. ad is generated automatically based on the banner template, as well as data from the feed and remarketing tag. Dynamic allows you to fine-tune offers to the interests of users. The result is achieved thanks to additional thematic attributes in the tags. The system collects more information, more accurately orients itself in the target audience and creates new user groups. Automatically generates ads for viewed products, which means it hits the target much more accurately.
It often happens that the buyer added the order to the cart, but was distracted and did not pay. Dynamic remarketing will remind you of this, and if there are discounts, the system will additionally send new ads, expanding the range of offers.
Technically, the same can be done with standard remarketing. Only in the case of dynamic, the user will be shown exactly the product that he watched. When using the standard one, they will show a banner specially drawn for this, for example, with the text "You forgot your item in the cart! Complete your order now and get a 5% discount!
Now let's sum up the terminology.
Types of remarketing
As you might think, there is no single universal way to get a client. Remarketing is a tool with many features and capabilities. Below are the main types of remarketing in Google Ads. Each of them can be set separately, focusing on the specified target groups and goals.
Examples of using remarketing
See the potential in remarketing but don't have an idea for a strategy? Below are four suggestions that are sure to work and increase the likelihood that customers will return to your site.
Tailor product categories for users – If your store has products or services that are only for men, women, people of a certain age, or another specific group, create separate remarketing lists for individual categories.
Reach Users Who Didn't Convert – Have you placed a form on a page and want to reach out to users who didn't complete it? All you have to do is create your own remarketing list that includes the people who filled out the form and select promotional content so others can come back to your site.
Recover cart abandoners – If you frequently have customers who abandon their shopping carts just before a transaction, it's worth reminding them to do so. Create a remarketing list for people who put at least one item in their cart but didn't reach the order confirmation page.
Promotions for potential customers who were on the site at a certain time – sometimes customers want to buy something, but they will not do it, because, for example, they are waiting for a price reduction. In this case, you can create a remarketing list of people who visited your site 7, 14, or 30 days ago and send them an appropriate message. For example, "free shipping + 5% discount".
How do I set up dynamic remarketing?
Preparation
First of all, set the overall goals of the campaign. Most of the time, site owners are vague about these, but after interviews, it becomes clear that most of them are looking to increase conversions and optimize ad spend. This can often be achieved through review and revision of ads.
Create Remarketing Audiences
Audiences are formed using the Google Ads remarketing tag, or in Google Analytics. (In general, this is a top priority for any remarketing).
For an audience to start working, you need at least 100 users in this audience https://support.google.com/analytics/answer/2611268?hl=en.
Ads will only start showing to users in the Display Network Remarketing Audience when there are at least 100 unique cookies in the list.
The remarketing list for search ads must include at least 1,000 of these files. These minimum requirements also apply to Google Ads and Google Analytics tracking pixels.
Semantics for remarketing is not needed.
Working with tags
Add a tag with custom parameters to the landing pages of your store. The tag adds users to remarketing lists and assigns unique product IDs to them.
Ads
Create responsive ad layouts in the Ads format gallery.
Volume
For an online store, you need more than 30 product cards, otherwise the campaign will not pass moderation.
Traffic
The main factor is website traffic. The higher it is, the better advertising will work.
Optimized feed
Feed is a table of goods or services of an advertising campaign. We recommend removing positions with low margins. If you leave them, advertising will be too costly. With the help of manual filtering of ads, you can increase your profit several times over.
Working with audiences
Additional breakdown by audience. Dynamic remarketing can be targeted at different sections of the target audience, for example:
who just looked at the product card;
who added to purchases, but did not pay;
looking for a product;
ordered earlier;
did not reach the finals in the conversion.
This tool allows you to use flexible bidding tactics and use your budget more efficiently. So, the most interested customers are usually paid less than the least interested ones.
Campaign updated regularly
Updating and adjusting your dynamic remarketing campaign is a big deal. No one is immune from mistakes. In the first weeks of an advertising campaign, you need to scrupulously control costs so that you don't inadvertently drain the budget.
Dynamic customer acquisition
The Dynamic Acquisition tool is designed to bring new customers to the target site. Dynamic remarketing works with an already "warm" target audience, but "new blood" is also needed.
"Attraction" is useful for new advertising campaigns, as well as if you need to expand the range of orders and increase the reach of target audiences that are different from the one for which you have collected statistics.
Dynamic attraction is an experimenter's tool, smart Google itself "runs" on it the mechanics of self-learning algorithms based on demographics, geotargeting, purchase history, interests, etc. The system evaluates the behavior of site users and expands the audience by pulling up users with similar behavior.
What can not be done in a remarketing campaign?
When creating a remarketing campaign, you can make a lot of simple mistakes that can lead to no conversions and therefore a loss of the entire budget, and not the expected results.
The most common mistakes in remarketing campaigns are:
display ads only for their display. Consider whether you want to build brand awareness, make a purchase, or perhaps fill out a form. Before starting your campaign, think about the goal you want to achieve;
one ad for all users is one of the most common mistakes. Perhaps because it's the easiest way to plan a campaign: one group, one ad and the campaign works. No! This is the worst thing to do. Thus, you are investing a valuable budget in the abyss, and dreaming about achieving conversions.
many of us do not tolerate intrusive, repetitive ads. Your potential customers are too, so don't torture them with yours. You don't need to bother users with hundreds of views. Once you set up your campaign well, they will still come back. Remarketing really has a lot of potential. All you need is a little creativity and the effect can be really amazing.
Conclusion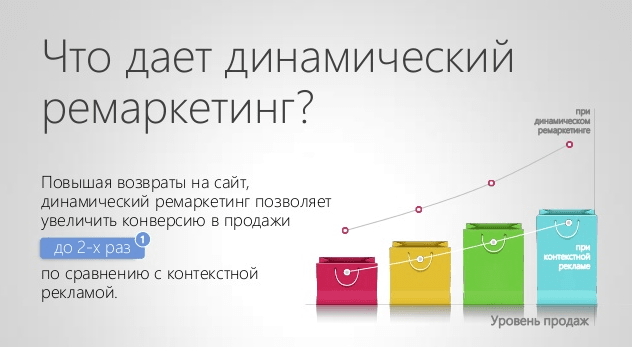 In the end, I must say that according to real examples included in the "textbooks", dynamic remarketing can significantly increase conversions. "Champion" case at the Sierra Trading Post store, which increased sales by 5 times. Another store, Netshoes, grew by 40%. These are big venues with a solid budget. The average results are more modest, but they deserve close attention.
This type of advertising allows you to contact each user directly and show him exactly what he needs. As a result, advertising becomes more effective, but setting up remarketing in google adwords is more difficult, requires more time and professionalism.
Internet marketing expert. Head of marketing agency MAVR.
Business degree "Master of Business Administration" (MBA).