TOP 8 push notification services
We will send the material to you by email:
Время чтения:

5

мин.
Push mailing is a popular method of communication between a company and its customers. It consists in periodically sending short messages containing information about new offers or promotions. For the delivery of such alerts, special services are responsible that can be configured for specific categories of users.
There are many resources on the Internet that provide this type of interaction with users. To simplify the selection of the optimal solution for a particular type of business, we have listed the top 5 push mailing sites, each of which has its own functionality and pricing.
What is push mailing in simple words?
The push notification itself is a short message that the site sends out to its subscribers on computers or mobile devices. Thanks to such notifications, the user learns about the arrival of new products or the introduction of interesting services, as well as about various promotions. Such mailings return a potential buyer to a web resource, and the push efficiency is much higher than that of standard contextual advertising.
Typically, a push message has the following structure:
title – up to 65 characters;
main text – up to 240 characters;
link to the sending site;
small picture.
Owners of online stores and other resources involved in sales can push in 2 ways:
Send the user a pop-up notification that appears on top of open windows and lingers on the computer screen for a few seconds.
Send push messages to your phone.
In the first case, it will be enough for the user to subscribe to the newsletter, agreeing to the site's pop-up offer. This is an extremely loyal way of establishing the first contact. A person does not even need to register and provide personal data in order to receive promotional notifications in the future.
Assistance in organizing push mailings is provided by special services, which we will discuss in more detail below.
Top 8 services for push mailings
Each service below has its own characteristics, strengths and weaknesses, but they are all considered the best in this category. The choice, in any case, will depend on the wishes of the entrepreneur and the current targets.
VWO

Link to the service – https://vwo.com/engage/push-notifications/
It is a popular push notification client for Chrome and Firefox browsers. The platform provides a 30-day trial period, after which you need to buy a tariff plan for 99 USD/month. Registration on the service is allowed only through a working e-mail with a special domain.
A registered user is given a script that needs to be integrated into the site via Install Code. This is where the message is configured. The VWO service allows you to build custom funnels and heat maps. It is well compatible with Facebook messenger. The only drawback is the lack of Russian localization.
Gravitec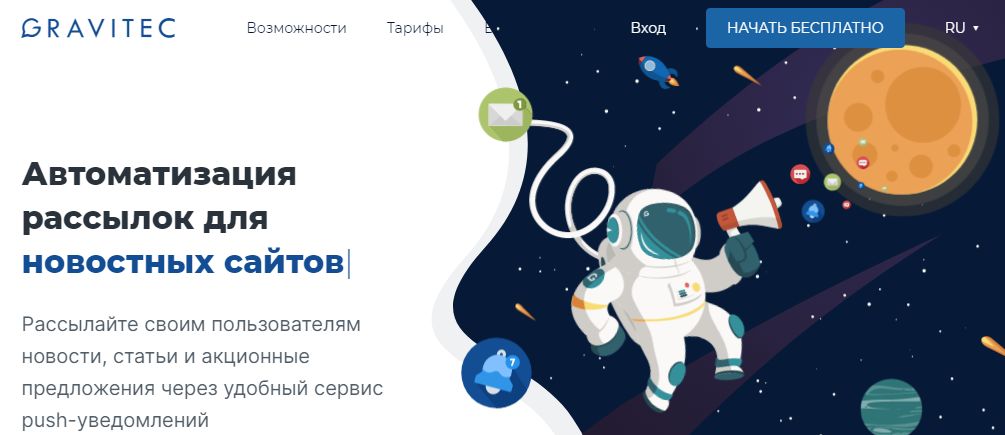 Link to the service – https://gravitec.net/ru/
Functional Russian-language platform operating in two modes:
Free – a limit of 30,000 subscribers is offered, while the number of notifications sent is not limited.
Business – Priority customer support is provided, while the messages sent do not contain the logo of the resource. Also, the user gets access to additional functionality (setting up delayed mailings, segmentation of subscribers by interests). The cost of full access depends on the size of the audience. For example, if you need to reach more than 30,000 people, the fee starts from 124 USD.
The service works with Chrome, Opera, Firefox, Safari, Edge browsers.
Push4site

Link to the service – https://push4site.com/
A high-quality resource capable of sending an advertising notification through Chrome, Safari, Firefox and Opera browsers. The platform can be used in three modes:
Free.
For small and medium businesses (13.3 USD/month).
E-commerce (27 USD/month).
The basic functionality of the platform allows you to send any number of notifications to an unlimited number of subscribers. To get a larger set of options (user segmentation and message personalization, mailing automation), you need to buy a paid plan.
OneSignal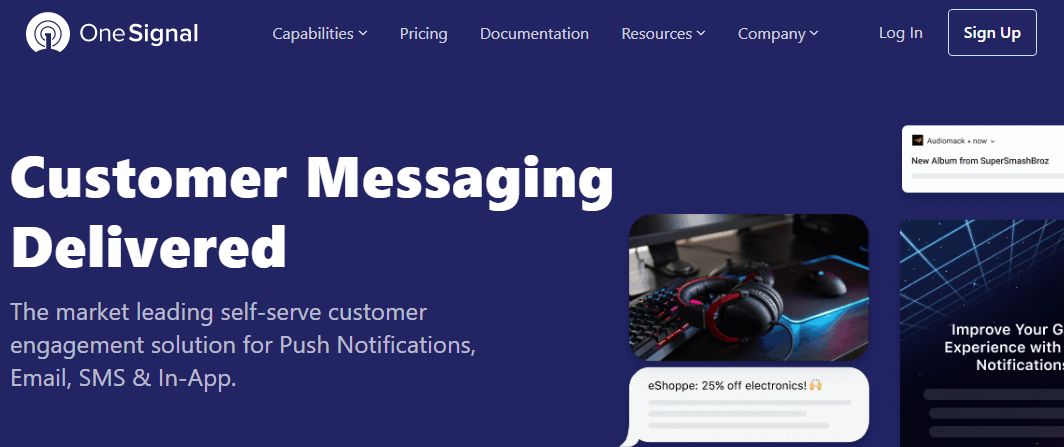 Link to the service – https://onesignal.com/
A popular service for setting up notifications that allows you to analyze statistics in real time. The site works with all modern browsers. It provides free access (up to 10,000 subscribers per month). Paid services depend on the audience covered. Rates start at $9 per month.
Firebase Cloud Messaging

Service link – https://firebase.google.com/docs/cloud-messaging
Firebase Cloud Messaging (FCM) is Google's free solution for sending push notifications to Android, iOS devices and web browsers. It integrates with other Firebase services for ease of use and extensive customization.
Pusher
Link to the service – https://pusher.com/
Pusher offers a set of tools including sending push notifications. It supports notifications for various platforms such as iOS, Android and web. Pusher provides a simple and intuitive interface and API to integrate with your applications.
Pushwoosh
Link to the service – https://www.pushwoosh.com/
Pushwoosh is a flexible service for sending push notifications to mobile devices and web browsers. It supports iOS, Android, Windows, Mac OS and more platforms. Pushwoosh offers a variety of customization features, including geo-targeting, audience segmentation, scheduling, and more.
PushAll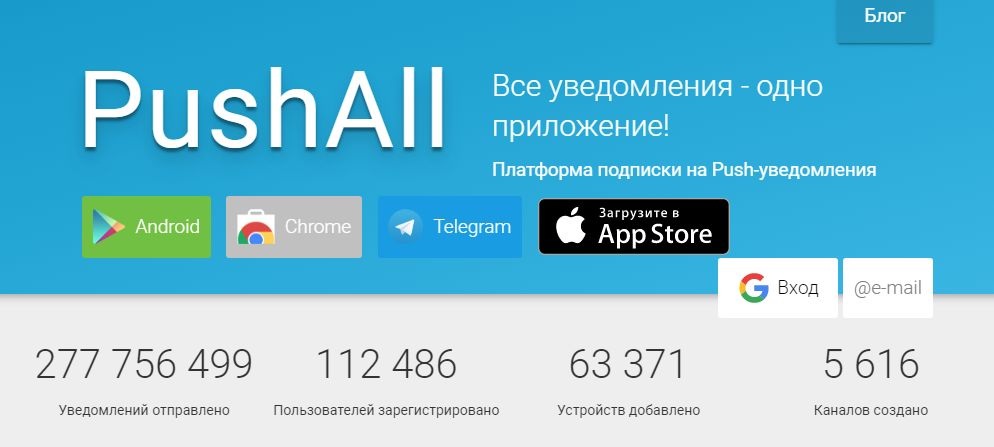 Link to the service – https://pushall.ru/
Another high-quality Russian-language service that closes our TOP. Basic functionality is free. Auxiliary options (by the type of a personal address or the absence of advertising) are purchased by donation. This client cannot be integrated into the site, but you can set up notifications from a group on VKontakte or from an RSS feed.
Subscription is carried out exclusively through a Google account. If a potential client does not have it, he will not be able to receive notifications. This is the only minus of the service.
Internet marketing expert. Head of marketing agency MAVR.
Business degree "Master of Business Administration" (MBA).