Telegram on steroids, FAQ on fast promotion of a corporate channel
We will send the material to you by email:
Время чтения:

11

мин.
Part 1
The Telegram channel is becoming a must-have trend for small and large businesses. Why this is so, what this messenger gives entrepreneurs, how to quickly and effectively promote a corporate channel – this is the article.
Briefly about Telegram
Telegram is a fast-growing, multifunctional messenger, this should be taken into account by SMM specialists and marketers who are just starting to work with it. The audience is 210 million users, and this is already a good potential for business growth. Durov wrote back in mid-2017 that Telegram was growing by 600,000 people every day. Users are people from 18 to 45.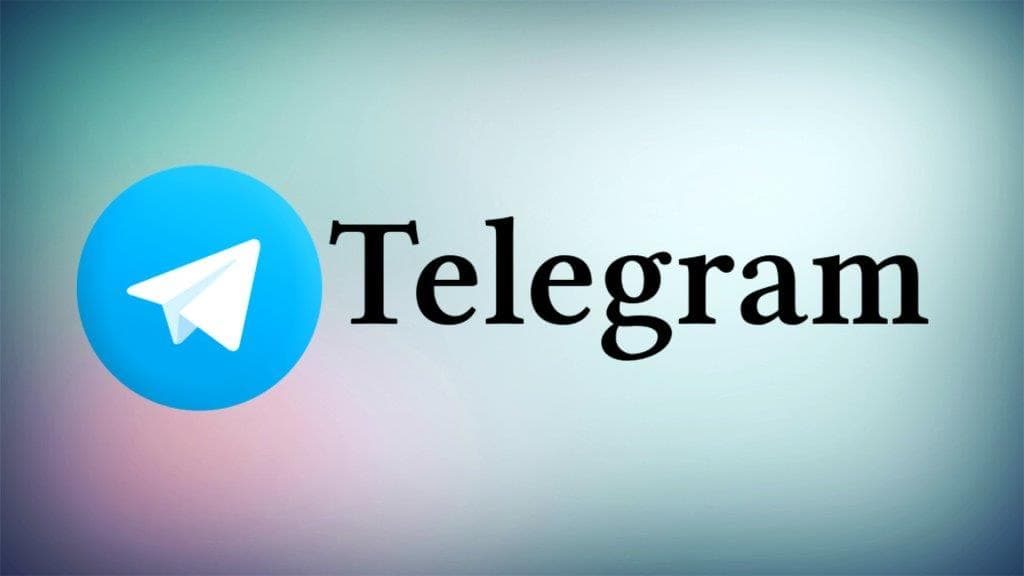 Features of Telegram
In addition to the usual dialogs and chats for messaging, Telegram can store any number of files and share media content. The main difference from other messengers is the channel as a communication tool. Do not confuse it with groups and microblogs in social networks.
The channel demonstrates content to subscribers, it is possible to make surveys and receive feedback using additional software modules.
Here are the main features of Telegram:
There is no usual feed showing the most interesting posts of groups; to read the news, you need to go to a specific channel.
Marketers say that Telegram has been affected by the stress syndrome from an excess of information, so there is less background noise, there are no disputes and comments, in general everything is much "quieter".
The value of the content is higher, because few people will read the channel on which they post rubbish. Much more involvement, which means information works more efficiently.
There are no likes on the channels, more precisely, in order for such an opportunity to appear, you need to install a bot and add special functionality to a specific post (record).
Everything on Telegram is anonymous. No one knows the names of subscribers, except for the administrator, so it is more difficult to collect statistics and study the target audience.
Telegram bots can do a lot – search the network, entertain, sell and wind up subscribers. In fact, this is a program code that expands the capabilities of the channel.
Users are happy to share content, but the virality (distribution potential) is lower than on Vk or Facebook – this must be taken into account when promoting.
When working with Telegram, for a while forget about hundreds of thousands of views, like on Yotube, and tens of thousands of subscribers (Instagram). According to statistics, 5-7 thousand for thematic and business channels is already an excellent result, although there are entertainment and news resources for 50-100 thousand.
Why Telegram is useful
Before we start promoting, let's see what benefits Telegram can bring to the cause:
the simplest – free phone calls wherever there is Internet;
organization of a corporate chat;
there is a version for desktop computers, which means it is convenient to use in the office;
customer support and informing them about the news. This is a promising direction, at any moment people will be able to learn everything they need;
trade – some companies make up to ten percent of sales through Telegram. This is especially true for those whose product is aimed at geeks, hipsters and innovators;
there is a special bot – a catalog of goods and services, just designed for trade;
and most importantly – a corporate channel, advertising, brand development and customer loyalty. We'll talk about this in more detail in the next section.
Telegram for business
For several years, Telegram was positioned as a pure messenger, so it did not attract the attention of business. Only a couple of years ago, when the channels appeared, they paid special attention to it. Now it is developing rapidly, and there are prospects – in Telegram, the competition is not yet as high as in Viber, Instagram or Facebook, the niche is not filled. This is certainly encouraging, but it also has its own peculiarities.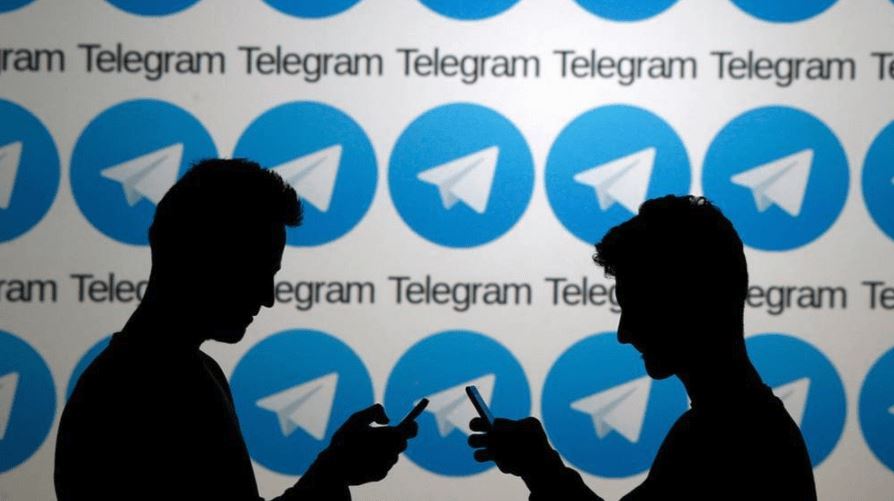 The most difficult thing when promoting a channel is to get the first subscribers. Therefore, you need to understand your target audience and answer the question: for whom do you work? In addition, to determine: what is the main advantage, what special can you give to the reader? Figure out what content to post to attract subscribers and benefit the company.
Understanding the target audience means understanding its pains and needs. Based on this, you can create valuable content that competitors do not have. As a result, a lot of subscribers and brand growth. This is the basis of content marketing and we will talk about it later.
Working with a channel in Telegram
Creating a Telegram channel is easy, it takes a couple of clicks. Come up with a memorable name associated with the company, add a corporate logo to the design, fill out a profile and contacts.
Here is an example of an originally executed marketing channel in Telegram. Despite the fact that the resource is young, it has more than five thousand subscribers.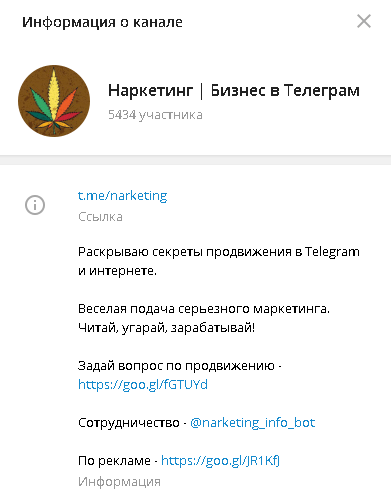 We found our genre – to talk cheerfully about serious things. This approach allows you to move quickly. Information content is packaged in a playful outrageous form, which means that in addition to teaching, it also entertains. I think the potential here is huge. For the future, you can make delayed posting in Telegram using a bot.
Once you've created your channel, write and host a dozen or two quality feature posts and move on to promotion.
Primary promotion in Telegram
The motto of promotion – use everything at hand …
Why not sign your company's employees? Thus, you can get a certain number of readers and the channel will no longer be empty.
Invite business partners, colleagues and friends. Even if they are not directly related to the target audience, this will be a good start for the future. Sociable people have hundreds of names in personal contacts, so let them become the starting base for development.
It is important here that new subscribers who are already directly related to your potential customers see that the young channel is developing, which means it is of some value.
A good solution is to notify the company's customers through mail or SMS. Important – show them that you are posting valuable content on Telegram, create a good announcement and many will subscribe. You can also use the parser for Telegram chats and channels.
There is a slightly risky way – forced connection of contacts from the phone book. This is easy to do – in the channel menu, click "add members" and that's it. But be prepared for the fact that not everyone will understand and approve.
If there are promoted groups on social networks, we recommend that you regularly advertise the Telegram channel there.
Prepare content that is not in the group and post an attractive announcement with a link. It's good if the group's readers and employees make reposts, this will raise the news in the feed and the coverage will expand. If the group is large, this method of promotion can become very effective.
It also makes sense to post a link to your Telegram channel in the comments to posts on thematic sites and in professional groups. Set aside half a day, visit several dozen groups, read posts, write comments. Here it is important to properly pack the link and make a competent eyeliner so that it is not considered spam.
An important condition is that the content through which you attract subscribers from social networks must be really relevant.
Cooperation agreements in Telegram
VP (mutual PR) is quite an effective tool: you advertise – you are advertised. Contact the administrators of other channels that are comparable in subject matter and the number of subscribers, agree on a partnership and grow together.
An important point – the more channels you manage to make friends with, the more subscribers you can attract.
Publish ads on friendly resources regularly to ensure a constant influx of new subscribers.
Part 2
Paid advertising
Paid advertising on Telegram channels is a fairly effective way of promotion if there are two things:
Advertising budget.
Good content.
Before ordering advertising, check out the site, see what kind of engagement there is, what content, how many views posts are gaining. It is important that the channel fits thematically, this affects whether visitors will read your texts and, accordingly, subscribe.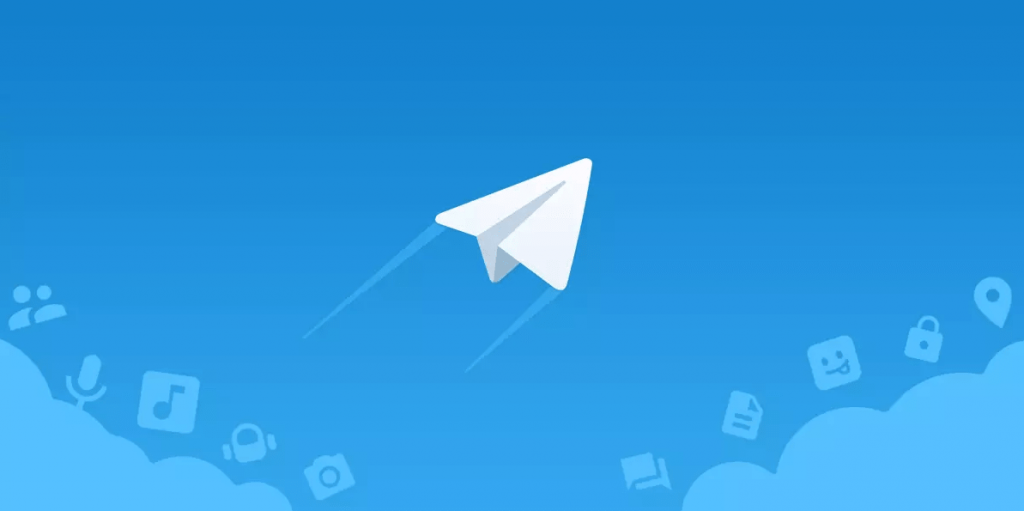 Practice shows that advertising works best in its industry. The target audience is warmer there, the material will meet the needs. Here it is important to interest a person with what you offer. A good text is something that you simply have to give to the reader in Telegram, otherwise it's money down the drain.
You need to expect that a subscriber will cost about 5-6 rubles on average. Although on trend channels, the cost can rise to 20-60 rubles.
Promotion through directories
There are special directories on the Internet where you can place advertisements and channel descriptions. Here are some of them:
telegrambots.info add-groups.com/telegram/; 100wmz.com; Uztelegram.com; telegram-plus.ru Telegram-club.ru telegram.tabledo.com 50bots.com; Uztelegram.com; add-groups.com/telegram/
Pay special attention to the site tlgrm.ru – this is a large resource where you can write about yourself and find partners for promotion in the industry.
In addition, internal directories work in Telegram itself:
@catalog5; @channels_sng; @changramme; @Serious_catalog; @catalog_channels; @ruscat; @RUSchannelsTG; @Maestro_Group; @pr4pr; @CatalogTelegram; @Top_Kannal
In messenger it looks like this: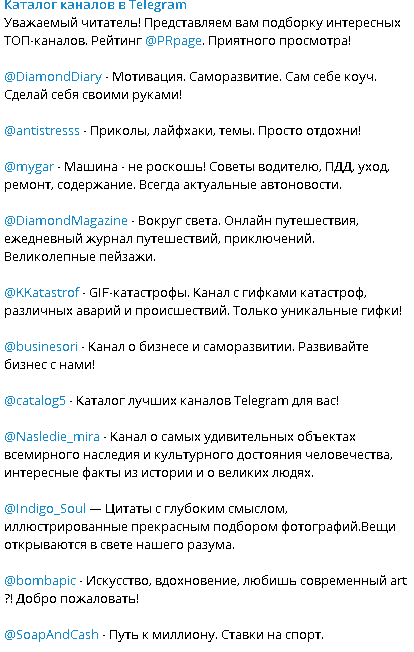 In addition to free ones, there are also paid Telegram directories. The principle of working with them is not much different from paid advertising on channels, you negotiate, pay and place information about yourself.
Important – write a bright, informative headline to get noticed.
Use all available promotion methods and it will bring good results.
Promoting a Telegram channel through contextual or targeted advertising is quite expensive, and not the fact that it is effective. Marketers who have tested this method write that it turns out to be small and expensive. The target audience rarely pays attention to it, and in order to subscribe, you need to go from the browser to Telegram – and these are additional actions and time.
According to Google statistics, 75% of users are not ready to wait if the site loads longer than 8 seconds, and in order to spend an extra half a minute, a person really needs to be motivated and interested.
Exchanges, buying offers and bots – subscribers
Buying subscribers on exchanges is an imitation of life. In two or three weeks, most will unsubscribe, unless, of course, they belong to the desired target audience. This method may work at some stage, but you should not seriously count on it. It is much better when people connect according to their interests.
The same applies to offer bots. Connecting "artificial" subscribers will cost from 1 to 5 rubles. a piece. There are few benefits from such readers – only the creation of extras.
Telegram channel statistics
Statistics are the backbone of internet marketing. I recommend connecting a bot to issue data at the very beginning of the promotion. An easy way is to go to https://tgstat.ru/, download and install the bot.

In Telegram, it looks like this: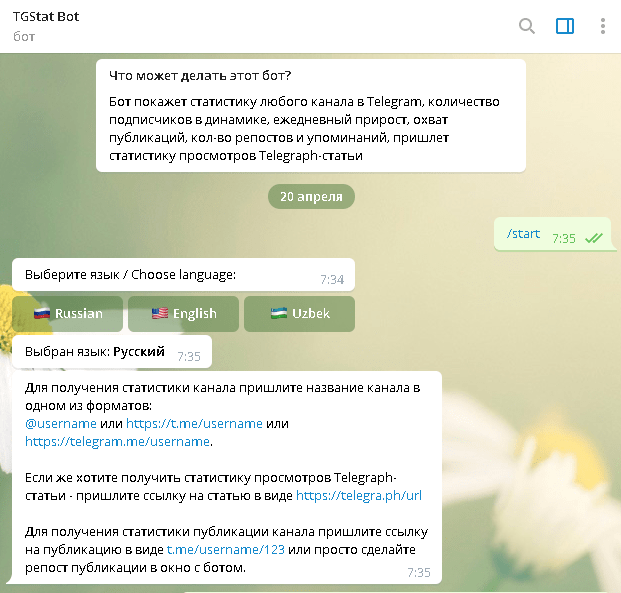 And then we just write him a message with the address of the channel we are interested in and get the information: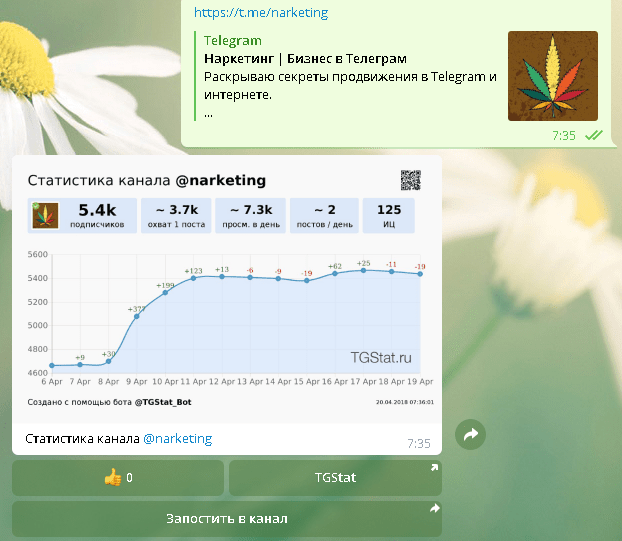 At the bottom right, we see the "Go to TGStat" button, this is a link to a site where we will learn a lot of interesting things:
graphs of changes in the number of subscribers;
post coverage;
the number of publications;
reposts and mentions of the channel.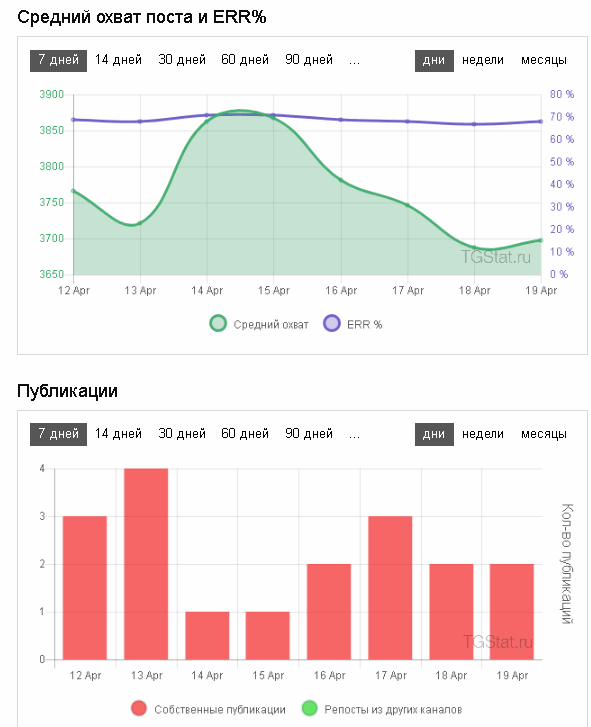 This already strongly resembles the usual social networks – real information with which you can work.
The number of subscribers shows how effectively the administrator promotes the channel, the coverage of posts is necessary in order to find out how the content enters, and reposts and mentions will tell about the popularity of the material and where, how and when the administrators advertised the channel: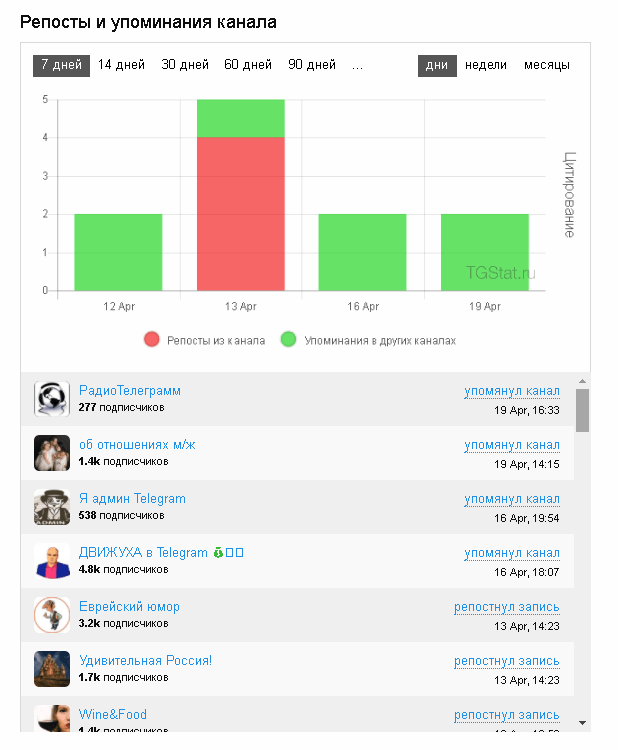 Conclusion
At the end of the article, I want to give a few simple recommendations that will make the promotion of the Telegram channel more effective:
create useful content, only it makes the channel valuable;
do not forget about pictures, users love images, according to statistics they gain the most views;
do not interrupt the channel maintenance – constancy works for you, but during pauses a significant number of people unsubscribe;
desktop Telegram allows you to publish text and a picture in one post;
do not post material late in the evening or at night, this reduces views;
experiment with content, analyze views;
do not count on a quick result, but on systematic, systematic work;
Engage your audience with polls.
I hope this article will help promote your Telegram channel and benefit your business.
Author: Taras Boychuk