Online tests: TOP programs for creating quizzes
We will send the material to you by email:
Время чтения:

8

мин.
Today, tests are used by almost all teachers. A few years ago they were compiled by hand, but it is possible to use special programs to create tests online. They help save time and make tests more diverse by inserting different images and even videos into them. Consider the TOP 7 programs that best perform their functions.
Sites for creating tests
ASD Quiz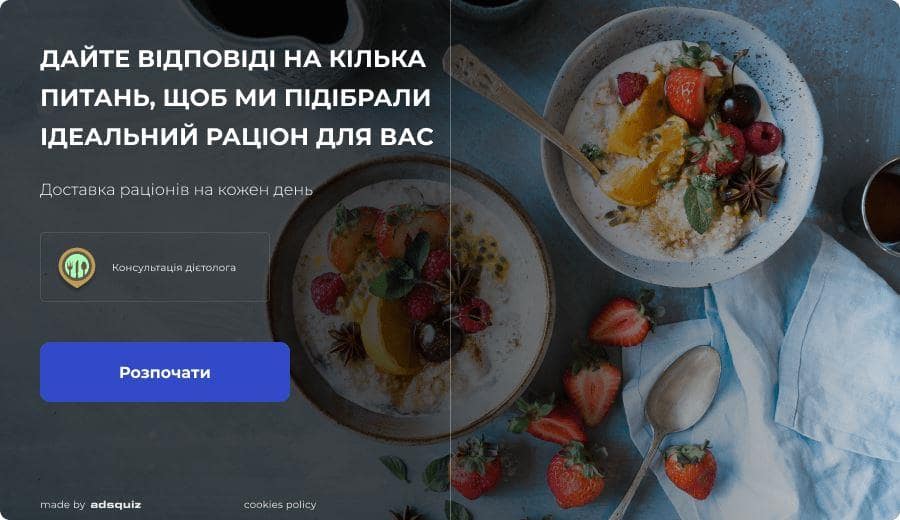 The quiz constructor is made in Ukraine. The service has a user-friendly design, integration with analytics systems (Facebook Pixel, Tik-Tok Pixel, Google Tag Manager, GA) and additional features for uploading leads to other services, such as CRM systems or Telegram bots.
ASD Quiz has a free plan that allows you to receive a certain number of leads every month with no restrictions on the functionality or number of quiz pages.
The constructor allows you to create quizzes with an unlimited number of questions, choose one of many design options, set up the transfer of applications to a Telegram bot, email, or upload data to a Google spreadsheet or other CRM system using a webhook.
If necessary, you can place a quiz on your own domain, which is especially important when setting up advertising in Meta ADS.
All applications are stored in the internal CRM system. After passing the quiz, you can set up an automatic redirect to another page. Questions can be either mandatory or optional, one or more answers. There is a phone mask, the ability to add bonuses during the passage.
ASD quiz allows you to quickly create the right survey and get leads for further sales.
FormDesigner
Link to service – https://formdesigner.com.ua/
This is an online designer of web forms, surveys, quizzes and calculators for the site. It has a built-in form designer, with which you can customize the appearance of the form for the design of your site, and you do not need to have any special knowledge and skills. Works on any sites and CMS
Google Forms

Link to service – https://www.google.com/intl/ru/forms/about/
This program is designed to conduct online research, create tests (quizzes), votes, quizzes, etc. Unlike other similar services, it has several advantages:
Easy to use. The interface is clear here. The finished test does not need to be downloaded, sent to students or clients, and then wait for the results back.
Availability 24/7. Testing, no matter what stage of development it is in, will be stored online. This is very convenient in cases where you need to work simultaneously from several devices, for example, from a smartphone and a computer. It will be enough just to follow the link.
The ability to customize the page according to your requirements. Users can open a special constructor, which already has ready-made templates, or upload their own data.
Another advantage concerns the simple counting of responses. You don't have to do it yourself. The system will calculate and issue statistics.
Surveymonkey

Link to service – https://www.surveymonkey.com/
An interesting site for creating tests. Its main features are:
Ability to create a test with text or images.
Tests can be created using ready-made templates. They are also easy to set up.
The system gives the result in several formats at once, for example, PDF or XLS.
Counting the results, comparing them with the specified parameters are carried out automatically.
This application allows teamwork, has a mobile phone application and can be combined with third-party resources.
A big plus is the availability of several tariffs. Surveymonkey is free to use, but it does not allow users to use certain features. If possible, you can buy individual or group tariff packages.
Kahoot

Link to service – https://kahoot.com/
Another program for testing knowledge. It helps to find out whether the students listened carefully to the course of lectures, whether they really studied the material presented by the teacher, etc.
The test created with this program has questions, each of which has 2 or 4 possible answers. How long it takes students to choose the correct option, the teacher decides. Other benefits include the ability to use images and videos, an unlimited number of participants, and permission to take any device (phone, laptop, tablet, etc.).
Plickers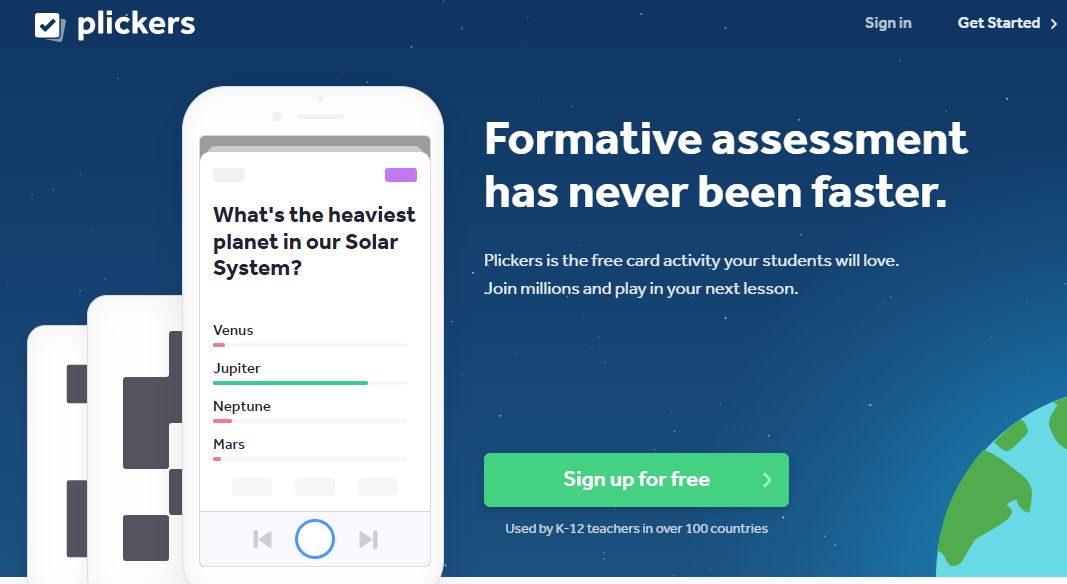 Link to service – https://get.plickers.com/
Quite an unusual service for testing and assembling quizzes. This is an application for a mobile phone or tablet that works with the help of QR codes. Its main advantages are the involvement of all students, the ability to conduct anonymous surveys, the inability to change answers after sending.
Working with Plickers looks something like this:
You should make a list of participants and assign each of them a personal number.
Decide what the tests will be. There are several options: for example, when you need to answer "true or not" or choose one correct answer from several.
It remains only to ask questions and use your phone or tablet to scan the answers. The system will independently analyze the results and compile statistics.
The only drawback that this program has is that it is possible to rescan the response in cases where the code enters the camera again.
Easytestmaker

Link to service – https://www.easytestmaker.com/
This service has a very interesting feature. Users can create tasks where they need to choose either the correct or, conversely, the wrong answer from several options. Quizzes can be edited to make them easy to read on a mobile phone or tablet. It is enough to format them. If necessary, the system will mix questions and answers to make it harder for test participants to peep or cheat.
The service is available in the free version. There are also several paid plans. The difference is that in the first case, you can create only 25 tests. There is also no way to format jobs in traditional formats such as PDF. Paid versions provide additional features, including spell checking in English-language materials and automatic checking of results.
Proprofs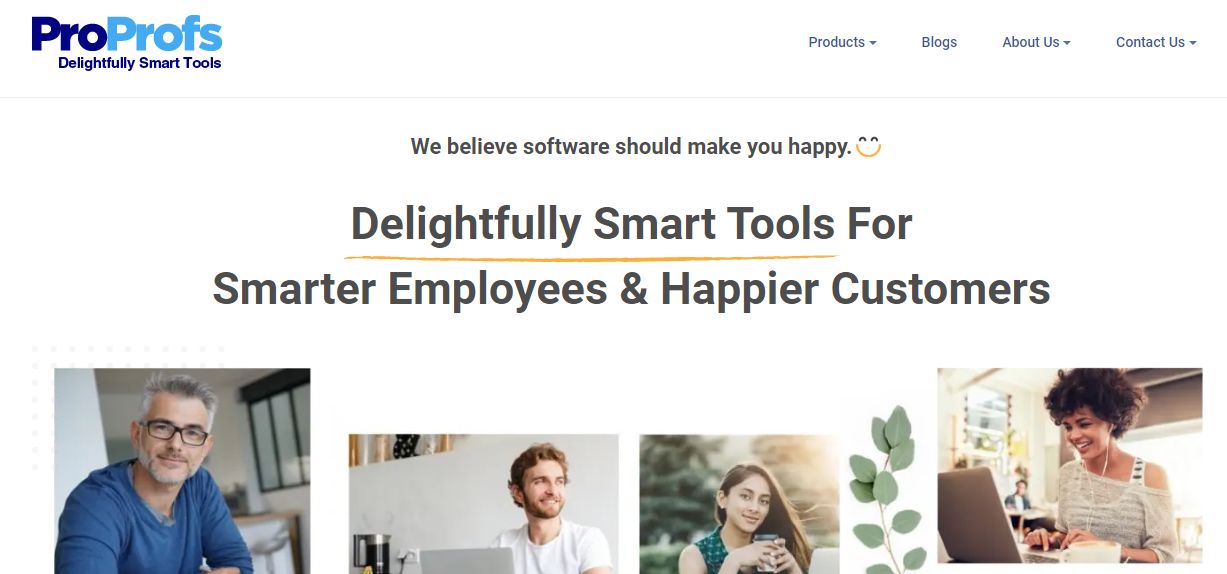 Link to service – https://www.proprofs.com/
This is a program that combines everything that a teacher needs for a full-fledged work. Its main advantages:
Simple and clear interface.
Each user can create an online test with video and audio materials.
The system has many ready-made themes for designing tests. If necessary, you can create something of your own.
The test can be anything. For example, with several answers to questions, among which you need to choose one correct one. Or one where you need to insert a missing word.
The program works on smartphones and tablets.
You can leave comments for each question.
The service has an extensive library of ready-made tests, thanks to which you can choose interesting questions for your testing. It also has many additional features that allow you to enable messages, set up security and share your content on social networks.
Online Test Pad

Link to service – https://onlinetestpad.com/ua
It is a free program for creating tests, which has many useful features. For example, the interface is presented in several languages, including Ukrainian. You can do 17 types of tests. Here are some of them:
one or more correct answers;
sequencing;
establishing compliance;
filling in the gaps;
sequential removal of redundant items.
The test manager can post it on his page on the Internet or put them up for public access on the website of the educational institution.
Марквиз

Marquis is a constructor of various questionnaires (quizzes, from the English Quiz) and tests for interacting with the audience and increasing conversion. With Marquiz, you can create a quiz for users with your own hands, without involving a team of specialists. Why do you need a Marquise service? It prompts the user to answer a few simple questions and leave their contacts to complete the action. Most often it looks like a test, and to get the result, the user needs to leave their contacts. The service integrates with other systems, which allows you to collect data, analyze the actions of the audience and get more engagement. Based on the user's responses, the site generates personalized offers that are difficult to refuse. Initially, it seems that it works for entertainment, but in fact the service sells your products or services.
WebAsk
Polls and questionnaires constructor with which you can collect votes and opinions, personal data, user contacts, etc. WebAsk allows you to create polls, questionnaires, surveys and polls. The library of ready-made templates includes many ready-made options for various areas, if you wish, you can create your own unique template from scratch. The constructor supports logical branches and various types of questions (14 basic ones with settings). Integration with Google Sheets, FB Pixel, Telegram, etc. is also supported. Using WebAsk, you can create a survey in just 5 minutes: just add questions, answer options, customize the design, and you can publish the survey. You can send a link to it to other users or place a profile on the site. The system collects responses from all users and provides analytics in the form of graphs and pie charts. If desired, you can export the report to CSV, PDF, and other formats. There are 4 tariff plans available – Zero, Basic, Standard and Premium. The Zero Plan is completely free, you can use it to create 3 surveys with 10 items and get up to 1,000 views and 100 responses per month. The Basic and Standard tariffs increase the limits, while the Premium tariff removes all restrictions.
Additional services for creating surveys
So, there are many online constructors that help you check the level of knowledge. Almost all of them have a common interface and a set of main functions. To expand the functionality, you can purchase one of the paid tariffs.
Internet marketing expert. Head of marketing agency MAVR.
Business degree "Master of Business Administration" (MBA).