Choosing an online cryptocurrency exchanger
We will send the material to you by email:
Время чтения:

6

мин.
Online exchanges are a popular way for cryptocurrency supporters to buy digital assets. But the variety of services not only gave the opportunity to choose, but also significantly complicated the task. A large number of fraudulent services have appeared that cannot provide favorable exchange conditions. Some even share customer personal and payment information with third parties.
It is for this reason that exchanger monitoring has become in demand. Their task is to allow the user to evaluate the rating of exchangers without having to independently analyze all exchangers. Monitoring service experts analyze exchangers, assessing them according to various parameters and generating ratings. As a result, the user can choose a proven and reliable service.
Let's consider the two most popular monitoring services, as well as the criteria for choosing a reliable online exchanger.
Scanbit

Scanbit is a service that was created by Ukrainian developers so that everyone has the opportunity to find an online exchanger not only with a favorable rate, but also with high-quality service. Monitoring representatives manually check each exchange office, assessing its functionality, security level, reputation, publicity and user friendliness.
Work on the rating does not stop, so users of the Scanbit service receive exclusively up-to-date information about the real situation. This minimizes risks for anyone who wants to buy or sell cryptocurrency.
Directly on the rating page, the user can see the position of a particular service, its overall rating and the number of cryptocurrencies that can be exchanged through the service. Depending on your own preferences, you can filter by trust rating, number of visitors and amount of cryptocurrency that can be exchanged. To get additional information about the online exchanger you are interested in, you just need to click on it. As a result, the user will see additional information:
overall rating;
score for each item;
number of positive and negative ratings;
types of cryptocurrencies and purchase/sale rates;
number of user reviews.
You can go to the "More about the exchanger" section or go directly to the exchanger if this is your final choice. By going to the "Details" section, you will see brief information about the service, age and other similar information. But the most important thing is that here you can see reviews from real users who personally used this exchanger.
You will not see Russian services in the rating, and those who cooperate with the strange aggressor are marked with the corresponding icon – pig. Together with Scanbit, you will not use services that pay taxes to the Russian Federation and sponsor the war.
Bestchange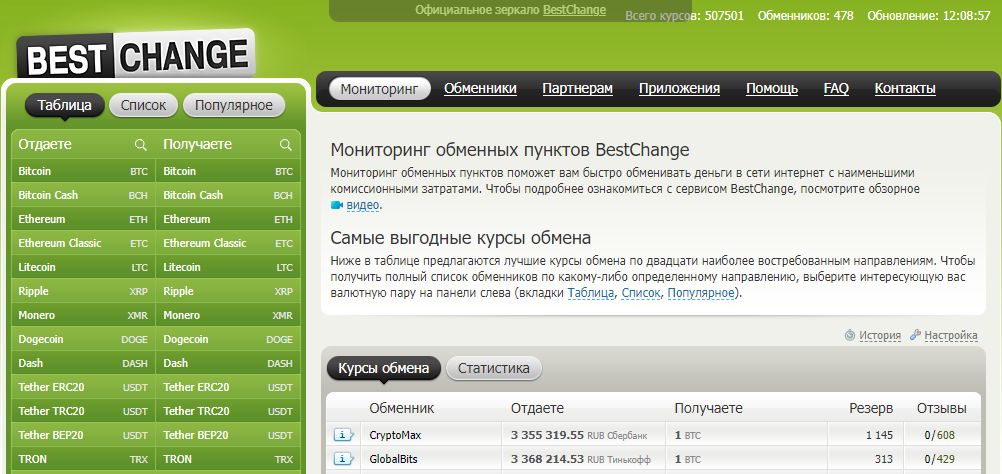 Bestchange is a rating of online exchangers with Russian roots, which has been operating since 2007. Became one of the first services that began to evaluate financial exchangers. Using the service, you can find the best rate, evaluate reserves in real time, find out the exchanger's rating, reviews and other information of interest that helps you choose the right service.
Before an exchanger is included in the Bestchange service list, it undergoes a thorough assessment by experts. The general reputation, reserves, rating in payment systems, etc. are checked. This gives the user an additional guarantee that the service has exclusively reliable and high-quality exchangers. You can also see reviews from real users, which makes it possible to see a real picture of the operation of a particular service. The exchange of reviews, exchange rates and reserves takes place every 5-10 seconds.
The developers have created an extension for Bestchange browsers, which makes operation even more convenient and comfortable. Directly on the service you can see a graph of exchange rate changes in a certain direction. In order not to control the availability of a reserve or the rate, you can subscribe to notifications, which saves a lot of time. The service provides a profitable affiliate program.
What to look for when choosing an exchanger?
If you do not trust monitoring services, or want to additionally personally evaluate the selected online exchangers, you need to take into account a number of criteria.
Exchange rates. An important parameter that directly affects the user's benefit during the exchange. But you need to take into account not only the exchange rate itself, but also additional payments that may be hidden. You need to be careful.
Commission. Typically, the commission in online exchangers varies from 2% to 4%, depending on the service policy or the transaction amount. Sometimes the commission amount is included directly in the exchange rate. It is important to choose a service where information about the commission is open and there are no additional payments. You should immediately see how much you need to pay or how much you will receive for the sold cryptocurrency.
Reliability. The level of reliability can be assessed by certain criteria: high traffic, a large reserve of digital assets, long-term work in the cryptocurrency market, professional support service, high speed of transactions, absence or a small number of negative reviews, respect for confidentiality.
Registration required. Truly reliable online exchangers that value their clients and their time make it possible to conduct exchanges without registration and verification. For registered users they simply offer pleasant bonuses and the opportunity to participate in a referral program.
Limits. When choosing an online exchanger, you need to pay attention to the minimum and maximum limits. If you want to buy cryptocurrency for 80,000 hryvnia, and the limit is 50,000 hryvnia, then such a service will not suit you. The situation is similar with the minimum limit.
Reserves. Depending on the size of the reserves, it depends on how much the exchanger can operate. If the amount of reserves is too small, then you will need to wait for them to be replenished, or you will need to choose another exchanger.
Selecting currencies. It is recommended to choose an online exchanger that provides the ability to exchange all the cryptocurrencies you need. This is convenient and allows you to receive maximum bonuses for frequent exchanges on one service.
Interface. A high-quality online exchanger should not only be profitable, but also user-friendly. The exchange procedure should take a minimum of time, and the procedure itself should be convenient, so that even a beginner does not have any difficulties.
Reviews. It is necessary to study reviews on the Internet in detail, whether there were any problems with the withdrawal, whether it is deceiving its users, and much other important information can be found directly from the reviews.
Security and anonymity. All personal and payment information must be securely protected and under no circumstances fall into the hands of third parties.
If you take into account all these criteria, then you can choose a suitable online exchanger that will make transactions with cryptocurrency profitable, safe and comfortable. You can select a suitable service through monitoring, and then further evaluate it according to these criteria.
Internet marketing expert. Head of marketing agency MAVR.
Business degree "Master of Business Administration" (MBA).