Doinsta – program to promote your page on Instagram
We will send the material to you by email:
Время чтения:

3

мин.
Overview of the Doinsta program (pros and cons)
Doinsta is a very simple and visually attractive service for mass following and mass liking. Doinsta is an inexpensive program. Her main task is to promote the profile on Instagram. In just a couple of days, with the help of the program, you can attract a huge number of subscribers.
Moreover, we are not talking about offers, bots, but about active users. The service has now gained unprecedented popularity. Its creators promise a large increase in subscribers in 1 month – up to 6 thousand. The functionality of Doinsta can be easily tried out thanks to the grace period.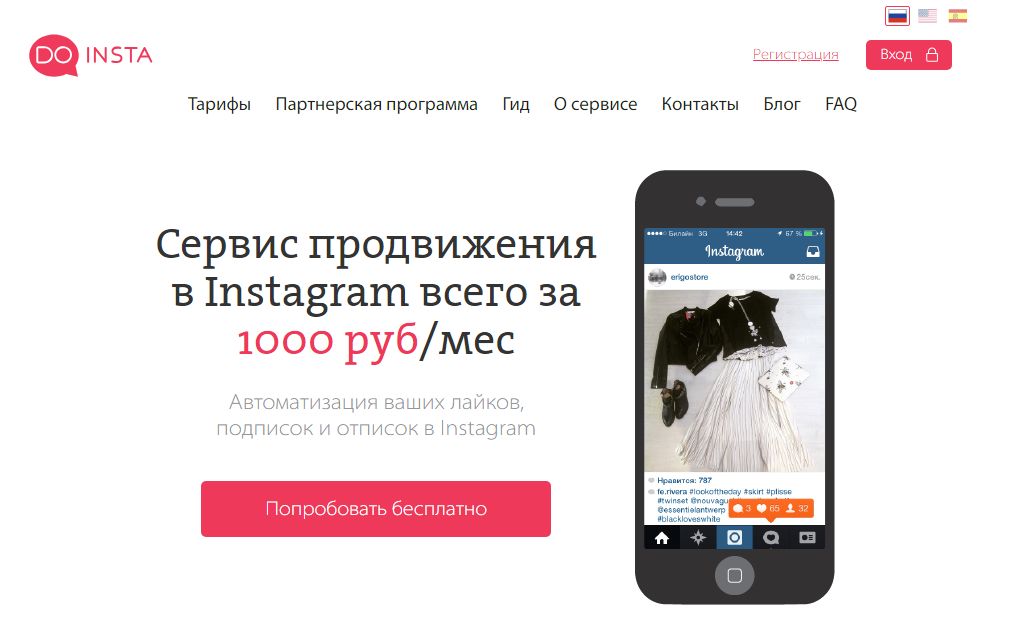 Doinsta – appeared not so long ago, but he has already managed to show his best side. Today, it has gained momentum, and it competes with other services that are used by users to promote an account on the popular social network Instagram.
Doinsta suits a very wide and completely different audience. For example, these can be owners of beauty salons, catering establishments, online stores, travel and other agencies. Journalists, bloggers, photographers, stylists, architects, etc. actively use the service. Doinsta works quite simply. So, the work consists of the following stages:
Setting up promotion for the target audience. This process will only take a few minutes.
Operational promotion. Happens automatically. The user's task will only be to track statistics.
Actual result. It will be visible after the first hour from the start of the promotion.
Attractive and user-friendly interface. Even beginners can understand the service. Everything is extremely simple. If you have any questions, you can always contact the online support service, which will help in solving the problem.
Doinsta has the following advantages:
Growth is exclusively for the target audience. There are special filters for subscribers and subscriptions. All you have to do is select the appropriate filter option.
24/7 promotion. At the same time, it is not necessary to leave the gadget on, for example, at night.
Limit security. Per day – a maximum of 1,000 subscriptions, likes and unsubscribes. Thus, there will be no suspicion of dishonesty and opacity of promotion.
The ability to attract customers and receive additional income through a referral program. For attracting customers, you can get a certain percentage.
Like any other service, Doinsta has its downsides, namely:
Limited functionality.
There are no statistics regarding the effectiveness of the promotion.
Not a small cost.
See also: Rating of proxy services
Mobile proxies for Doinsta
So, you've made a decision for DuInstu to promote your Instagram account professionally? Then it will be difficult for you to do without mobile proxies. For example, https://mproxy.top/ Or rather, if the administration suspects that you are using special software for promotion, your profile will be blocked.
Mobile proxies are ideal for working with Doinsta. With the help of a proxy, you can promote your account much more efficiently and quickly. Automatic execution of tasks for money will occur as quickly as possible. Mobile proxies protect against blocking.
The Instagram administration will have no reason to block your account if you use mobile proxies. This is due to the fact that there will be no suspicion of using services to promote and promote the profile. Using your account will be absolutely safe.
Internet marketing expert. Head of marketing agency MAVR.
Business degree "Master of Business Administration" (MBA).