How to Convert Webp to JPG on Windows and Mac
We will send the material to you by email:
Время чтения:

6

мин.
Webp is a relatively new way of displaying images online developed by Google. Images in webp format are much smaller than jpg and png formats while maintaining the quality of the image. The small file size increases the page's loading speed, so webp format images are favoured by many web developers.
Today, more browsers, operating systems and photo software are adapting to the webp format. However, there is still some distance to go before the popularity of jpg, as we encounter problems when using images in webp format in documents, messages and emails. How can we convert Webp format images to jpg format in this case?
What are the advantages of using a jpg file?
JPEG or JPG is a digital image format, .jpeg or .jpg is the extension of jpeg, and we can determine its file format by its extension. jpeg was first used for photography, became popular on the Internet and is widely used for social media entertainment and commercial files. jpeg image format has two main subcategories. One is JPEG/Exif for images taken by digital cameras, and the other is JPEG/JFIF for file transfer and storage, mainly on the Internet. Let's see what the advantages of Jpg are.
Smaller file size
One important reason JPEG files are so popular is their smaller file size. Compared to RAW format images, Jpg files are much smaller. The smaller file size means that JPEG images are easier to upload to the web and can also improve the loading speed of web pages. Cell phones and cameras using Jpg can save more storage space.
Compatibility
Compared to other formats, JPG images are compatible with almost every device and software on the market, which provides the greatest convenience to users, who can use them without changing the format.
Rich colors
High-resolution JPEG images are colorful and vibrant. JPEG support 24-bit color and up to 16 million colors. This feature of jpg reduces the degradation of picture quality, and the difference in picture quality is almost unrecognizable to the human eye.
Adjustable compression
JPEG images support compression according to your available space and application needs, which is more flexible for the user.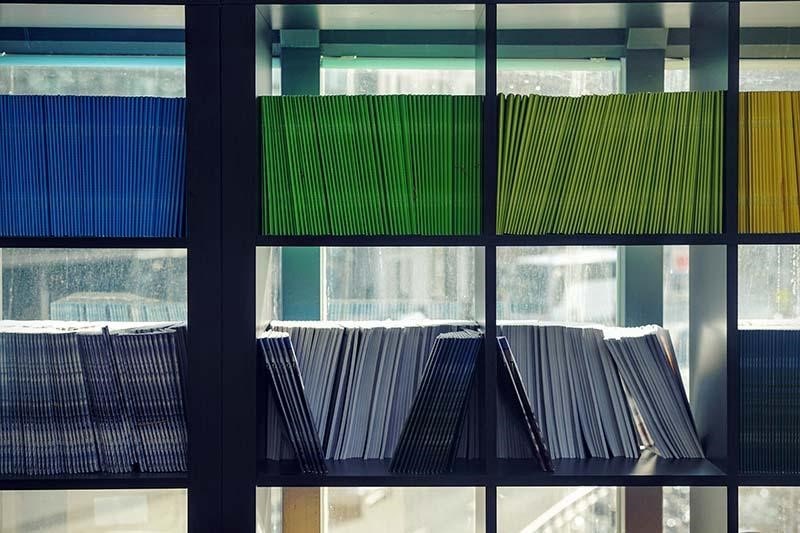 The Way to Convert Webp to Jpg
If we want to convert webp to jpg, there are several options.
Use the software tools with our computers, such as Paint for Windows and Preview for Mac.
Use an online image format converter or application.
Get a JPG image by taking a screenshot.
Online Image Format Converter
The following online image format converters are supported for free use. These online tools do not require download and registration and are easy to operate and user-friendly. You can go to the web page and start operating, both for Windows and Mac.
Ezgif
Ezgif is a comprehensive online WebP format conversion tool. Users can convert images to Webp format or convert Webp format images to other formats. It supports the conversion of image formats and users can also edit the uploaded images successfully.
How to Use
Step 1: Select the image you need to convert to Webp format and click "Upload!"
Step 2: Select the basic editing you need to perform the operation, you can also see the image properties below the image, and the user can choose the JPG image quality factor according to the purpose.
Step 3: Click "Convert to Jpg" after finishing editing.
Step 4: Click the "Save" icon when you are done.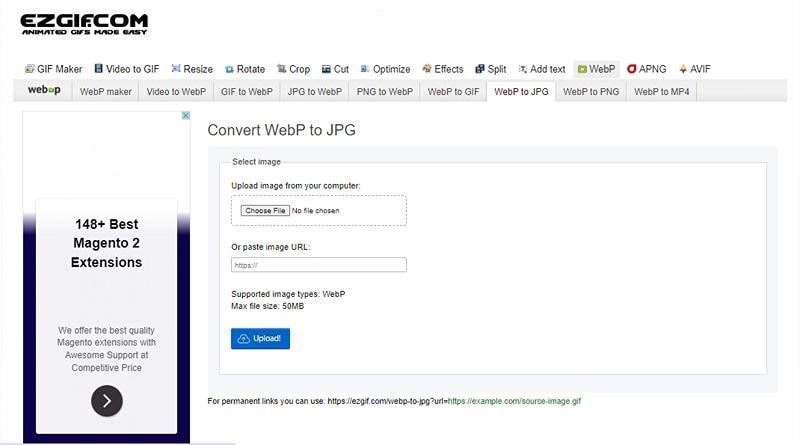 iLoveIMG
iLoveIMG is an advanced online image editor that helps users improve the efficiency of their image editing process. It can resize, crop, base edit, add watermarks, convert and compress images, etc. iLoveIMG can help users to solve Converting Webp format photos to Jpg
How to Use
Step 1: Select "Convert to JPG" feature and click "Select images" button to upload the images you need to convert.
Step 2: Click "Convert to Image" to start the conversion after successful upload.
Step 3: When finished, you can click "Download Converted Images" to view and save them, and if you need to edit them, you can select the corresponding icon to operate.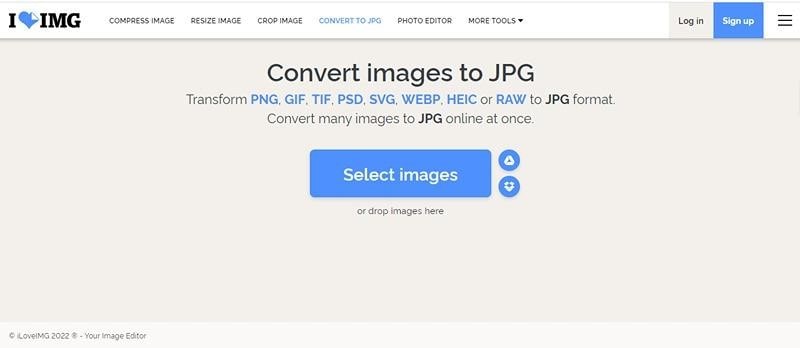 AnyWebp
Anywebp is a very powerful Webp image converter that supports batch image conversion. It can easily convert many webp pictures to JPEG/JPG/PNG/ICO and other formats. Users only need to convert formatted photos and let AnyWebp do the rest of the work.
How to Use
Step 1: First go to Anywebp's official website: https://anywebp.com
Step 2: Drag and drop or click the button to select the image you want to convert
Step 3: Select the output format "Jpeg" and the size and quality of the output image you need. You can click the "Start" button for a single image, and click "Convert All Webp" for multiple images to start the process.
Step 4: When the status shows "Completed", you can view and save it.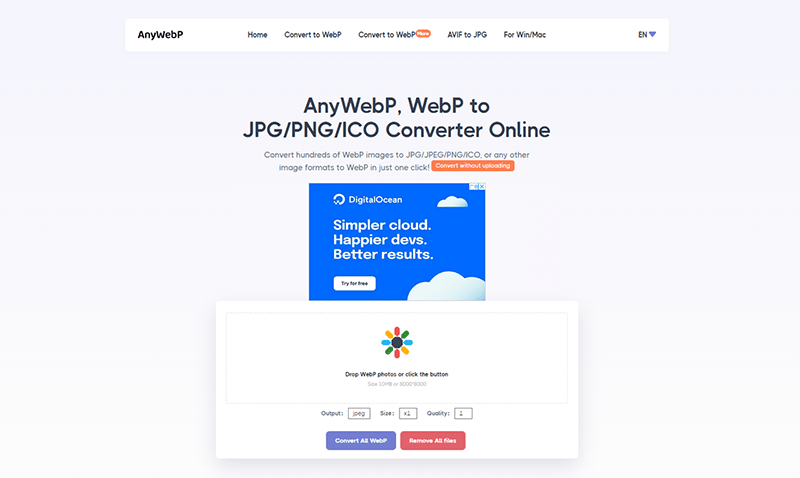 How to use Webp Converter on Windows and Mac?
AnyWebp has the application WebpConverter, you can click "For Win/Mac" in the navigation bar to enter the download page to install.
Tips
If you need to choose the save path and adjust the compression percentage, you can click the "Settings" option to adjust it.
The output path in the lower left corner allows you to choose the format you need.
Convert Webp to JPG On Windows
Step 1: Go to AnyWebP's website, http://anywebp.com/convert-to-webp.html
Step 3: Select "For Win/Mac" in the navigation bar to download the Windows version of the client.
Step 3: After downloading, open Webp Converter, select the "Add Image" button, add the webp images you need to convert.
Step 4: Select "Webp to Jpg" in the output option and click "Convert".
Step 5: After the conversion is finished you can get the jpg format image.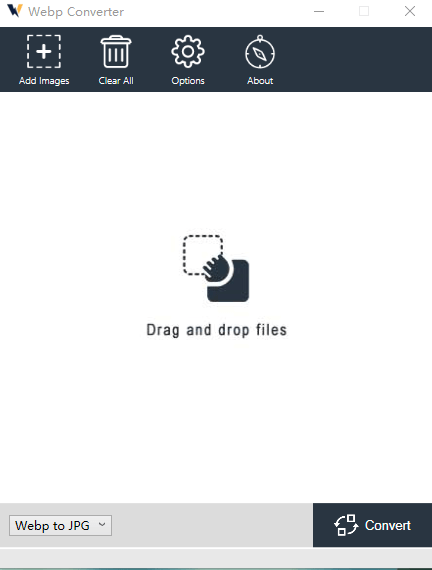 Convert Webp to JPG On Mac
Step 1: Click the "Add Files" or drag the images to the operation area.
Step 2: Select Jpeg output format by pulling down the bottom left corner, you can adjust the percentage of the compressed result by pulling the button left and right, and select "Convert" to start the process.
Step 3: Open the folder with the save path you chose before to check the progress and view the converted image.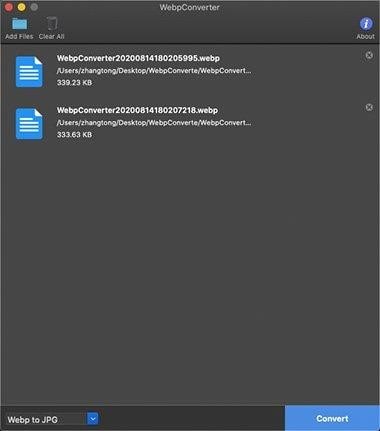 Conclusion
Now you should have some idea about converting webp images to jpg format. If there are a few images to process, only a few can use Paint and Preview. If there are more images in bulk online image format converters or software applications are a good choice. They can simplify the steps of your work and increase your efficiency. The common image format converters mentioned in the article are free, so you can choose the one you like and use it according to your needs. Let's try them out together!
Internet marketing expert. Head of marketing agency MAVR.
Business degree "Master of Business Administration" (MBA).