How to create a content plan for a blog or social networks? Overview of the best tools
We will send the material to you by email:
Время чтения:

11

мин.
Content is a source of information for users on the Internet and at the same time an important tool for business. With the help of the right content strategy, they promote the company, increase brand awareness, attract customers, convey the value of the product to them, and ultimately encourage them to purchase a product or order a service.

Content marketing costs are usually less than advertising. At the same time, the quality of traffic and the percentage of conversions it brings are higher. To get the most out of your content and achieve your goals, you need to start with planning.
A content plan is a schedule for creating and posting company publications for a specific period of time. Posts can be blog articles, social media posts, YouTube videos, email newsletters, and other content. Publication placements are chosen based on where the target audience is concentrated.
What is a content plan for?
The content plan helps:
streamline the process of creating and publishing content;
identify the goals of the content, what business tasks it should solve;
capture interesting ideas and choose relevant topics;
determine the details of the content: its type, presentation form, volume;
distribute tasks between performers and control the workflow;
make consistent publications, reaching the ultimate goal.
Content plan. Example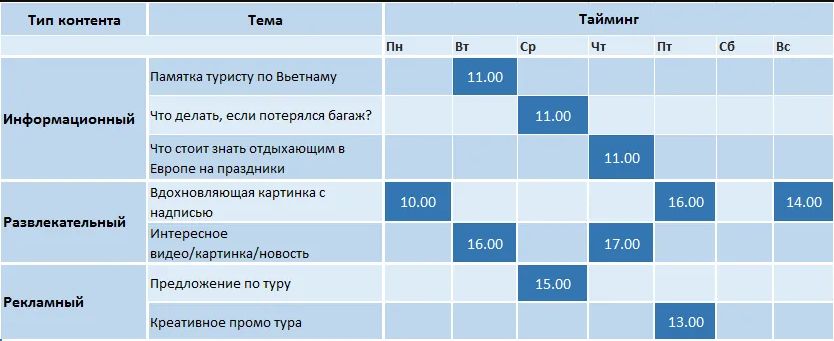 How to create a content plan? Main stages
1. Define content goals
First of all, you need to answer the following questions:
1) What business problems should content solve?
2) Who is the target audience?
This will allow you to understand what to write about and for whom, find ideas for future texts and determine the sites that potential clients visit to spread information there.
What could be the purpose of the content?
increasing brand confidence, PR;
sales;
other conversions (subscription, registration for an event, etc.);
loyalty, converting new customers into regular ones;
answers to frequently asked questions;
informing about new products and special offers;
other.
The portrait of a potential client depends on the subject of the business. A single product can have multiple target audiences. To create useful content, you need to understand who the consumer is: region of residence, gender, age, occupation, interests, current issues, and other useful details.
2. Study competitors
This is a good way to understand what content is currently available online on a topic, how informative it is, what it lacks, and to get more ideas for your content. It is worth analyzing what distribution methods market leaders use, what they publish on social networks and what issues they cover in articles.
To find similar sites, do a search for basic queries. Also, on special SEO platforms, you can find semantically similar resources and analyze competitors for each domain separately: see the effectiveness of certain pages, their positions in search and approximate traffic.
3. Define content types and placements
The following methods are used to distribute content:
a section with articles on the company's website;
thematic resources visited by the target audience;
social networks (Facebook, Instagram, etc.);
email newsletters;
company channel on YouTube;
other.
When sites are selected, you should decide what kind of content to post. If a company has a lot of goods or services, a corporate blog may have several headings. Then the topics of publications are divided into groups. The types of articles may also differ: general information about the product, instructions, comparative reviews, examples and cases, PR texts, and so on.
Social media posting (SMM) usually involves a combination of informational, selling, entertaining publications. The relevant details are entered into the content plan.
4. Collect statistics of search queries.
For content to be useful, it must answer the questions of the target audience. The analysis of search queries gives an understanding of what users in a particular niche are asking about, how often certain requests are made and what intents (intentions) are behind this.
Also, using popular queries as keywords increases the visibility of texts in rankings and helps users find them in searches.
5. Create a content plan for each site.
If the content strategy is focused on several marketing channels, the type of publications and the schedule for their release will differ, and a team of specialists can work on their creation: copywriters, SMM managers, designers, email marketers.
To work more systematically and productively, a separate content plan will be made for each promotion channel. Below is a sample content plan structure for articles and social media.
Content plan for articles
list of topics;
text requirements: style, volume, keywords, etc.;
copywriter name;
term of writing;
date of publication.
Example: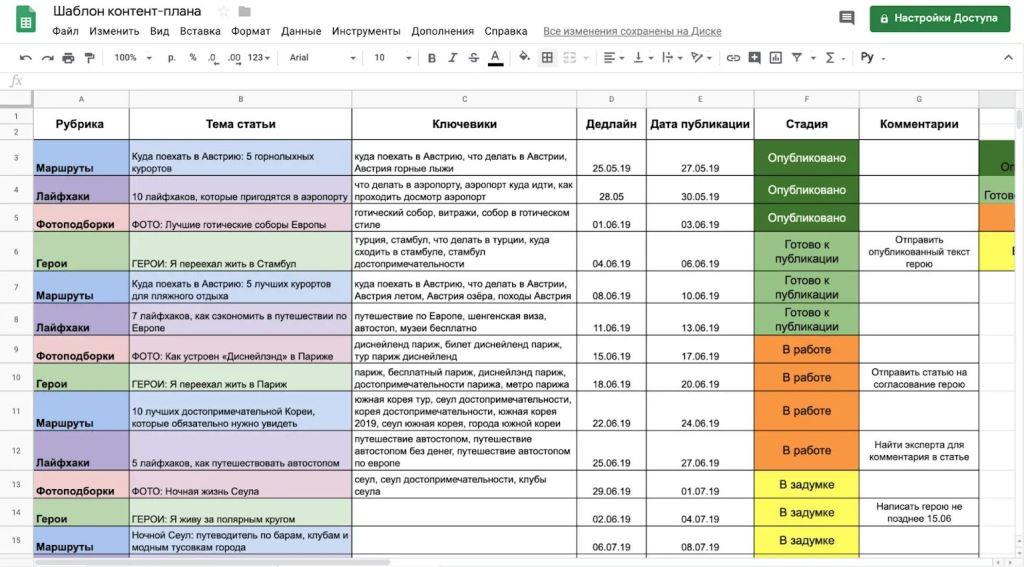 The content plan is the basis for further writing requirements for articles (technical specifications) that copywriters will follow when writing.
Content plan for SMM
Post type: informational, selling, entertaining;
The subject of the post;
release date and time.
Overview of tools for creating a content plan
In essence, a content plan is a table with information about future publications and a schedule for their release. There are services for scheduling and posting content that help streamline work and save time.
Among the planning tools, there are free options or those that offer to get acquainted with the possibilities of paid rates in test mode. Pricing policy and promotions of services are constantly updated, so prices that are relevant for today will be given here.
Tables and calendars
Cost: free.
The easiest way to create a content plan template on any device, regardless of Internet access. Everything you need to add columns, fill them in, highlight them with color for convenience. In order for the table to be seen and edited by other users, it is uploaded to Google Sheets and access rights are opened via a link to the document.
Cost: free.
In terms of functionality, such tables are similar to Excel. The advantage is the ability to work together, read and edit a table online, combine data from different tables into one, add images.
Using the calendar, you can schedule publications, set up email or SMS reminders, invite other participants, filter scheduled events by time periods.
Cost: base rate is free; the other two, depending on options, are $9.99 and $20.83 per month when billed annually.
The advantage of the service is the design with visualization of tasks and additional tools: a sticker with the ability to move around the work area; storage of completed tasks in the archive; adding labels and pictures to the plan; ready-made templates for different types of content; checklist for checking completed tasks. Trello can also be synchronized with other services.
Cost: base rate is free; Premium ($10.99), Business ($24.99) and Enterprise (individual pricing) versions are also available.
This is a collaborative project management application. It offers marketing templates for content planning, where you can add topics of publications as tasks and select performers.
Cost: there is a free version (Basic) with a basic set of functions, a Premium package of UAH 65 per month and a Business package of UAH 279 per month.
An application for a content plan, task management, creating to-do lists and professional goals, integration with other services, adding notes in the form of text / images / audio files, support for documents of various formats, teamwork.
Tools for SMM
Scheduling apps and services, including automatic social media posting, allow you to manage multiple pages at the same time.
SMMplanner.
Cost: the price range for tariffs is from 450 to 7500 rubles, depending on the number of pages. There is a free 7 day trial.
A single texture control panel for social networks and instant messengers without limiting the number of accounts. Posts can be delayed and deleted on a schedule.
Amplifr.
Cost: depending on the size of the team and the number of pages in social networks, there are several packages of S, M, L, XL. The price starts from $ 15 per month with a discount when paying for six months or a year. There is also a 7 day trial period.
The service offers a visual calendar, where you can see the scheduled and posted publications, and a convenient post editor. Among other features, there is an algorithm for creating an optimal schedule, collaboration, simultaneous posting to several social networks.
The resource provides detailed analytics. Based on user activity, you can determine the best time for publications, as well as track interaction with content (likes, reposts, comments).
SmmBox.
Cost: The first two weeks are free. Paid packages include Start, Pro, VIP and VIP+ with the ability to add features at your discretion. Price per month in rubles: 300 (Start), 600 (Pro) and 1000 (VIP). When paying immediately for 3, 6, 12 months, discounts up to 50% are provided.
One of the options of the service is an advanced content plan "with a separate schedule for each day of the week and displaying the topics of the posts. There is a function of teamwork and the publication of delayed posts. Content placement according to the plan can occur automatically in several social networks at once. For the convenience of users, a video instruction has been created.
ContentPlan.pro.
Cost: there is a 7-day trial period. Usage costs vary by projects. There are discounts if you pay for several months at once. The minimum price is 599 rubles. when paying for one month.
The service helps marketers and SMM specialists create a content plan and make delayed publications on social networks. Among the options are simultaneous scheduling in different tabs, linking a separate account and performers to each plan. There is also a built-in graphics editor; drag and drop calendar with the ability to move, collaboration, analytics, creating and sending a report, and others.
Kuku.io.
Cost: There is a 14-day trial period and four paid plans, depending on the number of social media accounts, posts published, and analytics capabilities. Price per month from 7 to 30$.
The content plan tool is available as a browser extension and Android app. With it, you can create and schedule posts in 10 social networks. Among the options are tracking engagement, clicks, dynamics in the number of subscribers, as well as recommendations on how to improve performance.
Read the full review of Kuku.io online post scheduling service
Tools for CMS site
Content management systems (CMS) are used to place content on the site. One of the most popular blogging and posting platforms is WordPress. The following are plugins for WordPress that help you plan and place content on the site. Some of them allow you to auto-post to social networks.
Editorial Calendar.
Cost: free.
Using the plugin, you can control the stage of content readiness; change the publication date by simply moving the post in the schedule; use drafts; easy to edit the title, posting time and other parameters of the post; carry out team work.
Edit Flow.
Cost: free.
The content plan tool helps you collaborate on articles within WordPress. It has a convenient calendar with weekly and monthly views, publication statuses to control the workflow, creation of user groups, comment threads for discussion between authors and editors, receiving notifications.
CoSchedule.
Cost: There is a free 14-day period. The monthly payment for use is $39, and if you pay immediately for the year, the cost of one month is $29.
The marketing calendar provides for the creation of a content map for a long period, the choice of authors, joint work on projects, integration with other services. The plugin also allows you to do mass posting to Facebook, Pinterest and other social networks. The calendar has templates for tasks and advertising campaigns.
SchedulePress.
Cost: The minimum price is $49, sometimes there are discounts.
A tool useful in creating a schedule for content. There is the possibility of collaboration with sending notifications to authors about the status of posts, publication templates, auto-posting function on Twitter, Facebook, Pinterest and LinkedIn.
Blog2Social.
Cost: The plugin has a free version. The extended Premium package has three payment options: Smart, Pro, Business, from $79 to $249 per year.
With the plugin, you can create a content schedule, automate site publications in 13 social networks, choose the optimal time for posting them, do cross-posting and resume old posts. You can edit the appearance and settings of publications: hashtags, comments, pictures, storage as drafts.
How to prepare content for publication?
In addition to tools for creating a content plan for a month or a week, services will be useful to improve the quality of content before publishing it.
There are many options for photo editing programs and applications, such as Canva and VSCO. As a rule, in such services, you can use ready-made templates as a basis, combine images, put text on them, select a background and frame, and much more.
To make sure that there are no spelling and punctuation errors in the text, it should be checked on special sites like Text.ru or LanguageTool. Many error checking services are applicable for content in different languages. You need to insert text or part of it into a special form. The program will underline the problematic words in and suggest the correct variant for automatic replacement.
Conclusion
A content plan is the basis for successfully promoting a company through the creation and distribution of publications. With its help, you can think over the schedule for posting posts and effectively organize the work of specialists.
Planning using additional services, modules, applications will help save time, implement a content strategy and achieve marketing goals. These tools solve problems such as:
creation of a content plan;
increasing the attractiveness of content (processing of visual content);
error check.
Internet marketing expert. Head of marketing agency MAVR.
Business degree "Master of Business Administration" (MBA).