ADS Quiz Builder – Creating Survey Pages for Lead Generation
We will send the material to you by email:
Время чтения:

5

мин.
ADS Quiz is a service that allows you to create a so-called quiz page, or a page with several questions, in 20 minutes for a potential client to answer these questions and leave their contact details.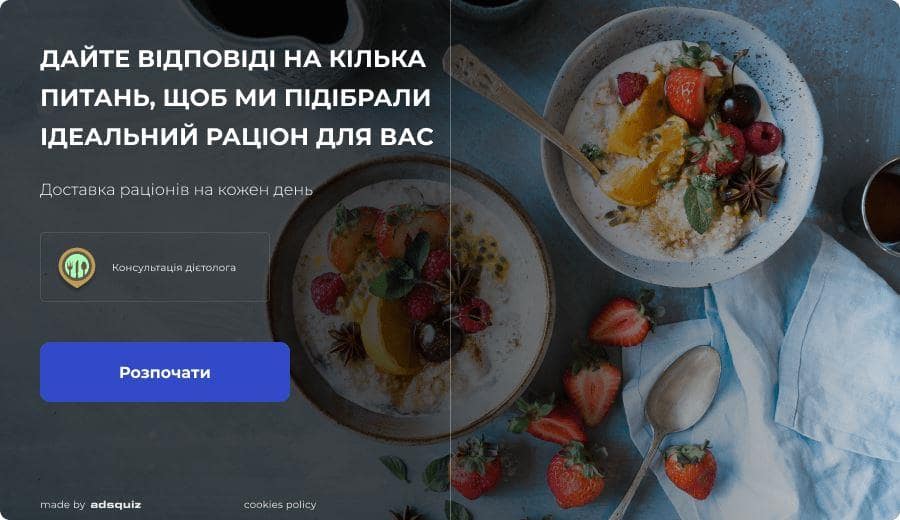 The main goal of such a marketing tool is to generate leads. At the same time, these leads should be of high quality and at a better price than, say, standard tools such as Facebook ice forms.
The ADS Quiz quiz constructor allows you to quickly create such a page without programming or design knowledge and drive traffic to it using advertising accounts of different sites.
Below are some examples of quiz pages
Learning a foreign language: https://egrkrrouvj.adsquiz.io
Diets: https://quiz-fitnes.fun
Any quiz can be divided into four main components:
Start page. This is the first thing the user sees when they go to the quiz. Therefore, it is important that the visualization of the page is understandable to the potential client. On the first page, it is necessary to explain to the user why he needs to take this quiz, what is the benefit to him. Ask yourself why your client would waste a minute of his life completing this quiz.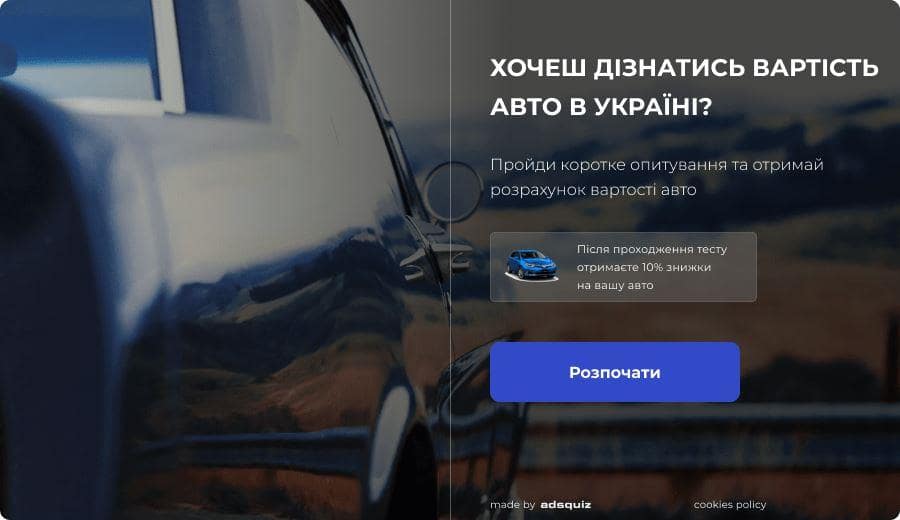 Therefore, it is important to explain on this page what the user receives when completing the survey. It can be a certain ready-made solution, a discount, a checklist or another ice magnet that will interest the target audience.
Indicate in the title why the person should take the quiz. Briefly. In the description, you can provide more detail or indicate the benefits of your product.
You can also enable a module with bonuses, which will allow you to focus the user's attention on the need to pass the quiz.
The second element is the question. ADS Quiz allows you to create multiple questions. Among them: a list of answers, a card with a photo, a free input field.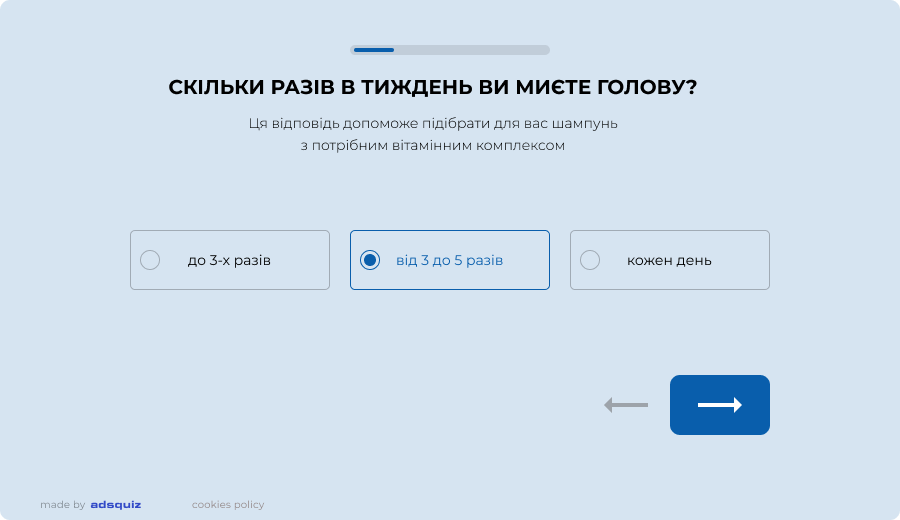 Each question can be required or optional, meaning the user will not be able to move on to the next question until they answer the first one. You can also allow the user to select multiple options.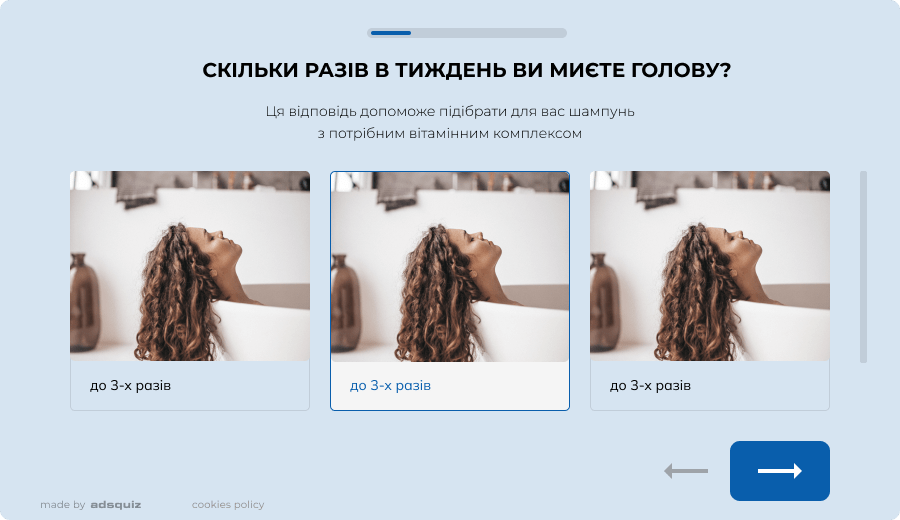 There is an option to automatically jump to the next question. That is, the user does not need to click on the "next" button every time, the quiz will itself scroll to the next question when answering the current one. This is very relevant when you have more than 5 questions. In practice, this increases the conversion to the application by 4%.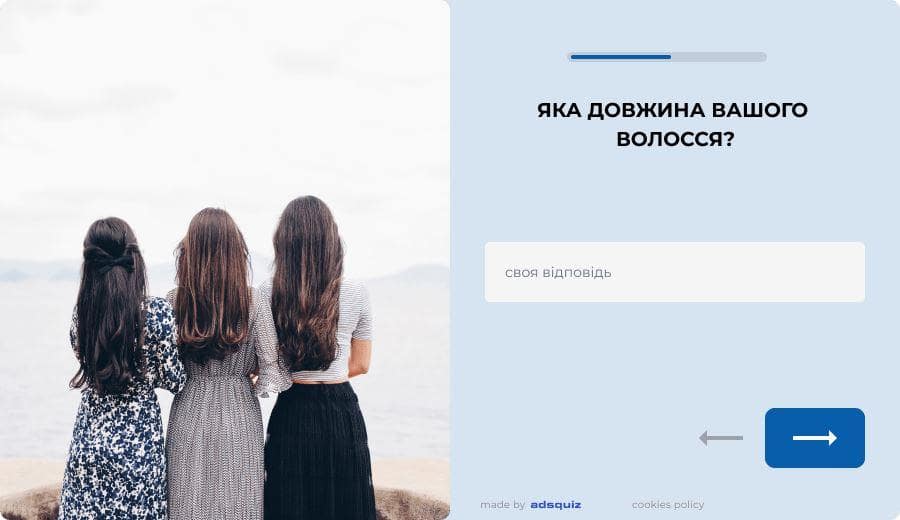 Contacts. The main purpose of the quiz is to get contact information. Therefore, this page is required. You can ask for a name, phone number, email address, or your choice, such as age, gender, etc. Fields can be required or optional.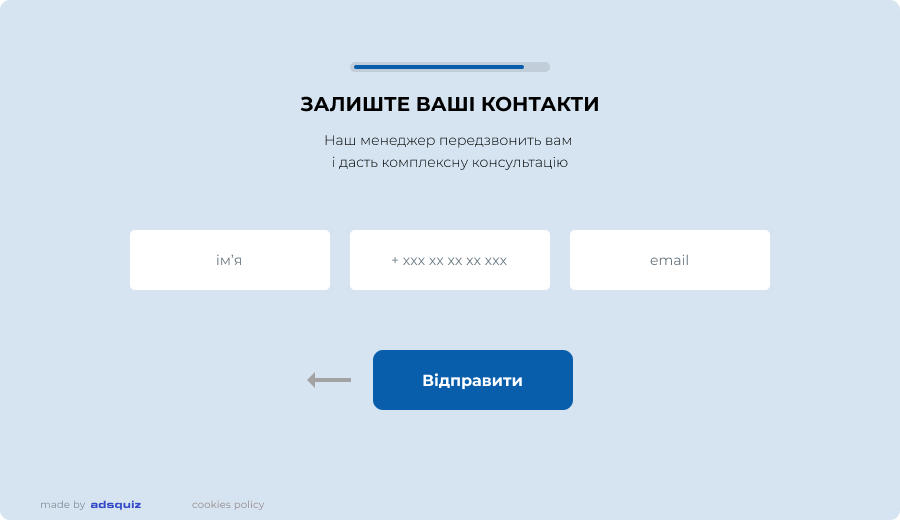 Finish page
At the stage of collecting contacts, you can choose two options with a subsequent action. This can be an automatic redirect to any URL or a link to a thank you page. On the latter, it is possible to add a photo, text, a link to the social. networks and the main button with any link, for example, to the main site or the promised bonus.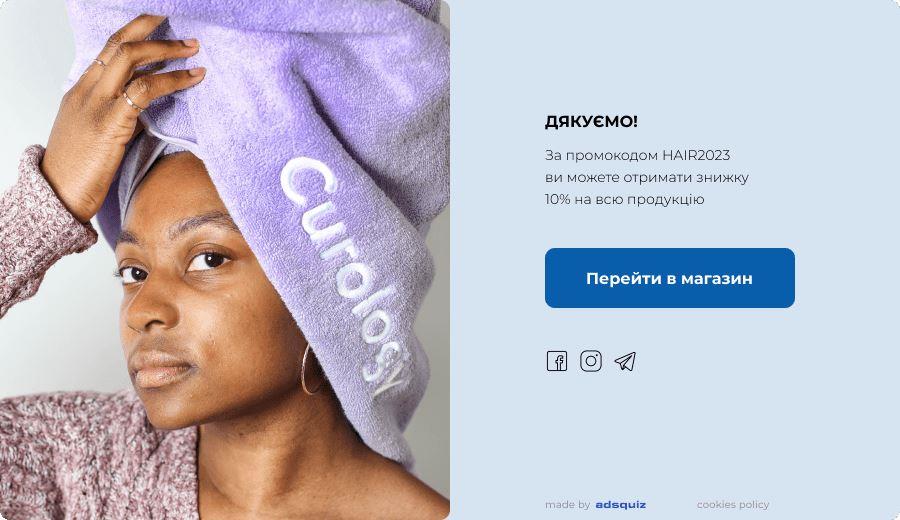 Connecting your own domain for a quiz
If you are using quizzes in targeted advertising, especially if you are working with the goal of "conversion", then you need to verify your domain and set the event priority. This means that you need to be able to host a quiz on your own domain. The ADS Quiz maker has this feature. If you have your own domain, you can use the A-record to set your quiz address as the main domain or subdomain.
Integrations
I received applications using quizzes, what's next?
To make ADS Quiz easier, it has several useful integrations that make it much easier to work with ice. Integrations can be divided into two areas: for analytics and transfer of requests.
Integration for analytics. The service can attach a Facebook or Tektok pixel, an analytics ID or a Google Tag manager to your quiz. Thus, you can use the quiz for advertising on any sites and receive data for analysis in various analytics services.
Integration for the transfer of applications. All applications are stored in the internal CRM system. You can download them to your PC at any time in a .csv file or work in the ADS Quiz CRM system itself.
But sometimes it is more convenient to transfer these applications to another service that is more convenient for you. Therefore, we have provided the ability to transfer all data through a wubhook or a telegram bot, an email letter.
Thus, through a webhook, you can transfer leads to any CRM system, email marketing service, etc.
Conclusions. The ADS Quiz constructor is a service that allows you to quickly create a questionnaire page and test one or another marketer's hypothesis. Receive applications and work with them conveniently in the future.
It should be understood that quizzes are ONE of the marketing tools and they will not solve all problems. In niches with a large number of products, such as in the e-commerce segment, quizzes are unlikely to help improve results to date. At the same time, for services, stores with specific or custom products, this can significantly improve lead generation results.
And, of course, not without bonuses. For all readers of my blog, using the promo code "vlada-rykova", you can activate 100 free applications for your quizzes. Experiment, test!
Internet marketing expert. Head of marketing agency MAVR.
Business degree "Master of Business Administration" (MBA).