Overview of InSMM autoposting service
We will send the material to you by email:
Время чтения:

4

мин.
InSMM is a service for planning and automatically publishing posts to popular social networks: Instagram, VKontakte, Facebook and Odnoklassniki.
The service also allows you to publish Instagram Stories.
InSMM service not only for SMM-specialists
As a rule, social networking services have a complex interface, which can be too difficult to understand for a non-specialist.
InSMM has a simple and pleasant interface. It will take just a few minutes to master the service, even for a person who has never used autoposting before.
So, the service can be recommended not only to SMM people, but also to everyone who maintains their business social accounts on their own or maintains pages as a hobby, for pleasure, and not for making money.
It is especially pleasant that the tariff plans and functionality of InSMM allow you to run a medium-sized project for free, which is stated immediately on the main page of the site.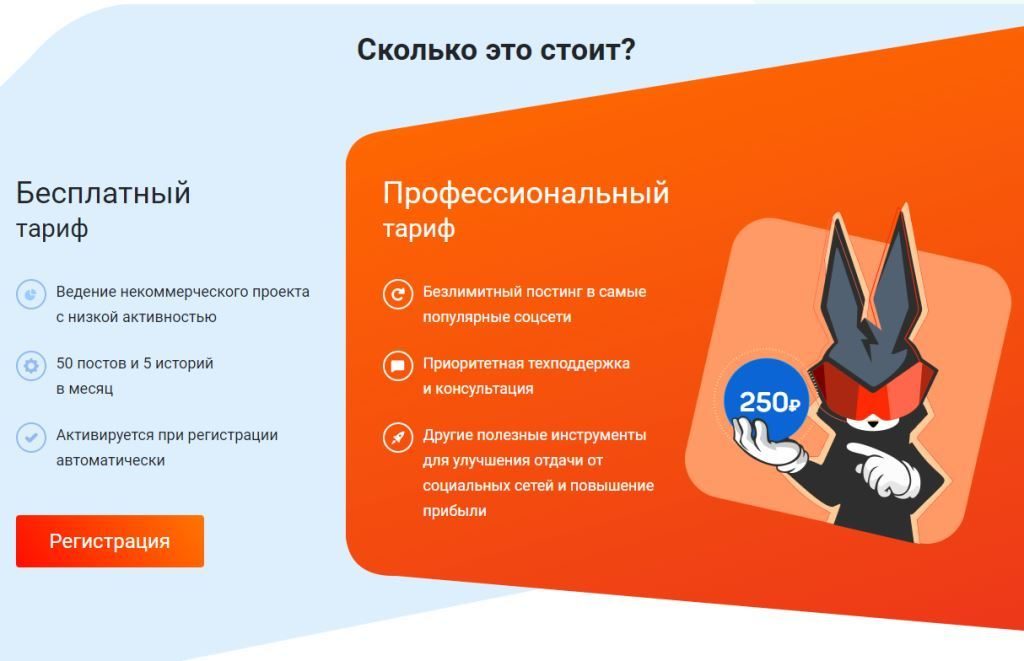 Functional overview
After registering and confirming the email address, you need to add social networks to the project. At the time of this writing, 4 social networks are available: VK, Instagram, FB, Odnoklassniki. Linking social networks is simple and does not cause problems. Only for Instagram, you will most likely need to enter a verification code and confirm authorization through the application on your smartphone. So keep your phone handy, you will need it at this stage.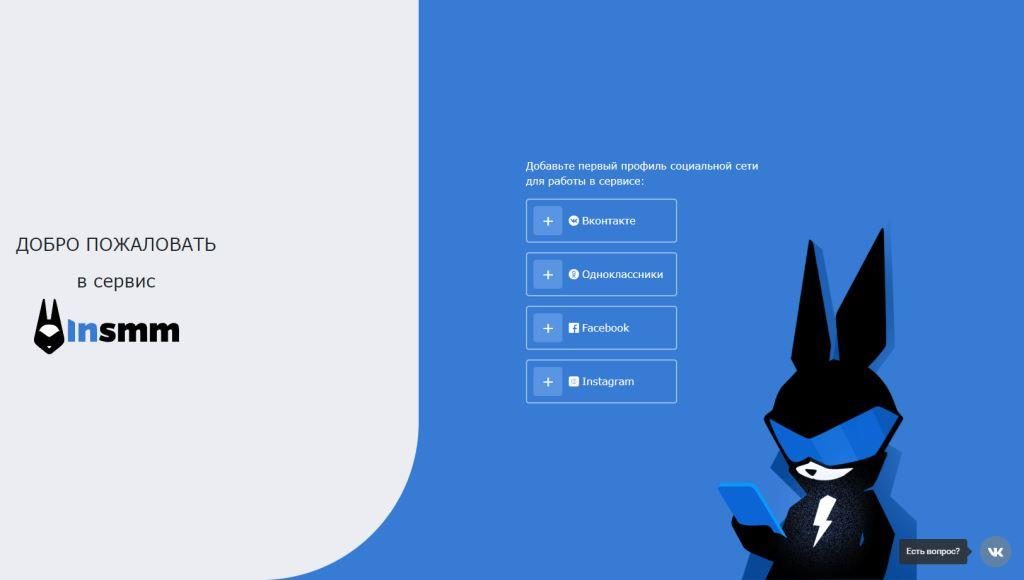 When social networks are linked, pages for posting are selected, you can get to work. The main page of your personal account is a calendar that will display scheduled and published posts, as well as drafts.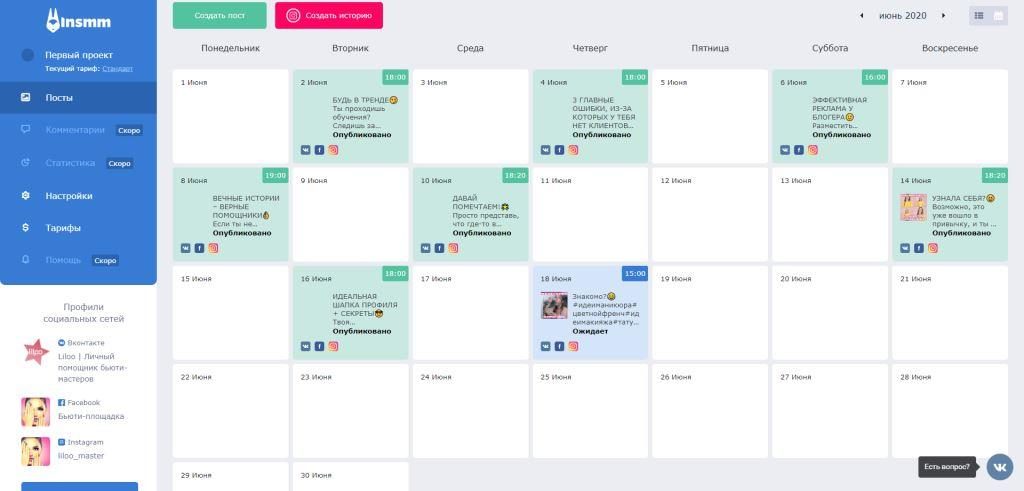 It is also possible to display posts as a "List". In this format, it is convenient to evaluate the reaction of subscribers to published posts: you can immediately see which post received how many views, likes and comments.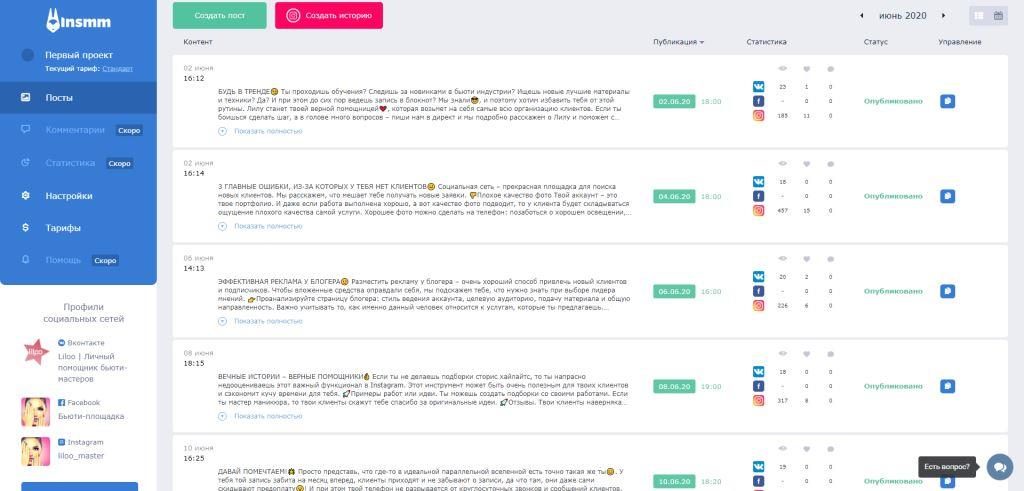 You can create a post by clicking on the button at the top of the screen or immediately on the desired date.
On the post creation page, you can upload the necessary content, add text, emoticons, hashtags to the post.
Content can be changed for each of the social networks separately. This will especially please those who are used to publishing slightly different posts on VK and Instagram (for example, uploading a photo with a short caption and hashtags to Instagram, and adding links to the site to a post on VK).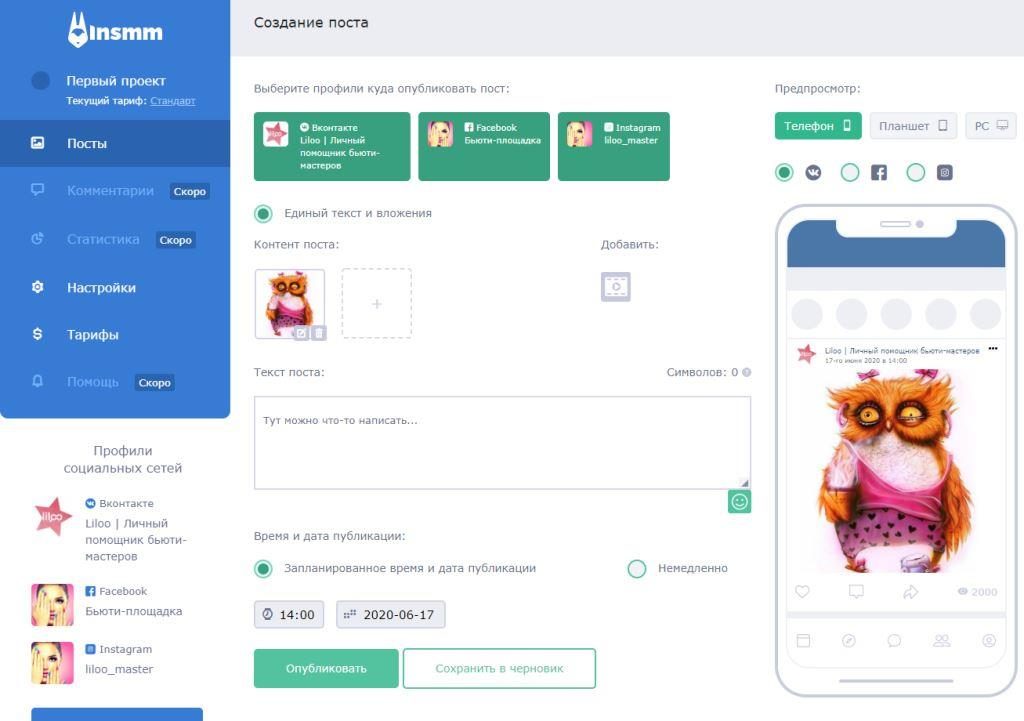 InSMM has a built-in photo editor that allows you to process pictures. Available: cropping and rotating images, filters, adding emoticons and text, adjusting brightness, contrast, focus and saturation.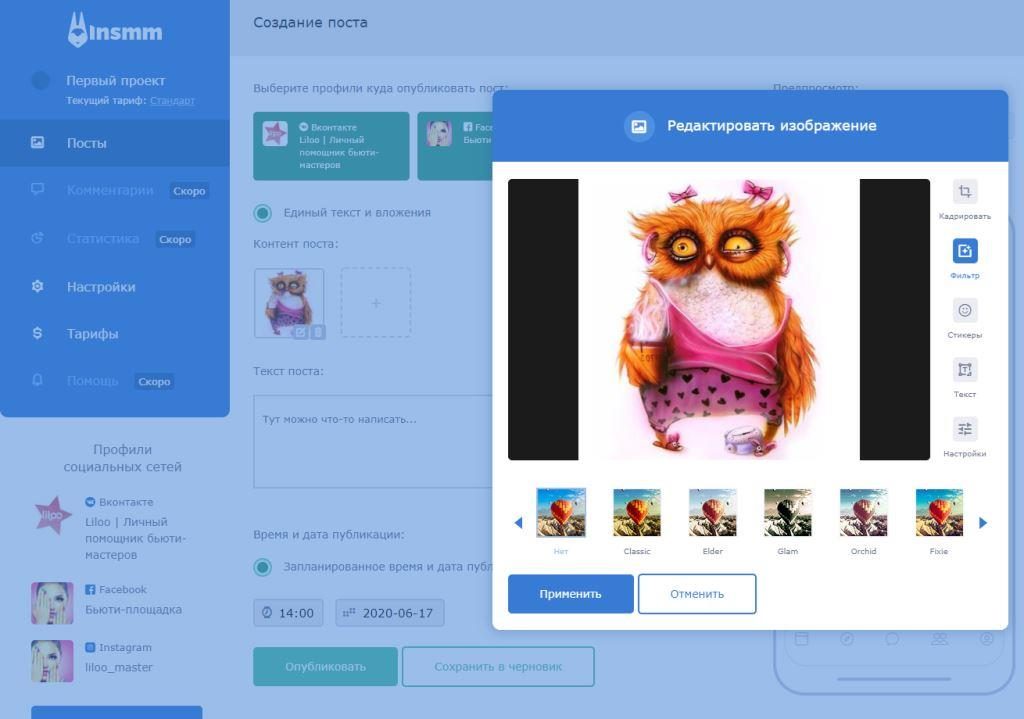 On the right is the preview window. A very useful feature. With its help, you can see in advance how the post will look on a particular device in your subscriber's feed and check the post for errors again before submitting it to the queue. If for some reason you cannot finish the design of the post right now, you can save it as drafts and return to it later.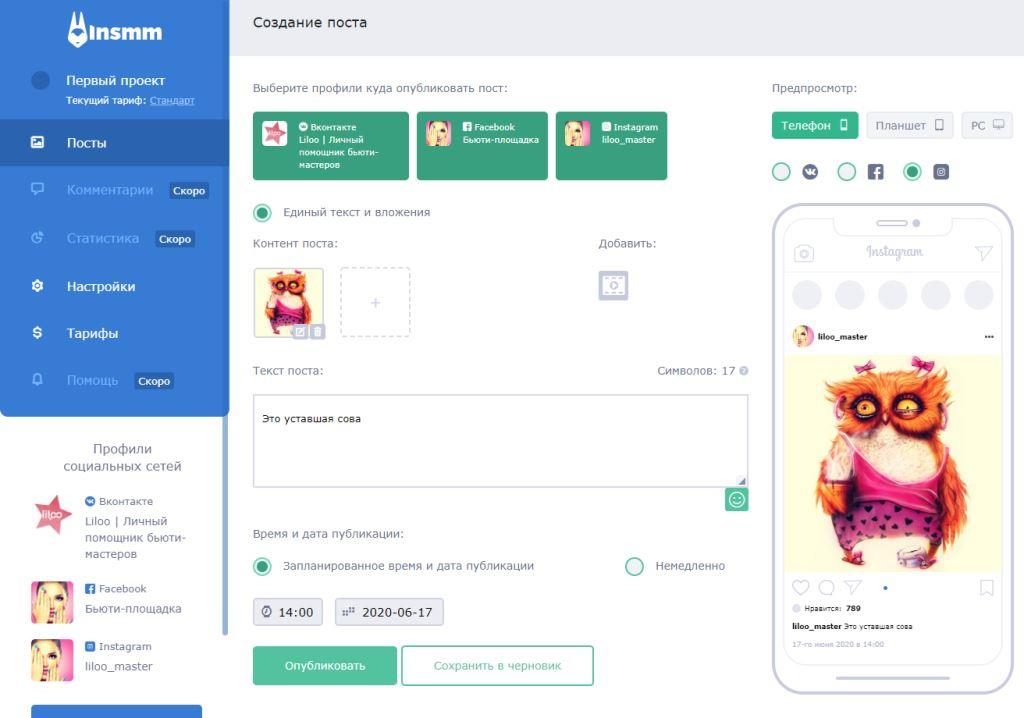 The finished post can be published immediately or scheduled for the desired time and date.
A scheduled post can be copied, removed from the queue, or edited.
Already published – just copy. If you want to edit or delete, you will have to do it directly through the social network.
Tariffs and free use
InSMM is one of the few services that provides tools for working with social networks for free, not in demo mode, but without time limits.
The free plan takes effect immediately after registration. It has some limitations:
50 posts per month (sending a post to 3 social networks immediately counts as 3 posts);
5 Instagram stories per month;
500 megabytes for file storage (allows you to copy previously published posts and not re-download content);
there is no way to post videos.
The cost of a paid tariff starts from 250 rubles per month. Switching to a paid plan gives you:
removal of restrictions on the number of posts and stories;
the ability to publish videos;
increase up to 1 GB of disk space for storing files.
When paying for six months or a year, good discounts are provided. In addition, you can use a promotional code when replenishing the balance. This will give a bonus to replenishment. Thus, the paid tariff will be even cheaper.
Results
In short, InSMM can be a great help in maintaining pages on social networks and will save you a lot of time.
Separately, we can highlight the advantages:
simple and intuitive interface;
frequent useful service updates;
possibility of free use.
Internet marketing expert. Head of marketing agency MAVR.
Business degree "Master of Business Administration" (MBA).