TOBIZ Website Builder Review
We will send the material to you by email:
Время чтения:

6

мин.
TOBIZ website builder is a specialized service that will help you make your website online. At the same time, you do not need to have skills or knowledge in the field of web design or to be well versed in HTML or JavaScript. Thanks to more than 1000 ready-made templates from TOBIZ developers, making a website is no longer a problem.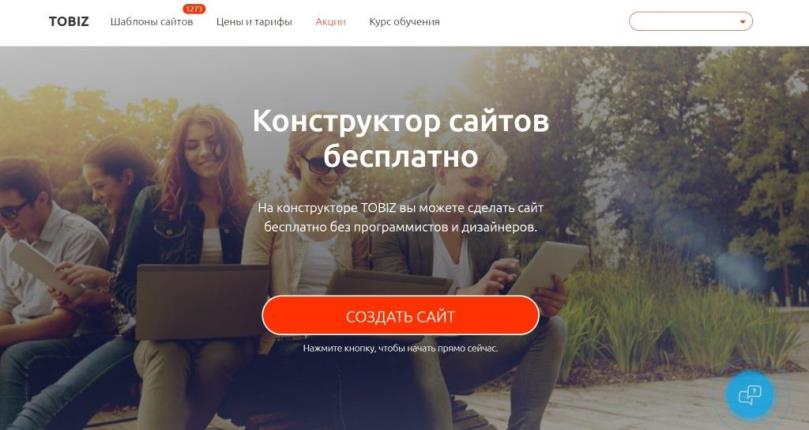 On this platform, you can make not only a simple landing, but also a large multi-page. The service itself is extremely simple. Even the "teapot" will understand everything at a glance and the first click. After all, on the platform itself, everything you need is already there. In particular:
hosting and own CMS,
about 2000 ready-made templates,
technical support without days off and holidays,
built-in convenient CRM and a lot of other good and interesting things.
We invite you to get to know everything better.
Blocks and how they work
You can edit your site or make changes to the design of the project online. You don't need to install anything extra. Each layout contains about 100 very different blocks, which can not only be removed or put back. They can be copied or swapped (moved, for example). And the blocks here are very different. Namely:
hats and covers
menu and reviews,
calculators,
text blocks and site quizzes and much more.
To work with them, just install the block you need and change its content. That is, change the texts, data or photos.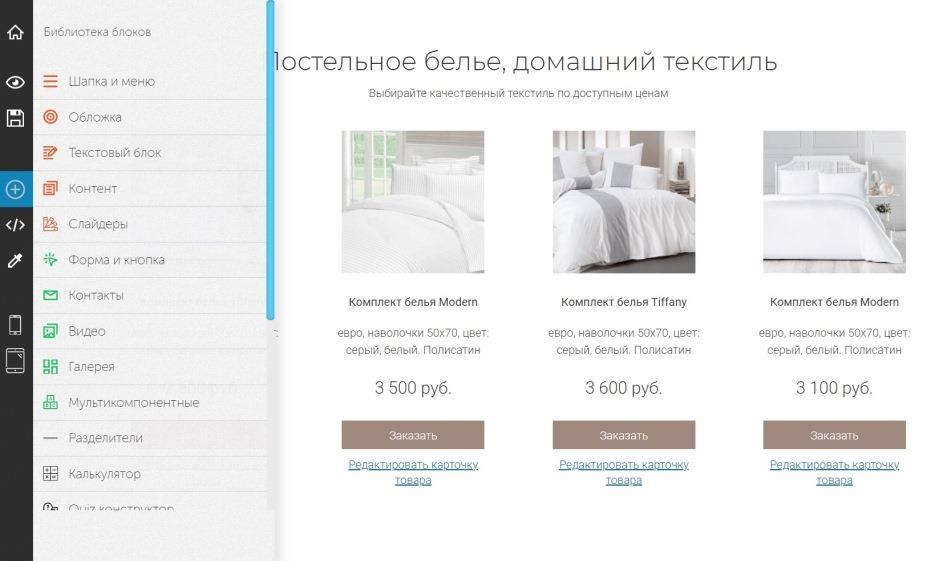 Among other things, in the template itself you can change:
spacing between blocks
text fields,
parameters of uploaded photos and more.
All blocks that you will add can be copied and moved to another location at any time, deleted or replaced with other similar elements.
By the way, there is another interesting feature here – mass change. It allows you to change fonts, headings, button colors on the entire site in three clicks. You do not need to go from one page to another and change everything manually.
For the convenience of working on the constructor, there is a block-reference. With its help, the creation of even a huge multi-page is significantly reduced. In other words, by creating a block with a menu on the main page, setting its ID in the link block and placing this block on other pages of the site, you will no longer need to change something every time on all pages with a menu block. And only on one on the main.
Suppose you need to integrate a widget of some social network, write your own code or make your own changes to the template, use a special code editor block. Just write your HTML into it and your site has everything you need! And exactly the way you want it.
For online stores, there are also many options for catalog blocks. And again, everything is simple: choose a block, upload photos or videos of products, their prices and descriptions. And it's done!
Technical support
User support works both by mail and by phone. Mostly by mail.
Widgets
The TOBIZ constructor allows you to place a lot of useful widgets on the site created here. Such, for example, as:
callback,
pop up,
no-exit and others.
All this will not only make the site user-friendly, but also automatically increase its conversion. As usual, working with all widgets is simple and clear, you can change your pictures and texts in them. Or you can just leave everything as it is and, say, change only the size of the discount.
AV test
Great built-in function on the constructor. With it, you can not only make a multi-page resource out of a one-page resource in a couple of minutes, but also immediately start looking at the statistics of each of the created pages.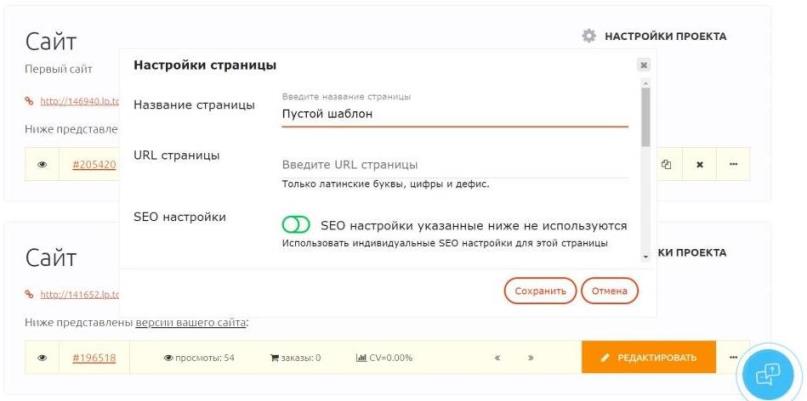 Copying pages (creating new ones) is not difficult at all. All you need to do is press one button. Sounds like fiction, but it's a fact.
Mobile version of the site
Another "tasty bun" from the developers of the constructor: they thought through everything to the smallest detail and created a built-in mobile version. It appears automatically for you. You don't need to connect it additionally. By the way, this version is as visually convenient as it is for desktop.
Service integration
If you have an online store or just a site that involves the sale of services and you need to install a payment system, then this is also not difficult. By integrating various payment services, for example, Robokassa, Interkassa, you can do this quickly and easily.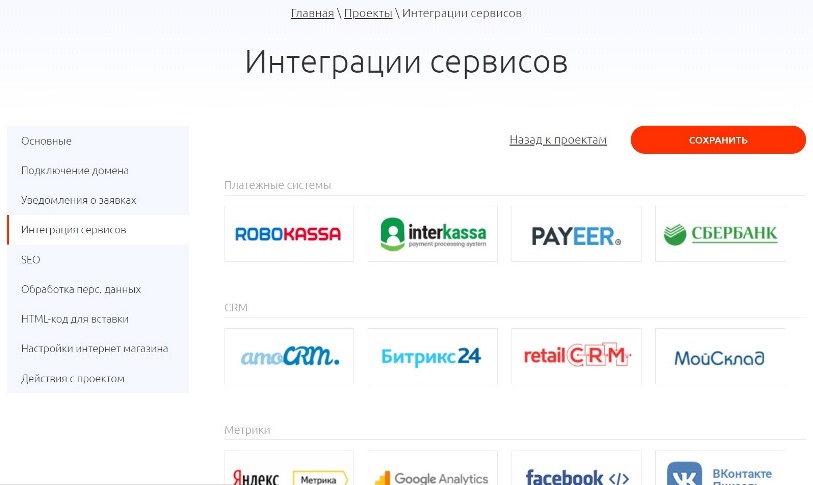 There is also the possibility of integrating such services as Bitrix24, MySklad, Payeer, SendPulse and many others.
Embedded CRM system
This feature appears automatically for every new user. With its help, it becomes much easier to process applications from customers and build a productive dialogue with them. Indeed, the entire chronology of work and sales of the buyer is fully preserved in the CRM of the constructor. What makes all work as comfortable as possible. Both for you and for the client.
At the same time, you can fully customize CRM for yourself. The functionality here is also extensive. It is a pleasure to use!
Earnings on affiliate
Do you want to not only create a website, but also earn money by attracting new partners? It's possible! The constructor has its own profitable affiliate program. By registering in it, you receive an affiliate link. And from all partners who came through this link, who became clients of the constructor, you will receive 50% of the payments they make. Moreover, this will happen every month and for life, while the people you brought in use the constructor.
Tariff plans
You can also choose the tariff that is most convenient and beneficial for you here. The cost of the minimum is 360 rubles per month. Maximum 960 rubles per month.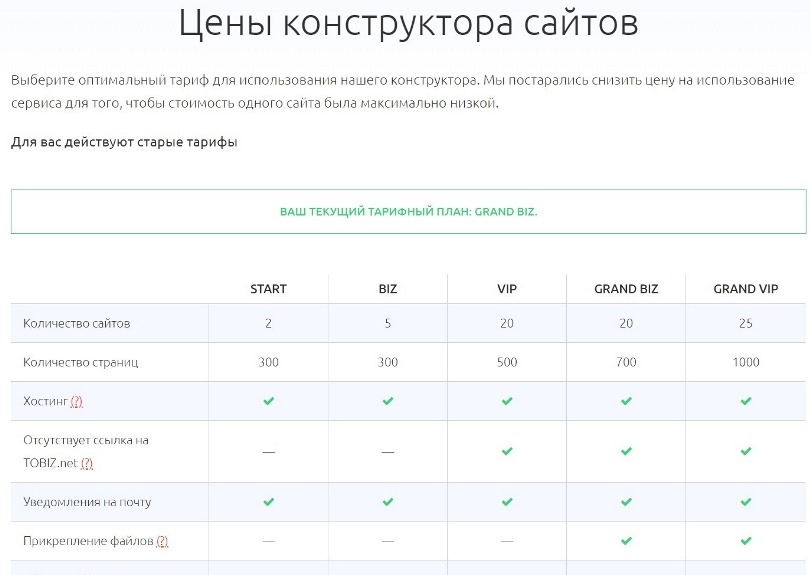 At the same time, each new user at the initial stage receives 14 days of free use of the service. During this time, you can fully explore the functionality of the constructor, evaluate its capabilities and understand whether you want to continue working here further. And if everything suits you, just choose the desired tariff and work. Very comfortably!
Pros and cons of TOBIZ
So let's recap. What are the advantages here. And what are the disadvantages. The advantages include the following points:
many stylish and cool designed layouts
large selection of template themes
own CRM
technical support by mail 7 days a week
hosting
own CMS
a large selection of integrations with third-party services (Robokassa, Interkassa and others)
your course of study (and completely free)
The Blog has a lot of useful and detailed video instructions for creating websites
promotions with discounts on tariffs are regularly held
initially low cost of tariffs
the ability to create a project from scratch
convenient and simple site editor and templates
profitable affiliate program.
There are not many cons. But they are also worth mentioning. So, these are the points:
there is no possibility to purchase a domain on the service yet (but at the same time, technical support specialists will always help you to connect it)
technical support works on Moscow time (which is not always convenient for other regions, but at the same time they respond quickly in any case)
As you can see, there are not many disadvantages, but there are many more advantages! Yes, and the functionality of the designer pleases. Separately, I was also pleased that the guys regularly improve and update something. In a word, they do not sleep and keep their hand on the pulse.
Internet marketing expert. Head of marketing agency MAVR.
Business degree "Master of Business Administration" (MBA).
Why do small and medium businesses need end-to-end analytics and how to choose a system in a crisis?