Overview of services for exporting comments, likes, followers from Instagram – Export Ninja and Picodash
We will send the material to you by email:
Время чтения:

4

мин.
If you are an active Instagram user, an SMM agency or a freelancer, a beginner or an experienced blogger, then after reading this article, your life will become much easier 🙂

Let's try to start with competitions and hold them as expected!
Over the past couple of years, several tens of millions of contests have been held on Instagram. An Instagram giveaway is a great way to attract an audience or increase the activity and engagement of your current one.
When a blogger or commercial account decides to participate or organize a giveaway, the question arises as to the sponsors of this giveaway. There are several options for resolving this issue. Either the blogger finds sponsors himself, among interested people, or he turns to special companies with experienced organizers.
What are sponsors for?
Giva sponsors allow you to collect a sum of money for which gifts will be bought, or the amount itself will be a prize. In turn, all sponsors receive new subscribers, since each participant who wants to participate in the drawing must subscribe to their account in order to win.
How is the giveaway winner determined?
The winner is usually determined at random. Most often, according to the conditions of the draw, it is required to write something in the comments in the Giva profile. Since, as a rule, the audience for the draw is rather big, the number of comments can be thousands, or even hundreds of thousands. In such cases, you should carefully follow all the comments so that not a single participant is lost.
Unfortunately, the Instagram platform does not provide convenient ways to upload followers of various pages, comments and likes under posts, which makes it much more difficult for instagrammers, bloggers and even SMM freelancers and agencies to hold contests for a large audience.
To do this, we want to introduce you to two services that can help you work with giveaways, and compare which one is better.
There are two main services that will easily help you export anything from Instagram. The conversation will be about Export Ninja and Picodash.
Below we provide a comparison of the two services comparing their capabilities:
| | | |
| --- | --- | --- |
| | Export Ninja | Picodash |
| followers | yes | yes |
| following | yes | yes |
| comments | yes | yes |
| likes | yes | yes |
| user posts | yes | yes |
| user tagged posts | yes | yes |
| hashtag posts | yes | yes |
| location posts | yes | yes |
| Pricing | | |
| Comments | Export Ninja | Picodash |
| 2000 | 4$ | no option |
| 10,000 | 9$ | 10$ |
| 30,000 | 14$ | no option |
| 50,000 | no option | 24$ |
| 100,000 | 29$ | 50$ |
| 200,000 | no option | 100$ |
| 1,000,000 | 99$ | no option |
| need more? | contact support | contact support |
Based on the above table, the Export Ninja service is more useful for exporting, especially when it comes to pranks.
ninja-copy.com (closed) – a tool for uploading comments, likes, followings and followers from Instagram to Excel spreadsheets and Google Sheets. SMM freelancers spend up to an hour writing 1,000 comments, but Export Ninja does it in 10 seconds!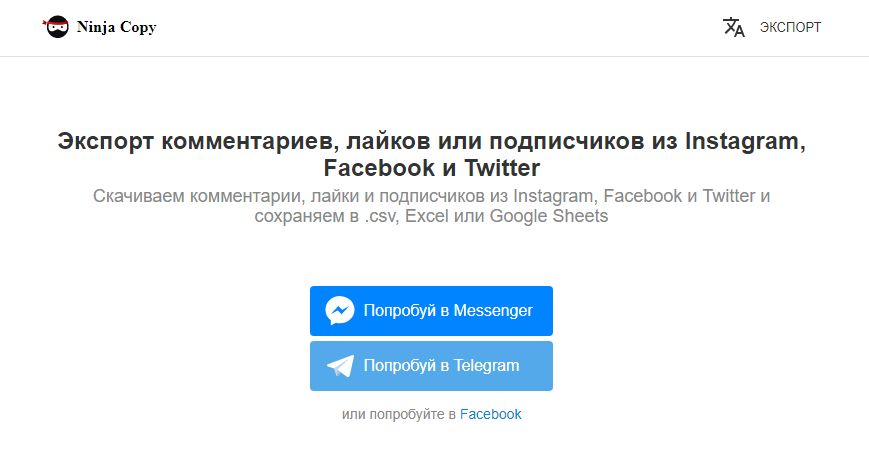 How it works?
Go to the service page – ninja-copy.com
You can use the service in Facebook Messenger or Telegram, choose what suits you best.
After opening and starting a chat, the bot will ask you to reset the link to the Instagram post or profile from which you want to download comments, likes or followers.
After you reset the link, the bot will ask you to choose what you want to upload and after that will report the expected upload time.
After the upload is completed, it will send you a message with a link to an Excel file and a link to Google Spreadsheets.
After a successful upload, you can choose the winner of the contest using third-party random number generation services.
It's free?
The service allows you to upload up to 100 comments, likes or subscribers for 1 upload for free. If you want to upload more than 100 pcs. for one unloading – you need to purchase one of the tariffs:
2,000 pcs. for 4$
10,000 pcs. for 9$
30,000 pcs. for 14$
100,000 pieces for 29$
1,000,000 pcs. for 99$
What else can I upload using the service?
Ninja uploads comments from public page posts from Facebook, retweets and followers from Twitter, comments from YouTube videos.
In addition to contests, you can conduct advanced marketing to the audience of competitors' subscribers, collect email business, analyze the mood of the brand's audience, and much more!
Internet marketing expert. Head of marketing agency MAVR.
Business degree "Master of Business Administration" (MBA).