Overview of the service for promoting on Instagram – SMMflow (closed)
We will send the material to you by email:
Время чтения:

3

мин.
The SMMFlow service is a web application that can be used from any device and operating system. Designed to automate the promotion of Instagram pages, as well as maintaining one or more profiles. The service is perfect for small business owners, novice bloggers, as well as people providing online services (psychologists, business coaches, marketers). For SMM-specialists, the possibility of promoting several accounts at once is implemented, you can conveniently switch between them in the menu.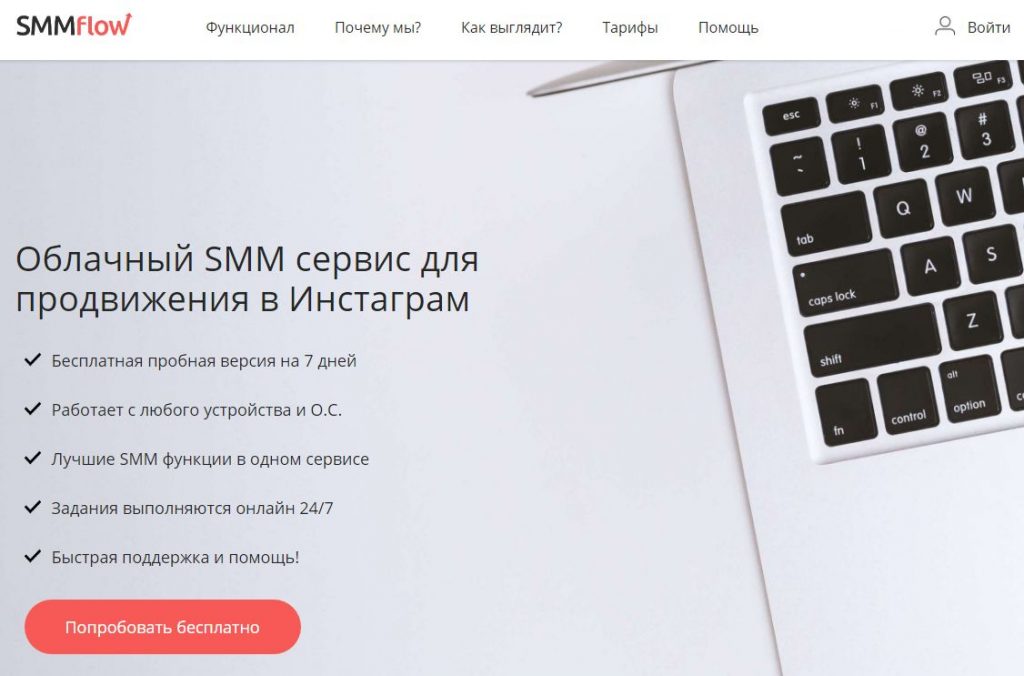 Main functions
Target Audience Search
by hashtags;
by competitors;
active audience;
by geolocation (geotags);
who liked the post;
you can insert your list of pages.
Massliking
Massfollowing (Mass subscription)
Unsubscribe
Comments
View Stories
Greeting new subscribers.
Mutual subscription / liking (in addition to the message or separately).
Direct (Sending private messages)
Autoposting (publishing posts at a given time)
Statistics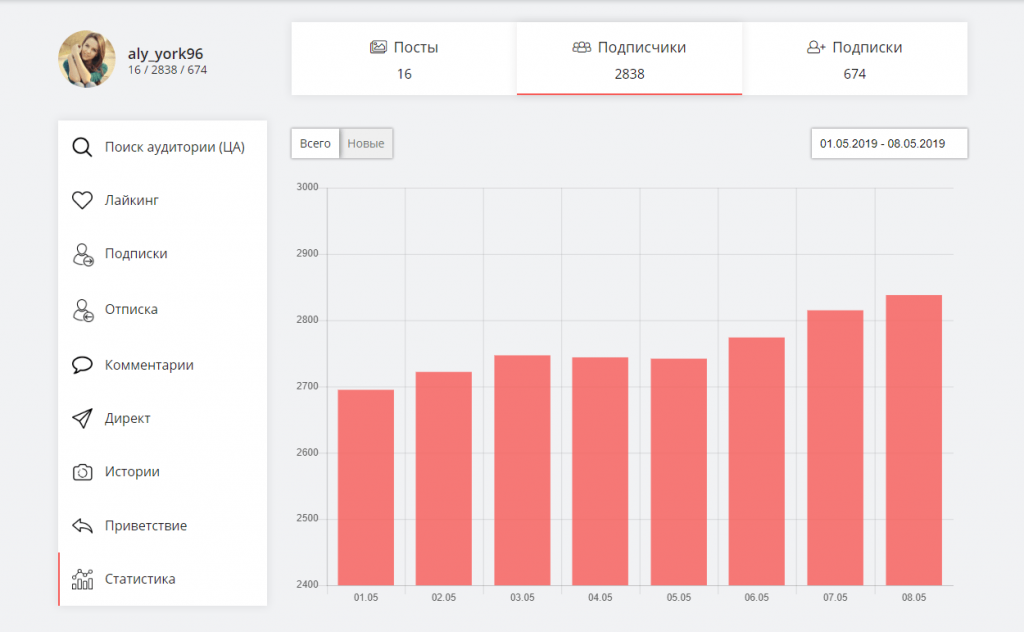 Principle of operation
We collect one or more bases with our target audience. When collecting, an exhaustive selection of filters is available, such as the number of subscribers / posts, the presence of an avatar, stop words, etc.

In any section, for example – "Subscription", select the bases for which we want to start a mass subscription. Click "add. settings" if you are not satisfied with the default and run the task.

After these two simple steps, the job will run until the databases run out of pages. Staying on the site is not necessary, after setting up tasks, you can immediately exit, since all tasks are performed in the cloud.
When creating tasks for a subscription, in addition. settings, you can choose the number of days after which you want to unsubscribe from these pages. Thus, you can control the number of subscriptions without clogging your account, and without stopping the promotion to unsubscribe.
On the "Posting" tab, you can configure the publication of posts at a specified time. This feature is especially useful if you are going on vacation – you can add posts for a week in advance so that the page does not idle. In one post, you can publish both just a photo and a series.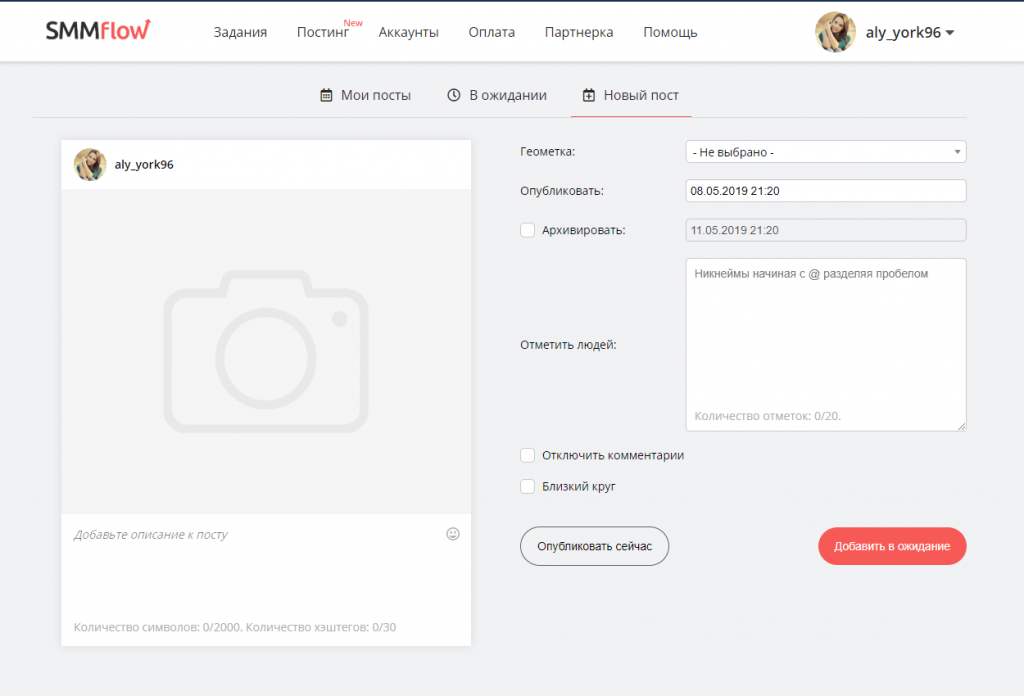 Service benefits:
Free trial period for 7 days;
Can be used from the phone without functional restrictions;
The service uses a proxy for the secure operation of accounts;
It is possible to add and promote several pages at the same time, simply by switching between them in the menu;
The target audience databases are collected separately from the tasks, which makes it possible to work from several accounts at once using the same database;
Tasks for money can be edited during their execution. For example, change the number of likes per post or the number of subscriptions per day;
from 128 rubles / account per month (tariff "For Business").
Service Disadvantages:
The free plan does not include Direct, view Stories and Greetings;
In posting, there is no way to publish stories (only posts).
Tariffs SMMflow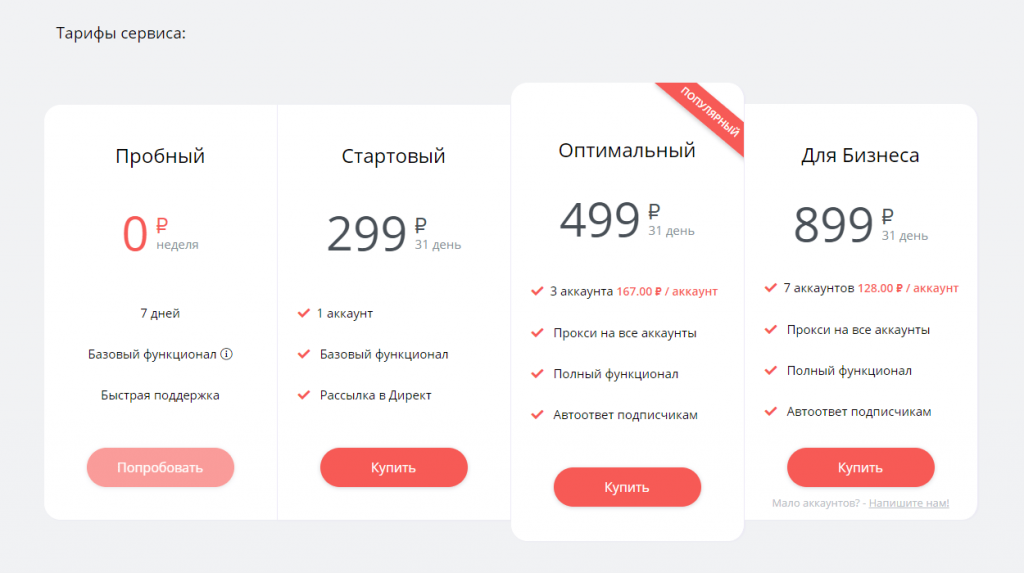 Trial
1 account
Basic functionality (without Direct and Greetings)
Free / 7 days
Starting
1 account
Basic functionality (without Greetings)
Direct
299 rub. / month
Optimal
3 accounts
All features
Proxies for all accounts
499 rub. / month
For business
7 accounts
All features
Proxies for all accounts
899 rub. / month
128 rub. each additional account (over 7 in the tariff)
Internet marketing expert. Head of marketing agency MAVR.
Business degree "Master of Business Administration" (MBA).