Do you like to study the way I love, or My review of studying at I-MARKETING SCHOOL
We will send the material to you by email:
Время чтения:

4

мин.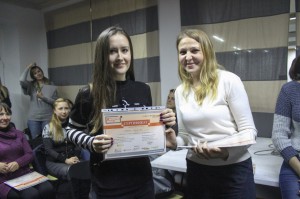 Author: Emilia Levdanskaya.
Hi all! Today I would like to share my impressions of studying at the wonderful Internet marketing school I-MARKETING SCHOOL. I will try to answer the most important questions. Such as:
What are they teaching?
How does the training take place?
Who is teaching?
Who will benefit?
And why is it needed at all?
What are they teaching? If it seems to you that this is a stupid question (what can they teach in an Internet marketing school?), then first answer yourself, what do you even understand by the term "Internet marketing"? In fact, this area of traditional marketing can be called one of the "youngest" professions. In addition, it has a rather important feature: as in many other specialties directly or indirectly related to the Internet, there are constant changes that need to be monitored. Roughly speaking, if you are not ready to study all your life, then you will not achieve great success.
In our area, Internet marketing (or, as it is also called, online marketing) has appeared quite recently, so few people have any idea what it is. To be convinced of this, it is enough to open, for example, a local job search website and read some lists of requirements for candidates for the position of an Internet marketer. It would be funny if it were not so insulting (for the profession)! Here, a comparison would be appropriate: Internet marketing is like a Chupacabra. Everyone has heard of it, but no one really knows what it is. I know, bearded, but, in my opinion, very to the point!
How does the training take place? Classes are held in the evening 2 or 3 times a week (depending on which online marketing courses, beginner or advanced, you have chosen). Another significant plus is that to consolidate the material after each "lesson" homework is given. And then most of the teachers give feedback: give grades, explain in detail what the mistakes were, etc. Thus, even if you missed something or misunderstood something during the lesson, after such a "debriefing" there will be no gaps in your knowledge.
Who is teaching? This is the most important question in my opinion. School teachers are practicing professionals. That is, in fact, people who do this every day come and share their experience, best practices, and valuable advice. As I said, the profession is very "young" and everything changes very quickly in it. So, specialists working in this field need to constantly monitor changes, attend specialized events: seminars, conferences, etc. So, I noticed that after studying at school, I already know most of what is shared at such events! That is, if you want to get the most relevant and useful information in a short time, then the school is the best option for you. In addition, it is much more profitable, because to get the same amount of knowledge, you would have to attend more than one seminar, or even two. In general, consider yourself.
And, finally, the most important thing: who will benefit from it and why is it needed at all? After I completed the entire course of the school, I can say with confidence that the training will be useful to all young (and not so) marketers who want to improve their skills, so to speak. To all people who conduct their business activities (now everyone understands that online marketing is indispensable). And also to all specialists whose work is somehow connected with the promotion of business on the Internet. For what it is necessary, in my opinion, it is no longer necessary to explain.
Sorry, but I can't do without lyrics now! My course ended last week, but only today I realized that I no longer need to rush anywhere in the evenings, there will be no more of these homework for which there is always no time, I will no longer see my "classmates" … And I somehow felt sad… I think guys, I miss you.
I want to say thank you, firstly, to the organizers! For starting this project. Also to all teachers for generously sharing such valuable information with us! And also to all your new friends just for being you! Thank you for the useful knowledge, acquired skills, new emotions and impressions! You guys are all very cool! I will miss you…