Page promotion on Facebook. How it works?
We will send the material to you by email:
Время чтения:

11

мин.
Facebook is actively promoted by both professionals and amateurs. How to achieve tangible results from promotion? How not to step on the same rake again and again? We will talk about this with you now.

How to start promoting on Facebook?
The first step is always the same – to draw up a strategy. There is no need to rush here. It is important for yourself to understand the goals of promotion and what you want to get in the end. Already going to create and design a page? Stop! It's time to study your competitors. The number of competitors studied does not matter. The quality of the research matters. Competitor analysis should be done in the form of a comparative table in Excel or World.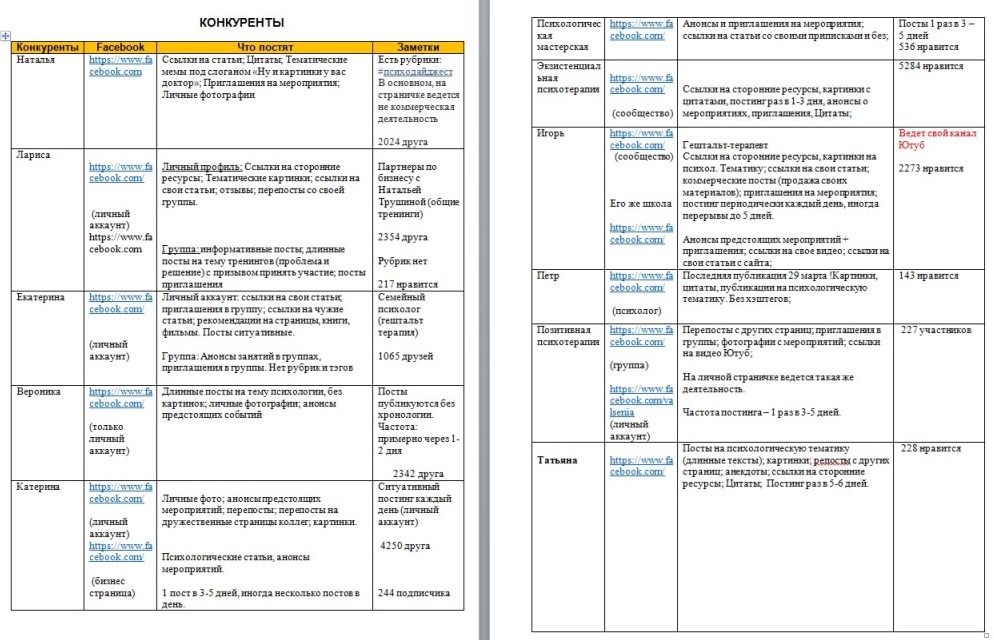 The more in-depth analysis is done, the better.
When exploring a competitor's Facebook page, pay attention to:
Design style;
Name and specified information;
Semantic load of posts;
Posting frequency and time;
Response of subscribers (likes, shares, comments);
Interaction with subscribers;
Popularity (number of subscribers);
The presence or absence of tags for posts;
Where, besides your own feed, posts are published.
You will be surprised how important even small nuances are when studying competitors. Often, this information allows you to more accurately formulate a portrait of the target audience, and, therefore, correctly draw up a strategy.
A strategy is a general plan for promoting a Facebook page. This is where you write down the concept of the campaign:
what will you promote (page, group or account);
How will you design the product?
what headings and posts will be;
define tags;
choose the frequency and time of posting;
determine the methods of promotion (if publications are in groups, then in which ones; if opinion leaders, then who exactly, etc.).
It is best to draw up a strategy in World.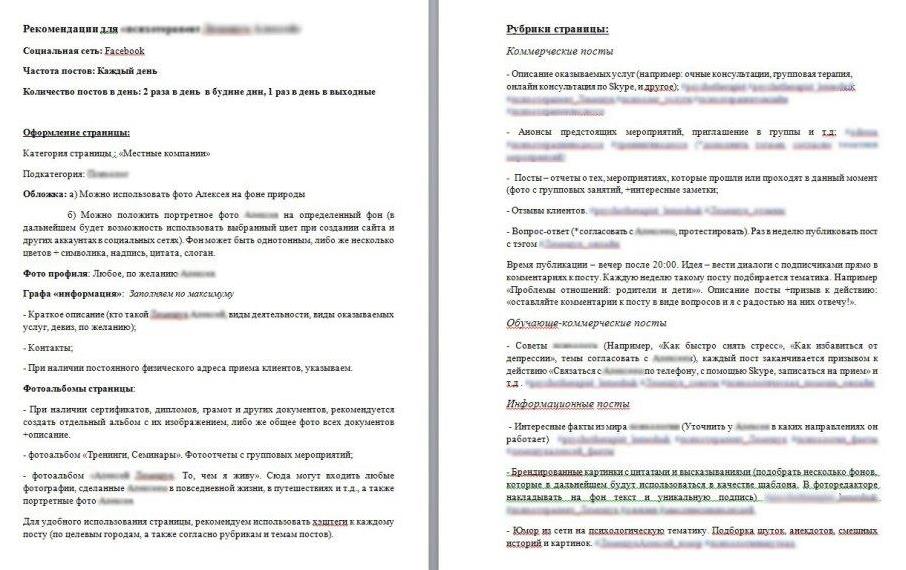 To automate the analysis of competitors, there are special services, which we will talk about in the block about the tricks and tricks of promotion on Facebook.
Getting Started Designing a Facebook Page
Hooray! The analysis of competitors is ready, the strategy is drawn up. Finally, you can create your masterpiece.
First you need to determine what you will promote: a commercial page, a group or a personal account.
There are a number of significant differences between a group and a Facebook page.
Group:
can be closed (participants can join by invitation, entries are visible only to participants);
applications cannot be added to the group;
to a greater extent, it is intended for communication of people of the same interests;
no statistics on interaction with the group,
you can invite people without their knowledge, which, of course, annoys users;
there is a survey functionality,
limited advertising opportunities.
Page:
visible to everyone – both registered Facebook users and not;
perfectly adapted for commercial activities (you can successfully sell any product or service);
the number of fans on the page is not limited (like marks);
there is advanced analytics, whereby you can immediately compare the engagement of your Page audience with the pages of competitors,
Poll functionality is missing.
Personal account:
the number of friends is limited to 5000 people;
in case of active actions (adding strangers as friends in large numbers; having a fake name in the profile, for example, "Real Estate Sale"), there is a high risk of blocking the account by Facebook;
binding to a specific person, if you specify the real name and surname. Personnel in the company may change periodically, but the brand name remains unchanged for years.
If your ultimate goal is to sell goods or services, increase brand popularity, get leads, then a Facebook page and promotion is the best option.
With a personal account, everything is clear. But for the page you need to determine the type. Facebook offers 6 types of business pages to choose from:
Local companies;
Company, organization or institution;
brand or product;
Performer, musical group, or public figure;
Entertainment;
General idea or community.
Depending on the goals of promoting through Facebook, on the type of your product, determine the type of page and category (page theme).
First, if your company has a physical address, the Local Companies type will be the most efficient. By specifying your address, in the future, users who have visited you and who want to leave a post will be able to check in (put a geolocation with your address), which will also become an advertisement for your page.
Secondly, the "Reviews" option is available for the "local companies" type, thanks to which your customers will be able to leave real reviews, thereby raising the rating of the company.
IMPORTANT! Do not skip fields in the first stages of page design. The more data you enter, the better. Remember, a Facebook page is a business card of a company along with a website. And in some cases, its promotion is carried out without the existence of a site.
The purpose of designing a page or group is to make it so that when they get to them for the first time, visitors understand what kind of company you have, what products or services.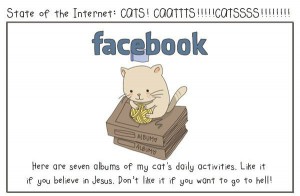 PAY ATTENTION to the url of the page. If the page name is in Russian, then your url will look something like this: http://www.facebook.com/%D0%9F%D0%BE%D0%B8%D1%81%D0%BA%D0%BE% D0%B2%D0%BE%D0%B5%D0%BF%D1%80%D0%BE%D0%B4%D0%B2%D0%B8%D0%B6%D0%B5%D0%BD%D0% B8%D0%B5/%D0%A4%D0%B0%D0%BA%D1%82%D0%BE%D1%80%D1%8B%D0%BF%D1%80%D0%BE%D0%B4 %D0%B2%D0%B8%D0%B6%D0%B5%D0%BD%D0%B8%D1%8F%D1%81%D0%B0%D0%B9%D1%82%D0%B0/% D0%9A%D0%B8%D1%80-356209378049958
To put the address in order, you must enter the username in Latin letters in the "information" section. The correct link looks like this: https://www.facebook.com/vladislava.rykova/
Not only text design should be logical and complete. Visual content is just as important. So, if you sell shoes, the banner at the top of the page should have a photo of your shoes in any variation. Give preference to your own photo content. And only in its absence, use pictures from the Internet.
The banner can be branded (with the company logo, slogan and other paraphernalia).
It is equally important to choose the right profile photo. It is logical if it will be a logo or a photo of your product. If you provide services, this may be your personal photo. In any case, the picture should evoke associations with the information that is indicated on the page.
REMEMBER, sometimes originality lies in simplicity. Surprise thousands of people will not work. Be understandable to your target audience. That's the whole secret.
How to write a content plan for promotion on Facebook?
When the page is ready, for effective promotion it is worth developing a content plan. Read more How to create content for social networks? It will allow you not to fuss at the last moment, looking for videos, processing photos or writing texts. Leave a gap in the plan for situational publications. Determine for yourself the time and frequency of posting (this is where competitor analysis comes in handy).
It is convenient to draw up a content plan in Excel, where on the first tab you place information about the dates and times of posting, according to tags or headings, on the second tab – directly, the content itself.
Do you need hashtags on Facebook? Many respond negatively: "Hashtags? Facebook? Nonsense! To be tags or not is up to you. But let's see why they are needed.
With the help of tags, the user of social networks is looking for this or that content. Tags can be:
Unique (those that only you use);
Thematic (those that correspond to the topic of the post).
Tags are a kind of rubricator. If you have a content plan, then for sure you have determined the categories of posts for yourself. Tags will help you and your readers not to get confused. For example, you maintain a column of advice on your Facebook page with the tag #petrov_advises. Readers see your post in the feed. They like your post and want to read all the other posts on this topic. What to do? Go to the page, and then long and tedious to look for what you need? Only a few are capable of such feats. But tags will make the task much easier.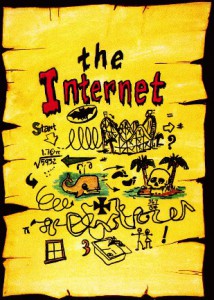 By the way, unique tags are part of branding when promoting a company on Facebook. One style, one concept. Moreover, in the future, people will be able to post posts about your product / service using a unique company tag.
Also, read the 7 best tools to track the performance of your hashtags.
What to post? You can post in real time, you can use delayed posting in the Facebook network itself, or you can use various third-party services. The most popular is SMM Planner.
Tip – when choosing delayed posting, use third-party services. According to numerous observations of smm managers, Facebook ranks such posts better.
Content uniqueness. Of course, it's nice to read unique content. And if it is useful and visually easy to perceive – a huge plus. But in war all means are good. So combine your content with what the world wide web has to offer.
In my experience, Facebook ranks best for posts that contain video content. In second place are GIFs. On the third – ordinary pictures. But this does not mean that you should only post videos and gifs. The promotion of groups on Facebook should include the whole range of measures – alternate types of content. Moreover, you can safely try to write longreads (long posts). The main thing is to hook the reader from the first lines. Storytelling (real and fictional life stories) is especially well received.
Free ways to promote on facebook
Let's say you already have a beautiful page, you have started to actively publish posts. But the number of subscribers is not growing. Unfortunately, posting interesting content is not enough. Community promotion on Facebook is a complex of actions. Systematic, well-thought-out, competent and long-term set of actions. Don't expect quick results.
When there is no way to allocate an additional budget for promotion, but you need to do something, use free methods.
Namely:
manual sending of invitations to mark your page as liked (to friends and not only);
free posting in thematic groups (carefully read the conditions in each group);
holding marathons, quizzes, thematic weeks;
mutually beneficial cooperation with other communities and groups where your target audience is (indirect competitors).
Do you want fast results? Pay!
Of course, everyone wants to see the first results as soon as possible. Remember, promoting on Facebook takes time. If you want to speed up the process, you will have to allocate a budget.
What can be done to effectively promote the page:
Hold a Giveaway (a competition under which people share your post, and at the end of the deadline, with the help of a random house, you choose the winner and give him a prize. You determine the conditions of the competition yourself);
Cooperation with opinion leaders;
Publication of records in thematic groups on a paid basis;
Launch of live broadcasts with a preliminary announcement;
Running targeted ads for a Facebook page.
Promotion on Facebook. Tricks and tricks
To truly pump the page, all actions must be performed systematically. In order to optimize the time of work and improve its quality, it is worth using additional services. You will find dozens of such services on the Internet. We list just a few of them:
SMM planner. Allows you to schedule publications for the required period in advance (also works with VKontakte, Instagram, Pinterest, Twitter, Telegram, Odnoklassniki).
FeedSpy – Lifesaver at the stage of competitor analysis.
Text.ru is an indispensable tool for copywriters. But literacy is important in any business. Check your posts for errors before publishing.
Popsters – community content analytics in social networks;
Canva is the most popular fan page photo editor;
Random – will help to hold contests by lot.
Also, read:
40 social media analytics tools;
15 photo editors that will definitely come in handy in the work of an SMM specialist;
TOP-16 delayed posting services in social networks.
"But we didn't go through this!"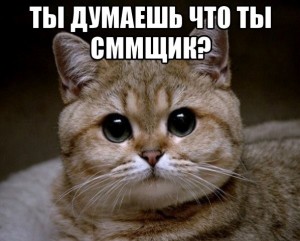 Remember how at school in the classroom we always shouted to the teacher: "But we didn't pass this!", If suddenly a difficult and incomprehensible task turned out to be in the control work. With promotion on Facebook, things are exactly the same. You can read hundreds of books, study thousands of successful cases, complete courses. And the promotion of the site through Facebook will remain a mystery. After all, monthly updates appear, the rules are adjusted. What remains? Always be in the center of events and study the news.
Blogs to keep you up to date:
https://geniusmarketing.me/lab/
http://www.cossa.ru/articles
http://www.likeni.ru
http://lpgenerator.ru/blog/
http://www.zushipletnev.com/blog/
http://allfacebook.com.ua
https://vc.ru/
When Facebook promotion doesn't work
Often, when filling out a brief and developing a strategy, we have a clear idea of ​​the goals pursued. We set deadlines. The main mistake is not to set hard deadlines. Promoting a company on Facebook should have a timing error.
Social networks are a real living organism. You can predict the development of events, but it is impossible to predict them. You know the expression: "Wrong place, wrong time"? And it also happens that Facebook is not your target audience. Or maybe the strategy is wrong?
Working on bugs is the most important stage in SMM.
Remember: the presence of errors is not the same as a bad result. Finding errors and fixing them in time is the right step towards the success of the campaign!
Internet marketing expert. Head of marketing agency MAVR.
Business degree "Master of Business Administration" (MBA).