Overview of the service for complex search analytics Topvisor
We will send the material to you by email:
Время чтения:

4

мин.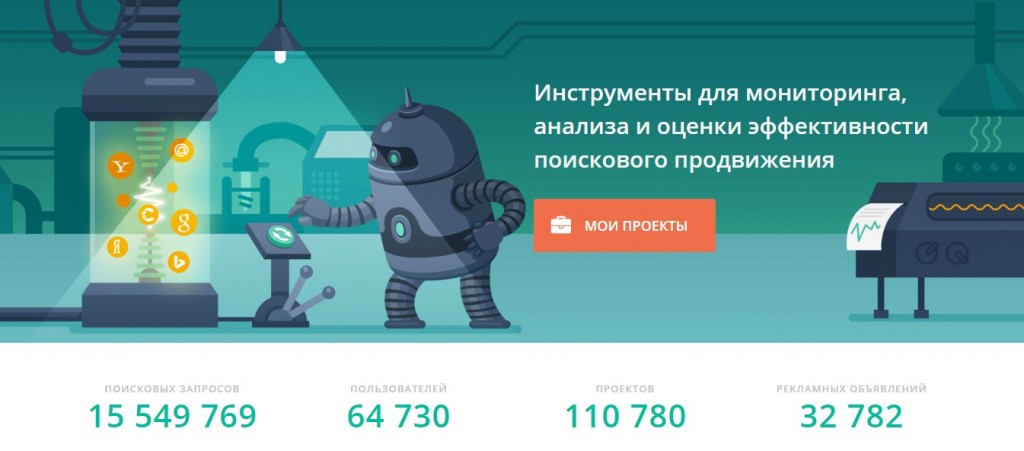 If you are promoting websites in search engines, pay attention to the relatively young but promising online service Topvisor. The interface is simple and convenient, while the possibilities of the resource are pleasantly surprising. The project gives a bonus to each newly registered user – 10 rubles to the account. The amount is symbolic, but it is enough to check two hundred positions. For starters, not bad. Further in the review, we will consider in detail the capabilities of Topvisor.

Registering and adding a project
Registration in the system is not difficult, everything is "standard". Adding a new project and setting parameters deserves attention, since the result of further work depends on the correct actions. Log in to your account using the password given by the system (you can change it at any time). Click the "Add Project" button.

In the dialog box that appears, enter the domain of the site you will be working with. After adding, you will immediately be taken to the settings page. On the left side of the screen there will be links to sections (groups) of settings. When you click on the link, you will see a list of customizable options.

Let's go through some important sections.
"Search engines"
In Topvisor, a collection of keywords and a free check of site positions are available for the following search engines:
Yandex.
Google.
Yahoo.
Bing.
Mail.
Satellite.
For each search engine, you can separately configure the following settings:
Collect or not collect keywords from snippets.
Consider or ignore resource subdomains.
Whether to apply a search filter – "moderate", "family", "no restrictions".
Correct or not correct typos.
Consider general or regional traffic.
"Check interval"
Here you can set the time intervals in accordance with which the site positions will be monitored. Available intervals:
According to the schedule (you can set a specific time and days of the week).
After Yandex updates (either immediately or after a certain period of time).
Number of checks per month (sets the number of automatic checks and the time of their execution).
On-demand scan – self-check in "manual" mode.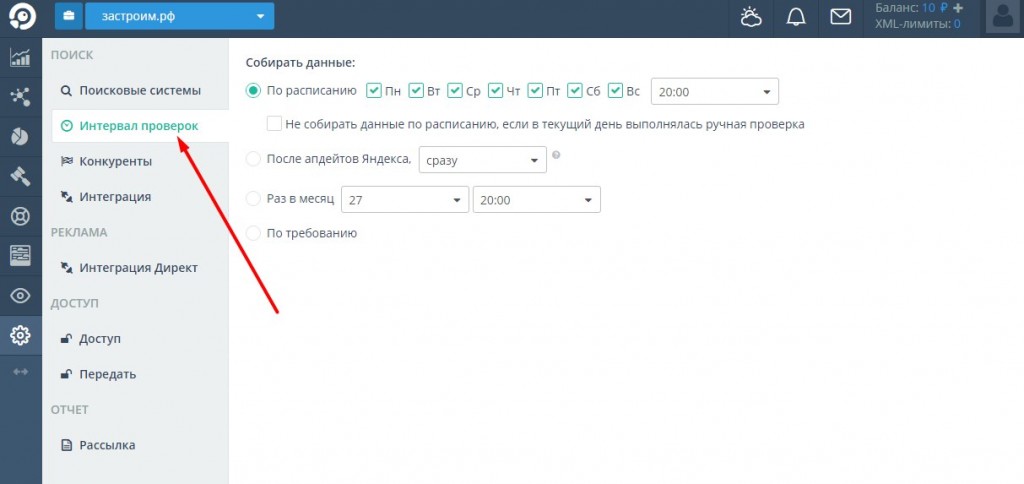 "Competitors"
In this section, you can add the addresses of competitors' websites for comparative analysis.
"Integration"
For convenience, it is possible to integrate search engine services into Topvisor:
Yandex Metrica.
Yandex Webmaster.
Google Analytics.
The Yandex Direct connection is available in the section of the same name.
"Access"
This section sets up different levels of access for other users that you can add to collaborate on a project.
The "Transfer" section makes it possible to completely delegate the management of the site to another person. If you want to receive reports on the service by mail, take a look at the "Mailout" section.
Powerful Toolkit
With Topvisor you can:
Check the search positions of the promoted resource.
Compose a competent semantic core.
Based on the TOP-10 results, cluster (group) requests into a ready-made site structure.
Collect frequently asked search suggestions.
Check the site for errors.
Hold the position of an advertisement in the Yandex Direct network using the Context Broker tool.
Track various changes on the site.
List of main features of Topvisor
Checking positions for a given time interval.
Analysis of the positions of competing sites (5 resources for free, for a fee – up to 250).
Integration with Yandex Webmaster and analytics services (Yandex Metrika, Google Analytics).
Tracking visits from search engines for certain key phrases, taking into account any regions.
Smart grouping of key phrases.
Selection of keywords and compilation of the semantic core.
Phrase frequency display.
Reports on Yandex updates.
API.
Automatic and manual adjustment of the frequency of checks.
Checking depth up to the 1000th position.
Import and export of list files (with key phrases and words).
Monitoring of PR and TCI at the checked websites.
Analysis of positions at any address (URL) – a group on a social network, a video address on YouTube, a specific page of a web resource, and so on.
Check positions immediately from the search results.
Payment Methods and Pricing at Topvisor
You can pay for Topvisor services in various ways – using electronic payment systems (Yandex Money, Webmoney, QIWI, PayPal), bank cards, by bank transfer (for legal entities and individual entrepreneurs), through the Robokassa system. It is noteworthy that when replenishing the balance, there is no commission of payment systems.
Bonuses when replenishing an account:
From 999 rubles – a 10% discount on services.
From 2990 rubles – 20%.
From 9990 – 30%.
From 29990 – 40%.
The cost of checks (depending on the type of tasks):
The frequency of one key phrase in one region is 0.5 kopecks.
Checking resource positions for one keyword – 5 kopecks.
Selection of key phrases – from 1 ruble.
Pros and cons of Topvisor
Advantages
Powerful functionality, in some cases surpassing serious SEO software in its capabilities.
Continuous development and improvement of the service.
The clarity and structure of the collected data.
Automatic accounting of subdomains in the analysis.
Flaws
The interface and navigation require detailed study.
Relatively slow system speed.
Not a very clear history of search positions for each key phrase.
Conclusion
Topvisor is one of the most powerful online services that allows you to collect detailed statistics effortlessly and in one place. The presence of unique tools and huge functionality at an average cost of services are convincing arguments for choosing Topvisor as a service for SEO specialists.
Internet marketing expert. Head of marketing agency MAVR.
Business degree "Master of Business Administration" (MBA).