Company history and features of Helmut Lang brand products
We will send the material to you by email:
Время чтения:

4

мин.
Helmut Lang is a brand that has earned fame for its eccentric and extraordinary approach to the manufacture of women's, men's clothing and luxury perfumes. This is one of the brightest figures in modern fashion. Thanks to its individuality, the brand unmistakably wins. The variety of products is amazing. These are streetwear for women and men with a classic cut, dresses and suits, underwear, shoes, handbags and briefcases, various accessories and luxury perfumes.

General information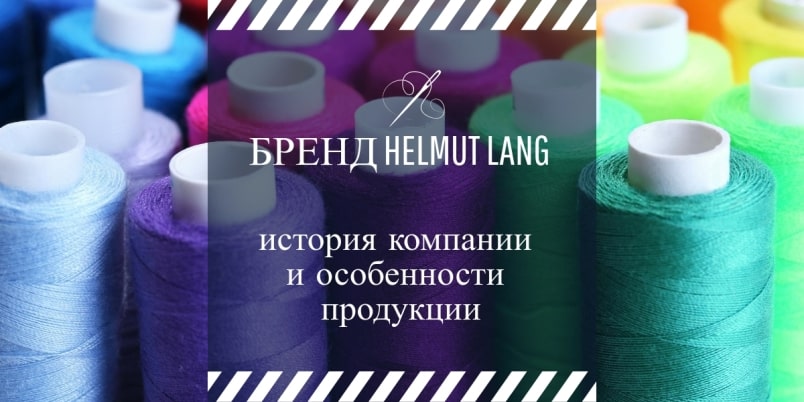 Helmut Lang, born in Austria, believed that the purpose of his life was the art of design and fine art. Thanks to the collection of fashionable clothes, he demonstrated to the whole society how to dress in order not only to look stylish, but also to feel very comfortable. A distinctive feature of the brand can be called a competent balance of innovation and uniqueness. Creating his outfits, the famous designer emphasized the complete absence of standards and the use of unusual, complex forms.
According to him, the clothes of a modern person do not always have to correspond to fashion trends, they cannot always attract attention, but they must be comfortable. Because when a person is comfortable, confidence, good mood and excellent health appear in his life.
Biography
Lang was introduced to the world in 1956 in Vienna. The boy's parents cherished the dream that their child would become a great financier, but after their divorce, Helmut had to leave for a small village in the Alps with his grandparents. At that time, he dreamed of being an artist, but a strict Catholic education and established family traditions forced him to return to his hometown and begin his studies at a business school. Here the young man got acquainted with the Viennese fashion of the 70s.
Following fashion, Hellmuth favored frayed jeans and flashy shirts that matched his inner world. He looked in stores for outfits that at least slightly suited his temperament, but, unfortunately, he could not find anything he needed in any of them. At this point, Lang decided to make his own clothes for himself. The talent given at birth helped the debutant designer to get the first fruits. Lang recruits a small staff of cutters and tailors and with their help opens his own workshop. In 1977, the young man opened the doors to his first clothing store. Business took off.
Brand history

Aspiring fashion designer Helmut first created individual clothes – for himself. But already in 1977 he created a fashion studio in Vienna. In 1986, she made her debut in Paris with a collection of women's clothing at the Center Georges Pompidou. In 1987 he presented a men's collection. After a successful publication in France, he returns to his roots, and in the late 90s he moves to New York. During this period, under the Helmut Lang brand, in addition to clothing, there are also lines of shoes, jeans, underwear and fashion accessories. 700 boutiques around the globe – and the brand is at the peak of recognition.
Since 1997, Soho in Manhattan has been the official office of the company. In 1999, a little more than half of the fashion designer's trademark is acquired by the Milanese brand Prada. Helmut Lang stays with the company for a short time until the remaining interest is bought out, after which he leaves his brainchild in 2004. In the early 2000s, the brand produced the first compositions of women's and men's perfumes. In 2005, having made the last collection, the founder finally leaves the company – and Prada dominates the brand.
Since 2000, the company has been experiencing great difficulties. In 2005, after the liquidation of the office in Soho, activities cease everywhere. All stores are closed in turn, leaving only one in Paris, but only until that day, until all stocks were sold out. However, in several cities in Germany and Austria, points of sale continue to exist
Clothing Helmut Lang
The main feature of the trademark is the use of surprisingly airy and soft to the touch fabrics. As such, they require very delicate handling. To maintain the proper and stylish look of your Helmut Lang clothing, dry cleaning only is recommended. Also, lovers of his things note their dimensionlessness. And thanks to the use of stretchy fabrics and asymmetrical cuts, the clothes are suitable for everyone.
Fragrances Helmut Lang
Elite perfume from the famous fashion designer – both classic and original flavors. Thanks to the wide range of scented products, everyone can easily choose for themselves a unique and unsurpassed bright fragrance to give a special charm. There are fragrances for the stronger sex in the collection, which are able to emphasize the firmness and confidence of their owner and delight even the greatest connoisseur of perfumery.
Internet marketing expert. Head of marketing agency MAVR.
Business degree "Master of Business Administration" (MBA).